10 kitchen island lighting ideas to illuminate the focal point of your space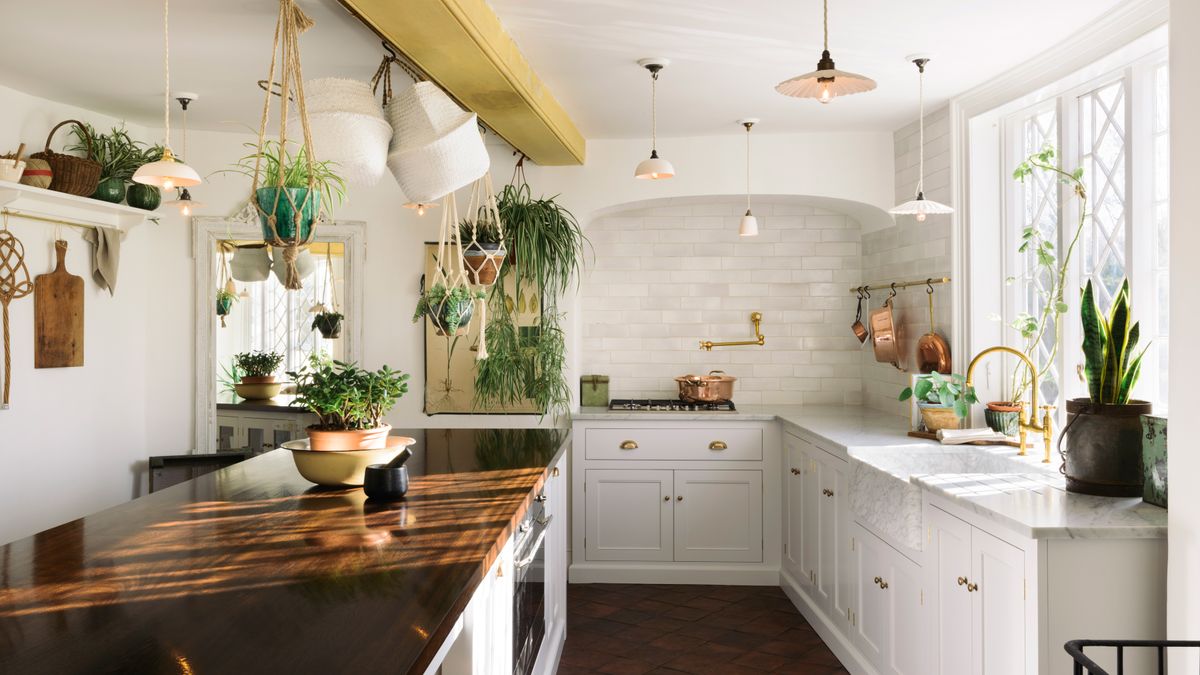 Kitchen island lighting ideas are a key part of your kitchen design. An island is often the focal point of a kitchen, it works hard, being used as a prepping area for cooking, an space for socializing, and even a place to perch a laptop and get some work done. We ask a lot of an island and your lighting choices need to reflect these multiple functions. 
But kitchen island lighting needn't always be purely practical, it can be (and should be) beautiful too. The island is a centerpiece in a kitchen and the lighting should enhance that – statement pendants, vintage chandeliers, ornate globe lights all work beautifully when hung over an island and can have just as much of an impact as the color you choose for your cabinets or the style of worktop material you go for. Plus if you are looking for quick kitchen ideas to switch up your space, changing up your kitchen island lighting can be an easy way to instantly refresh your room. 
What is the best lighting for a kitchen island?
The best lighting for an island will depend on style, size, and how the space is used. So when making a decision consider what functions the island needs to perform. Is it your main prepping space? Does it house a hob or a sink? Do you even work at the island? Or is it mainly used as a spot for socializing? Then you can break down what kind of lighting you need – task, ambient, accent, or a mix of all three?
'We spend a good deal of our time cooking and entertaining in the evenings; which means we will need sufficient illumination. Make sure you plan your lighting at the start of the process so you can incorporate the light sources with the rest of your scheme.' says  Ben Burbidge, Managing Director of Kitchen Makers.
'Choosing the right mixture of task and decorative lighting, as well as considering the types of bulb you use, will make a difference to both the functionality and atmosphere of the space.'
'Decorative pendant lights can be used above an island to make a statement; whilst helping zone an open plan space. Include separate dimmers in the dining space to allow your guests to enjoy elegant mood lighting while the kitchen is still well lit for those cooking.'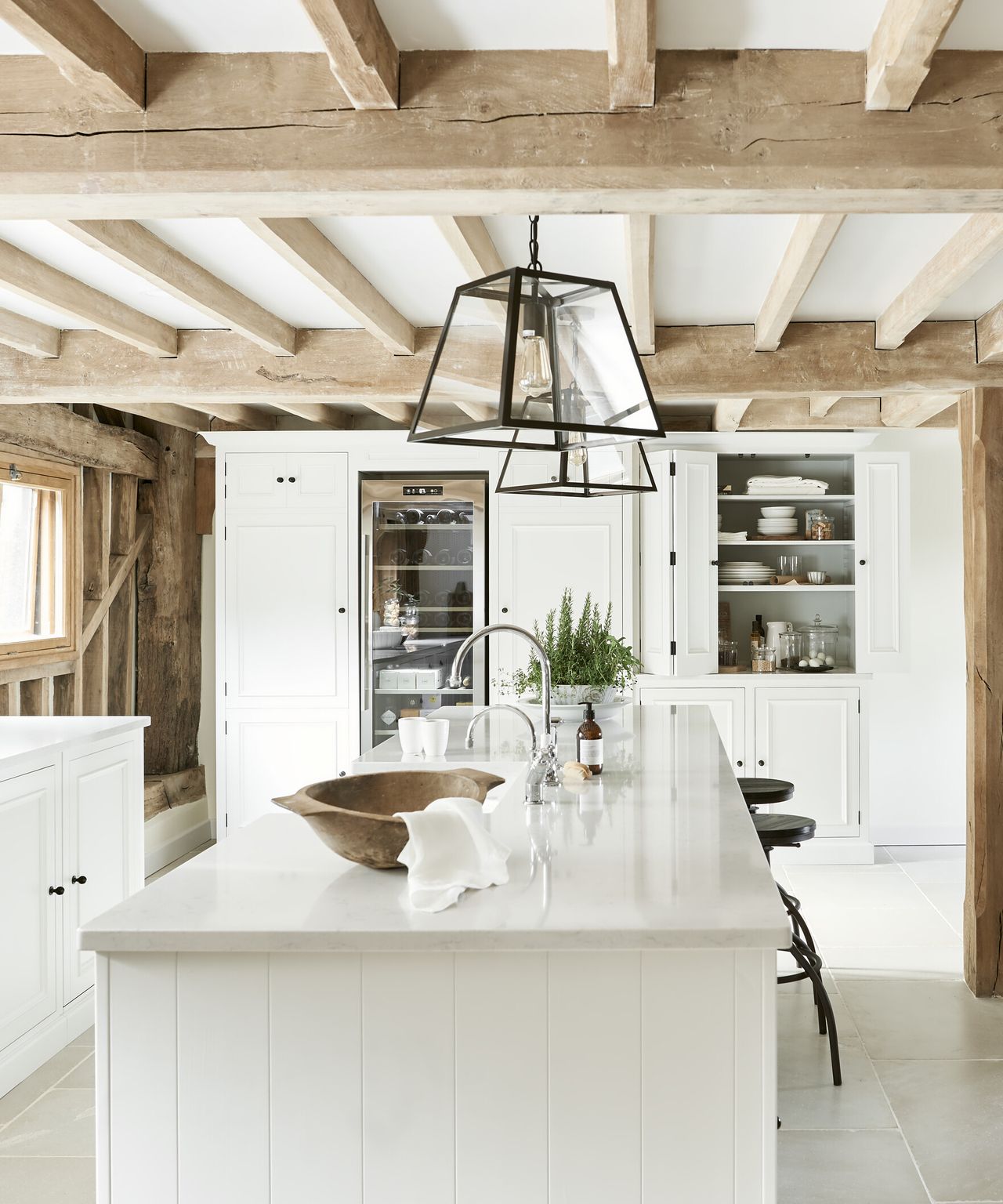 "If you've opted to have an island in the middle of your kitchen, you'll know that it's quite possibly the most important area of your whole house – the kitchen island has evolved into the central hub around which daily life operates.' says Rohan Blacker founder of lighting specialists Pooky.
'Make sure that lighting is part of the plan from the very start as retrospective planning can sometimes lead to compromise. If you want beautiful designer pendants hanging over your island, or more functional LED lights built into recesses of cabinets, these options all need to be considered so you can make sure the installation is feasible, as well as light levels balanced right from the outset.'
'The lighting design can also affect your decisions on kitchen units. For example, if you have a strong directed light over a countertop you might want to choose a non-reflective material for its surface to avoid glare.'
Kitchen island lighting ideas
Practicalities out of the way, we have rounded up some of our favorite kitchen island lighting ideas to inspire. From contemporary pendants to quirky vintage finds, there's something for every style. 
1. Hang a chandelier for a glamorous vintage touch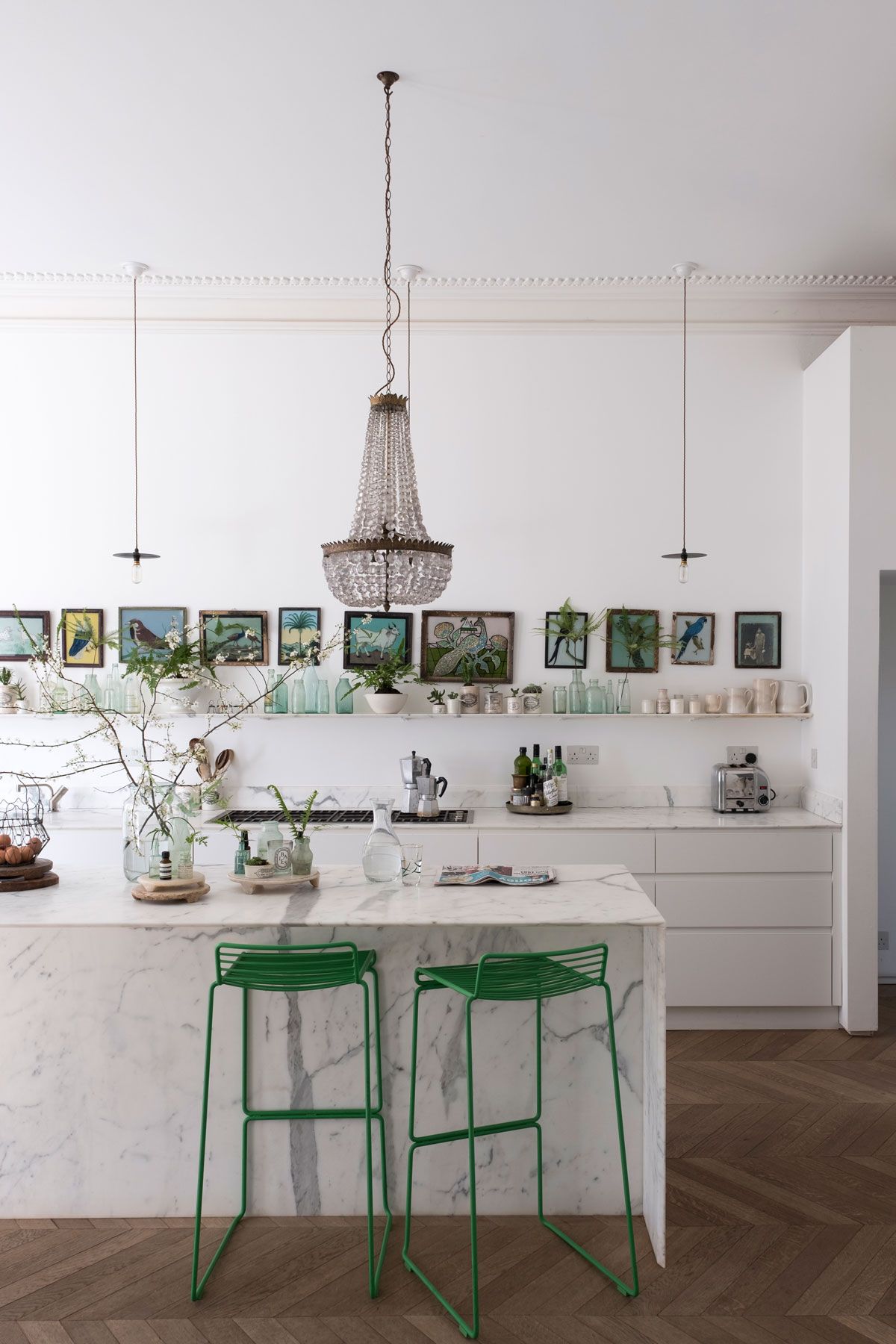 A chandelier may sound like a slightly decadent choice for such a practical space as a kitchen, but pick the right size and hang it at the right and it can make the perfect focal point. Plus, it's a lovely way to bring in some texture and shape to a room that's often made up of a lot of clean lines and hard surfaces. And even if your kitchen has a more contemporary style adding in this mix of old and new can give a space character as this beautiful modern marble kitchen proves. 
2. Keep it symmetrical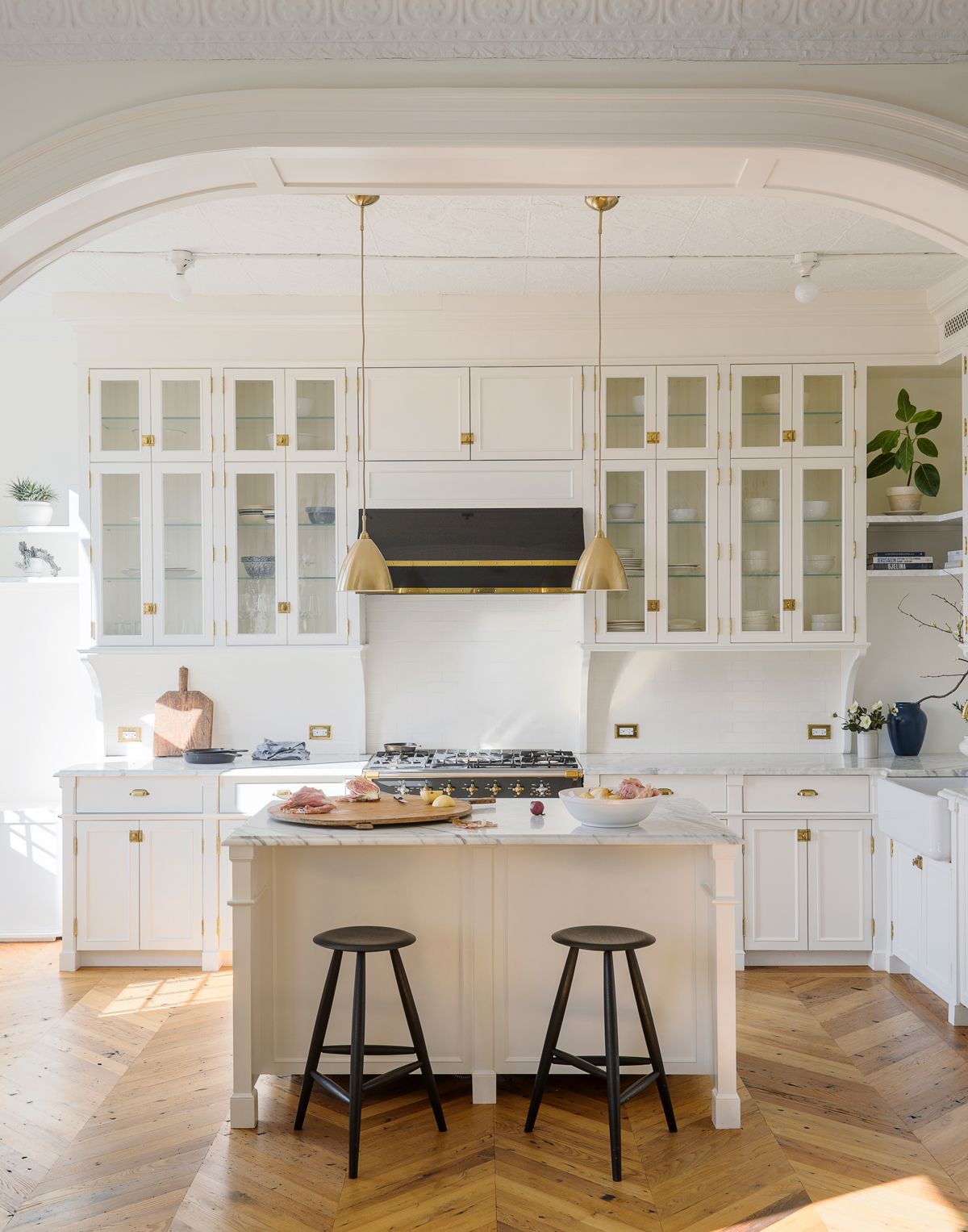 It's a classic look, low hanging pendants that sit symmetrically above a kitchen island. Pendant lights are one of the most popular choices for a kitchen island as they define area from the rest of the space, making it feel more like its own zone. There's something lovely about being able to just create a pool of light around the island, like a glow in the center of the kitchen that's ideal for when it's used as a social space. 
And it's a practical choice too as will provide all the task lighting you need to prep and work by. You can have even more flexibility and change up the mood if you have your pendants on a dimmer switch. And be sure not to hang the pendants too low, as a rule of thumb they should never come lower than 36 inches from the work surface.
3. Choose a subtle linear style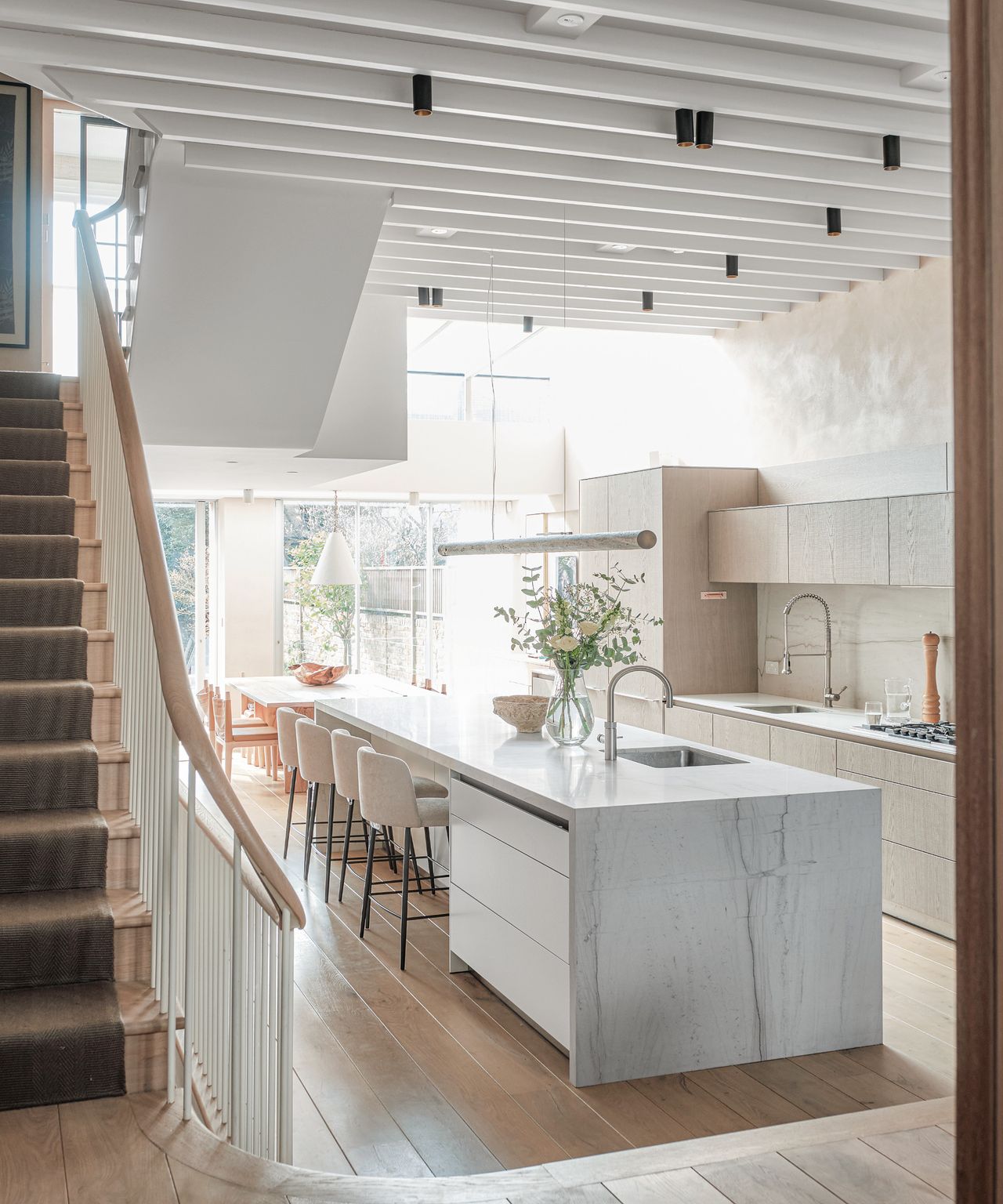 Looking for more subtle kitchen island ideas? A barely-there linear style can almost blend into the background but provide all the lighting your island needs. It's a modern look but could easily work in more rustic kitchens too if you wanted to add a contemporary touch. And it's a design that works particularly well with small kitchen islands too or if your kitchen has high ceilings and you want to add more light at eye level. 
Just be sure to add in some ambient lighting elsewhere in your kitchen. Linear styles offer a very focused light that's ideal for an island but will need to be combined with other light sources too (like the downlights used in this kitchen) for a more all-over glow. 
4. Go oversized with kitchen island pendants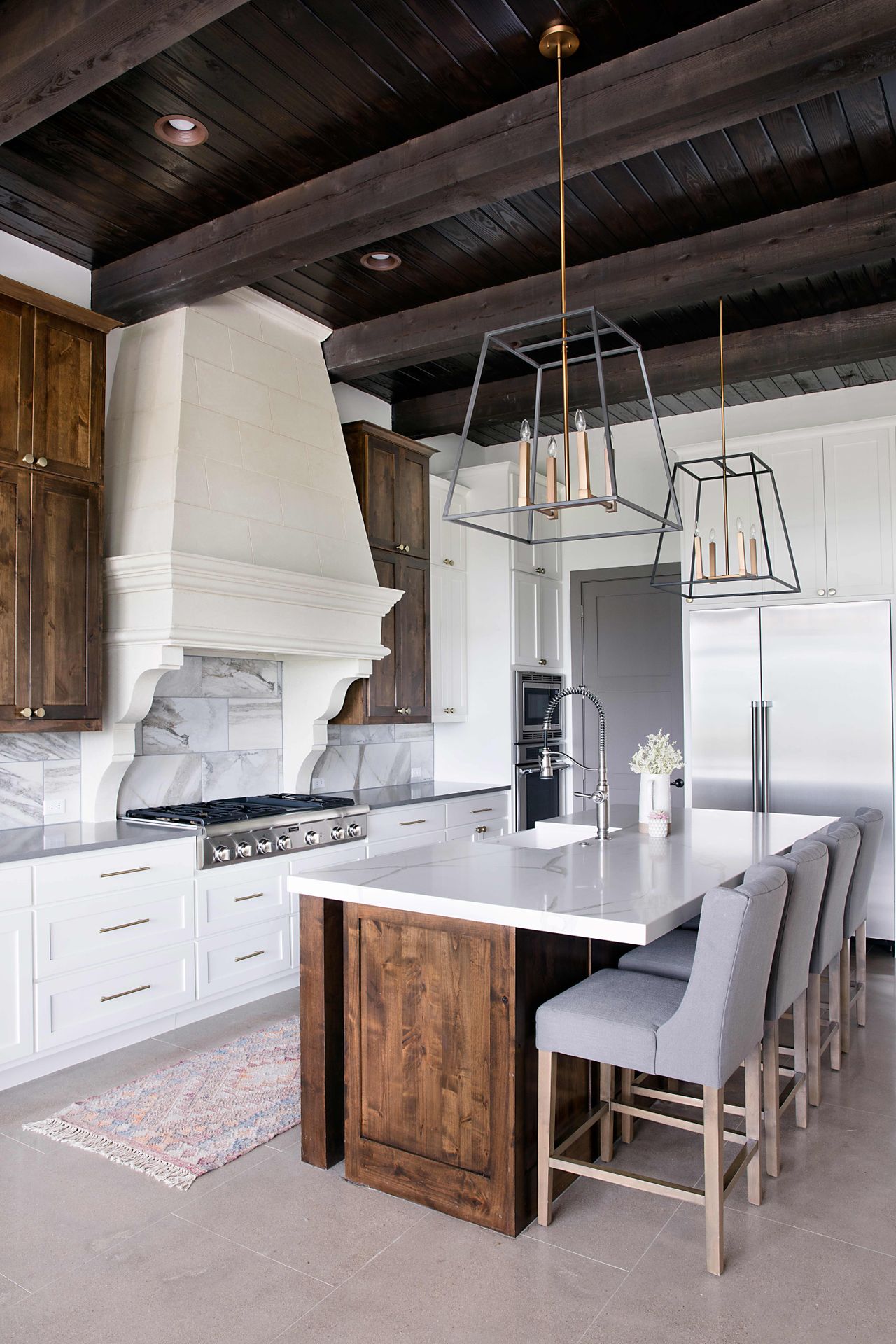 When picking your kitchen island lighting, always consider the size of your island. Your lighting should be to scale with the surface space. Ofcourse there are exceptions, but in general, if you have a larger kitchen island, you don't want a couple of small pendants floating above. And likewise, if your island is on the smaller side going big could overwhelming the space. 
If you have an extra-large kitchen island that needs oversized lighting in order to balance the space, be inspired by this farmhouse kitchen and choose large pendants with a simple design that match the scale but don't overwhelm the room or add too much visual bulk. 
5. Light up an island effectively with spotlights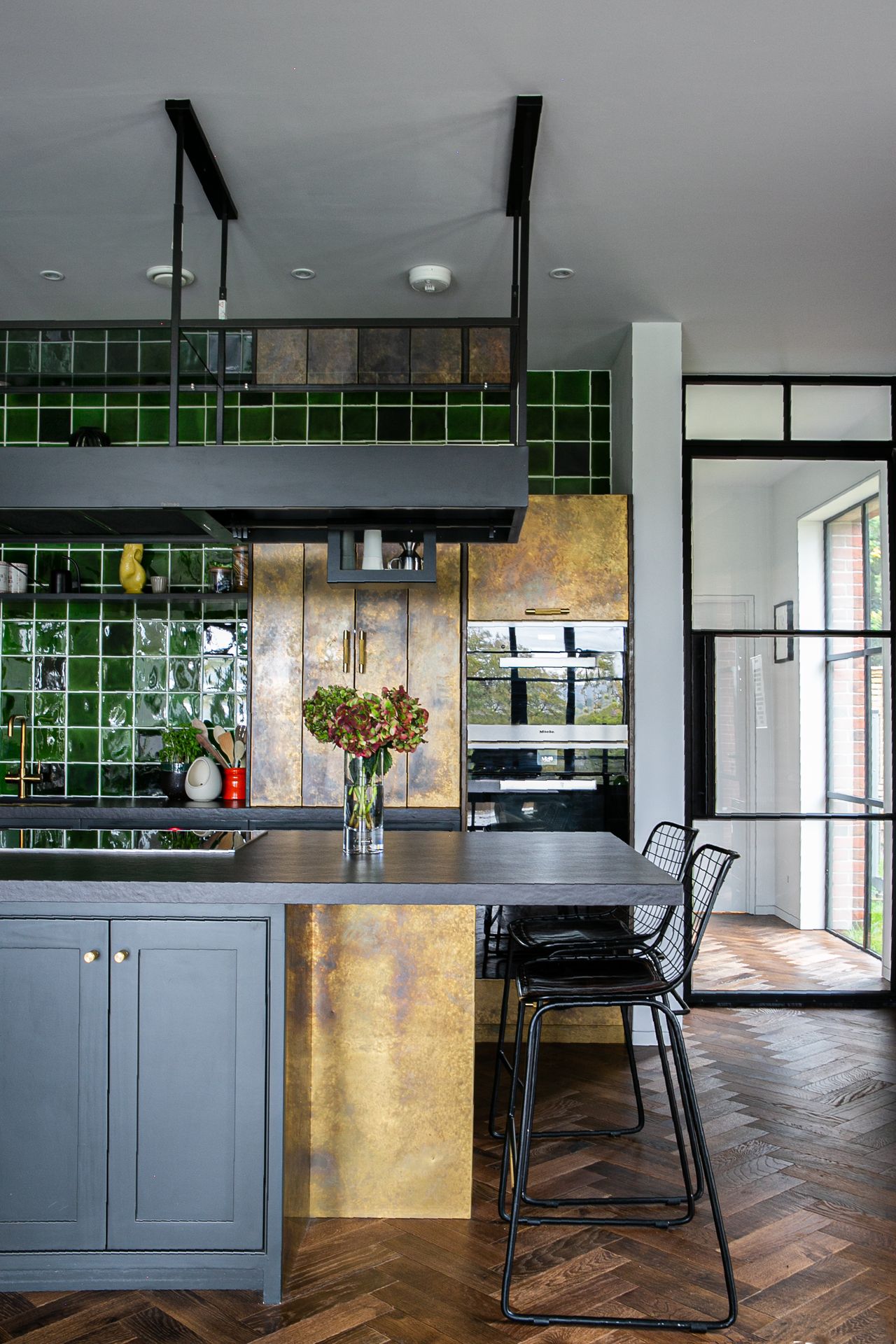 As well as being decorative, kitchen island lighting needs to be practical as it's a space that sees a lot of use and has many different functions. Now spotlights might not sound like the most glamourous of kitchen lighting ideas but they can provide both task and ambient lighting and offer full illumination that pendant lights over don't. You could always layer you lights, combine both pendants and subtle spotlights so you have both style and practicalities covered. 
'Ensure there is a good amount of task lighting in areas of the kitchen used for food preparation, but also consider how to avoid unnecessary glare or too much in the way of brightness in an open-plan environment.' advises Daniel Bowler, Director of Eggersmann.  'Spotlights and lights on dimmable switches can be a good solution here, enabling the lighting levels to be adjusted depending on what time of day or night it is and how the space is being used.'
6. Add a pop of color with kitchen island lighting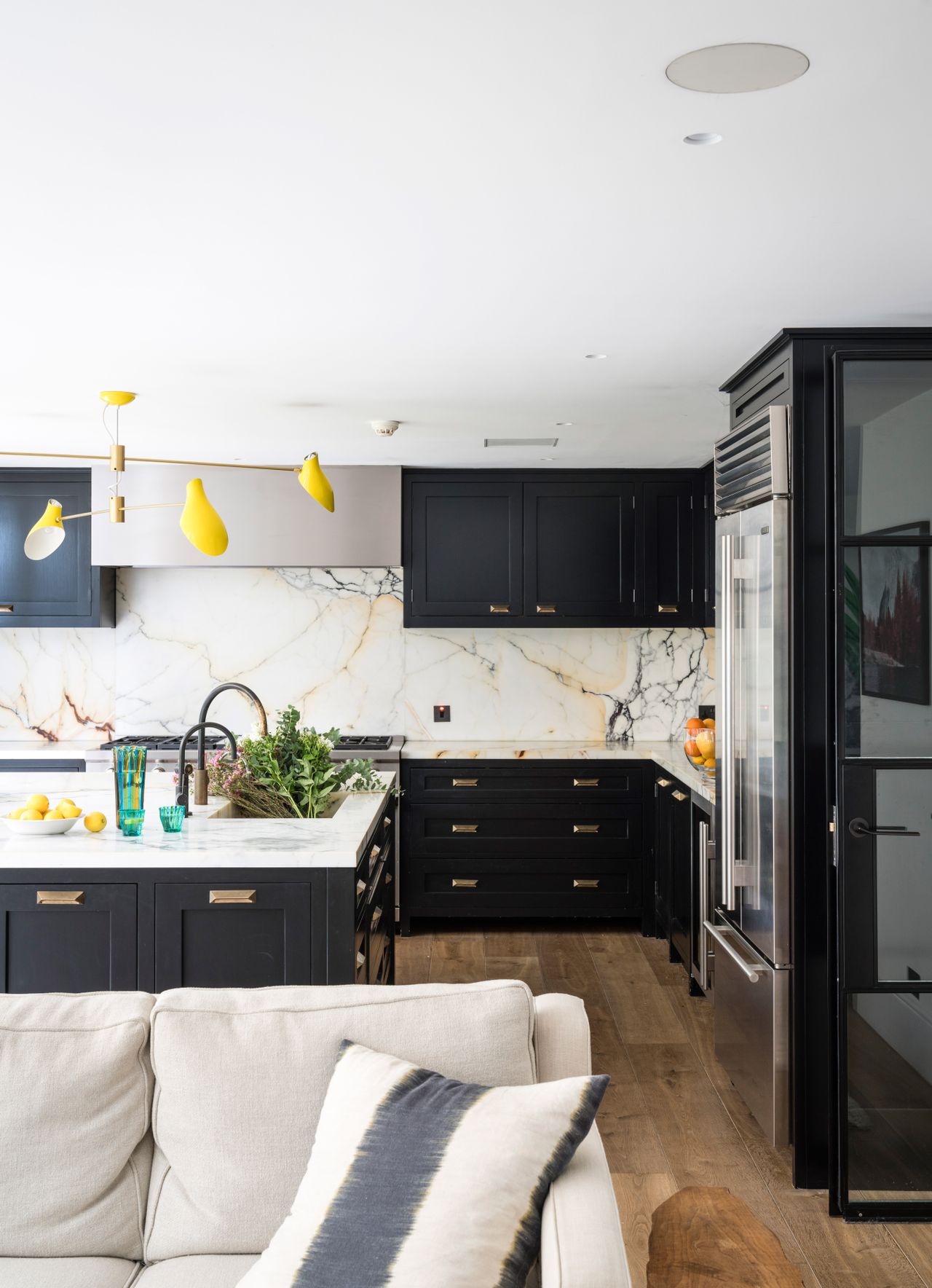 Want to test the waters when it comes to adding color to your kitchen? Lighting is a really easy way to add a splash of a bold shade without overly interrupting a neutral scheme. And since lighting is one of the easiest things in your kitchen to switch up you don't have to worry too much about committing to a color. 
We love the pop of yellow in this dramatic black kitchen. It warms up the cooler tones in the dark cabinetry and makes you really notice in unusual yellow-toned veining of the splashback and countertops.
7. Create a cohesive look with matching lighting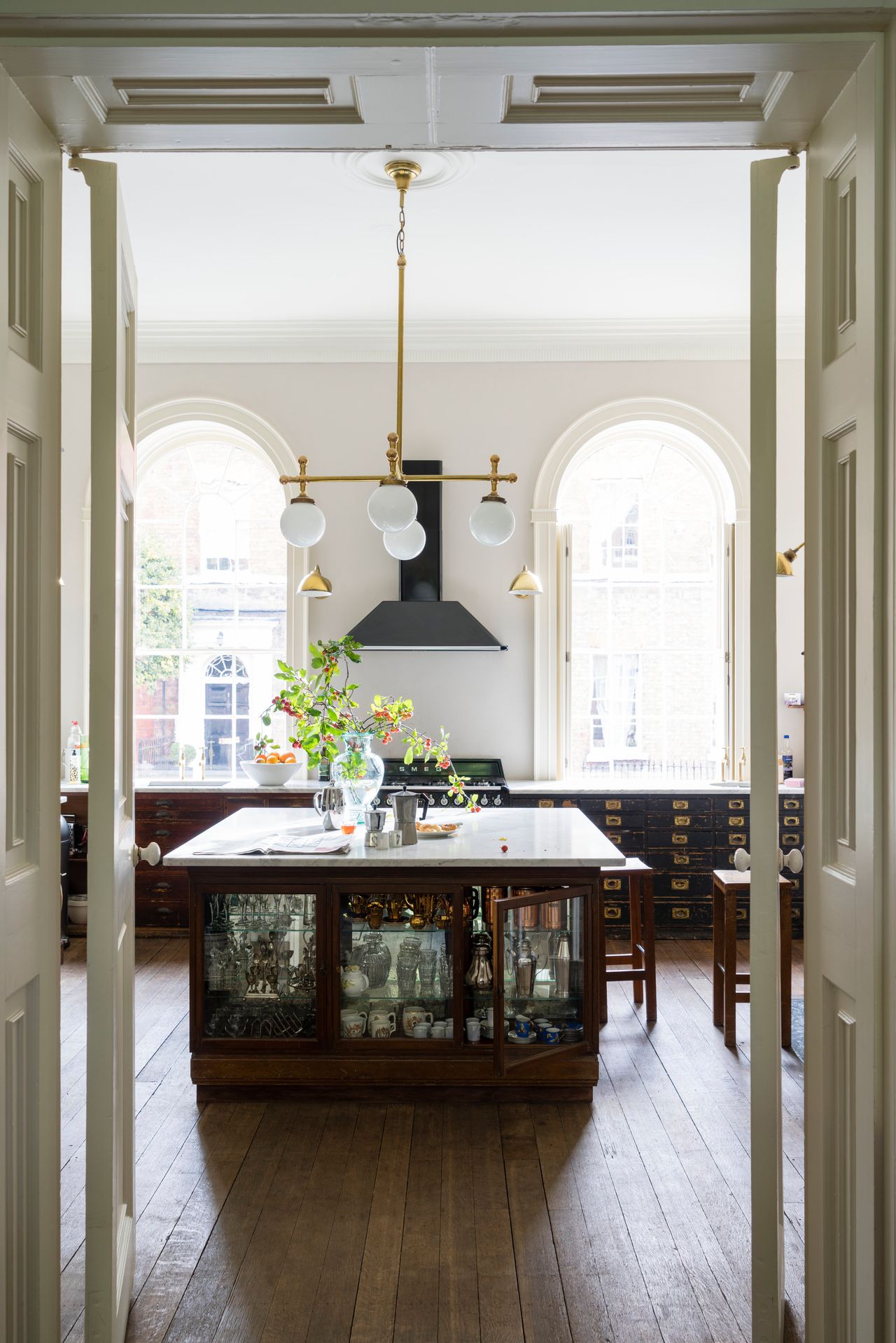 It's likely that your kitchen island lighting will not be the only fixture in your space, so consider how it will look with the other lighting throughout the rest of the room. For a more cohesive scheme match it with the lighting used elsewhere. It doesn't have to necessarily be an exact match but stick with similar shapes and finishes. See how in this kitchen a globe pendant light sits above the island as a clear focal point. The same brass is used in the wall lights that sit behind, mirroring the materials in a more subtle design. 
8. Layer a statement pendant with practical down lights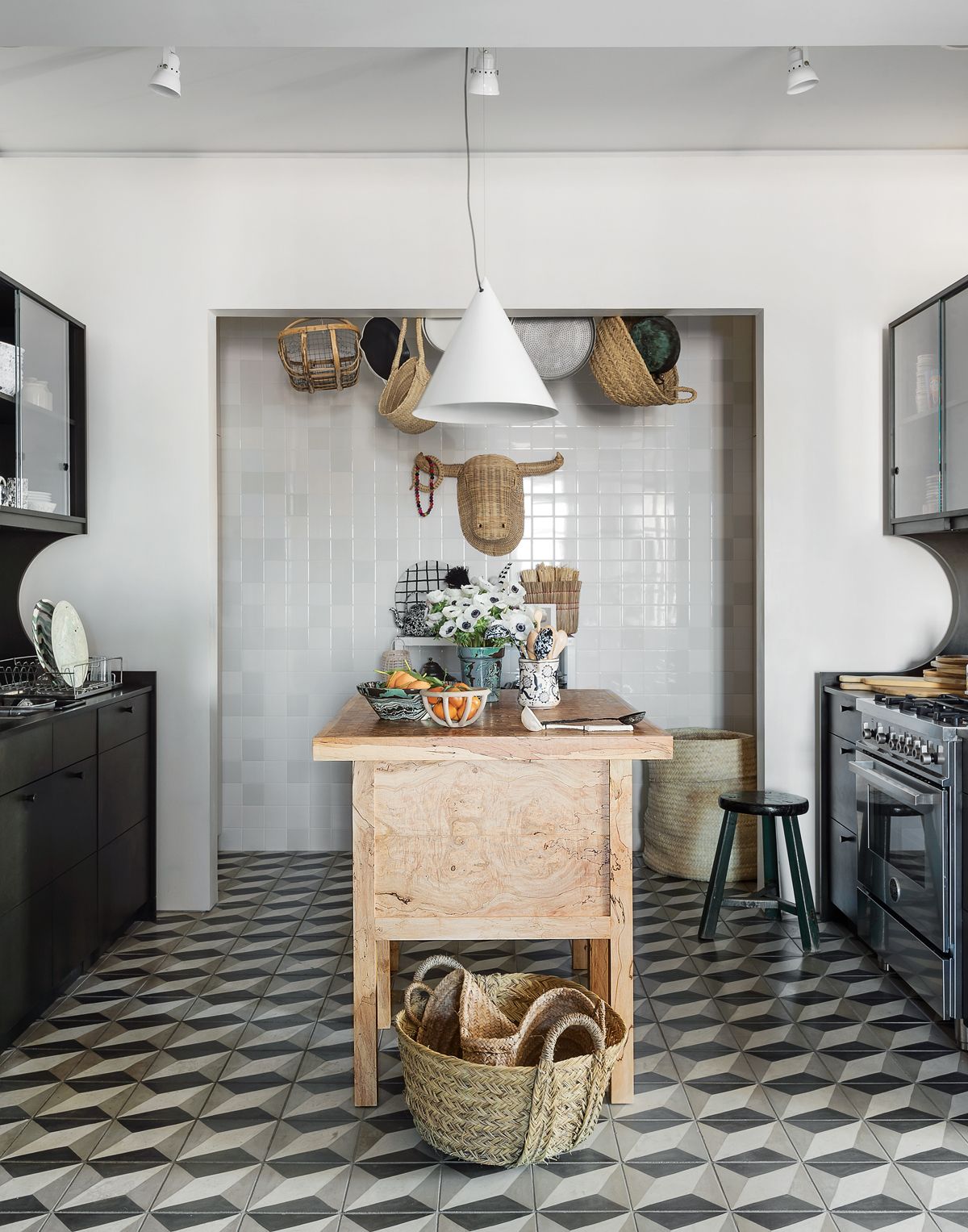 The key to a successful kitchen lighting scheme is layers. Combining plenty of different light sources at different levels to create an all-over glow that can be adapted for certain tasks. So don't just stick with one type of lighting for your kitchen island, opt for multiple sources so you can be flexible with how you illuminate the space. 
No one can argue that pendant lights aren't perfect for islands, but they can create relatively small pools of light that only illuminate a small section of your island. While opting for a group of pendant lights can help, you may still find you have a mix of harsh shadows and strong task lighting. Prevent this by adding extra lights at ceiling level in the form of spotlights or simple track lights. 
9. Make a subtle statement with exposed bulbs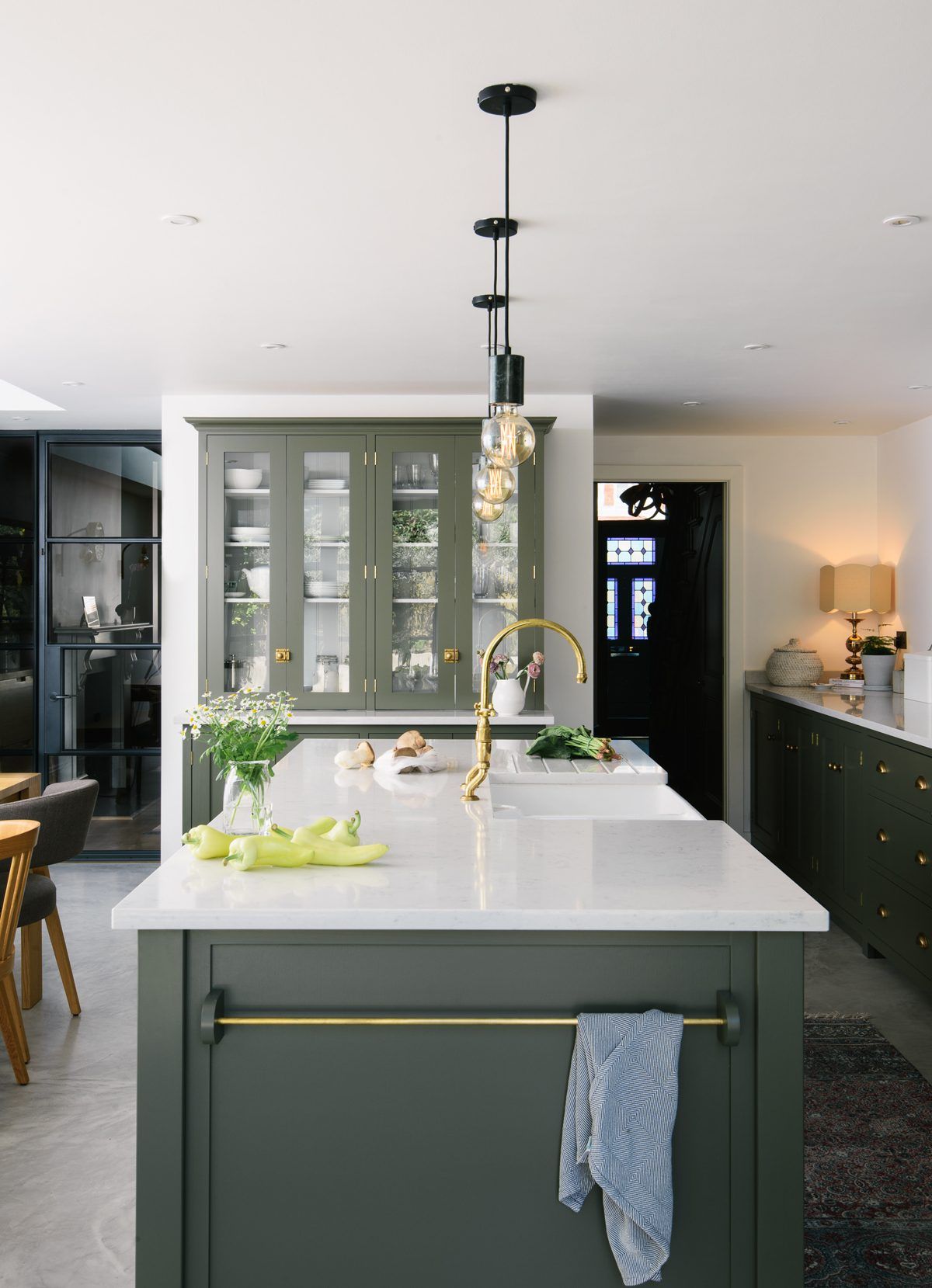 The perfect balance between form and function, exposed bulb pendant lights are ideal for hanging over kitchen islands. They don't take up too much room but still make a subtle statement, so are a good option for small kitchens and can be used as both task lighting and ambient lighting adding a strong light above the countertop but still dispersing the light throughout the rest of the room.
Choose your bulbs carefully, opting for warm filament of Edison bulbs that won't cast too harsh a light. And go for a dimmable switch too, as Charlie Bowles, Director, Original BTC advises, 'a dimmable pendant – or, for a dramatic look, a row of pendants – is useful for switching from functional to relaxation mode, whether over your dining table or central island.'
10. Choose something unexpected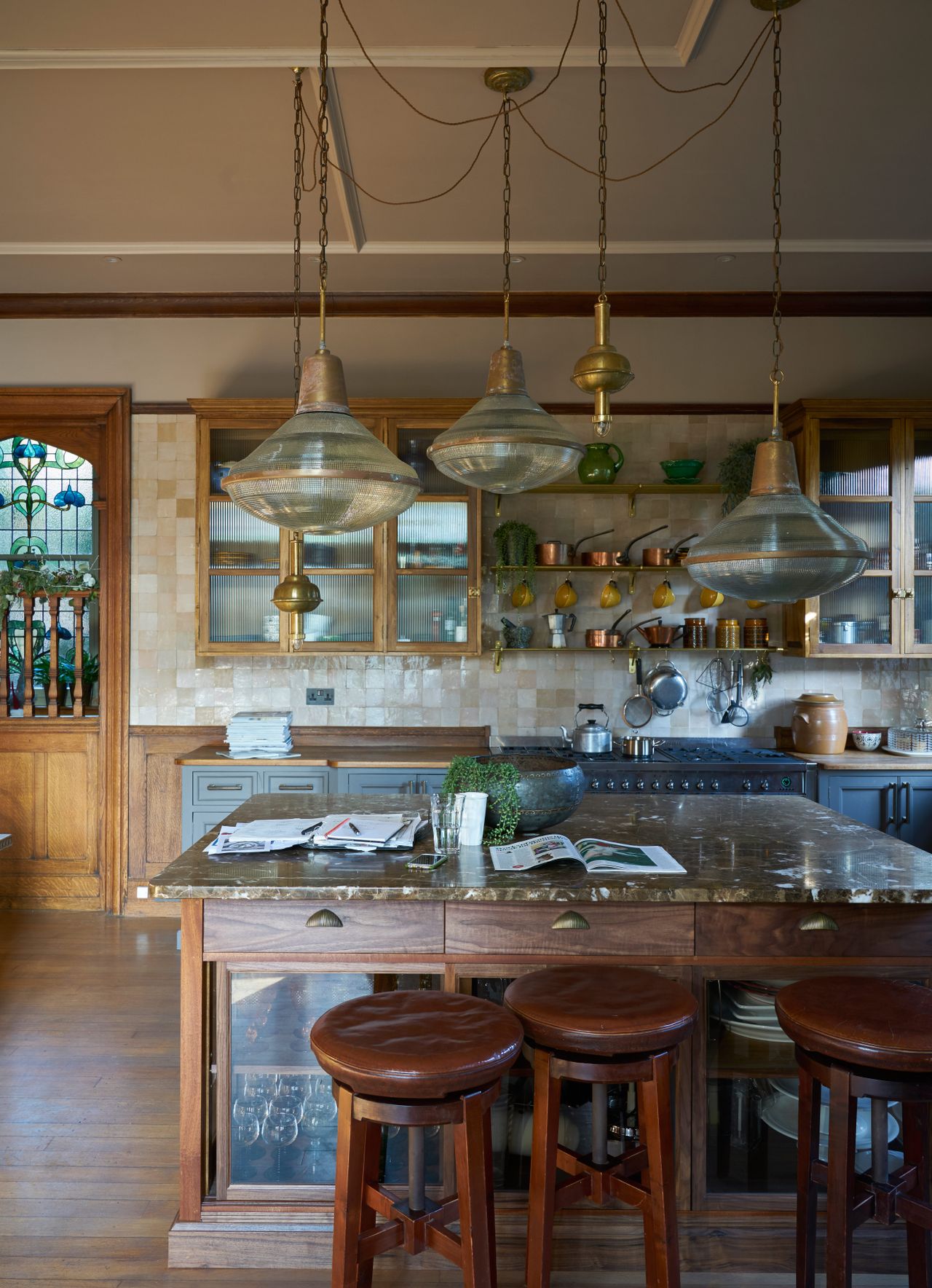 If your space can handle it go for something really elaborate and unexpected over and island. Vintage holophane lights have been grouped together in this kitchen to create an oversized fixture that lights up the whole space. The mixture of larger and smaller lights, exposed bulbs, and glass lamps and the fact they are all hung at slightly different levels. makes this a versatile and practical solution as well as a beautiful centerpiece. 
How many lights are needed for a kitchen island?
The number of lights needed for a kitchen island will depend on the size and what tasks you use the space for. There are no set-in-stone rules but we'd recommend always opting for more than one light source so you have the flexibility of being able to change the lighting for different moods and tasks. For example, if you are hanging lights directly above the island, add in track lights or spotlights too for when you want a less focused strong light. 
"When it comes to kitchen island lighting, decorative pendants are very popular as people want to make a statement and feature, but it's important to be careful not to create shadows over the cooking and prep area.' explains Piero de Marchis of Detail Lighting. 'To make sure this doesn't happen, we would normally advocate decorating lighting 'filled-in' and supplemented with focused spotlights to eliminate any shadows or dark spots. By opting for this combination, you will then have a 'cooking mode' where all the lights are on and then a more relaxed mode when you can turn off the spotlights and dim your decorative lights.'
How big should pendant lights be over a kitchen island?
Again, there's no hard and fast rule here but judge the size of your pendants based on the size of your island. And you'll want to consider how many pendants you want to hang as this is will also dictate the size of each too. As a rule of thumb you want to leave around two feet between each of your pendants and around 36 inches between the bottom of the pendant and the island countertop, so using these rough measurements can be a good guide when choosing a size and style.
https://www.livingetc.com/ideas/kitchen-island-lighting-ideas