11 kitchen trends that will be big in 2022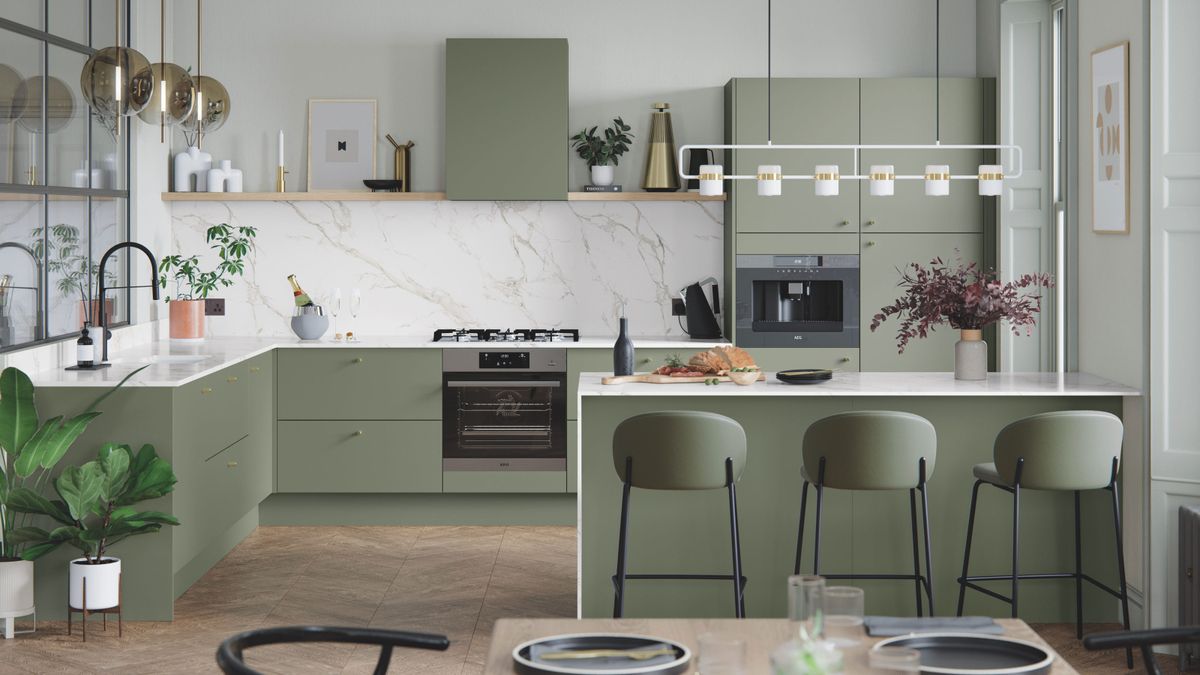 What's hot for kitchen trends in 2022? If you're looking to update your kitchen then you've come to the right place. Thanks to industry experts and some careful trend watching, we've found the next big thing in kitchen looks.
Creating less generic, more personalized spaces has become a key feature for many of the home decor trends ahead, and that's no different when it comes to the kitchen.
It's all about better integrating our cooking spaces with our living spaces and we're leaning towards braver color choices, feature islands and more to help create flexible, multi-use spaces. Adding interesting finishes and textures is a major part of designing a more tactile space that's at the heart of the home. Accessorizing the space as you would any other room will create an inviting hub and, of course, there is much in the way of inspiration…
1. Matt black kitchen units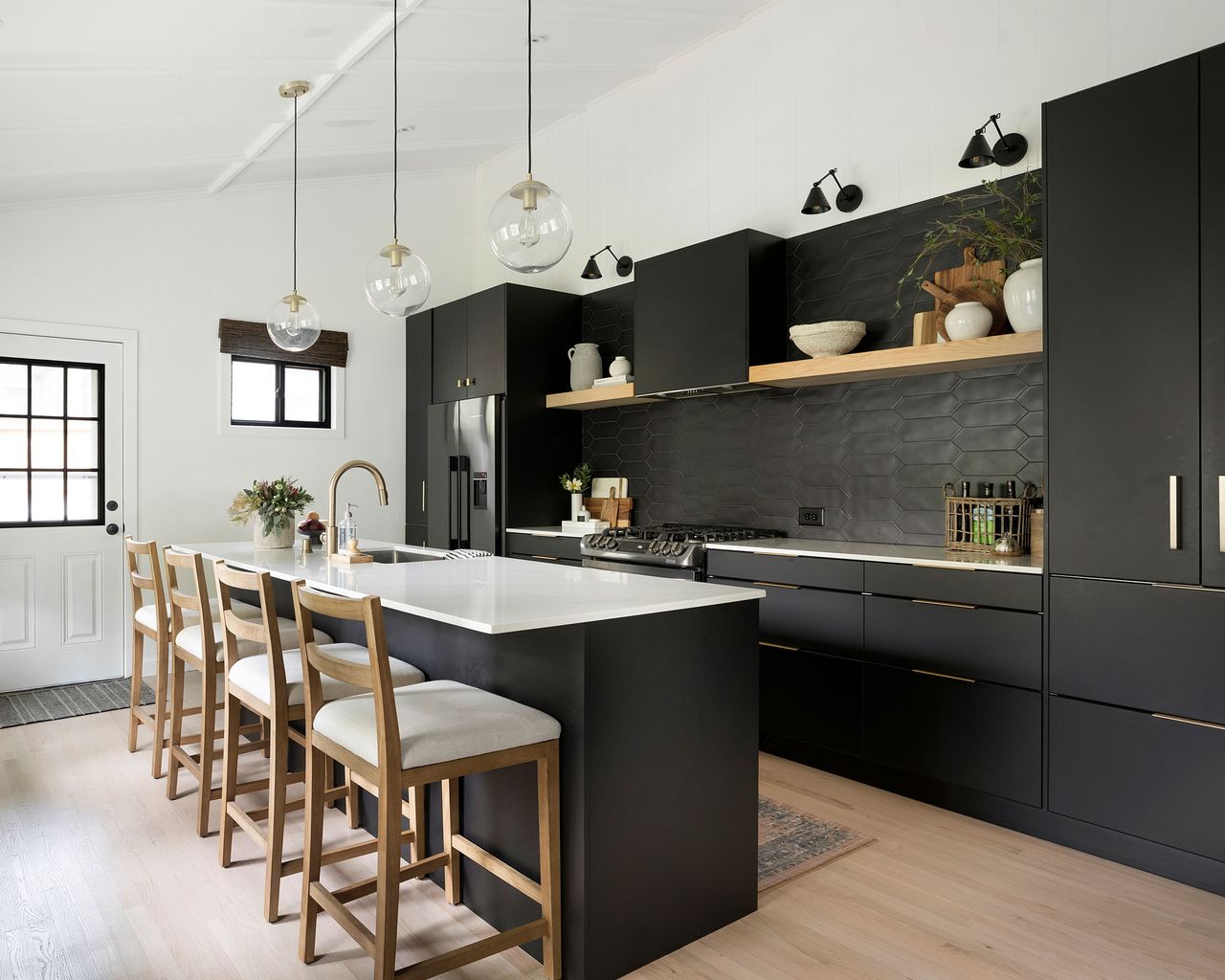 Not one for the faint-hearted, a black kitchen creates a real show-stopping moment and Interior Designer Jennifer Davis of Davis Interiors tips 'black cabinetry with sleek modern lines', as one of the big trends of 2022. We've seen the tuxedo kitchen, white cabinets on the top and black on the bottom, trending for some time, but this look is about going top to bottom with this dramatic choice. Pinterest has seen a 5 times surge in searches for black kitchen ideas, so we think more people will be taking the plunge next year. 
Unlike traditional cabinets finished with a painted sheen or high gloss finish, the new look is totally matt, with a painted or a matt tiled backspalsh. Just be sure this kitchen cabinet idea doesn't fall totally flat by adding pockets of highlights around the room, whether that from brass faucets, a polished counter top or statement lighting.
2. Vertical tiling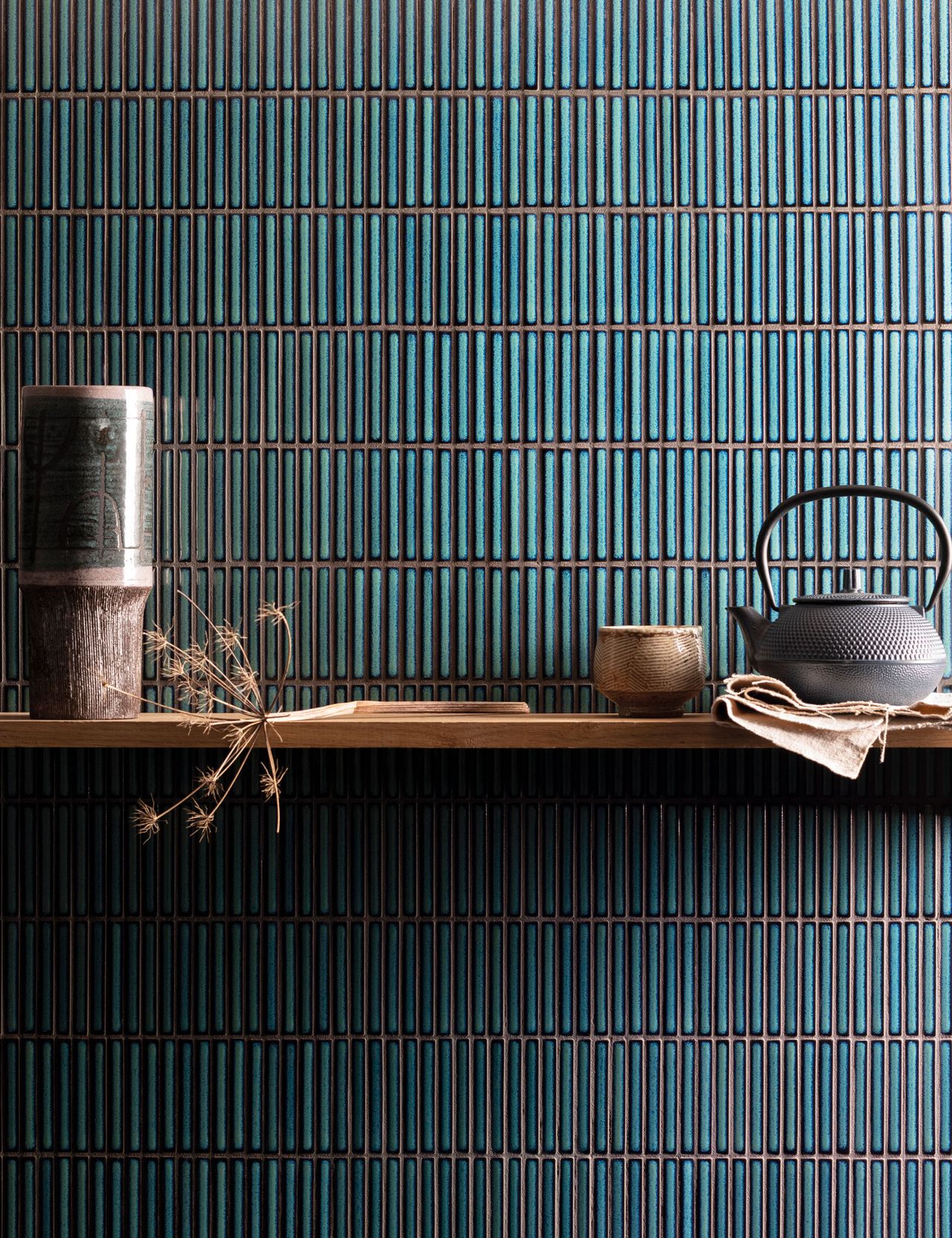 When it comes to kitchen backsplash ideas, the classic subway brick layout that once dominated was usurped by herringbone pattern and it looks like vertical arrangements are set to be the next big kitchen tile trend. Tumbled edges, imperfect colorful and crackled glazes give this ordered, upright design a more relaxed, artisan feel too. Look out for longer, leaner tiles and delicate finger mosaics (pictured), inspired by Japanese design, to bring texture and character to the kitchen.
Rob Whitaker, Creative Director at Claybrook has seen this style growing in popularity, 'Often described as Kit-Kat or finger mosaics, the glazing style is reminiscent of historic techniques used on ceramics in Japan. The depth and colors of the glazes is what strikes a chord. The tiles come as mosaic sheets so are relatively simple to custom fit to size.'
3. The flexi workspace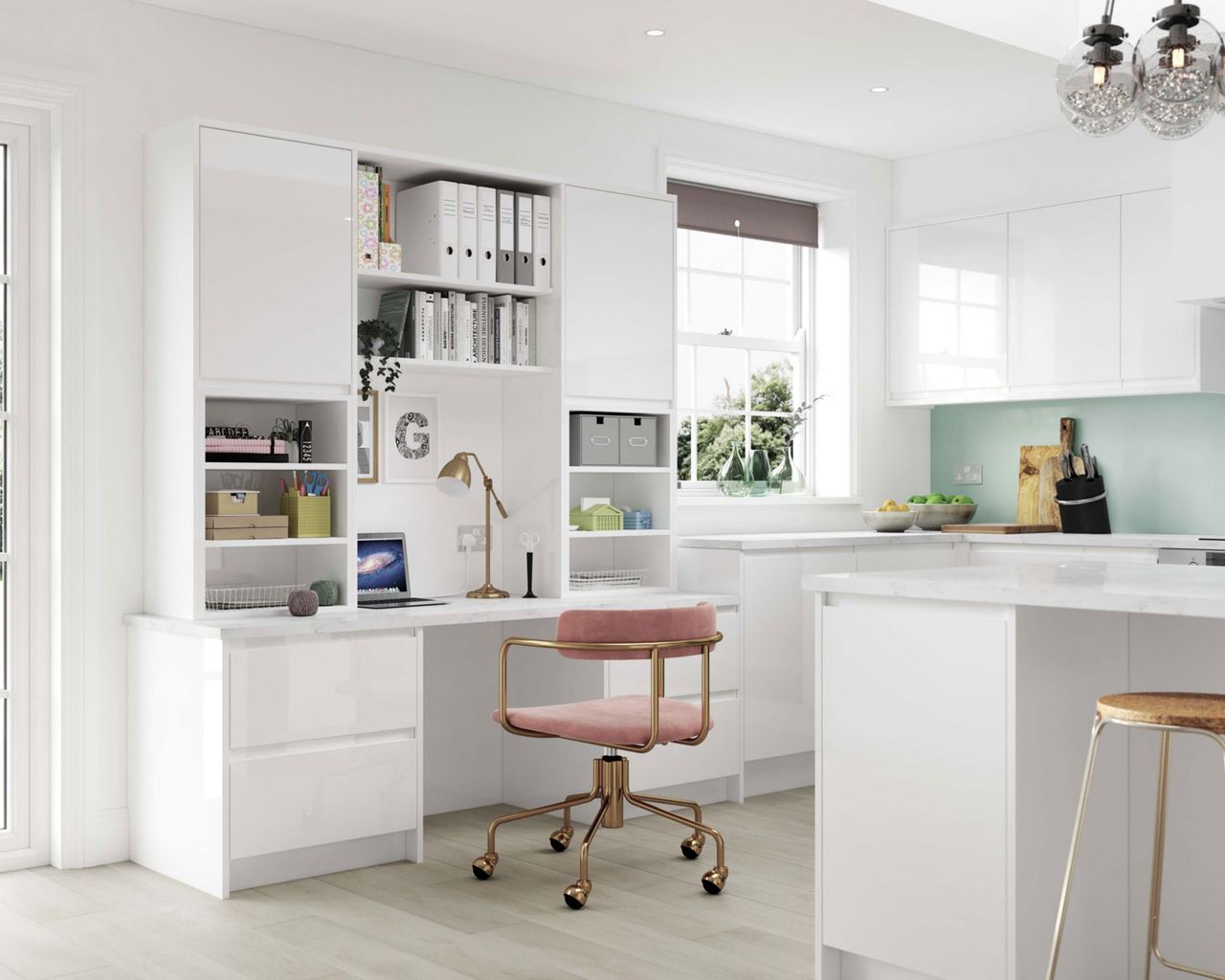 For many, WFH home has transitioned from a temporary to a permanent situation, so when a separate room for an office isn't an option, squeezing a desk into the home has become a design must-have. Whether concealed in a freestanding larder unit that can be closed away at the end of the day, or designed as a seamless extension of the kitchen, by using the same units and work surfaces.
JT Norman, Director of Product & Design Innovation at kitchen remodeling firm Kitchen Magic has spotted the need for flexi work spaces too, 'home offices and classrooms are rapidly becoming the norm these days, and the kitchen is often the perfect spot for a desk space or mini-home office. So why not integrate these new areas with the rest of your kitchen by using the same colors as your cabinetry.'
4. The blended kitchen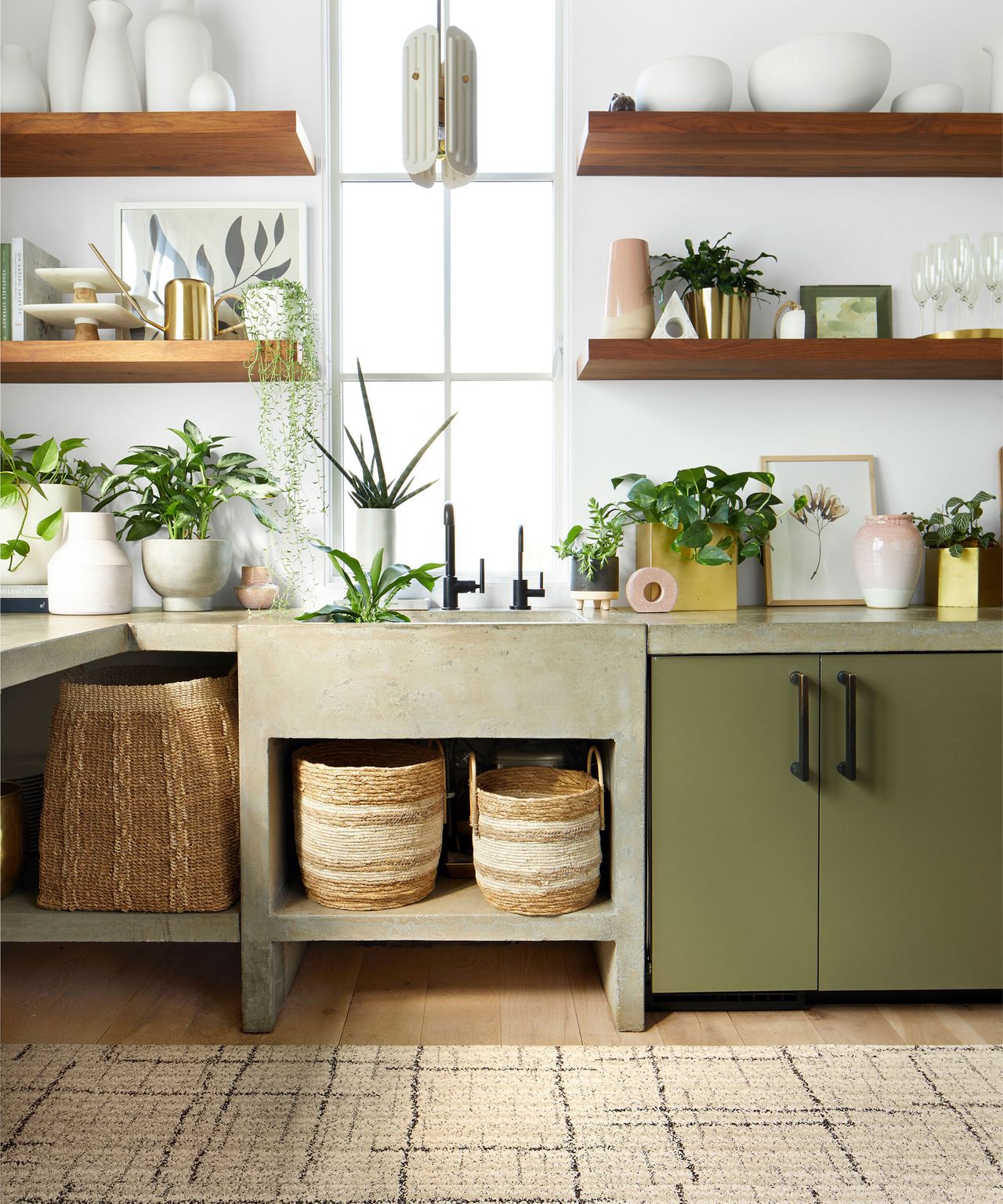 With open-plan kitchen and living the new norm, there's a desire to make kitchens feel more lived-in and less generic, so that it reflects the personality in the rest of the home.
'Overall, we see clients wanting their kitchen spaces to be personal,' explains  Melissa Klink, Harvey Jones Creative Director. 'This has driven a lot of upcoming trends to focus on adding rather than paring back. As long as the elements are personal and meaningful, we can keep the spaces tailored instead of cluttered. In turn.'
How can this be achieved? Painting doors will allow you to choose your own finish or custom color units, whether that's a two or three tone design. 
In place of top cabinets, open-shelving and peg rails that reduces that 'fitted' feel, also allowing display for decor pieces amongst the practical items. 
Mixing materials, introducing unconventional work surfaces, like bold terrazzo or handmade concrete molds. 
Bringing in the decorative finishes that would be a natural addition in any other room, from more adventurous paint choices for walls or wallpaper and expressive color and pattern for floor and wall tiles. And don't forget to accessorize — with rugs, antiques, paintings, baskets, plants and portable lamps.
5. Feature Islands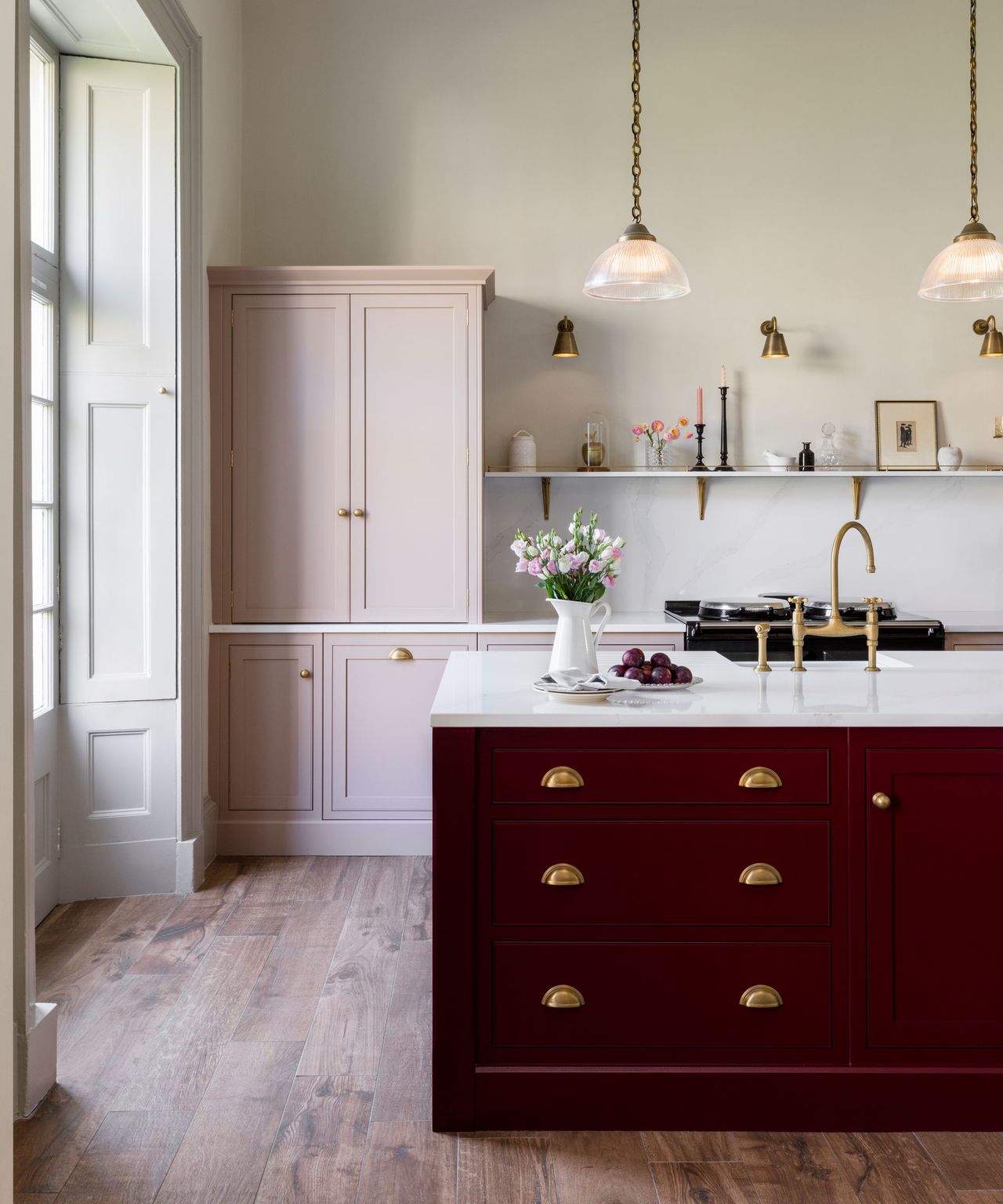 Not just a natural dividing unit or a practical part of the design, with some clever kitchen island ideas, it's also an opportunity to really show off and make a statement. Contrast cabinets with an unexpected color pairing, use a completely different material from your cabinets such as a striking piece of marble or a brushed brass panel and if space is no object, go for the double island trend.
6. Dark wood cabinetry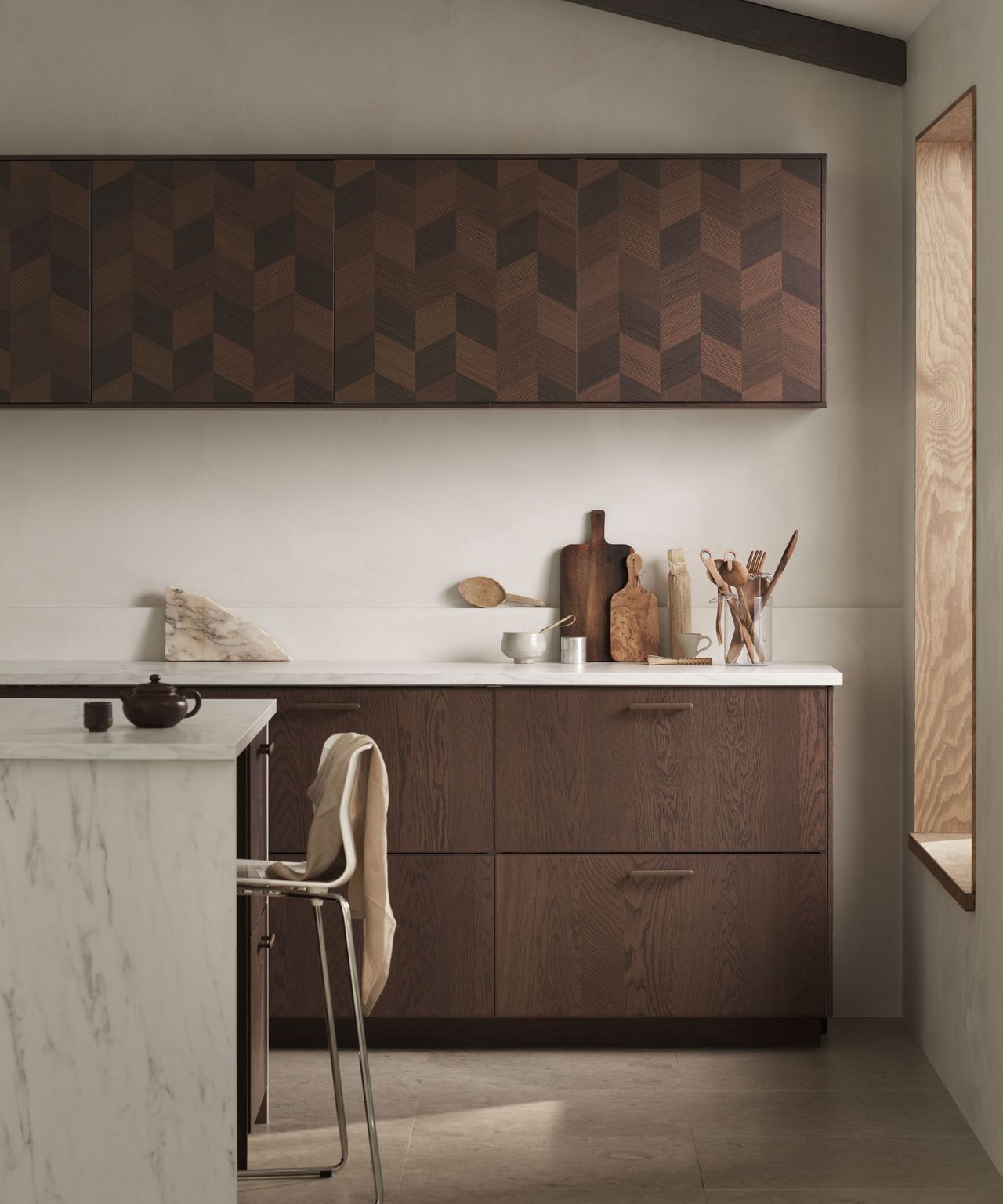 Whether a rich wood kitchen is real walnut or mahogany, dark stain or a more affordable wood effect finish, there's no denying it adds an instant injection of luxury. Throughout the home, dark wood furniture and brass detailing have been making a comeback for some time, it's all about warm matte texture, rich grain and elements of parquetry, as seen here on Ikea's Hasslarp doors.
Give it a Nordic slant with minimalist, streamlined or simply framed doors, discreet handles and pale quartz or marble countertops. Or lean into the richness of the warmth of the wood, pairing it with deep wall colors and tiles or other dark colored units.
7. Broken plan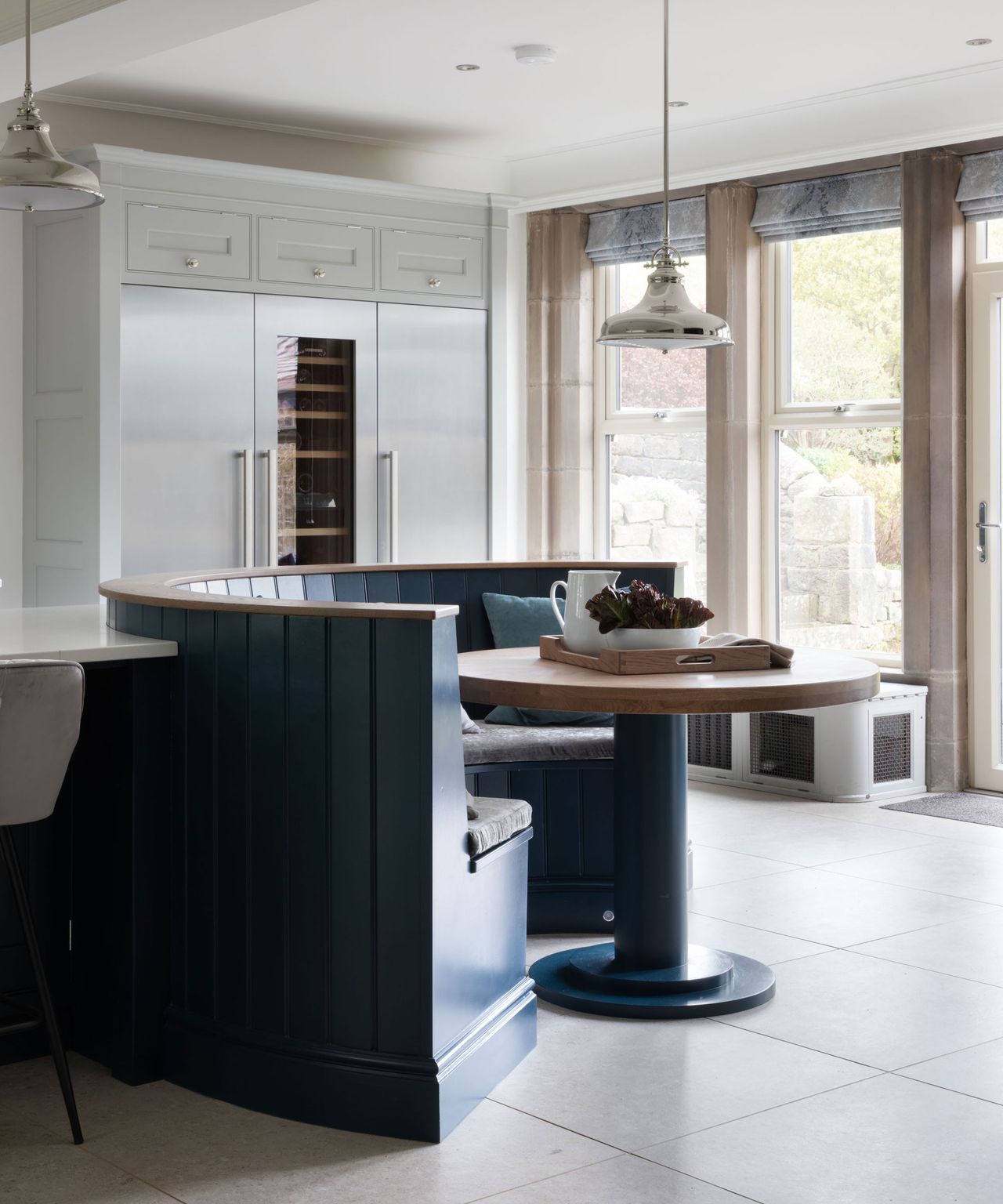 Whilst knocking down walls and opening up living spaces has been the only way to go in the way of kitchen extensions and renovations for the last few decades, there's been a growing trend to re-define these spaces to form broken-plan living. We're not talking about building walls back up, but maintaining an open feel whilst zoning areas by using half partitions, glass panels or disappearing pocket doors that offer the flexibility of closing up spaces when needed.
Other techniques include freestanding furniture or islands or peninsulas, shelving units filled with plants or books, split level flooring and paint tricks to carve out distinct areas for eating, entertaining and cooking.
'We're predicting a big rise in broken-plan living in 2022, as homeowners seek to create multi-functional spaces with added privacy,' explains George Forsyth, MD of Drew Forsyth & Co, 'many projects now ask for an open-plan layout, perhaps merging the living room by knocking the adjacent wall down, and incorporating seating areas and large islands. This is a likely result of working from home more and the completely open-plan layout now allowing for cozy or quiet areas', he continues.
8. Three dimensional texture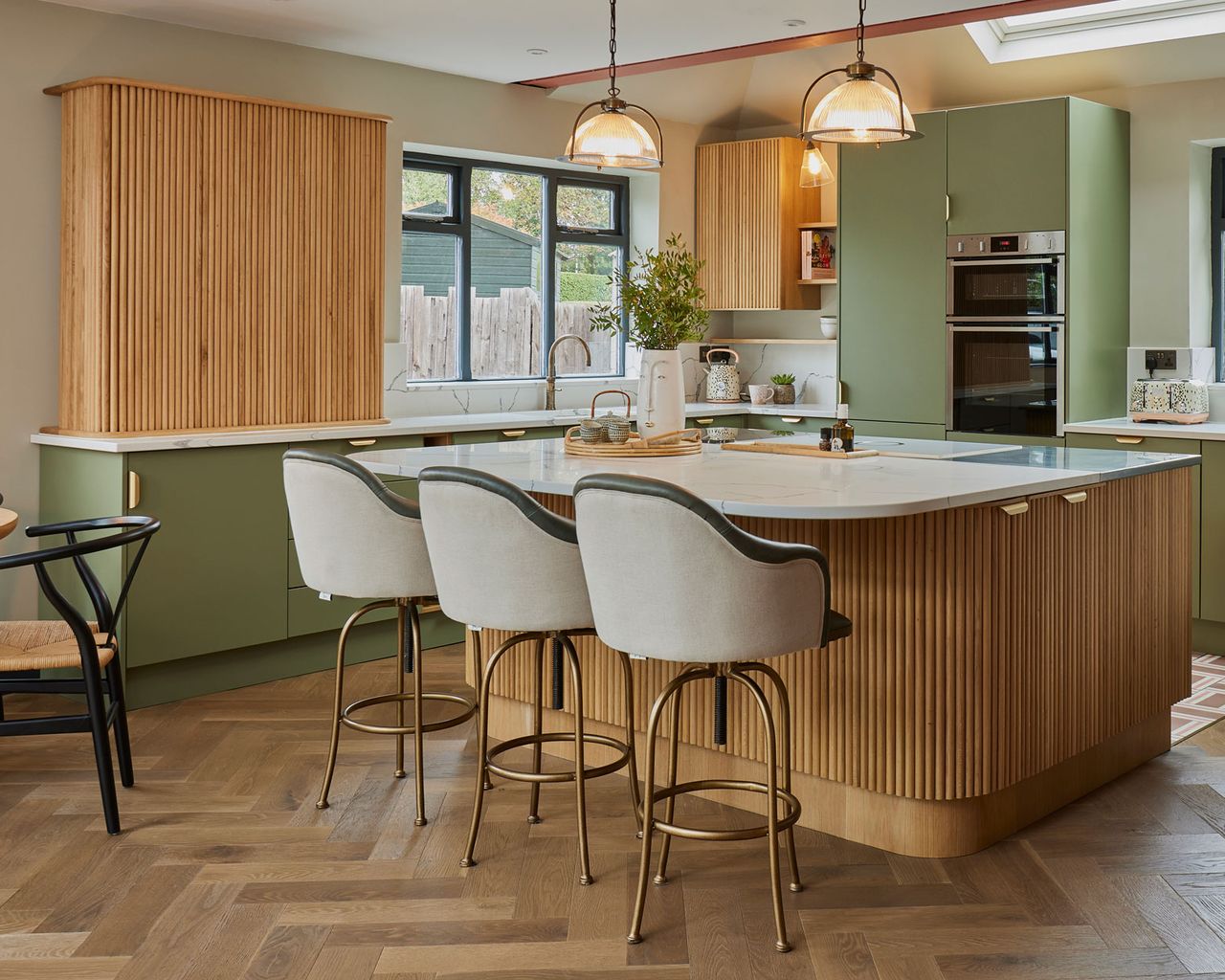 We're seeing a totally modern take on traditional kitchen paneling with simple verticals, geometric relief pattern, scalloped shapes, fluting or reeded designs on cabinets, drawer fronts or islands. Whether glass or wood, this alternative texture adds unexpected depth, unique character and a new exploration of surfaces for kitchens. 
Victoria Kember at Kerv Interiors explains how to inject texture into the kitchen with their reeded kitchen project, 'we feel it works best used only within certain areas of the kitchen so it stands out making an impact, not used on every cupboard where it would be rather overpowering. Thinking about the design of the other doors, avoid anything too 'heavy', to allow the reeded doors stand out'. 
9. Concealed kitchens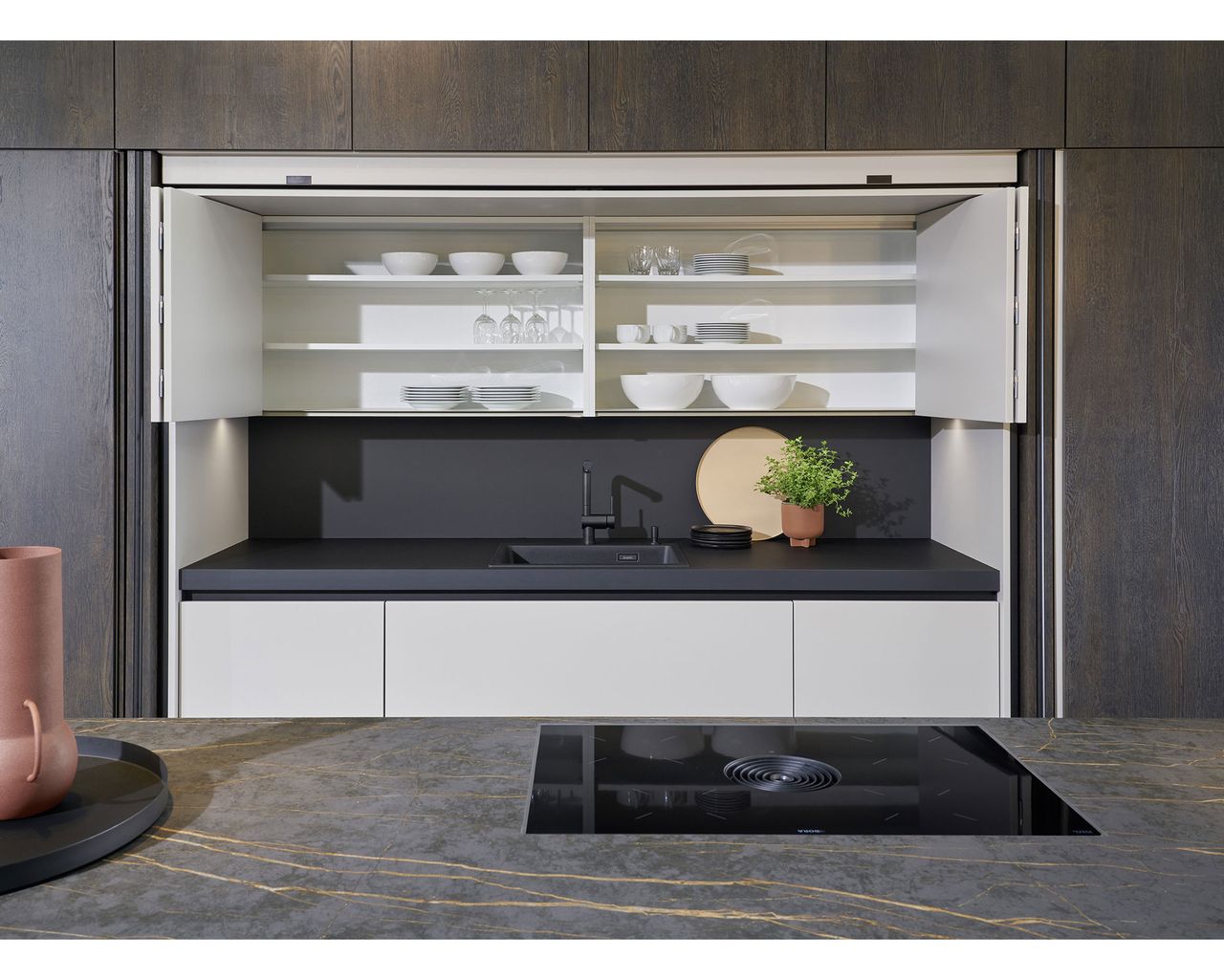 Going one step further than our blended kitchen trend, instead of making the kitchen an extension of the living space, this trend aims to completely conceal any sign a kitchen.
Ok, this may sound as though it's only useful for the kind of plush pads seen on Selling Sunset where no one actually needs a kitchen to cook, but the concept applies to small kitchens, studio apartments or open-plan rooms too. Of course integrated appliances are nothing new, but concealing small appliances within larder cupboards, clever additions to cover sinks or stovetops or the use of floor to ceiling folding panels, disappearing, sliding track or pocket doors can completely hide the kitchen when not in use.
'With open-plan kitchens in use morning, noon and night, concealing appliances, cookware, sink and general clutter behind closed doors creates a non-kitchen look. Resembling living room furniture rather than classic kitchen cabinets, the hidden kitchen can incorporate a wealth of storage to keep the space looking organised and streamlined 24/7',  Daniel Bowler, Director of Eggersmann.
10. Green kitchens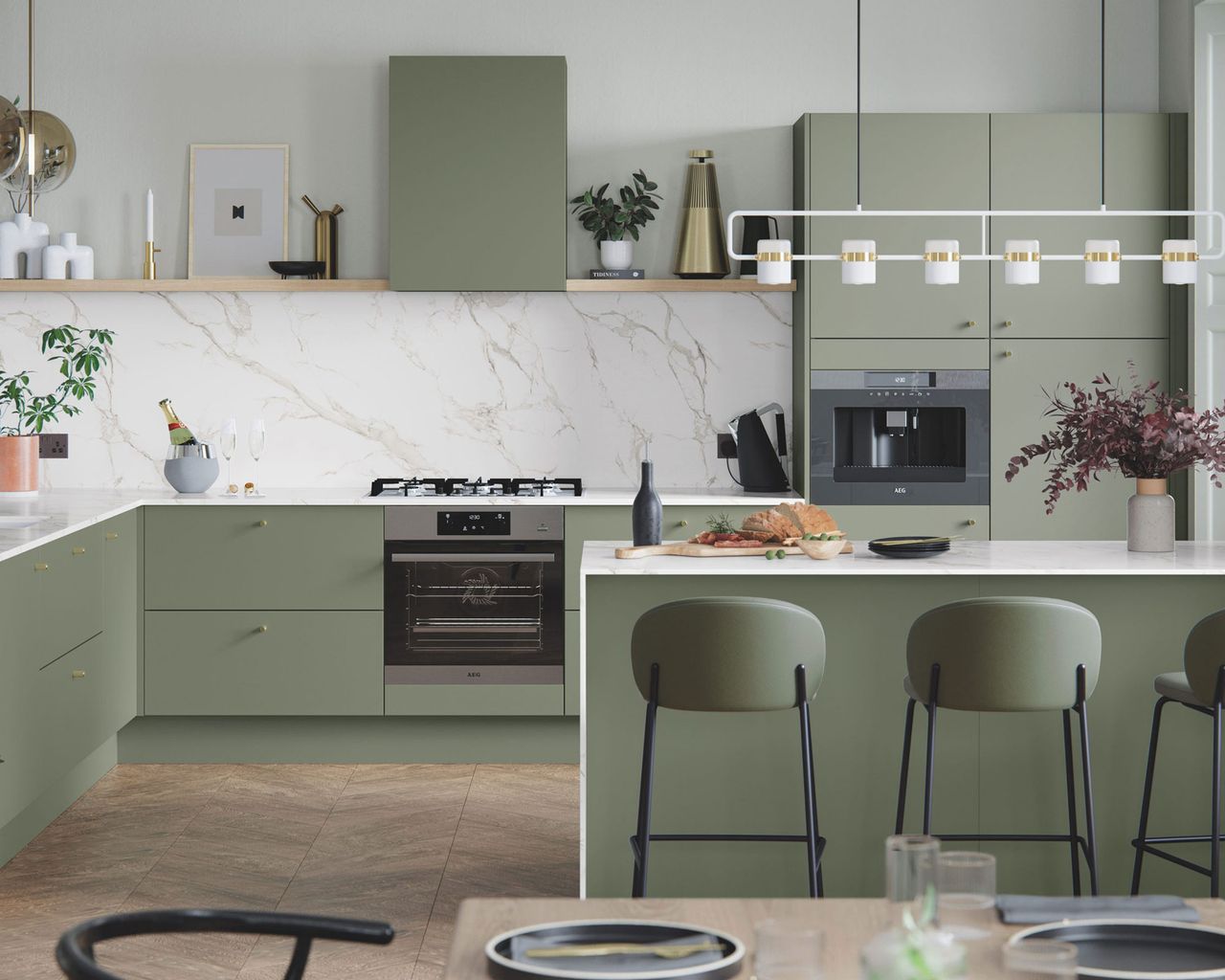 Midnight blue who? Green, in its many guises is the kitchen color to watch, from bold emerald, deep forest greens to restful sage and balancing gray green mid tones, there's a shade to suit every style.
Ok, so according to David Wilson Homes, Google searches show dark blues are still the as popular as ever, 'navy-blue kitchen searches, have increased in searches by 1056% over the past year, but green kitchens are also on the increase. Searches are up 733% in the last 18 months, with this being one to watch as we enter 2022'.
Deep green brings a sense of heritage and tradition, ideal for shaker kitchens, whilst mid greens and minty tones add a fresh update to modern, slab doors and adaptable grey-based sage works on just about any door style. 
11. Tinted wood stain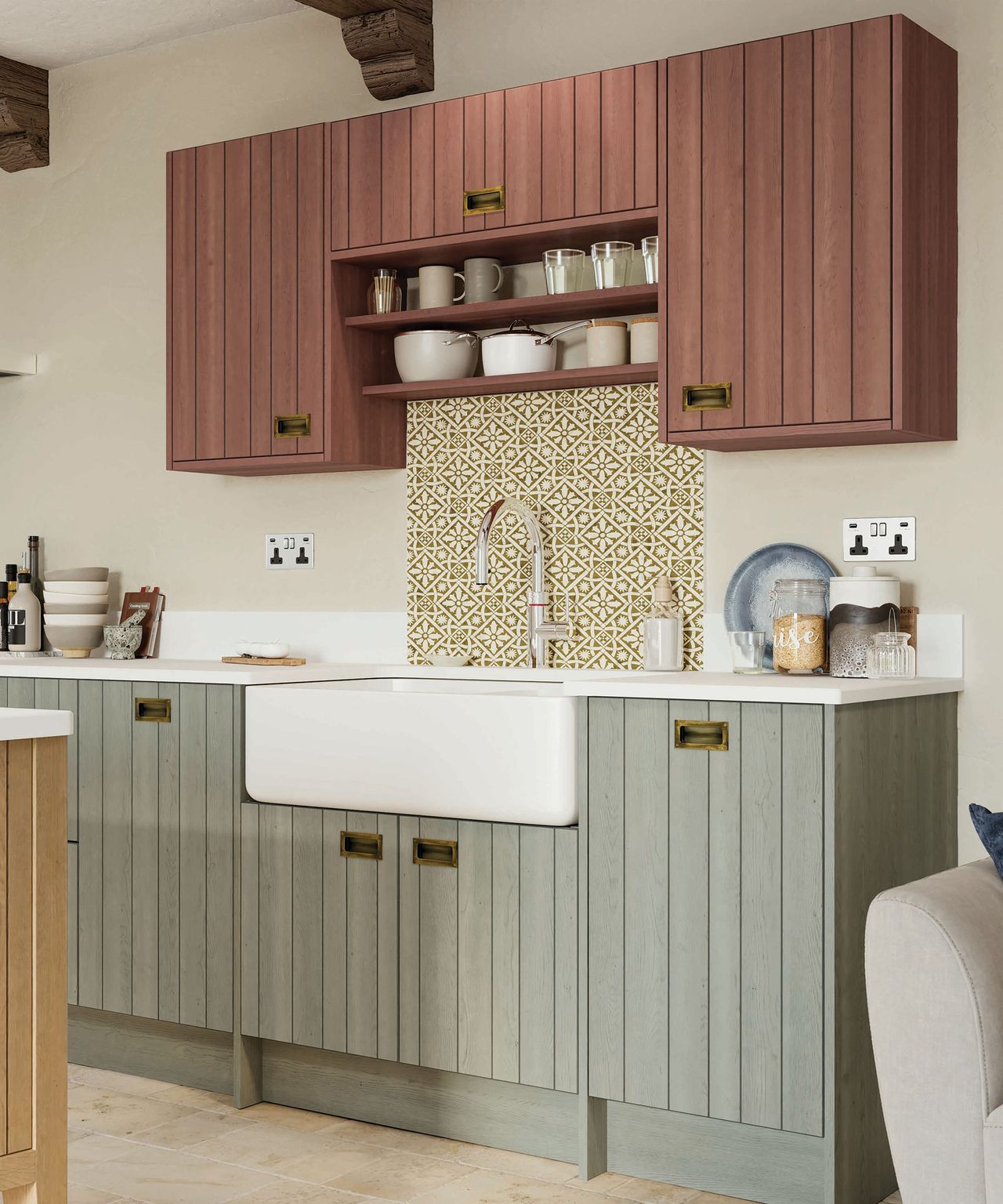 Striking through more than one trend for 2022, tinted wood stain brings both texture and the chance to experiment with a non-neutral kitchen. The finish maintains all the beautiful, tactility of natural wood but with a subtle wash of color too. The stain allows the grain to still be visible and the opportunity to experiment with different shades on cabinets, without a total color block changing the wood finish.
'Rich textures in the kitchen are becoming extremely sought after, using wooden cabinetry in your kitchen design is a great sustainable design choice too. The colored stain is designed to allow the natural characteristics of the wood to emerge. As it is a natural product, the oak will also have variations of grain structure and shade for bringing added depth, interest, and texture into the kitchen,' explains Paul Jenkinson of LochAnna kitchens.
What are the new kitchen colors for 2022?
The trend for all black kitchens is here to stay and gaining momentum. Brown and dark plum tones are making waves too but we think 2022 will be the year of the green kitchen: 'Green is an emotionally uplifting color, that inspires us to nurture ourselves and those around us, which is the perfect vibe for a kitchen', explains Interior Designer Ginger Curtis of Urbanology Designs.'It gives people an option for color without being too bright. It still feels organic and natural', she continues.  
Timber finishes are back in favor, both dark wood and warm mid-tones like oak, with a simple Nordic slant, including simple, seamless doors and discreet handles that  show lets the grain of the wood do all of the talking.
And when one color isn't enough, two tone kitchens will continue to be the way to go. We're seeing splashes of yellow kitchens gaining momentum too.
What are the trends for kitchens in 2022?
Texture in many forms is taking kitchens from utilitarian to cozy spaces, whether that's the use of natural timber, artisan style tiles or tactile three dimensional finishes such as reeded and fluted surfaces.
The use of striking stone such as slab marble with statement natural pattern are being used as a full wall backsplash or feature island. 
The need to make kitchens more multi-functional spaces means offices are being incorporated whether as an extension on the kitchen using the same cabinetry and countertops or freestanding larder cabinets that can be closed away at the end of the day.
Creating a seamless flow from kitchen to living in open-plan spaces has meant there's a trend towards hidden kitchens and camouflaging appliances, with minimalist doors that cover any sign of the kitchen.  
This seamless flow has also led to personalizing the kitchen, by adding freestanding, character pieces, taking away top cabinets in favor of open-shelving ideas and more bespoke, less 'fitted' kitchen designs. Accessorizing the space as you would any other living space brings in the personality of the rest of the home, as  Corban De La Vega, Chief Marketing Officer at Decor Matters explains, 'adding antique and vintage furniture adds your personal story, which is important when customizing a home. Perhaps there is a dining table or bench that has meaning. The trend is moving towards creating a space that isn't just full of factory-made objects but reflects on your experiences, family, and background, so try decorating your home with objects that hold nostalgia.'