11 pumpkin painting ideas for Halloween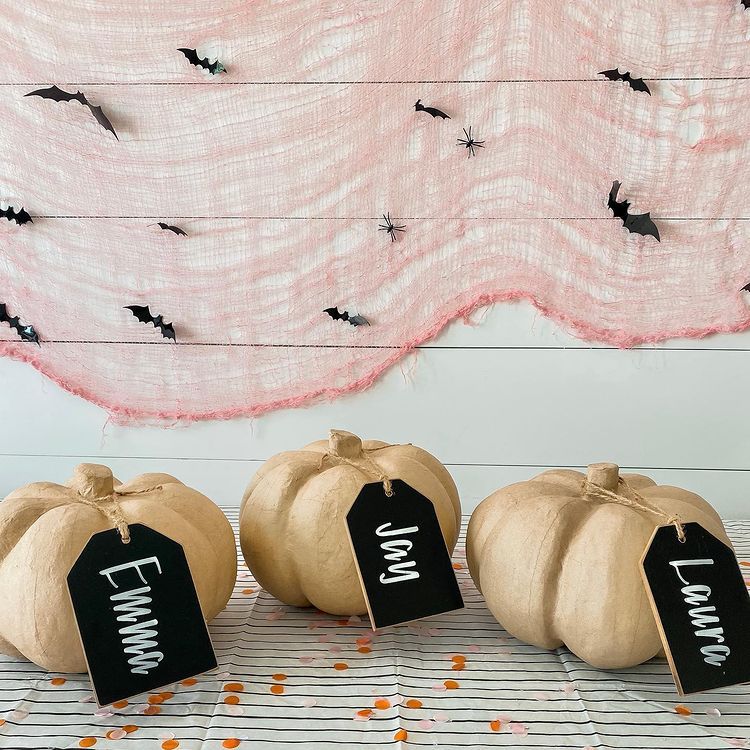 With Halloween just around the corner, it's time to start thinking about the decorations to incorporate inside and outside your home. We are – controversially so – big fans of pumpkin painting ideas for Halloween. Sure, the most important of all the decorations is usually the carved pumpkin – but carved designs can be more messy (not to mention stressful) and the results that you can get from paint can be truly stunning.
Painting gourds instead of carving them is going to be just as fun and satisfying for little ones (and adults, too!) but it takes the stress and mess out of the activity while also ensuring your pumpkins will last for the entire holiday and elevate the existing DIY Halloween decorations you have on display.
Pumpkin painting ideas for the whole family
Carving pumpkins can be a very messy activity and unless you're a pro, it's hard to make them last very long so if you'd rather avoid all of that, choosing easy pumpkin painting ideas as your craft of choice this year is the way to go.
Wondering where to start? Below, we've rounded up a handful of fun and unique ways to paint your gourds that will pack just as much punch as traditional carved pumpkin ideas. All you need is some acrylic paint, paintbrushes, and a bit of imagination to bring your Halloween vision to life.
1. Pastel hue pumpkins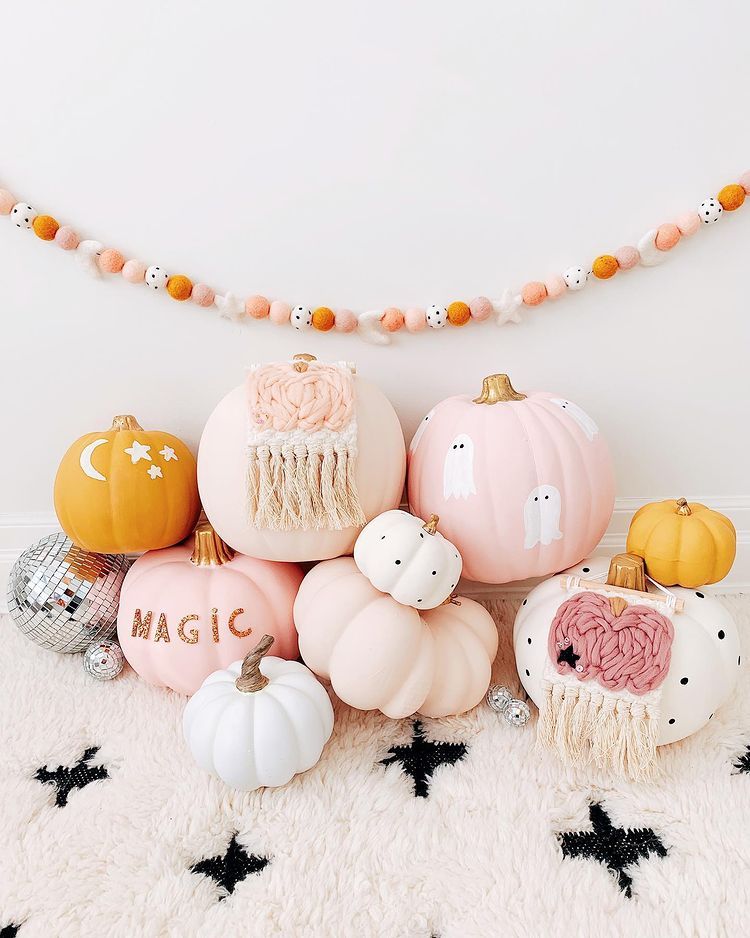 Nod to a pastel color theme for your painted Halloween pumpkins this year for more decorative and less spooky vibes. Grab star and moon stencils, get creative with fabrics and we're sure you can freehand that ghost for the perfect!
'Painting pumpkins is such a great alternative to carving, is safer for little kids and allows you to be more creative with different colors and designs,' shares Andrew Griffith, Owner of Garden Furniture. 'To really make the pumpkins stand out buy acrylic paint and a variety of brush sizes for big and small details. Adding sparkles, pom poms, ribbons or feathers also adds a fun element to the pumpkins. These items can be found at any dollar store and can always be used again for other arts and craft ideas.'
2. DIY a Frankenstein pumpkin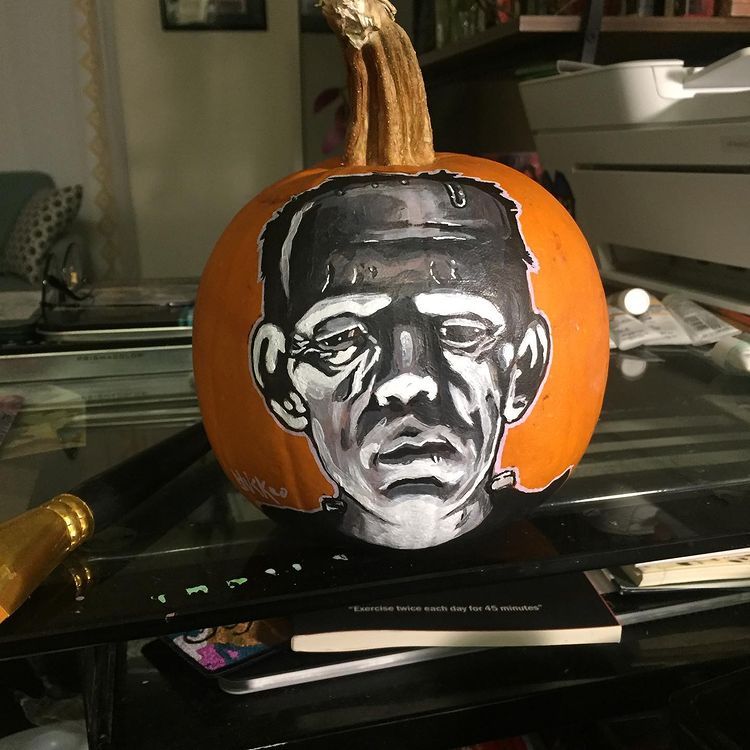 Spooky? Check. Cool and artistic? Check, check. This no-carve pumpkin design will take a little more patience, but you could simply print off an image and trace it on for an easier approach when it comes to painting.
'When painting pumpkins, try to stick with a theme to make them stand out even more on your front step,' suggests Griffith. 'Maybe pick a favorite movie and paint the characters, or paint traditional Halloween creatures like a ghost, skeleton or Frankenstein's monster.'
3. Wildlife pumpkins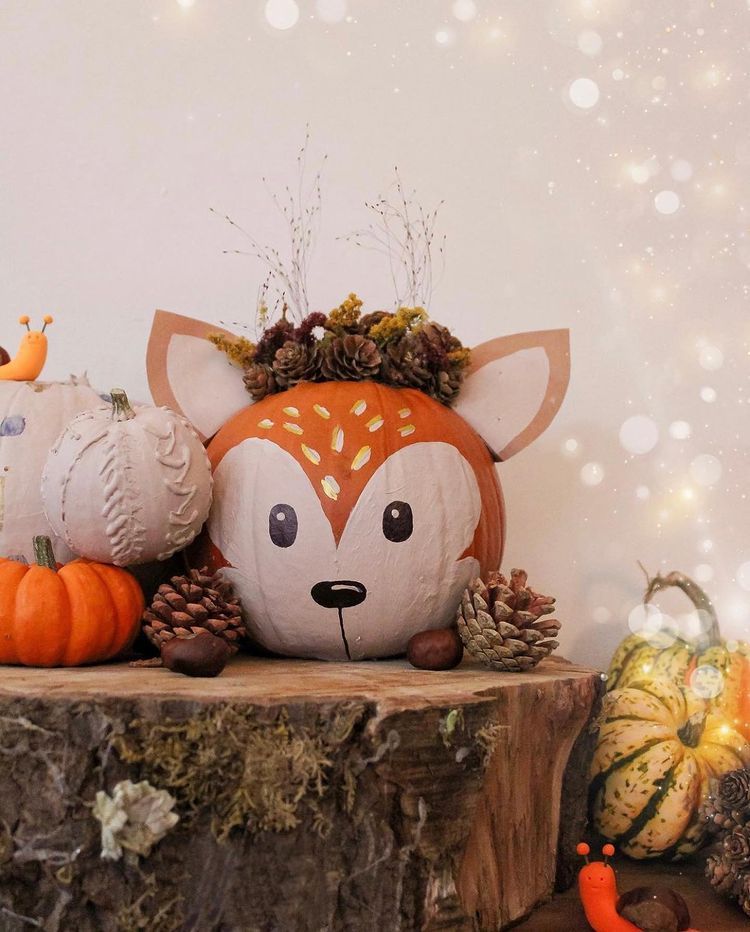 Hot gluing pieces of cardboard to the pumpkin to extend the artwork is also a great way to reuse your recycling and create a masterpiece, says Griffith. 'Cutting out shapes like fish fins, legs and arms to attach to the pumpkin makes it look more three dimensional,' he explains. 'Painting is definitely an easier and more creative way to elevate your pumpkins this year, so put down the carving tools and pick up a paint brush instead!' We love this angelic deer pumpkin, enhanced with natural decor from your own backyard.
4. Poured paint pumpkins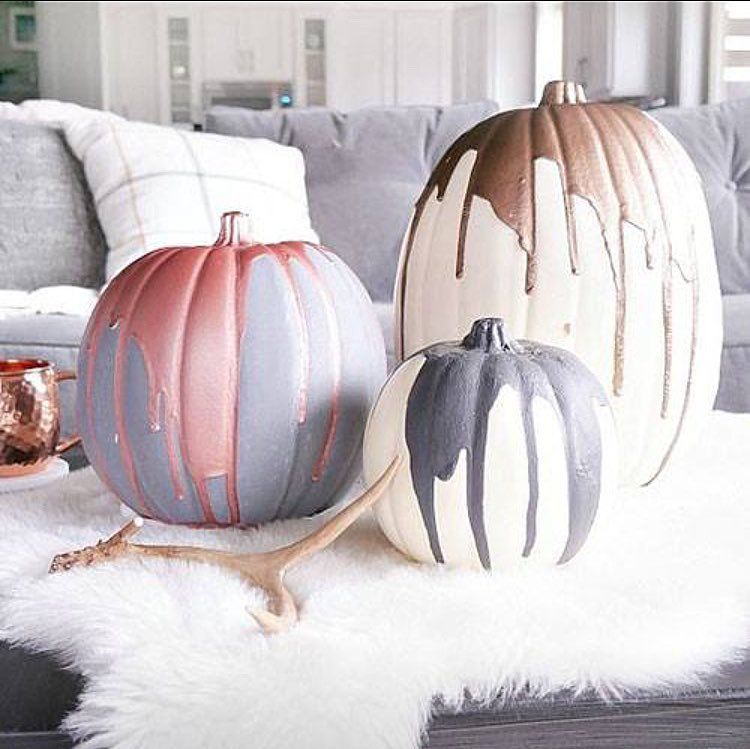 A little more modern and glam, we love this easy painted pumpkin look. To make a paint suitable for drip painting on pumpkins you need to combine three parts acrylic paint with two parts PVA glue and one part water. This should be mixed well and give a nice texture when applying to your pumpkins or gourds.
'For the best results you'll want to put the paint into a squeeze bottle with a nozzle but you can also just pour it from a cup or small jug,' explains Josie Cornhill, Parent Blogger at Me, Them, and The Others. 'You'll need a minimum of three colors and you'll get the best results if white is one of them.'
Cornhill suggests pouring the paint directly onto the pumpkins to create a base layer. To pour the paint onto your pumpkin for the base, decide the order you'd like to add them in and then squeeze or pour the paint onto the stalk end of the pumpkin until it spills off over the sides. Repeat with your other colors and then leave it to dry.
5. Painted shapely gourds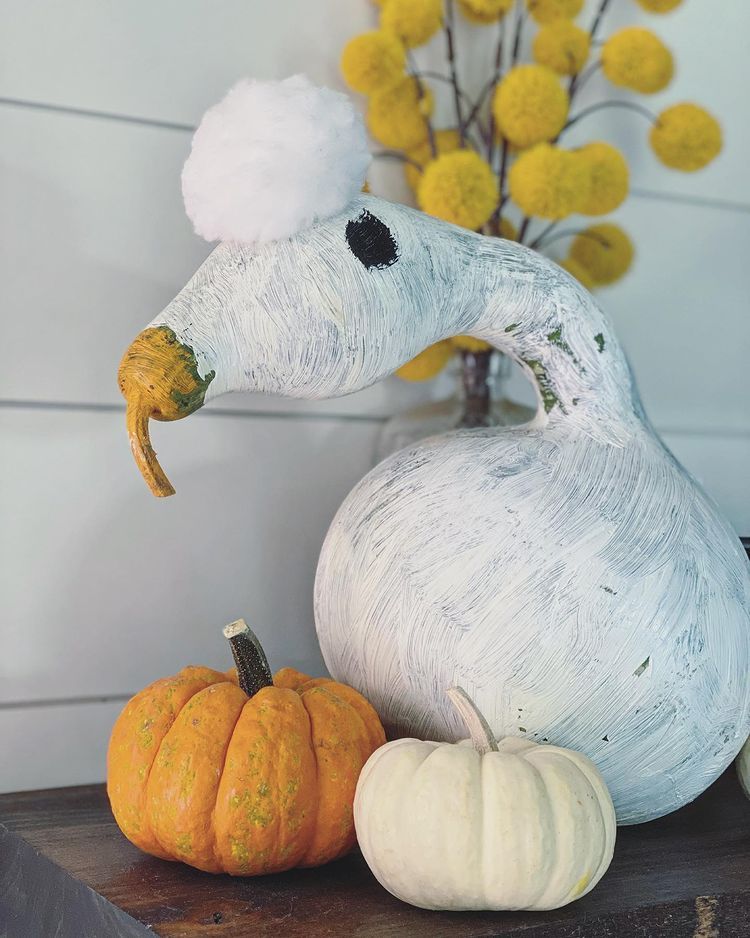 It makes sense that large pumpkins have become the go-to for carving and decorating – but if you're planning to paint your way through Halloween then a decorative gourd or two is no longer out of the question. Opt for unique shapes and sizes to give your decor a more playful feel. And, just add pom poms for more interest.
6. The 50:50 pumpkin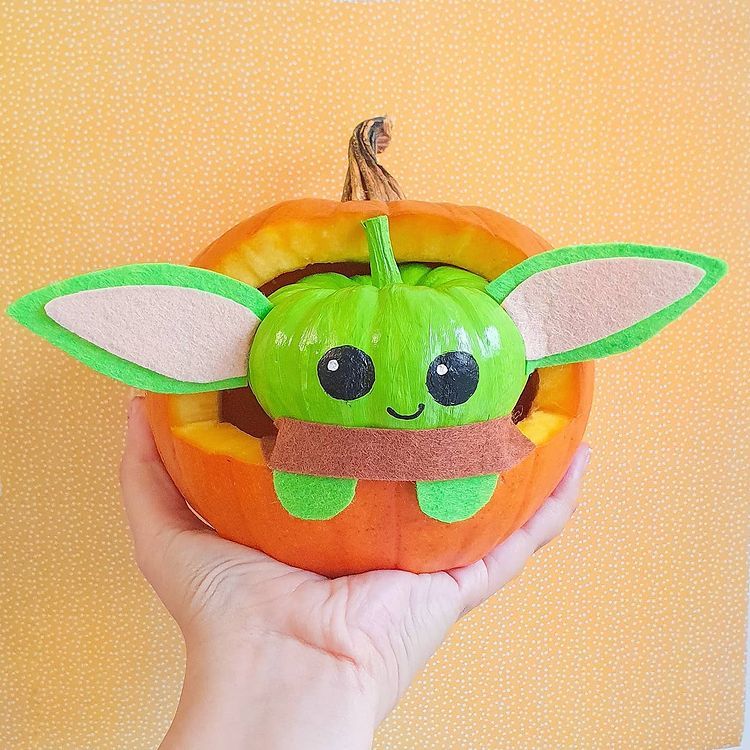 Nobody said that you have to forego carving entirely! In fact, opting to paint and carve can create another dimension that will add visual interest and whimsy to your display. Consider making use of multiple pumpkins and gourds and playing off of each other to achieve a fuller effect.
7. Unicorn pumpkins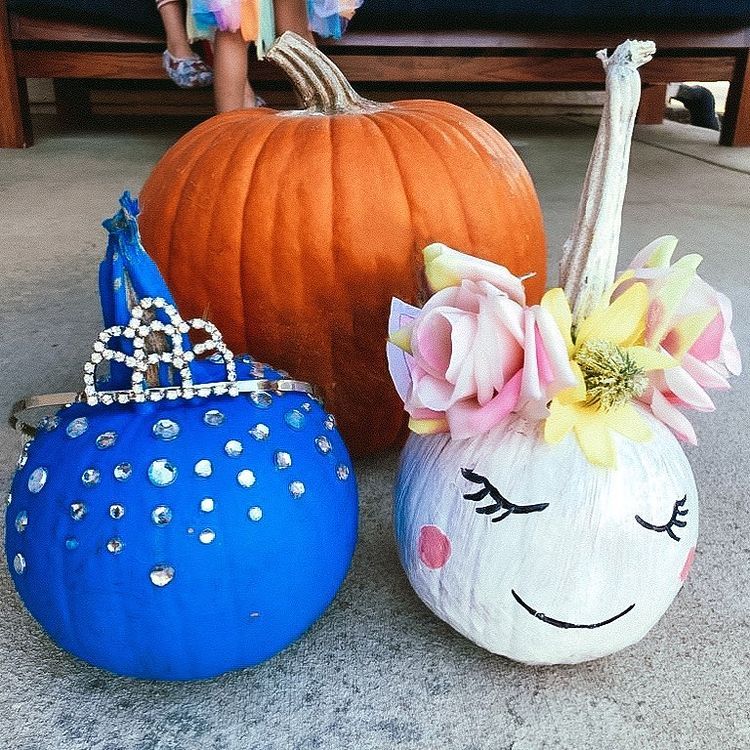 Most people look at a pumpkin and see a small blank canvas – but the stem and entire body of the pumpkin shouldn't be overlooked. This hand-painted unicorn is a great example of looking at the pumpkin as a whole rather than a small canvas.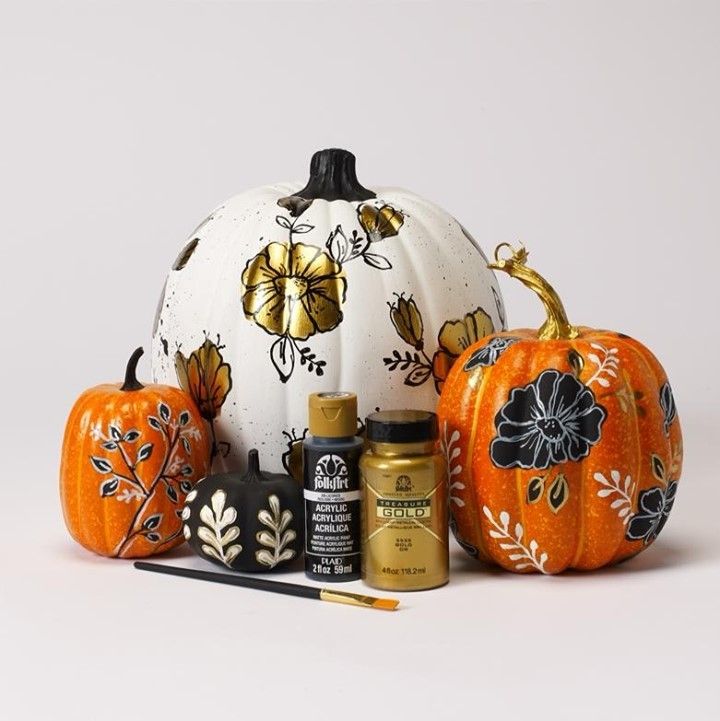 You might not immediately think of metallics and other glossy hues when picking up paint for your pumpkin project – but adding golds, silvers, and bronze colorways into the mix is a surefire way to add some glamour to your pumpkin paint job.
9. Freehand fall art pumpkins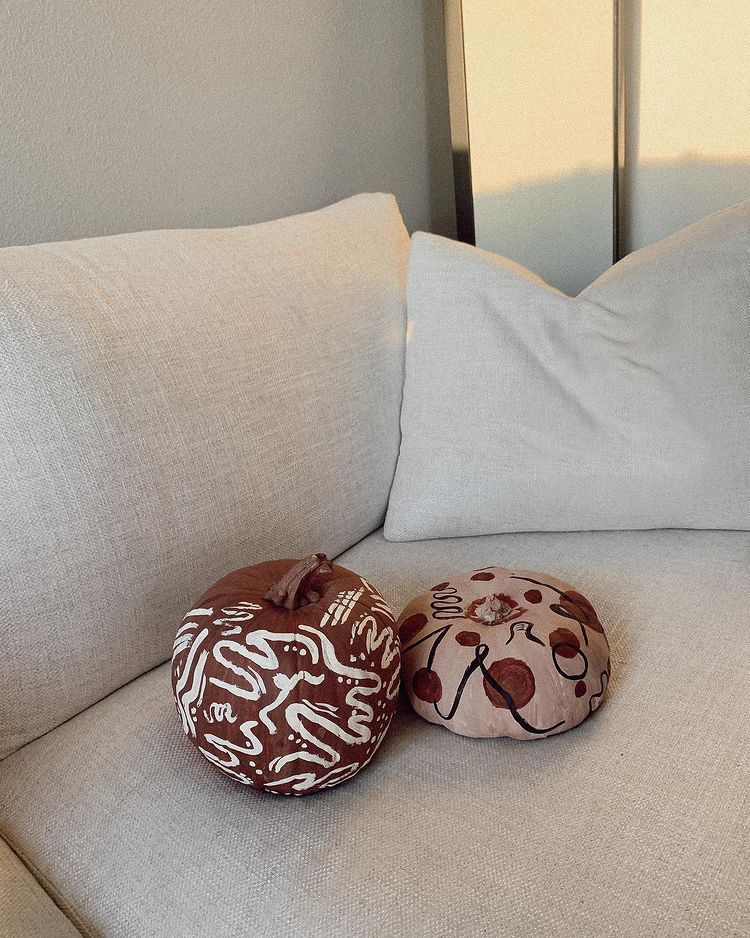 Bright colors and spooky designs are Halloween classics – but you don't have to opt for traditional design if you plan to keep your pumpkins and gourds for the entire fall season. Consider looking to current trends for patterns and colorways that will pack a punch while blending into your existing decor.
10. Peachy colored pumpkins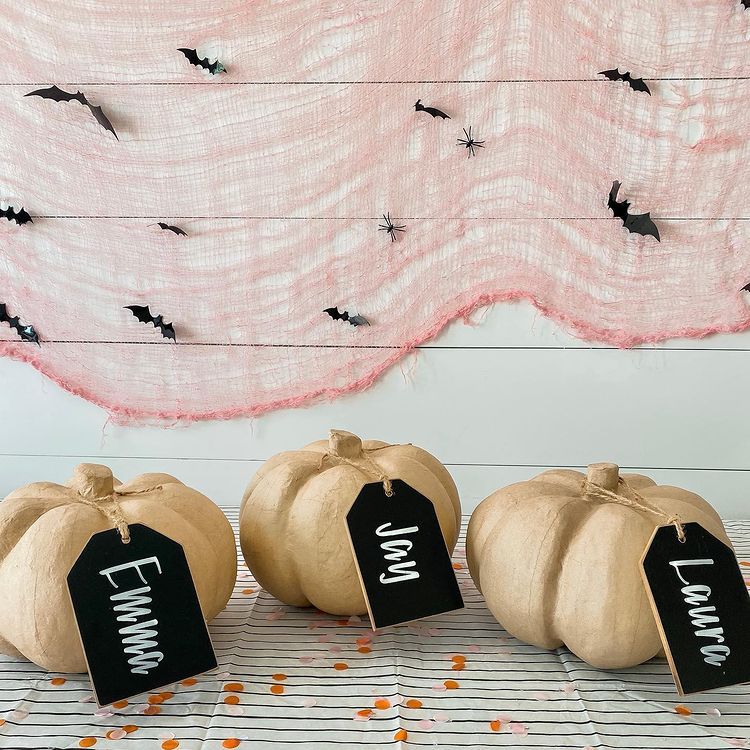 If your painted pumpkins are acting as a subtle decorative statement to carry other halloween decor such as spooky labels, like name tags or directions for trick-or-treaters, don't sway away from painting yours in one lovely block color for the perfect backdrop. Using spray paint can also work quite well for this. We love a chalk finish while a gloss will look great too.
11. Floral fall pumpkins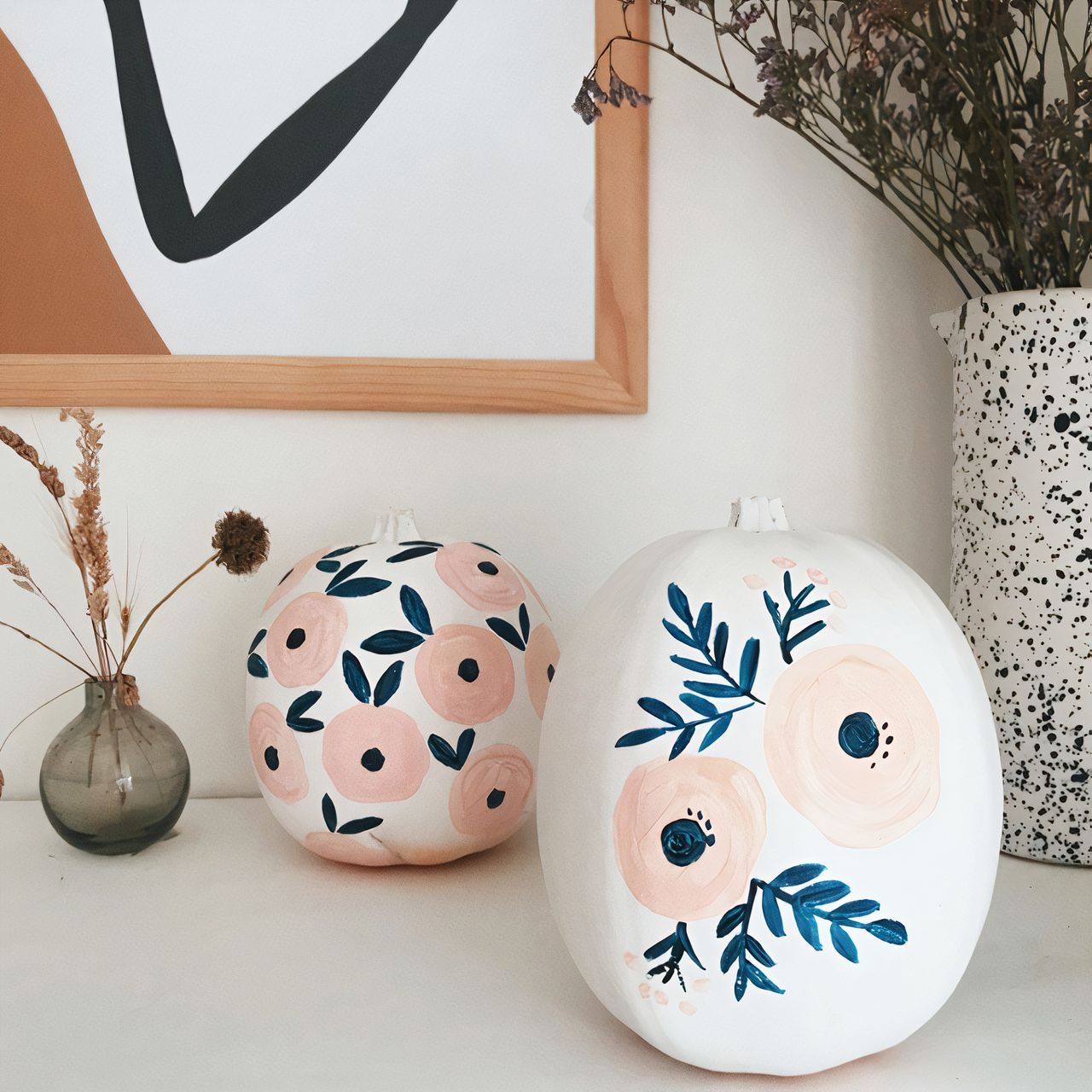 Create these cute pumpkins and let them brighten up your fall decor. Simply paint the whole pumpkin – stem and all – in white and once dry, add the detail. We like layering a couple, for a more artistic look.
How should I decorate my pumpkin?
How you decorate your pumpkin is totally up to you, the time you have available, the crafting materials you have to hand and of course it depends a little on your painting skills! Just take this Halloween crafting activity as a great chance to get creative with the whole family in spooky season!
Painting your pumpkins rather than carving them allows for much more use than simply sticking on your fall front porch. Consider using those small decorative gourds as indoor decor; they make the perfect tablescape centerpiece and can even double as place cards for autumnal dinner parties. 

https://www.realhomes.com/design/pumpkin-painting-ideas