15 Ideas For Banquette Seating In The Home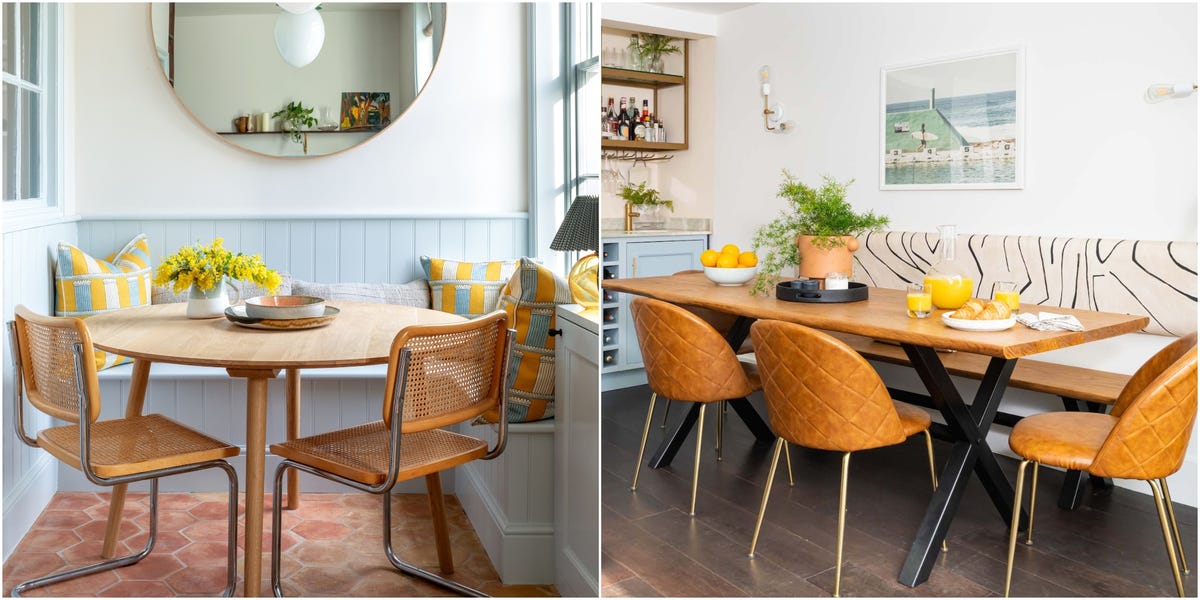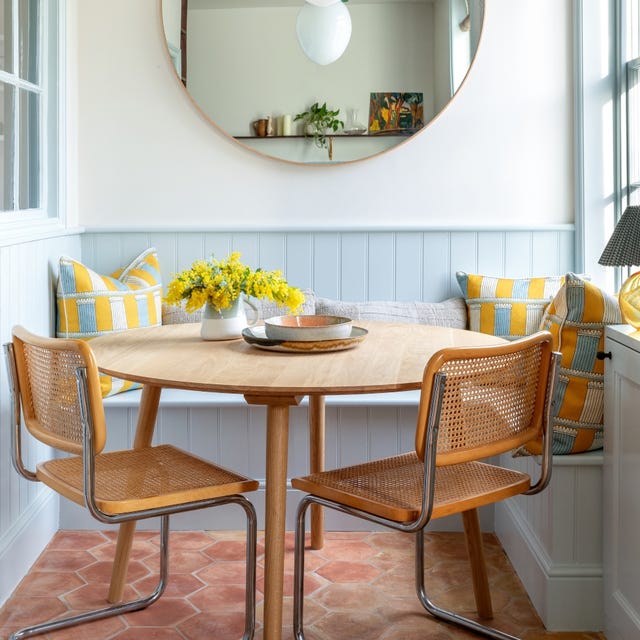 Lizzie Green / Interior Fox
What is it about banquette seating? Restaurant-like, sociable – and not to mention a novelty for most, incorporating one into the home suddenly turns a dining table from predictable to a set-up that feels cosy and inviting.
'Banquettes are a wonderful way to introduce seating when space is tight,' says Melissa Hutley, co-founder of interior design practice Hutley & Humm, who regularly uses them in her schemes. 'You can have full seating against a wall for three or four people where only two chairs would normally fit.' And then there's the storage offered by those with lift-top lids and drawers – perfect for space-invading essentials, like wrapping paper, yoga mats and occasional cooking pans and platters.
Of course banquettes can be a souped-up bench lining a hallway or a bay window, as Hutley reasons: 'They provide another area to use fabrics and patterns in the form of cushions – this always gives warmth and personality to an area in the home that can otherwise feel cool.'
Beth Dadswell, founder of Imperfect Interiors, is also a big fan of banquettes, but advises approaching with caution when it comes to fabrics: 'Consider the material that you use for the seat cushion carefully, and choose something that is wipe clean or machine washable.'
With the tips from the experts in mind, here are 15 great uses for banquette seating…
Advertisement – Continue Reading Below
1
Creating sofa seating in a kitchen
Well… almost. As you can see here, the built-in banquette takes up much less space than the dining chairs opposite, creating a more laid-back feel. The linen-wrapped bolster cushions are something you could rustle up with vintage fabric.
Pictured: A room from a project by Lizzie Green
2
Turning a redundant window into a reading nook
At the end of this formal living room, this pretty bay window wasn't getting the love – or use – it deserved, so interior designer Holly Vaughan put paid to that with squishy seating with built-in nooks for storing books. 'I decided we should really make the most of this area and create this little area where our client could go and completely switch off,' she explains. The abundance of natural light makes this set-up even more appealing.
Pictured: A project by Vaughan Design & Development
3
Uniting a kitchen-diner
'If you are building a banquette dining seat into your kitchen, try to tie in any joinery details such as tongue and groove or Shaker-style panelling,' says Beth Dadswell of Imperfect Interiors. 'Paint it in a complementary colour and then add a mix of patterned and plain cushions for a contrast in texture. And if you can, add wall lights and lots of art above it to create a cosy spot for dining.'
Pictured: Interior design by Imperfect Interiors
• Read more: A guide to wall panelling
4
Creating a colour clash
Not only does a banquette reduce the footprint needed for chairs around a dining table, it can also be employed as a handsome piece of furniture in its own right.
'The expanse of wall this seat sits on is huge, so I designed this as a statement piece to really be a focal point,' explains interior designer Laura Stephens. 'The high back, slim side profile and tan leather complement the Hans Wegner Wishbone chair and pop against the lively blue painted wall.'
Pictured: A room from a project by Laura Stephens
5
Doubling up as a day bed
In this garden room, the day bed is topped with removable covers and scatter cushions, offering an extra place to perch and even sleep.
Pictured: A room from a project by Hutley & Humm
6
Adding bistro charm to a bay window
Some late Victorian houses come with a long kitchen featuring a bay window midway down one wall. Here, it was factored into the kitchen layout and created the perfect opportunity for a petite dining area to enjoy that first cup of coffee in the morning, whilst also generating storage.
Pictured: A project by Herringbone Kitchens
• Read more: Storage ideas to banish clutter for good
Most banquettes are made to order, so why not have fun with your design? Thats what Laura Stephens did for her own kitchen, inspired by a scallop typical of traditional upholstery. She also opted for buttons to add texture and interest, and the bolsters act as arm rests. It comes with deep storage for those space-invading Tuppwerwares.
'The dining table can go in front of it, but when it was built it looked so lovely we decided to keep it like this so it could be seen,' she reveals, and who can blame her?!
Pictured: A room from a project by Laura Stephens
8
Making a family-friendly dining area
Small children and upholstery is usually a recipe for disaster. But the clever use of Concertex, a wipeable faux tan leather, makes it resistant to sticky fingers and spills. This nook created by Otta Design is also crammed with storage, from the trio of drawers on each side (which also provide a coffee table-esque surface) to another bank below. The smoked oil oak dining table (from Heal's) and walnut and black leather chairs (from Pinch) give the area depth and sophistication.
Pictured: A project by Otta Design
9
Adding pub grandeur to a home
In this kitchen by deVOL, the bench seating is painted the same colour and so blends into the wall. The seat panels lift up to offer storage.
Pictured: Banquette seating from a project by deVOL Kitchens
At first you don't notice that this set-up is actually a bench with an upholstered panel lining on the wall, but it's a cost-effective alternative to elevating a simple seating arrangement, and it gives you a chance to be creative with fabric choice.
Pictured: A dining room by Interior Fox
11
Making the best of a low window
12
Bringing that restaurant feel
Another day bed masquerading as a banquette. With stools opposite this beautiful Fred Rigby dining table, the look is more cafe than residential – and all the more desirable for it.
Pictured: The dining area at the home of Earl of East
13
Making the best of a narrow kitchen
It can be hard to carve out a dining area in a narrow kitchen, but this L-shaped banquette, complete with padding and storage, is the perfect solution. Not only does it reduce the number of chairs needed, it can also double up as a homework station and place to watch TV.
Pictured: A kitchen project by Herringbone Kitchens
14
Adding comfort to a picture window
Whether it's dining, working or simply staring out at the garden, you'd be hard-pressed to want to vacate this tranquil spot, which comes with a slim seat pad and printed cushions for the most inviting of banquettes.
Pictured: Interior design by Imperfect Interiors.
15
Making your dining table feel plush
This content is created and maintained by a third party, and imported onto this page to help users provide their email addresses. You may be able to find more information about this and similar content at piano.io
Advertisement – Continue Reading Below