16 Stylish Small Patio Ideas and Examples From Designers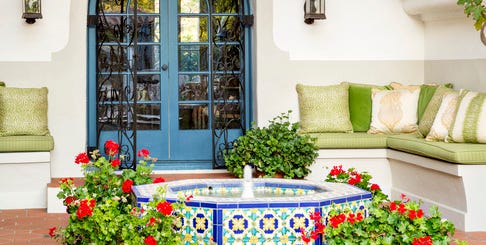 A small patio doesn't have to be short on style or function. Even the tiniest patios can be livable areas that allow you to enjoy limited backyard space to the fullest, especially when you design it to complement your lifestyle. For example, if you enjoy entertaining, make sure there's seating. Even a teeny patio usually can accommodate a bistro table and two chairs for morning coffee or afternoon cocktails.
But before we get into all the decorating possibilities, a few landscaping essentials: First, you'll also want to consider your patio's placement in relation to the sun. Shade should always be part of the design, either with an overhead structure, such as a pergola, or movable shading. A retractable awning or large umbrella is a less expensive way to provide a shady spot. Next up, you'll want to think about privacy. If you're squished up against your neighbor in an urban setting, try strategically-placed containers with vining plants to create a green wall (and flowering plants or herbs make the space feel warm and welcoming!), or something like decorative panels so you don't feel like you're always on display when you're outside enjoying your small patio.
So, are you ready to get inspired by some of our favorite small patios from designer spaces? Packed with stylish decorating ideas and clever space-saving solutions, you'll want to recreate your favorites.
Advertisement – Continue Reading Below
1
Set the Foundation With a Pea Gravel Patio
Patio surfaces don't necessarily have to be constructed from hardscapes such as brick, pavers, or concrete. Interior designer Gen Sohr's Nashville patio uses pea gravel as a base to create the feel of a Mediterranean getaway or casual country retreat.
Drapes provide privacy, shade, and style in this delightful design by Hadas Dembo at her Upstate New York home. Use outdoor-friendly fabrics, and make them easy to take down for cleaning by hanging them from simple hooks.
3
Make It Special With a Sauna
Make the most of your space by creating a spa retreat. This garden and sauna combo by Applied Studio in a London home provides a relaxing escape for its owner.
4
Ignite an Outdoor Fireplace
This Studio Shamshiri patio features a brutalist fireplace facade with organic, unpolished shapes that contrast with sleek tile flooring. Plantings add texture and interest and break up the expanse of the high white privacy wall and the colorful fabrics add some style.
5
Install a Pergola for Shade
A pergola provides shade in this Madeline Stuart design. This small patio features plenty of plants, brightly-painted terra cotta pots, and artwork to blur the boundaries between indoors and out.
6
Connect the Indoors and Outdoors
The built-in table and bench extend outdoors through the accordion-style window in this Kingston Lafferty Design. Gorgeous blue tiling makes the transition to the outdoors feel seamless.
7
Mix and Match Materials
This handsome pergola blends well with the terra cotta roof tiles and natural stone patio in this design by Maria Guta Louro outside of Sao Paulo. The small space also boasts a mini outdoor kitchen for entertaining.
8
Incorporate a Water Feature
This patio by Sara Solis in Southern California includes a water feature, which offers a soothing sound to muffle street noise. Banquette seating provides plenty of room for entertaining or napping.
Even the most compact spaces can be styled into a mini outdoor retreat. This alcove, designed by Tom Callaway, features beautiful lighting, flowering vines, and a small seat that allows you to sit and contemplate the garden.
10
Install Statement Lighting
This small patio is hemmed in by a vine-covered privacy wall. The eye-catching chandelier adds an extra layer of elegance to the outdoor seating area.
11
Enhance the Natural Setting
Mature vines create ample shade on this wooden pergola, while the brick patio lends a distinctly European feel. A floral tablecloth and an overflowing vase of flowers complete the look.
Bright aqua fabrics on the handsome chair and oversized ottoman make this small patio feel more grand. A simple tray provides a place to set cocktails, while small accents such as the birdhouse collection add whimsy.
This Pool House nook by Jeffrey Alan Marks in Montecito, California is ideal for relaxing after a morning swim or on a lazy summer afternoon. The accent wall echoes the shimmering reflection of the adjacent pool.
14
Choose the Right Layout
Jean Liu keeps the design neat and tidy with this tightly-arranged quartet of chairs. A low circular table echoes the geometric feel of the arrangement and provides just enough space for a charcuterie board and wine glasses.
15
Set up an Outdoor Fire Pit
Regan Baker included this handsome fire pit as a gathering place in this small patio design. The curved seating area echoes the circular fire pit. This extends the patio's life into the winter months. Many fire pits have been introduced that are stylish and functional, yet allow you to warm up the space so you can enjoy a breath of fresh air in spring and fall—and in warm climates, year-round.
Ed Hollander created a charming brick patio in the center of this backyard. Trees naturally shade the eating area, while perennials such as catmint soften the edges of the design, while also attracting pollinators.
Advertisement – Continue Reading Below