2021 Remodeling Excellence Awards | Home + Garden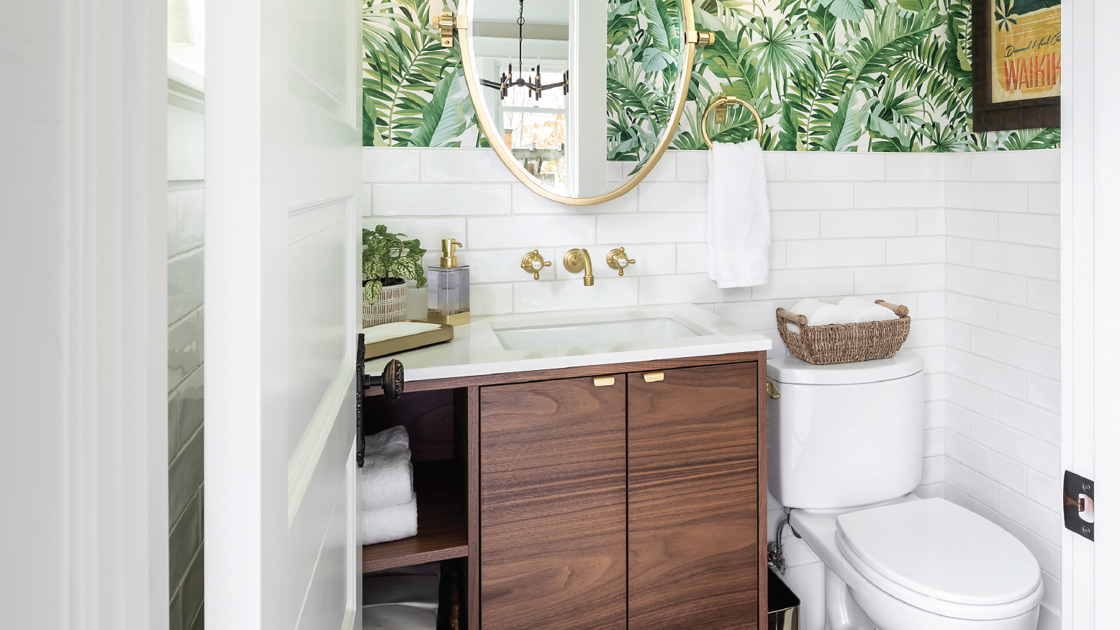 No doubt about it: The members of the Remodelers Council of the Master Builders Association of King and Snohomish Counties do top-tier work. Every year, they submit their favorite projects for the Remodeling Excellence Awards. Below, we show you the first-place winners — 27 inspiring spaces that will have you looking at your home and dreaming of knocking down a wall and adding some flair.
Specialty Details & Finishes
Hawaii was the inspiration for this small but stylish powder room. A monochromatic presentation was replaced with a warm new look bursting with tropical chic — including a backdrop of playful palm leaf wallpaper, and an organic slab-front walnut vanity. The space was widened for additional storage. Tile selection is subtly complex, with irregularly edged subway tile paired with modern black marble hexagon floor tiles. With white veining, even the tiles feel earthy and appropriate for a tropical retreat. Brass hardware is the unifying element tying it all together. MODEL REMODEL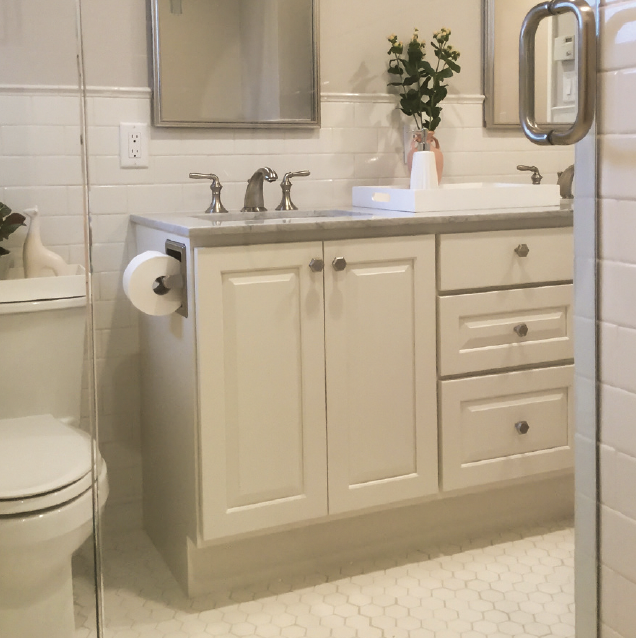 $35,000 to $55,000
This Viewridge home's main floor bath and powder room was too small. The master suite was in the basement, and the three kids occupied the main-floor bedrooms. The two youngest could either go through their older sister's bedroom to get to the shower or use the master bathroom in the basement. The solution — reconfiguring the existing space to make way for a new main-floor bath with two vanities and a powder room the parents could be proud to show off. The trick was creative framing with flat stud walls and careful clearances. LAKEVIEW DESIGN AND CONSTRUCTION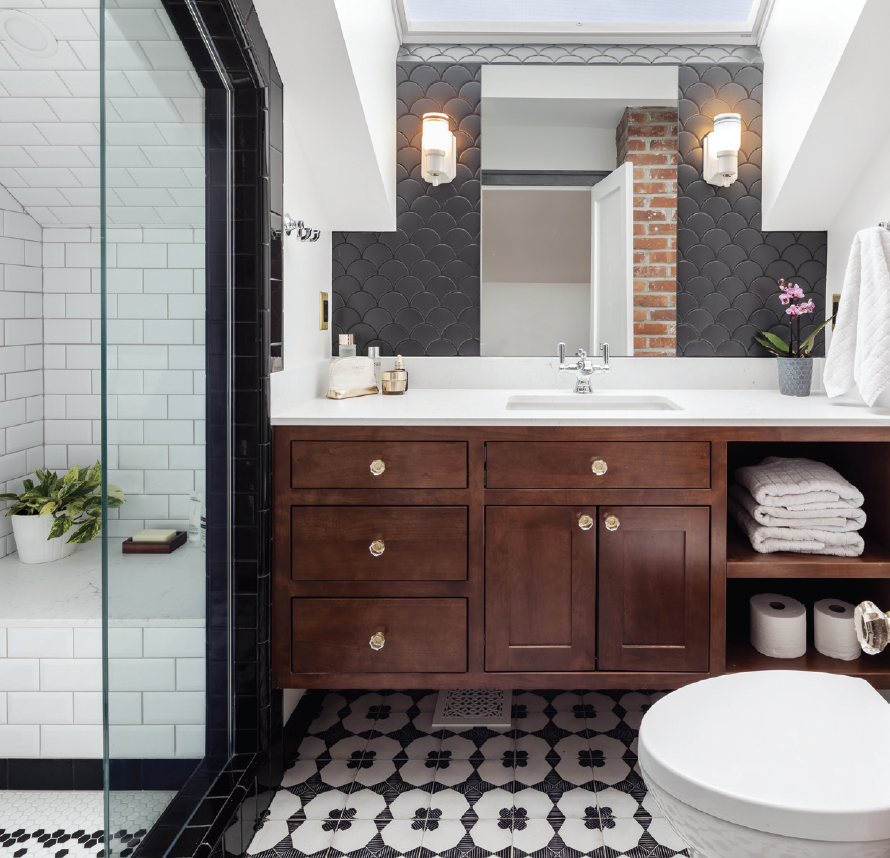 $55,000 to $75,000
Model Remodel enlarged this Wallingford Craftsman with a roomier, more functional secondfloor bathroom. It now has extra storage and a bump out for a spacious shower. A solar-powered skylight created more headroom and space for a mirror. Patterned porcelain looks hand-painted, with a glossy black perimeter outlining the walk-in shower and complementary matte black scallop tiles around a floating vanity. Costly structural changes were avoided by cleaning and sealing a chimney running through the bathroom. Low-flow energy fixtures and LED lighting make the space energy-efficient. MODEL REMODEL

More Than $75,000
Just off the master bedroom and leading into the walk-in closet, this luxurious bathroom is customized with decorative wallpaper, a crystal chandelier, and marble running from the steam shower to the wine fridge in the walk-in closet. The steam shower features in-floor heating and a bench. A free-standing tub completes the space. Floor-to-ceiling inset cabinets with crystal hardware provide storage, while custom cabinet lighting illuminates toe kicks. A custom sound system was added among other amenities. JM BOGAN CO. INC.
2nd Place — Eastgate Primary Bathroom Bellevue
This Bellevue client wanted more space and storage in the existing footprint. An unused tub was replaced with a shower to accommodate two. Letting in natural light from the front window while ensuring privacy was a priority. The space was opened by removing a framed linen closet and wall that separated the vanity and shower. Simply removing the tub provided space for the two-person shower. New cabinetry, a built-in laundry hamper, and pullout hair station cut the clutter. Herringbone tile makes a bold statement in this neutral-colored bathroom. NEIL KELLY COMPANY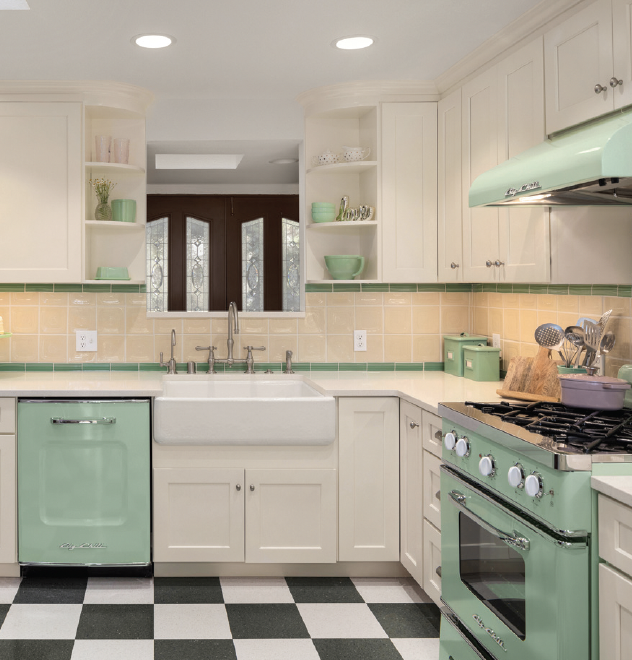 Interior Design
The longtime owners of this Mercer Island home wanted to maximize space and add comfort to the kitchen and laundry room. Inspired by a vintage kitchen in the video game "Fallout," they wanted a similar '50s vibe. Shades of green pair perfectly with white cabinets and a private collection of jade milk glass dishware. On the floor, vintage-looking laminate tiles were set in an emerald-green-and-white checkerboard pattern. Two solar tubes inject bright natural light into the space. FITCH DESIGN COMPANY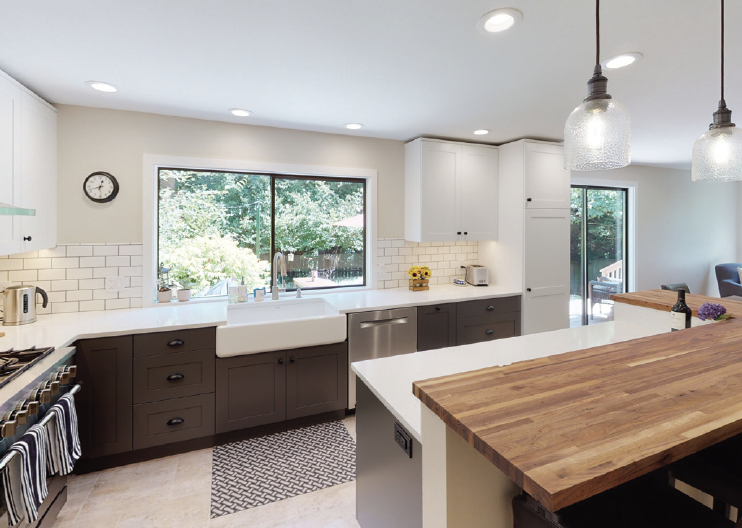 Less Than $70,000
A dated, closed-off kitchen was remade into a bright, open space suitable for meal prep and entertaining. This required correcting odd ceiling heights at the entrance and moving around plumbing. A luxury vinyl floor was installed, and walls surrounding the kitchen were removed. The ceiling framing was reworked to connect the kitchen and family room, and a pantry closet was removed, freeing up much-needed space. Nip Tuck built an island with raised bar seating topped with walnut butcher block and built-in wine cabinet. NIP TUCK REMODELING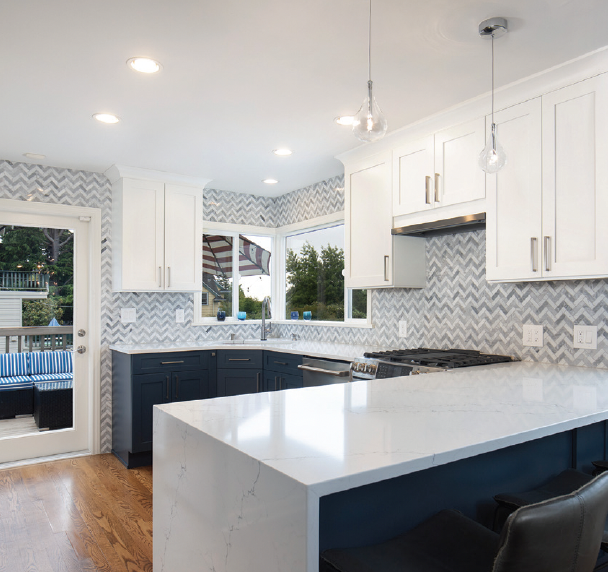 $70,000 to $90,000
Harjo Construction gave this 1941 home a contemporary kitchen with contrasting cabinet colors, built-in appliances, and marble tile. Standout features include semi-custom Durasupreme cabinetry, a waterfall countertop, herringbone marble wall surround, high-end finishes, and built-in appliances. Reconfiguring the kitchen freed up functional space, as did a larger pantry and custom cabinet solutions, such as a spice rack pullout and two-tier drawers for pots and pans. HARJO CONSTUCTION LLC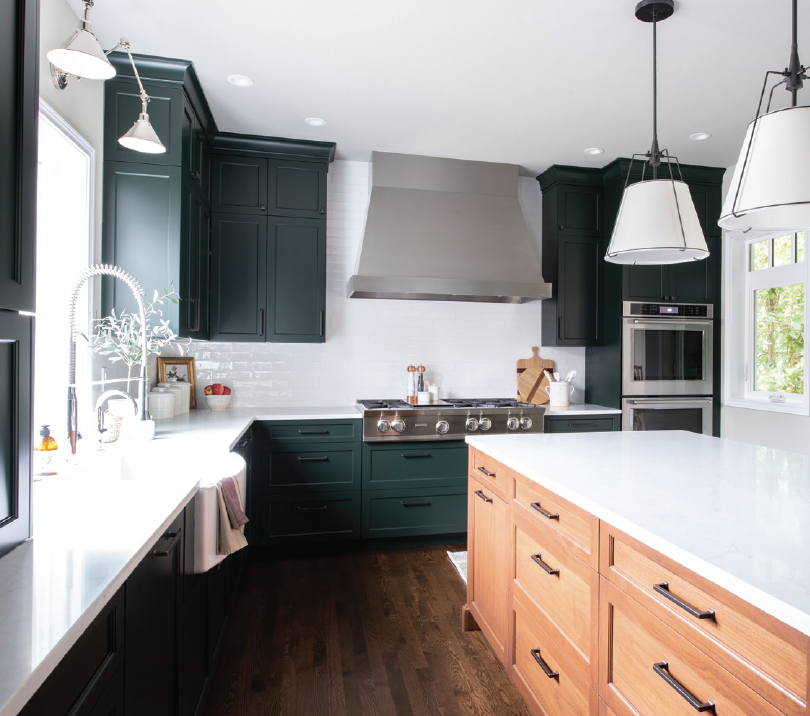 $90,000 to $125,000 
This West Seattle family loves to cook and entertain but was stuck with an outdated, inefficient U-shaped kitchen. Potter Construction concocted a new open layout with distinctive zones, removing walls and windows and better utilizing previously wasted space. The new island exemplifies the zone concept, with one side conveniently close to the stove and ovens, the center placed near the sink, and the other side — housing a microwave drawer — close to the fridge and pantry cabinets. Transformative features include deep emerald-green cabinetry, crisp white tumbled backsplash tiles, and a warm walnut island. POTTER CONSTRUCTION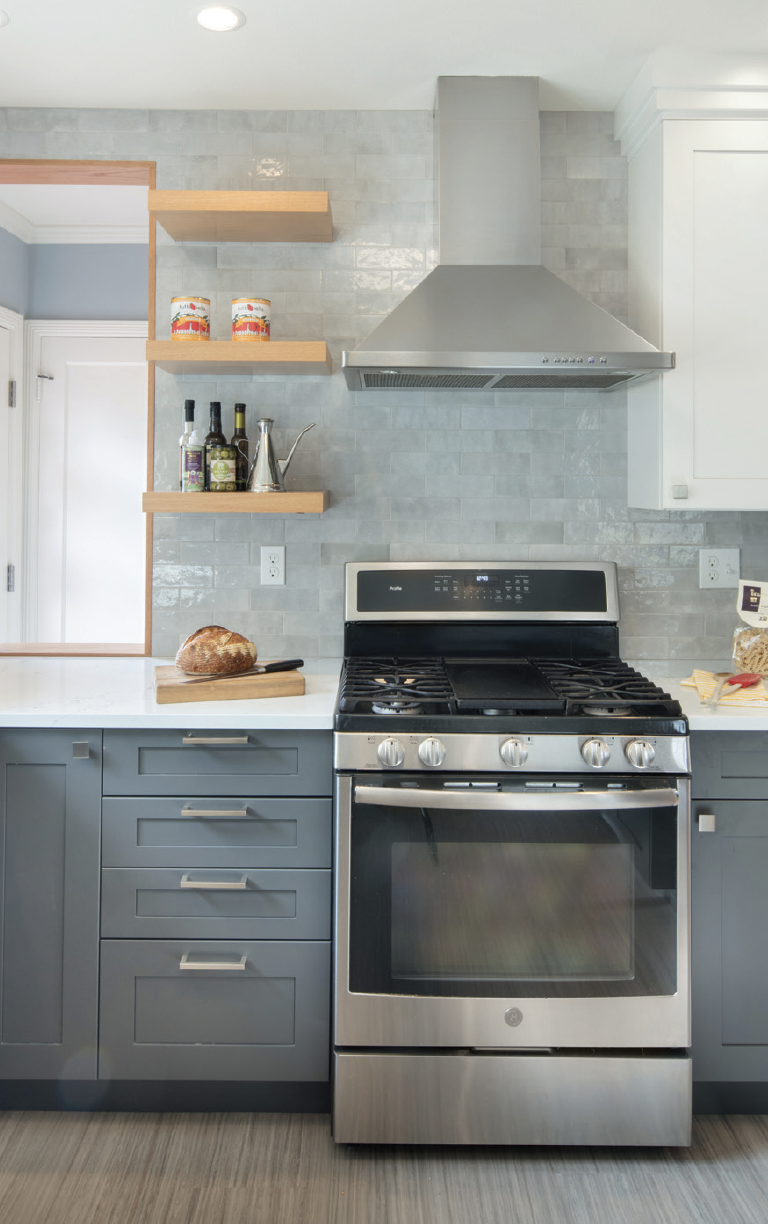 After 20 years in a cramped kitchen with one overhead light, this Magnolia family was ready for a change. Even worse than the light, three doorways ate up most of the storage, and a wall separating the kitchen from the dining and living space left family members to cook in isolation. Gaspar's solved both issues by eliminating the three doorways and opening up the walls. The backdoor was replaced with glass, bringing in plentiful natural light, complemented by classic two-tone cabinets in gray and white, gray tiled floor and backsplash, and white quartz countertops. GASPAR'S CONSTRUCTION
2nd Place — Timeless Elegance
A cramped and dated kitchen became a light-filled, functional space. To make the most of its height, cabinets were raised all the way to the ceiling. To increase the flow, the island was reoriented, packed with storage, and connected to a built-in kitchen table with seating for four. The open pantry was replaced with a beverage and coffee area, and an appliance garage was placed near the sink. Nip Tuck placed elegant Carrera tile around the window wall, added marble mosaic tiles to the range, and applied eye-catching in-cabinet lighting to the beverage nook. Engineered flooring brings it all together. NIP TUCK REMODELING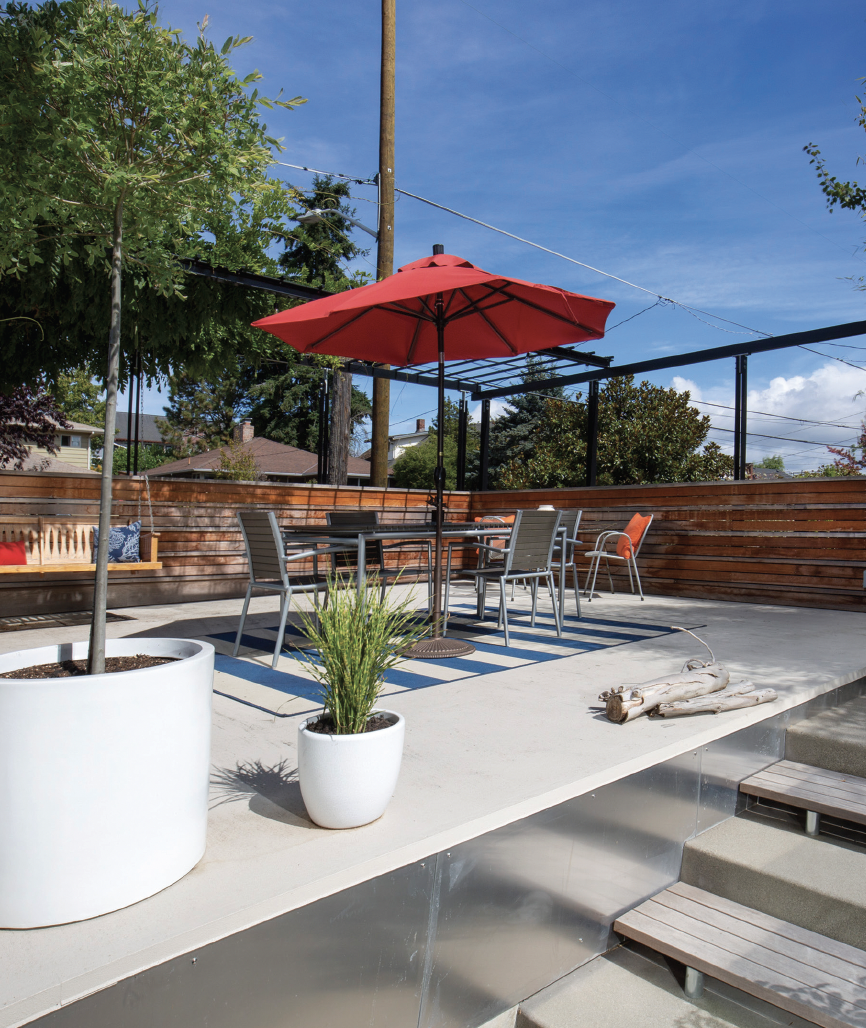 More Than $100,000
Harjo Construction's handsome deck and garage redesign for this 1910 Craftsman-style house harmonizes with an earlier renovation by the architect owner that added outdoor "rooms," melding historic style with a modern sensibility and function. A simple palette of sustainable materials — unfinished ipe, concrete, and steel — limited colors, and slim, black steel trellis merges contemporary ideas with the home's original style, while a plain brushed nickel garage door lends a minimalist look. The deck wall and trellis use the Asian concept of "borrowed landscape," framing a view of distant mountains and sky. HARJO CONSTRUCTION LLC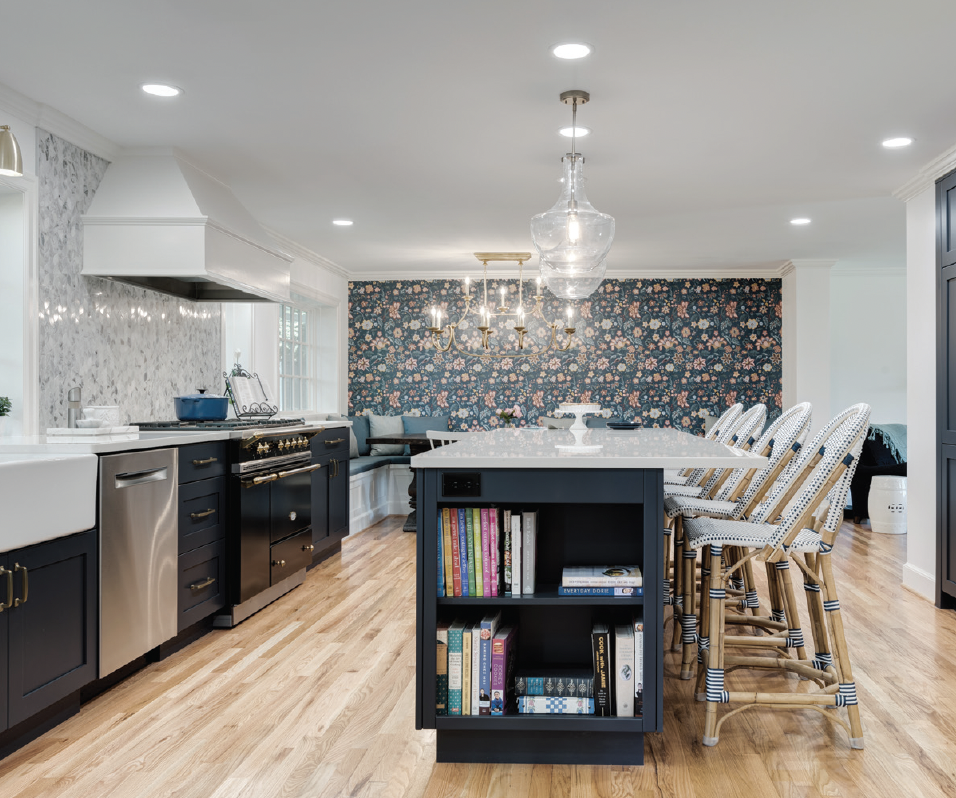 More Than $145,000
Th is elegant kitchen by Irons Brothers enlarges the old space with more efficient storage, increased flow-through, and a stunning French gas range — all complementing the original Cape Cod style. The apron front sink and wallpaper bring historical charm, while new windows bathe the kitchen in light. Creating a large island meant bumping out the back wall of the kitchen; reconfiguring the stairs; and removing the walls separating the kitchen, dining, and living rooms. Tall cabinets provide easy-to-reach storage alongside a coffee bar area. The kids needed a microwave for snacks, so Irons Brothers created a working pantry with butcher block countertops, which serves as an accessible hideaway for the microwave. IRONS BROTHERS CONSTRUCTION INC.
2nd Place — Historical Seattle Kitchen
Better Builders brought this 100-year-old space into the 21st century with a new dining room, kitchen, and breakfast nook that balance an open concept and modern amenities with the home's original charm. The wall separating the kitchen and dining area was removed, opening up additional space for a center island. White oak flooring matching the original dining room floor was installed throughout, as were Bellmont cabinets, stunning Pental quartz countertops, and an apron front farmhouse sink. Special touches include medallion details on the kitchen island's legs and the pedestal for the custom table in the nook, designed to match the tone of a custom Alder dining table imported from Africa. BETTER BUILDERS 
JM Bogan Co. updated this classic 1954 Paul Hayden Kirk midcentury modern home, expanding on its original Pacific Rim influences. Built with single pane windows and no insulation, it was brought up to today's energy standards with insulated clad windows, insulation under the floor, wall, and roof; split system heat pumps; and ERV ventilation. The backside features floor-to-ceiling windows and a glimpse of Lake Washington. Th e exterior facelift includes clear vertical grain western red cedar tongue and groove siding, and an expanded carport. Alaska yellow cedar beams and rafters frame the glazed roof structure and glass awnings, creating an outdoor covered courtyard. JM BOGAN CO. INC.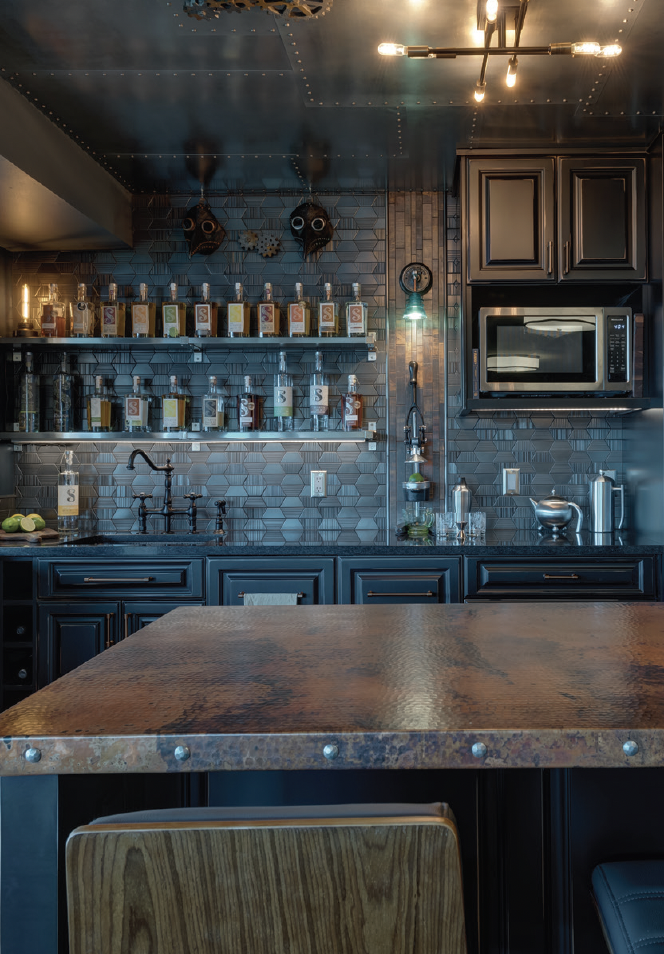 Less Than $90,000
Irons Brothers transformed an underused tiki bar into a sleek steampunk-inspired space for relaxation and entertaining. The bar features custom cabinetry, quartz countertops, all-new appliances and fixtures, and a dramatic handcraft ed metal ceiling with riveted panels and functioning cogs. Mixed metals appear throughout the design, including an island with a custom hammered-copper countertop, industrial metal tiles, stainless backsplash finishes, and a vintage-style oil-rubbed bronze bridge faucet. Distinctive light features add to the steampunk speakeasy style. Th e countertop was extended to the exterior for outdoor entertaining. IRONS CONSTRUCTION INC.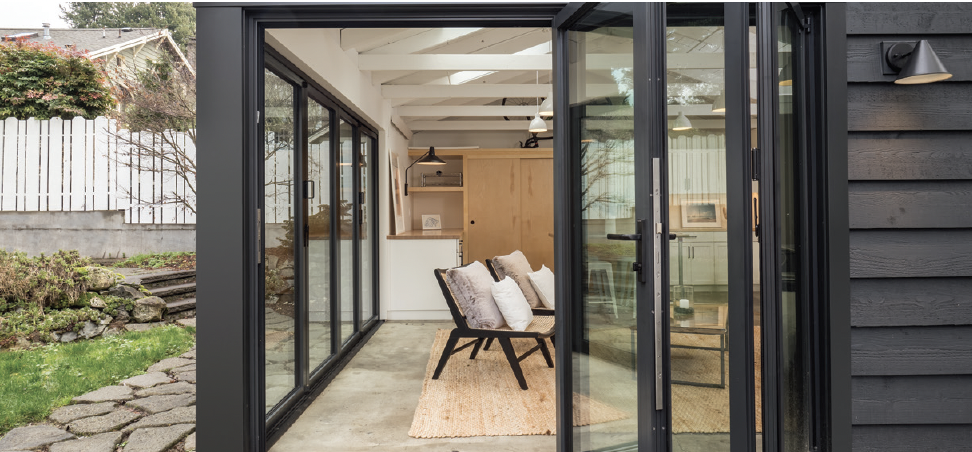 More Than $90,000
Crescent Builds gave new life to an existing barndoor-style garage. Once used for storing unused items, it was transformed into a highly functional space combining storage, entertaining, and a children's play space. Maximizing natural light, Crescent installed skylights and a wraparound NanaWall articulating door system to create a seamless transition between indoor space and the backyard. Polishing existing raw concrete floors and cosmetically updating support beams saved money. To add to the fun, a wine and beverage fridge was incorporated for entertaining. CRESCENT BUILDS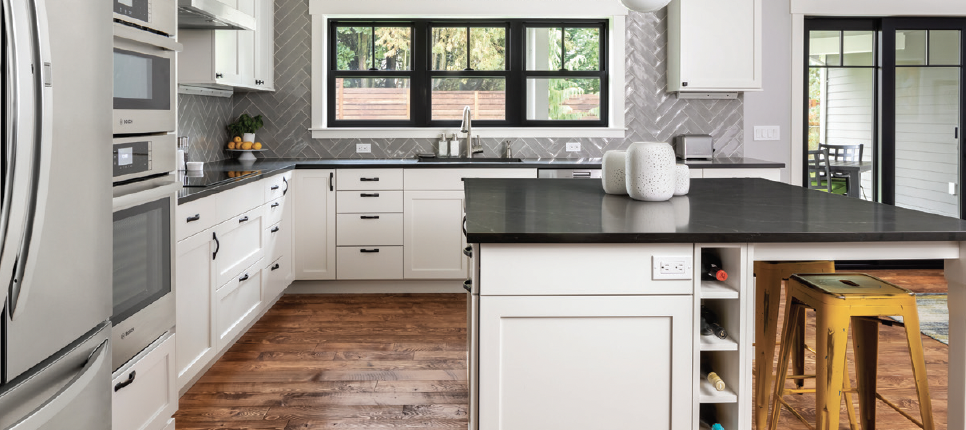 The clients wanted a forever home — highly energy-efficient, healthy, and adaptable — and they got it. The resulting 4-Star Built Green home packs in Craftsman charm and cozy decor, with an L-shaped layout offering private backyard views from the kitchen and the bedroom. Th s green dream features low-VOC paint, water-saving faucets and fixtures, high-efficiency water heater, Energy Star appliances, local cabinetry, LED lighting, and more. Attention to detail abounds, including a permanent recessed front door mat and built-in shoe storage. The kitchen island has a built-in stainless-steel pet station, and the flooring is sustainably harvested Douglas fir. MODEL REMODEL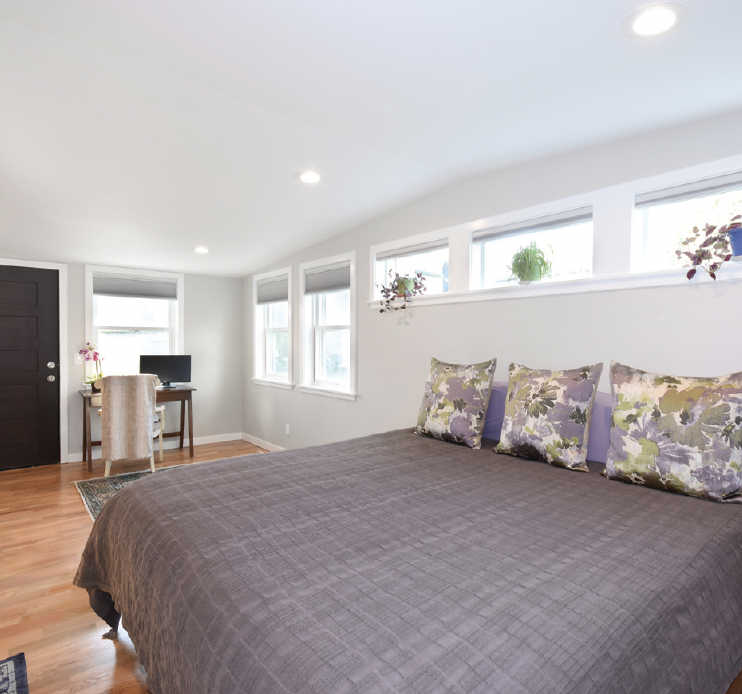 Less Than $200,000
The pandemic found homeowners more focused on practicality than glamour. The owners of this 1955, 1,140-square-foot home needed more space, including two separate workspaces and a true master suite to replace their small bedroom — which had no master bath. By adding 312 square feet, Sockeye Homes created a spacious master suite complete with a roomy bedroom with patio access; space enough for a separate office area; ample closet and linen storage; and a large, updated bathroom with hardwood flooring and cabinetry selected to blend in with existing finishes. SOCKEYE HOMES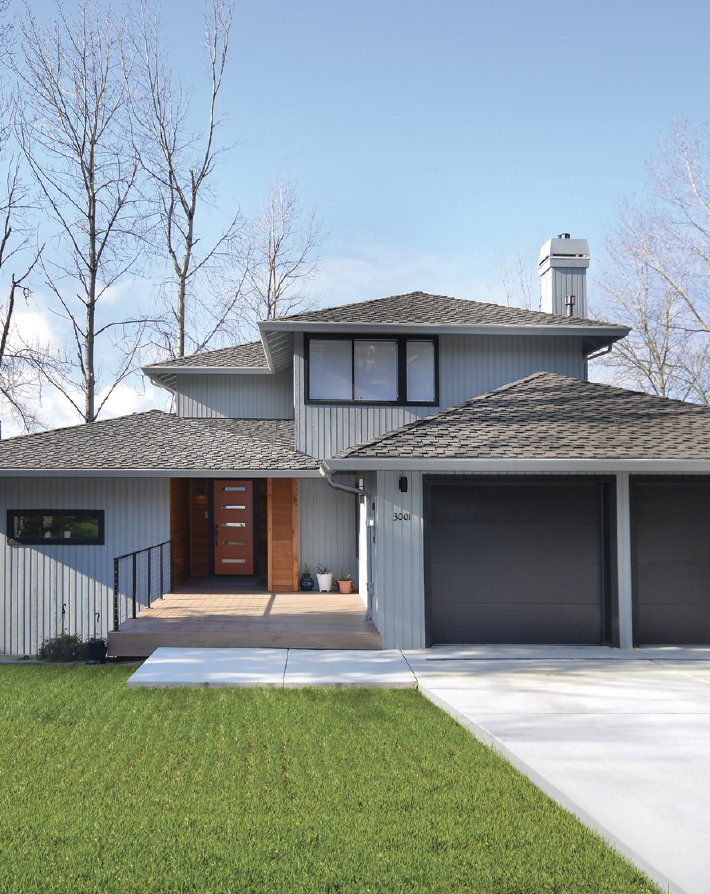 $200,000 to $325,000
By adding a modest 112 square feet, Sockeye Homes transformed this entire main floor from a closed, confusing space into an open great room concept. A coat closet separated the entry door from the sunken living room, while walls separated the living room from everything else. Because the closet was a major load-bearing point, it was replaced with steel beams, adding 112 square feet. The sunken living room floor was raised, and the kitchen moved to a new location, opening up the living room. The dining room space was opened to the old kitchen location, creating a large open dining room with a separate bar area. The bar cabinetry matches the kitchen, which showcases a Hestan range in citra orange — the client's favorite color. SOCKEYE HOMES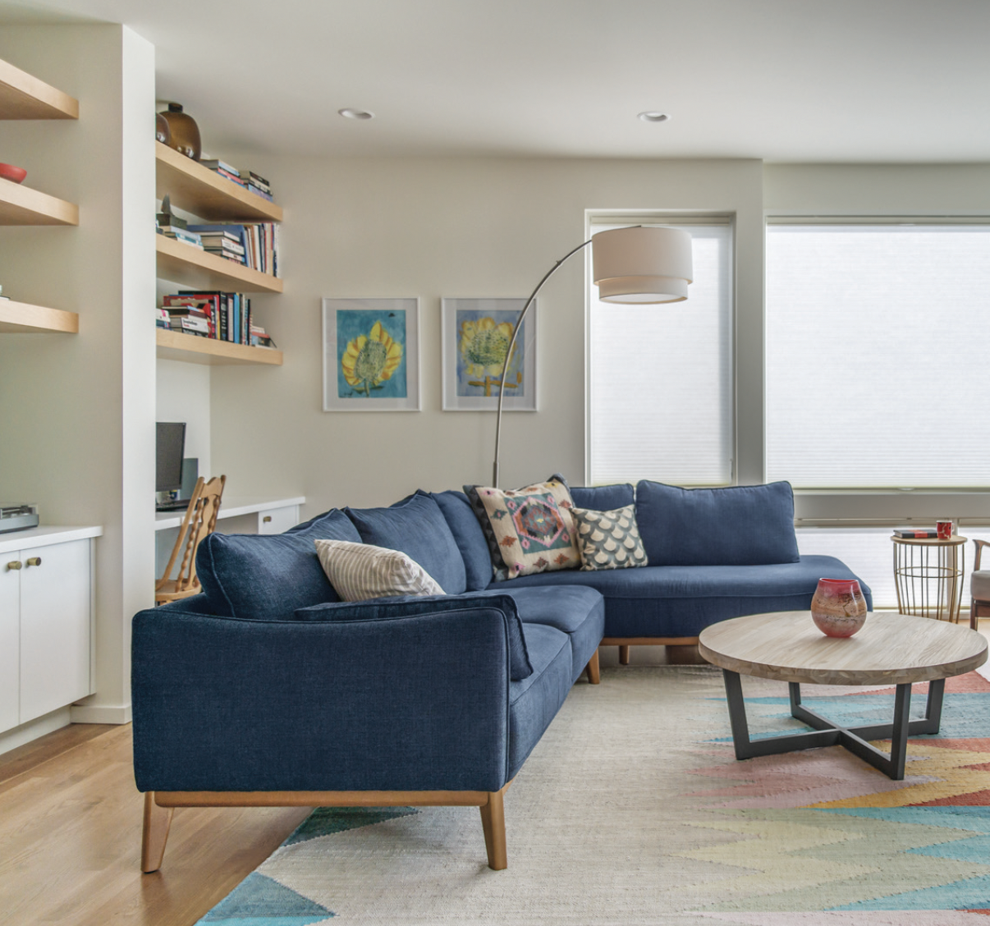 More Than $325,000
This residential interior remodel and penthouse addition by Damskov Construction brought a 1980s home up to the 21st century. A feature wall separating the foyer from the living room and a portion of the wall lining the stairs on the first floor were removed, and the fireplace relocated from the center of the home to the west living room wall, opening up the main level without adding square footage. A 180-square-foot penthouse office was built on top of the roof, offering great views and freeing up space in the basement for an expanded, kid-friendly family room. DAMSKOV CONSTRUCTION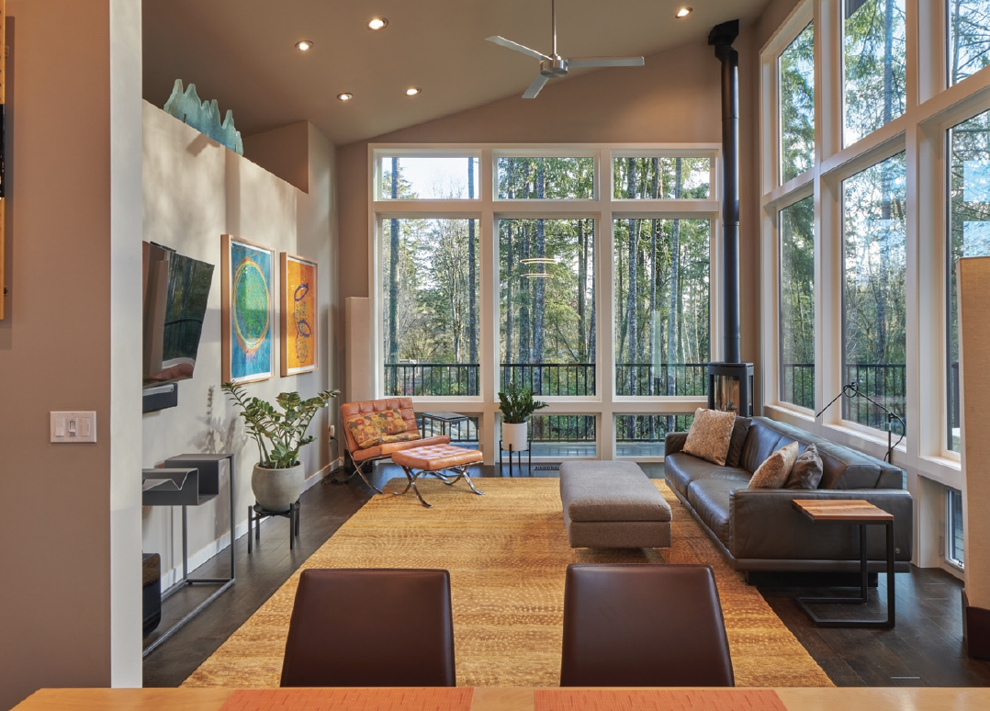 Rainier Custom Homes built this accessory dwelling unit (ADU) for the property owners to live in while they build their dream home. The owners wanted the look of vertical concrete plank siding, which was achieved with concrete panels with hat channels at the seams, giving the ADU a Nordic look. Three walls feature floor-to-ceiling window systems that rise to the long metal roof. Inside, custom cabinets in a bright kitchen and bathroom accentuate top-quality finishes, while a Jotul propane stove defines the living room. RAINIER CUSTOM HOMES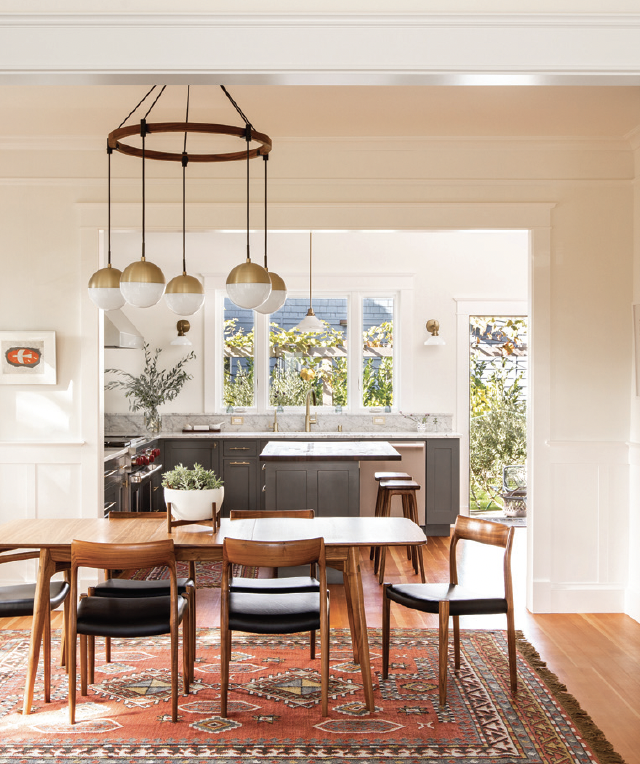 Less Than $250,000
This stunning main-floor restoration and remodel was an opportunity for Crescent Builds to partner with the architect homeowner to bring their dream home to life. Keeping the original architecture intact, including a full restoration of the 110-year-old classic fir staircase, was prioritized. As part of the main-floor remodel, including custom painting and newly mounted light fixtures, Crescent worked alongside the client to hang their expansive two-piece cut of wallpaper onto their bathroom walls. The kitchen received updated appliances, custom adjustable shelves, classic Shaker cabinets, Carrara marble countertops, antique brass hardware, and more. CRESCENT BUILDS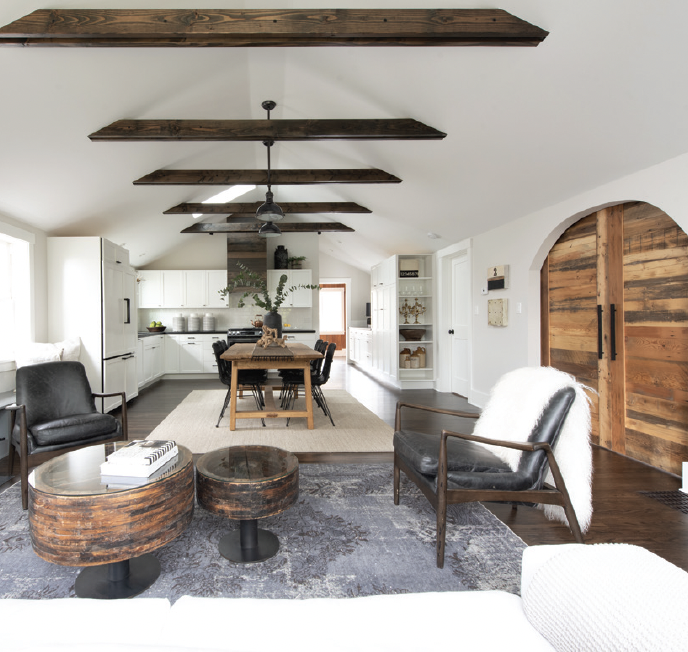 $250,000 to $350,000 
The 868-square-foot main level of this outdated cottage was transformed — without adding square footage. Walls were removed and the ceiling vaulted to open the living area and bring the lake view into the kitchen. A structural beam was exposed to create an architectural element that ties in with new hardwood floors. White countertops and a glossy backsplash were selected for a light, airy feel. Because the lower level already had extra bedrooms, a main-floor bedroom was removed to make way for a luxurious master bath. POTTER CONSTRUCTION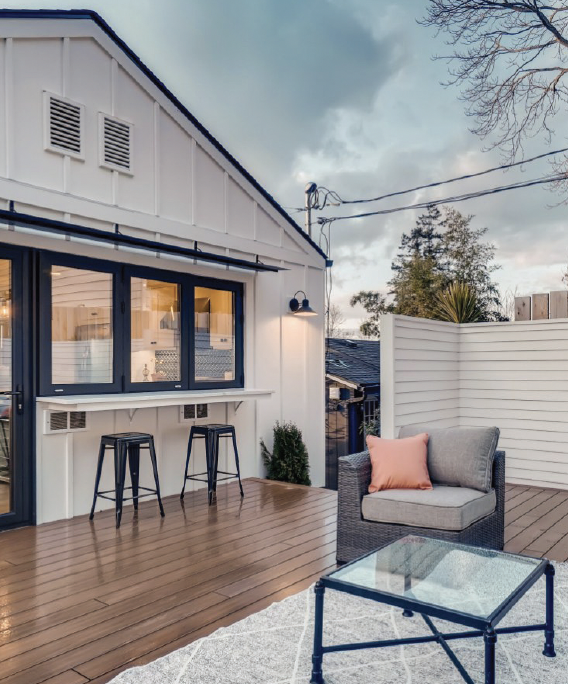 $350,000 to $500,000 
Avid Builders made this once-decrepit building in Alki into a practical and impressive home. Accordion doors open onto the new view deck and kitchen side deck — effectively adding 1,000 square feet of indoor-outdoor living space. To complete the project, Avid Builder's two-person crew battled through old car decking, lifting floors and ceilings, and rerouted all site water to a new catch basin. Timbers and railroad ties were repurposed into planters. The old garage and office became the master bed and bath. Dedication, perseverance, and craftsmanship infused this home with new life. AVID BUILDERS INC.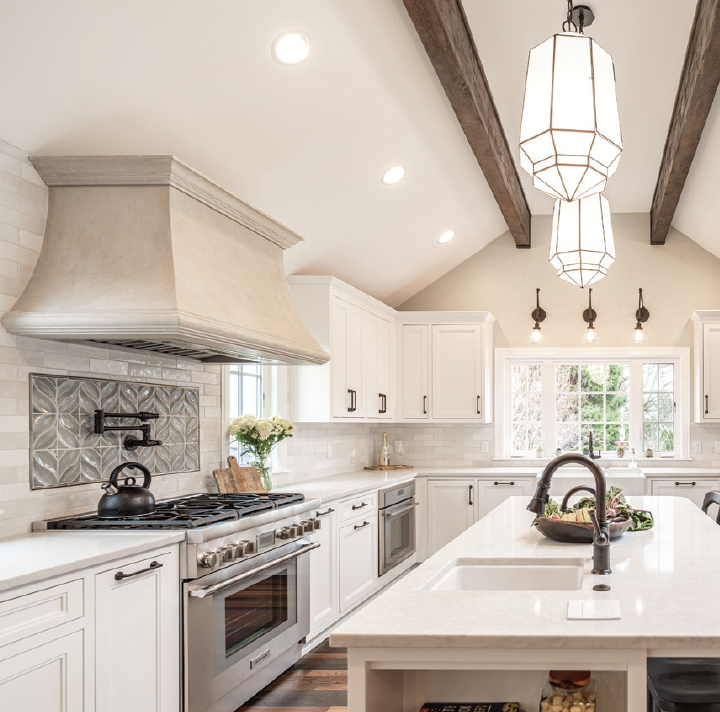 More Than $500,000; Tied
RHH Construction modernized an 85-year-old Tudor home, turning a cloistered main floor into a fl owing open-concept plan. Several load-bearing walls were removed to create a great room layout. The library was reborn into an expansive kitchen with elegant custom cabinetry, quartz counters, and built-in Thermador appliances. The former kitchen was converted to a laundry room. Dormers in the master suite were repurposed as built-in dressers and a private en suite. A new Ortal gas fireplace with custom cast stone mantel enlivens the living room. The grandiose entry with curved stairs flanked by black-iron Italian balusters impresses, as does the mix of modern and classic throughout the home. RHH CONSTRUCTION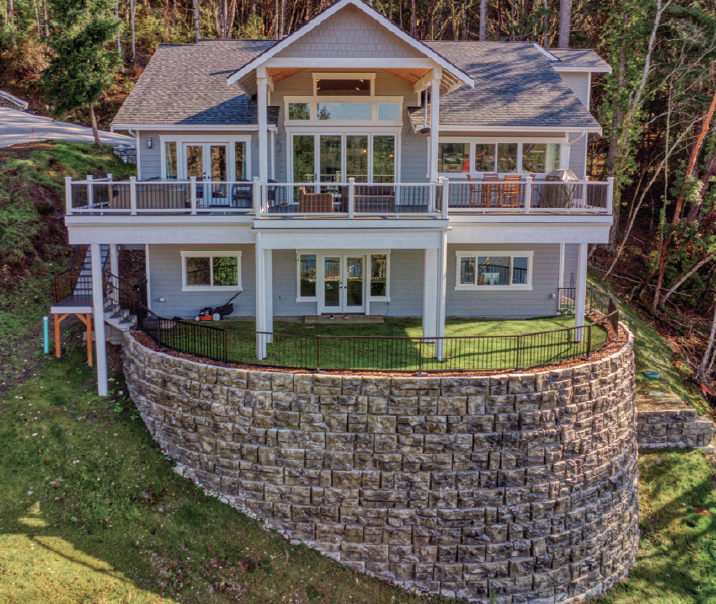 More Than $500,000; Tied 
Th is hilltop home in Gig Harbor had no roof and was exposed to the elements. Its owners hired Rainier Custom Homes to undo the damage and complete the project. Installing new trusses on a steep hillside meant building a platform to support a crane. Th e new kitchen features custom cabinets and white countertops beneath a wall of windows with breathtaking 180-degree views. Elegant broad plank hardwood floors span the main floor, and all four bathrooms showcase beautiful tile and custom finishes. A large fi replace wrapped in white stone and perfectly placed custom wine bars warm up the home, while new covered patios on the first and second floors bring the entertainment outdoors. RAINIER CUSTOM HOMES
https://www.425magazine.com/home-garden/2021-remodeling-excellence-awards/article_959a3642-2878-11ec-abb5-bf0a99c09a62.html