23 Garden Trends For 2022 For Outdoor Spaces and Indoor Gardening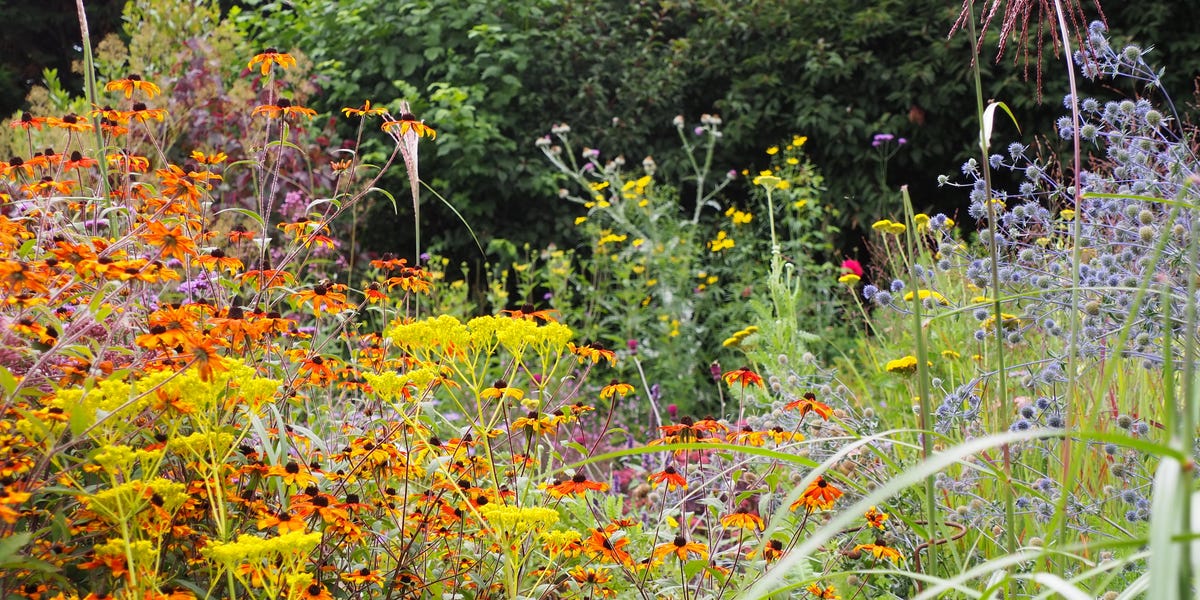 How and what will the nation's 30 million gardeners be growing in their homes and gardens in 2022?
While 2021 was the period of experimental gardening, some of the biggest garden trends to emerge in 2022 will include a return to bolder, colourful planting choices, natural wildlife gardens, mini growhouses, boutique hotel-style features and the concept of all-weather gardening, all of which ties into two common themes this year – wellbeing and sustainability.
'Home horticulture will never be the same again,' says Guy Barter, RHS Chief Horticulturist – and he's right. Since the start of the Covid-19 pandemic, our gardens have truly become our sanctuaries. Wellbeing benefits provide comfort in uncertain times and the extra time spent at home has enabled us to tend to our plants like never before, grow vegetables, fill plots with pollinator-friendly plants, and design outdoor living rooms that provide a place to retreat.
An overarching theme in 2022 will be a renewed emphasis on planet-friendly gardening, as gardeners seek to adopt new habits that can impact the planet positively, from an increased demand for pollinator-friendly plants to demand for peat-free compost. The UK's gardeners will draw on quick fixes where necessary but work to 'ensure their plots are planet-friendly and an inspiring place to work and play', says Guy.
Society of Garden Designers Vice Chair, Andrew Duff MSGD, sums it up perfectly: 'The overarching trend for 2022 is that good design does not have to cost the earth both in terms of budget and the environment. We will be looking more to nature for inspiration, learning to embrace the seasons and celebrate them more.'
To uncover the biggest trends in gardening for 2022 – including plants, garden design and landscaping, and indoor gardening – we've enlisted the help of experts from:
Royal Horticultural Society (RHS); the UK's leading gardening charity
Society of Garden Designers (SGD); the only professional association for garden designers
J. Parker's; one of the UK's leading plant and bulb companies
Primrose; one of the UK's leading online garden centres
Sproutl; the curated online marketplace for gardening.
And on that note, here are the biggest garden trends for 2022.
1. Jewel-coloured gardens
Experimenting with colour is one of the most exciting things about creating a planting palette for a new garden, and daring, bold colours of reds, oranges and purples with crocosmia, salvia and canna are set to prove popular in 2022, the RHS predicts. This colour trend is also reflected in new releases from growers such as everlasting flower 'Granvia Gold' and echinacea 'SunMagic' series.
Brian Redman, plant expert at Sproutl, calls this burst of colour an 'extra boost of positive energy'. He predicts that throughout spring/summer, allium, cosmos, salvia and freesias will be good sellers, while in autumn/winter, 'outdoor plants like camellia, chrysanthemum and helleborus will all be in demand'.
For garden designer Ann-Marie Powell MSGD it's always about bold, exciting colour. 'I have a penchant for acid yellow mixed with warm oranges and deep blue-purples right now,' she says.
The purple/yellow colour combination in particular is something that designer Oliver Bond MSGD is excited about. 'It is a fantastic colour scheme to bring bees into gardens,' he says, 'and it creates a vibrant blend that stands proud against a cascade of green foliage.'
Garden landscape designer Fi Boyle MSGD is a big fan of grouping vibrant jewel colours together: 'I love to combine strong magenta reds like Rosa 'Munstead Wood' with moody purples, deep blues, and limes, adding in plants that have coloured stems and leaves such as Salvia 'Caradonna' with the dark purple stem or Sedum 'Karfunkelstein and Heuchera 'Plum Pudding' for a stunning effect.'
2. Rewilding
The immersive, natural, wildlife garden will be big in 2022 but it hasn't always been viewed as a must-have design element. 'Upcycling and rewilding can be misleading in terms of aesthetics and for most clients a garden's aesthetic is a priority,' notes Andrew Duff.
Ann-Marie Powell says her studio is receiving lots more enquiries from clients wanting natural, loose gardens, predicting that 'nature-scaping' and 'curated wildling' will be the buzz words of 2022. 'People want gardens that look like they are "of nature" rather than the more obviously designed spaces,' she explains.
This loosely ties in with this idea of the wabi-sabi garden; a greater focus on natural materials, rich in texture and neutral in colour. Filippo Dester explains: 'We will begin to accept the beauty of the "imperfect" and the ever-changing nature of materials such as stone and wood and the plants themselves, veering away from the sleek, immaculate look that often characterises urban gardens.'
3. Tapestry lawns
What is 2022's alternative to a grass lawn? A tapestry lawn – and it's perfect for small city gardens. Ana Sanchez-Martin MSGD of The Garden Company explains that they are created using a combination of many different mowing-tolerant plant species: 'Like meadow lawns, they are low in maintenance and of higher ornamental and environmental value. The need to mow a tapestry lawn can be reduced by up to two thirds compared to a regular grass lawn and, as a consequence, a greater number of both plant and insect species are able to inhabit the lawn.
'In small urban gardens, meadow lawns are not usually very practical, but a tapestry lawn could be a great solution for city gardens.'
4. The Instagrammable dahlia
Dahlias will continue their meteoric rise in popularity in 2022, with this spectacular exotic flower exceeding more than 1.8 million posts on Instagram.
Hollie Newton, Chief Creative Officer at Sproutl, says the dahlia will steal the Instagram crown from the peony as the UK's favourite flower this year. 'Dahlias provide a season-long burst of spectacular blooms from mid-summer right through to the first frosts. They're also one of the best garden plants to grow for cut flowers – as they have a long vase life, but the more you pick them, the more they keep coming. An invaluable plant for any garden border or in a patio container,' Holly explains.
5. Contemporary water features
Water features will be the next big focus in 2022. 'Our database reveals that water features are the most popular decorative feature, selling more than solar lights, statues and outdoor mirrors combined,' reveals Evie Lane, gardening expert at Primrose. 'They're set to stay on trend throughout 2022, with more modern designs becoming the focus.'
Site searches on Primrose for 'sphere water feature' and 'water blade' are trending, increasing by 56 per cent and 41 per cent respectively.
'The trend of xeriscaping (water-efficient gardens that minimise the need for irrigation) will continue as gardeners prepare for changing climates, and cleverly designed water features that look stylish but also serve as clever irrigation could be set to make waves in 2022,' adds Shannen Godwin, garden expert from J. Parker's.
Alongside this, Mediterranean-inspired fountains with whitewash backgrounds to highlight the water feature and create an oasis of calm, will prove popular. Gentle trickling streams reinforce the wellbeing benefits that gardens can bring, as sensory gardens are still an essential element of landscaping.
6. The return of bird baths
'Water features made a splash at the Chelsea Flower Show, and the bird bath is now making a return to British gardens,' says Will Foulkes, product expert for Sproutl. 'New styles and designs have reimagined the humble bird bath.'
While birds need a dependable supply of fresh, clean water for drinking and bathing, a bird bath may attract birds that don't eat seeds and wouldn't otherwise visit your garden.
7. Spotlight on aster

What's selling well at J. Parker's? 'One plant that is flying off the shelves is aster,' says Shannen Godwin. 'The bright, mood-boosting flowers have been popular for wellbeing-focused gardens, but they also offer air-purifying benefits and provide bio-indication when there are pollutants around.'
Other plants with air-purifying benefits set to be big in 2022 include ivy and lady's mantle.
8. Plant life cycle

2021 saw the first ever autumn Chelsea Flower Show, showcasing autumnal plants with a continued enjoyment as they fade. 'This is a trend that will continue as we allow nature to work its magic and journey through every single colour variation before trying to remove dying plants,' Shannen Godwin explains. 'If you want to experience plants in all their colourful glory (even in their dying days), plants such as hostas and peonies can be great for this. We may also see an increase in plant sketching and journaling as people document the whole life and colour cycle that each plant goes through.'
This will also trickle into garden design. Andrew Duff adds: 'Winter gardens will be particularly dominant next year with designers embracing the simplicity of the skeletal shape of deciduous trees and the bareness of soil awaiting the wonders of spring.'
9. Hazel hurdles
There's a focus on raw materials in the garden this year – you can expect to see many garden structures made from organic materials to build fences and borders, allowing you to create a natural backdrop that perfectly frames your colourful plants. Searches for hazel hurdles are up by 451 per cent, the largest-growing trend in garden décor, Primrose reports. Rattan screening searches also increased by 173 per cent. These raw material panels can also act as shade borders for planted areas or privacy screens.
10. 'Snow White' apples

Red-fleshed apples, high in anthocyanins which are thought to be anti-inflammatory and anti-viral, will become big in gardens in 2022 and follow the success of newly introduced varieties 'Tickled Pink' and 'Surprise', say the RHS. Continuing the trend for red produce, gardeners will also experiment with more exotic fruits such as pomegranates, chokeberries and serviceberries.
11. Forget-me-nots
According to sales data from Primrose, forget-me-nots are set to be the most on-trend flower for 2022. Searches for the beautiful blue and purple petalled plant (which conveniently nods to Pantone's 2022 Colour of the Year Very Peri) increased by a huge 2,104 per cent, making it the retailer's most-wanted flower. You can plant lots of forget-me-nots to fill your garden with vibrant swathes of purple and blue, acting as a striking contrast to natural materials.
12. Low carbon gardens
Garden designer Jilayne Rickards MSGD says the movement towards good environmental schemes, supporting wildlife, and reducing our carbon footprint has been driven by a 'greater awareness of the terrible climate situation mankind has created'.
The RHS say a response to the carbon footprint of shop bought flowers will see people grow their own (more on this below) with edibles and flowers sharing space on the veg patch. Repeat flowering plants such as alstromeria, cosmos, dahlias, and zinnia will be favoured for their ease of growing and reliability during the summer months, while sea lavender and everlasting flower serve as dried decoration for winter displays.
Ben Chandler MSGD of Farlam & Chandler believes the rising cost of importing goods and the increased awareness of carbon footprint means there will be an emphasis on locally sourced materials, plants and products. 'I hope that means more support for smaller specialist plant nurseries and brings opportunities to local makers and craftspeople when it comes to sourcing furniture and accessories for the garden,' he says.
13. Colourful houseplants are on the rise

Houseplants will maintain their allure but similar to garden plants, the RHS say low maintenance indoor plants in brighter hues are predicted to overtake sales of green-leafed plants, such as the new red succulent x Semporium 'Sienna', which launched at the autumn Chelsea Flower Show.
Elsewhere, Sproutl's Brian Redman predicts autumn/winter 2022 will be about the 'nostalgic, traditional and trusted plants in a changing world', with begonias, aralia and marantha expected to prove particularly popular among plant parents.
14. Drought-tolerant planting
Filippo Dester MSGD from Garden Club London says there will be a focus on Mediterranean and drought-tolerant planting this year: 'We are experimenting with new plants that are indigenous of warmer climates to create alternative planting palettes, whilst constantly re-imagining how the already tried-and-tested species can be mixed with more traditional choices to create innovative, interesting schemes.'
15. Growing your own
Not a surprising trend, but the grow your own movement will continue to gain momentum in 2022. From wanting to educate children about where food comes from, to the desire to have local organic vegetables grown sustainably, there are myriad of reasons why gardeners are choosing to grow their own.
Sproutl's Will Foulkes explains: 'We are seeing increases in demand for vegetables, fruit bushes and fruit trees alongside increased demand for indoor and outdoor mini growhouses. Many of these mini growhouses offer a complete growing solution providing shelter, light and warmth for your plants to help you grow throughout the year, but at a fraction of the cost (and space) of a full-sized greenhouse.'
16. All-weather gardening
The RHS gardening advice on how to enhance gardening at each end of the growing season is proving to be particularly popular. 'All-weather gardening is of interest,' says Guy Barter, 'the boom in gazebos and shelters during lockdown and subsequent shortages of garden furniture suggest this will continue.'
In House Beautiful's 2021 Big Gardening Poll, 56 per cent of readers told us they intend to use their garden all-year round, even in winter. And in the last two years especially, households have been transforming their gardens (however big or small) into cosy outdoor living rooms with separate zones to dine, entertain and relax.
From spring to winter and day to night, all-weather gardening will see our outdoor space utilised like never before, whether it's the best plants for year-round colour, a makeshift outdoor cinema for the perfect night in, a DIY Bar to enjoy cocktails with friends and family, or transforming a summerhouse into an ultimate chill zone.
17. Reimagining balcony gardens

Making the most of your outdoor space – whether you have a small garden or balcony garden – will be a big garden trend for 2022 when it comes to practicality and productivity.
Shannen Godwin explains: 'In the last year, there was a significant focus on creating bee-friendly gardens, while supply chain issues meant more people were looking to grow their own food. Those with balconies had to get really innovative to fit everything in their space, and this is a growing trend.'
This trend will see stackable planting, cascading window boxes and even hedging to help create separate garden balcony zones. According to J. Parker, rockeries are also starting to become an exciting option for balconies – it's just about getting creative with your space and making sure to add harmony where possible.
18. Reuse, recycle and repurpose
Recycling and upcycling is in no way new, but sustainability is becoming increasingly important in garden design. We can all do our part by upcycling existing elements within a garden rather than adding to landfill.
Ann-Marie Powell is escalating the use of repurposed materials by crushing them, for paths, terraces or driveways, while also using less cement in the garden, and selecting materials that have the lowest carbon footprint.
Jilayne Rickards comments: 'Using pre-owned furniture or ornamentation gives a garden automatic character and, even within a contemporary setting, something aged acting as a counterbalance is wonderful to see.'
19. Luxury garden sanctuary

The pandemic has seen more UK staycations and as a result, the focus has turned to having the luxuries that you might ordinarily go away to enjoy, incorporated into your garden instead. Fi Boyle names pools, particularly natural swimming ponds, as one of these luxuries, while Ben Chandler says our gardens will 'continue to be personal sanctuaries and a kind of modern-day pleasure garden'.
Ana Sanchez-Martin has seen a growing trend for what she calls the 'boutique hotel syndrome', revealing her clients are asking for elements they would usually enjoy on holidays: 'We have seen a marked increase in people requesting swimming pools, outdoor kitchens, fire pits, outdoor heaters and lighting.'
Talking about the inclusion of interior elements into his garden design, Oliver Bond adds: 'This includes fireplaces and built-in outdoor kitchens, but we are also experimenting with entertainment features, such as TVs and sound systems.'
20. Fast-track gardens

With a return to the office, time spent tending the garden is feeling the squeeze. As a result, labour-saving activities and products that offer speedy results are on the rise, predicts the RHS. Perfect for the low maintenance garden, this includes everything from growing kits to pre-planted baskets and troughs, self-watering pots, and battery-powered pruners. These tools provide more opportunity to sit back and enjoy the garden with all-weather outdoor socialising set to continue.
As a result, 2022 will be a definitive year to combine nature with technology. Primose's Evie Lane comments: 'As technology continues to grow, we'll incorporate it in our gardens, too. From smart sprinklers to gardening apps to chrome water spheres, there will be many ways that we combine tech with nature.'
21. New (sustainable) garden skills
Whatever level of experience, gardeners are eager to upskill, with the majority keen to lessen their impact on the environment. The RHS predicts that this is set to spur a resurgence in home composting techniques – such as Bokashi which breaks down even meat and dairy, and scything, which is easier than a mower on wildflower patches and minimises the need for petrol or diesel-powered tools.
22. Super rare houseplants

TikTok and Facebook groups have sprung up with thousands of members sharing pictures and information on super-rare houseplants – and houseplant connoisseurs are battling over rare and in-demand varieties, and they're willing to pay thousands of pounds for each one.
Sproutl reports that last summer, a Monstera Obliqua sold for £16,500; a Musa Ae Ae (variegated banana) plant sold for £15,000, and a Philodendron Spriritus Sancti sold for £7,600.
Brian Redman explains: 'On this year's most-wanted list is the Variegated Monsteras. The lack of chlorophyll in the leaves of the variegated Monsteras means it needs more light and grows slower. Slower growth means slower propagation and fewer new plants, hence the plants' cost.'
23. Interior living walls
Living walls are no longer just for the outside – they've had a bit of a makeover for indoor living. Whether you want a herb kitchen allotment wall, a green bedroom oasis wall, or a steamy bathroom jungle wall, interior living walls are set to become more popular in 2022, with recent upgrades including sleek modular systems with accessories such as grow lights, speakers and humidifiers.
Sproutl's Will Foulkes comments: 'Living green walls are a surefire way to enhance your home's visual appeal, improve air quality, and help increase alertness and energy levels. Many people report that having an inside living wall helps increase productivity & creativity when working from home and also helps improve their sense of wellbeing.'
Follow House Beautiful on Instagram.
This content is created and maintained by a third party, and imported onto this page to help users provide their email addresses. You may be able to find more information about this and similar content at piano.io