27 ideas and beautiful buys |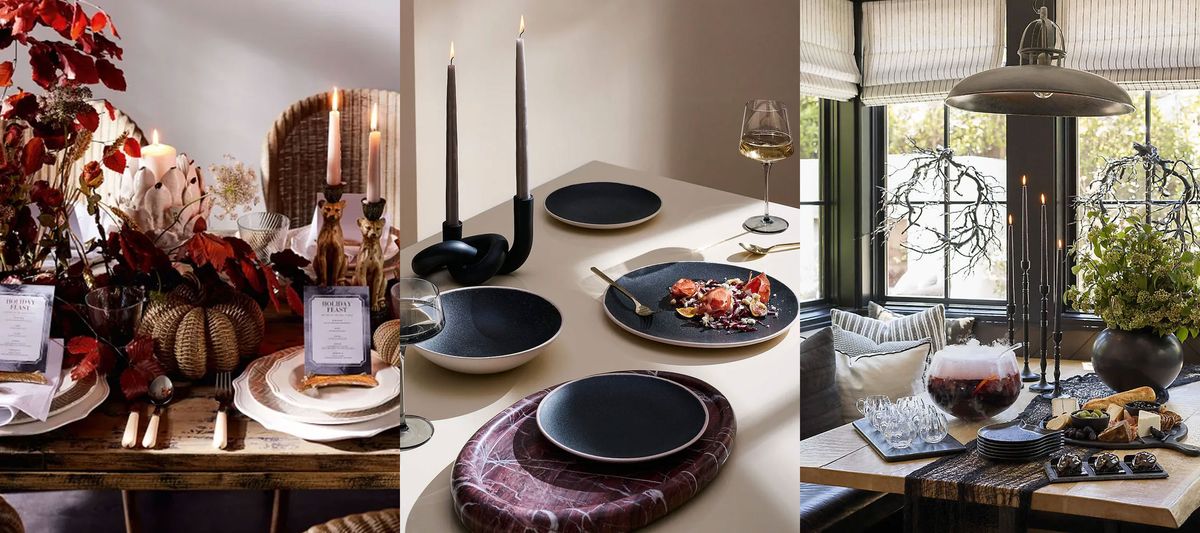 When planning Halloween decor for your interior space, the kitchen usually isn't at the top of the list of rooms to decorate. 
However, kitchens are often one of the busiest hubs of the home, and where many of us spend the majority of our time, so getting creative with festive Halloween decor ideas will only make this functional space feel more fun and inviting for Halloween. 
From show-stopping Halloween table decor to simple seasonal swaps you can do with everyday kitchen items, our list of Halloween kitchen decor ideas, which embrace some of the best indoor Halloween decorations, will bring cozy, seasonal charm to your kitchen for spooky season.
27 Halloween kitchen decorating ideas for a stylish and spooky space
No matter the size of your kitchen or the style of your kitchen ideas, our Halloween kitchen decor ideas can work in spaces of all designs; from beautiful wreaths you can hang on your windows and walls, to cozy candles and seasonal serverware, this is how to transform your kitchen for Halloween.
Dress your Halloween dining table to perfection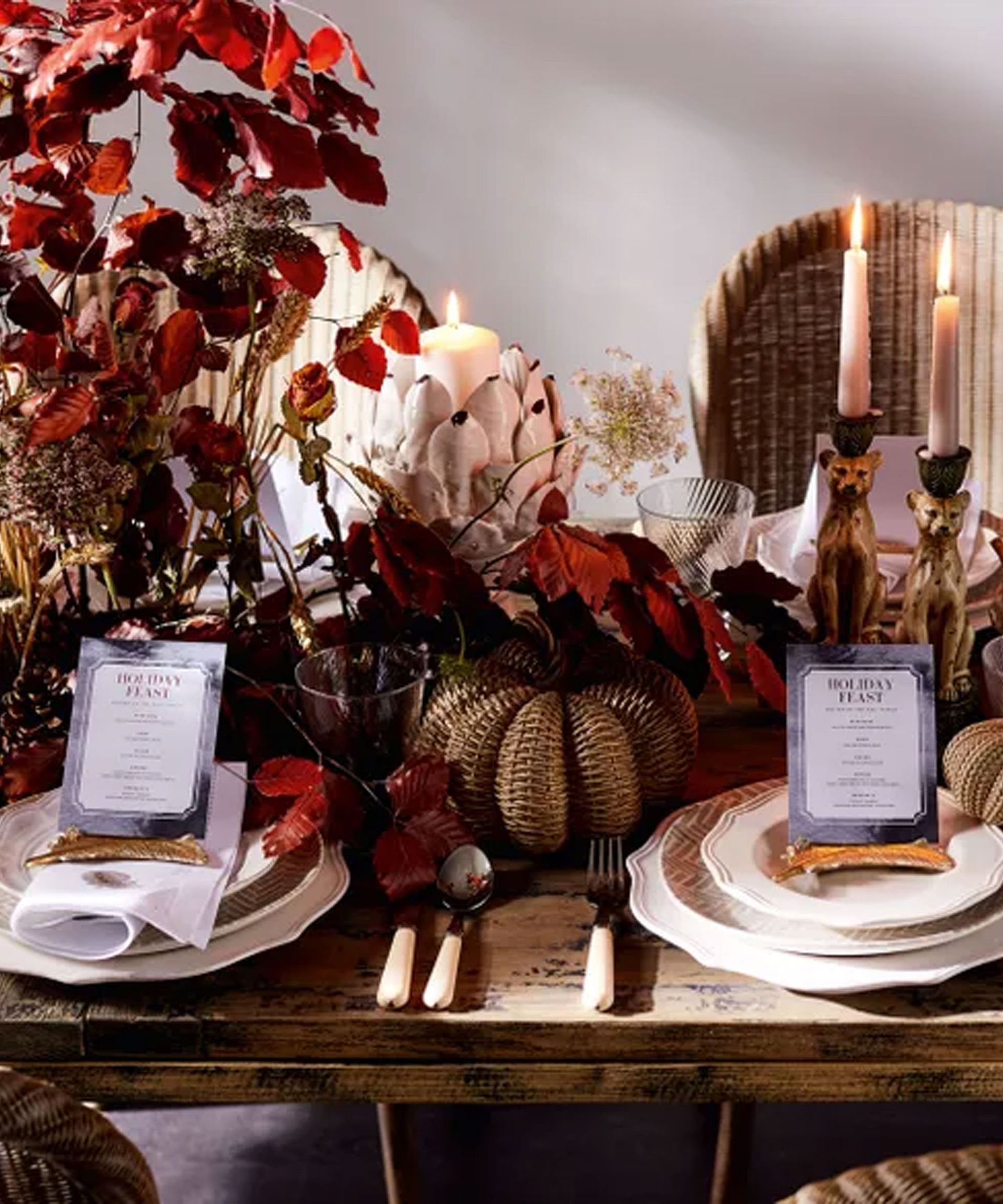 If you're planning on hosting for Halloween, then a beautifully decorated Halloween table in your kitchen is a must. 
In this elegant example above by OKA, the table has been adorned with inviting fall flowers and foliage, woven decorative pumpkins, candles and more. Whether you want your table – or even your kitchen island, to feel more cozy or spooky, uplifting the area with Halloween decorations will only make the space feel more fun, festive and special for Halloween. 
You can also be clever with your chosen table design and embrace enduring seasonal decor that can be used for fall table decor and Thanksgiving table decor; from decorating with pumpkins to using vases of foliage and flowers. Or if you prefer, you can switch up you table's design for each occasion – whatever works best for your style and space.
Shop some of our favorite Halloween table picks below; some of which are perfect for use during Halloween and beyond.
Swap out your dinnerware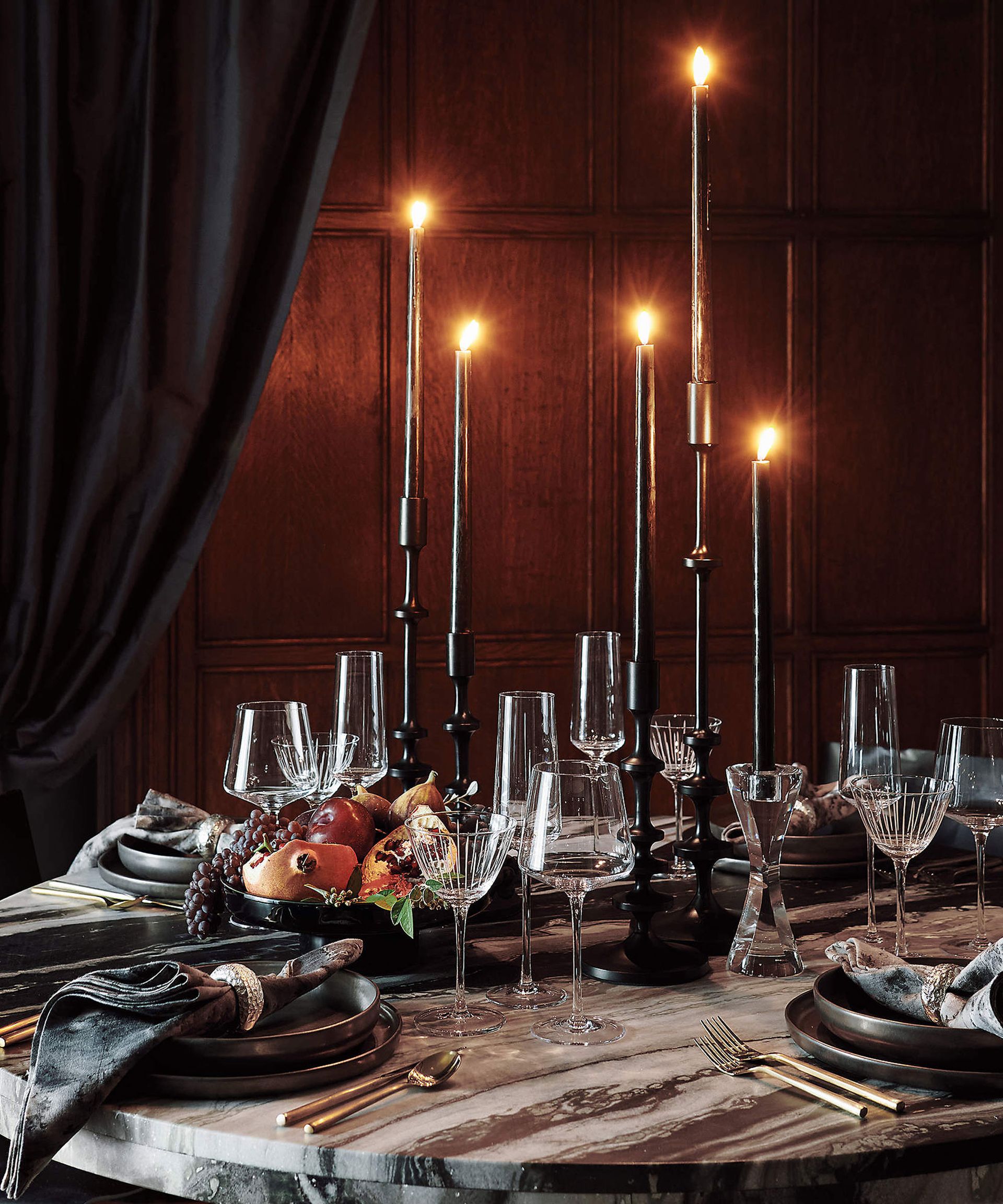 Gone are the days where Halloween decor is all faux spiders, skeletons, ghosts and ghouls; if you would rather celebrate the season with a collection of new dinnerware, then there are so many stylish designs to embrace that will add a cozy, seasonal vibe to your kitchen.
From more simple, sophisticated and enduring dinnerware designs, such as our below picks from CB2's more modern collection of Halloween decor, to more colorful, fun picks, that can be used and enjoyed each year, as shown with our Anthropologie best buys, a selection of new dinnerware pieces will only make each meal and dining experience more in sync with the season.
Update everyday kitchen accessories for seasonal designs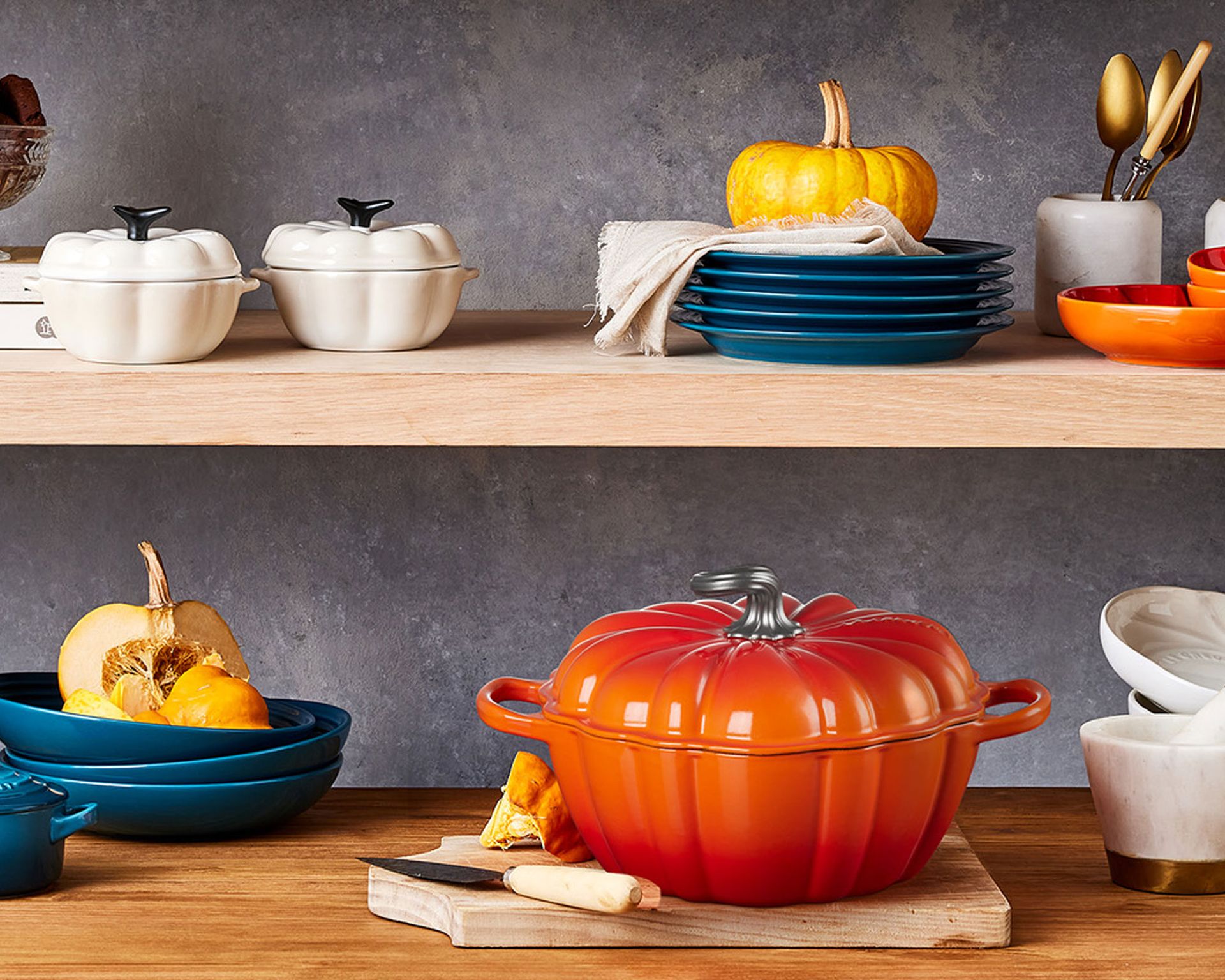 Transform ordinary, everyday kitchen items into something extraordinary for Halloween. From dish towels to pot holders and cookware, a few new seasonal designs that are both practical and stylish can make all the difference to the feel of your kitchen space. 
We're big fans of Le Creuset's fall cookware range, and think the colorful cookware designs can bring beautiful character to your kitchen for fall, Halloween, Thanksgiving and beyond – whilst providing you with some of the best cast iron cookware on the market.
Bring in warmth and coziness with candles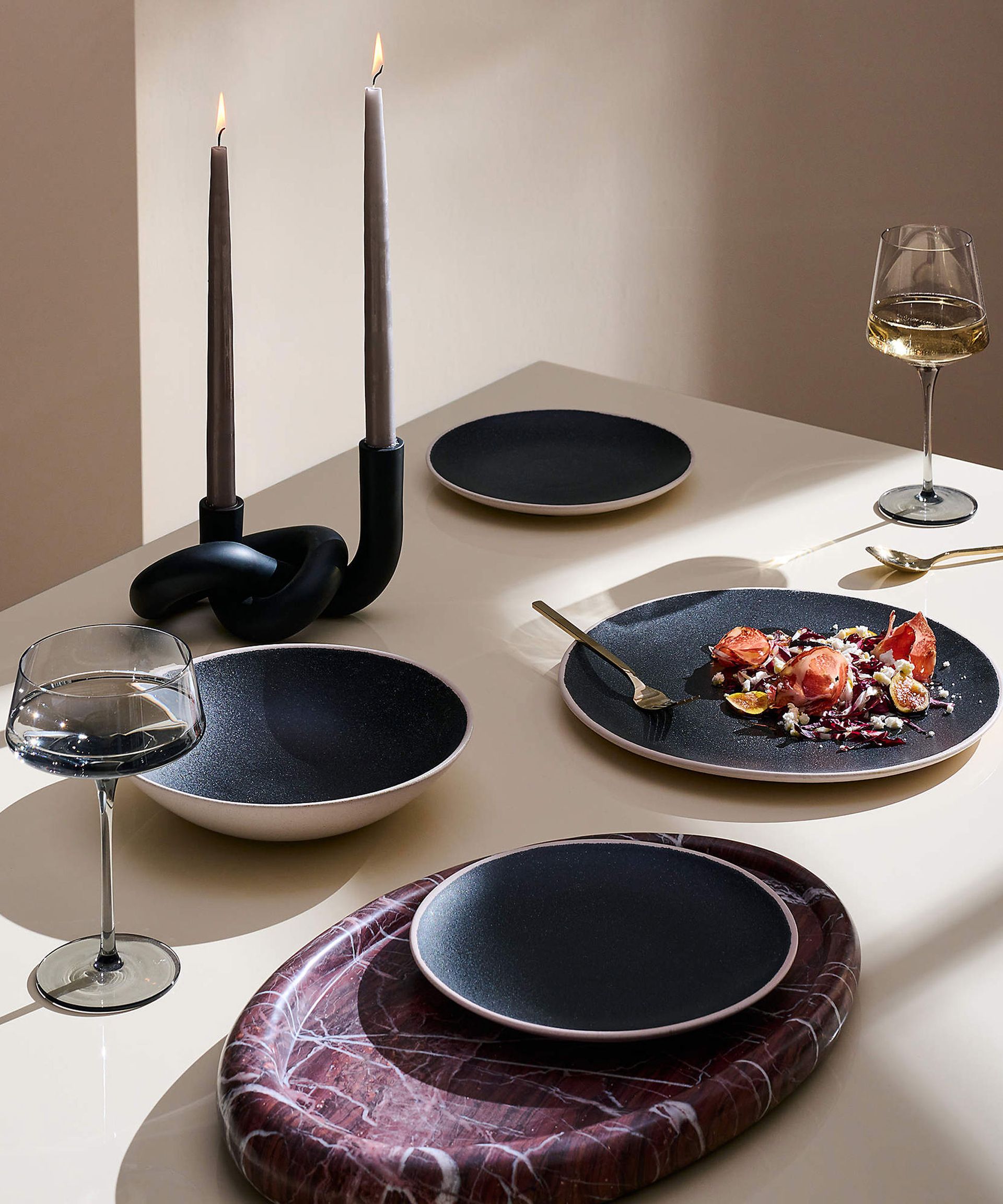 A quick and easy way to make your kitchen feel more cozy and inviting for the season is through styling the space with plenty of warming candles. 
Perfect for placing on countertops, tables and windowsills, the best candles can of course be used throughout the year to bring in an inviting glow and scent into your kitchen, but during the dark days of fall, winter and especially Halloween – the more candles, the better! 
If you've got plenty of tealights and tapered candles already, why not invest in a beautiful new candleholder; perfect for acting as a centerpiece on your Halloween table, too.
Hang garlands and wreaths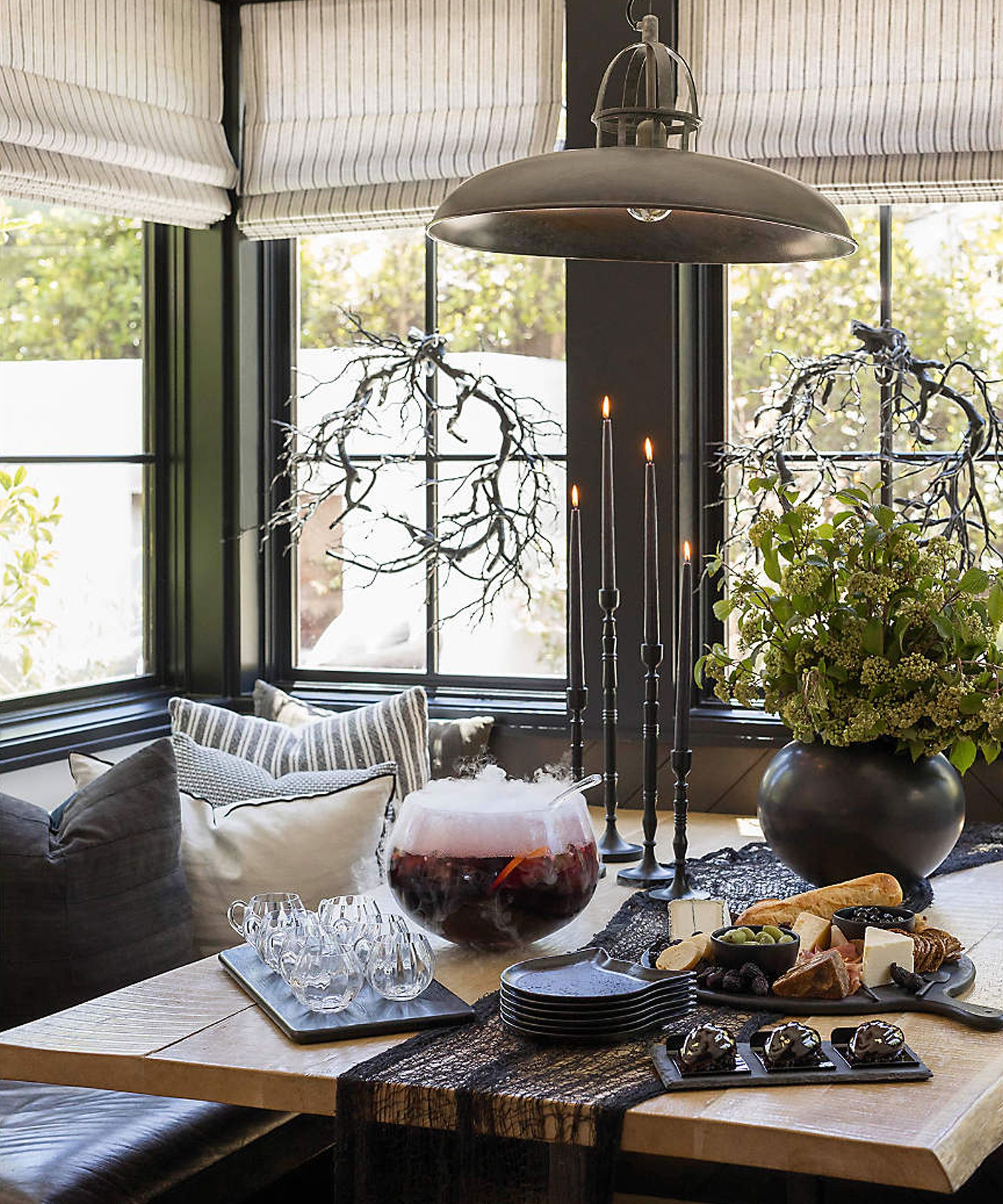 The beauty of the best Halloween wreaths and fall wreath ideas is that they can be hung pretty much anywhere in the home. 
Traditionally used for Halloween door decor, there is no reason why you cannot enhance your kitchen wall decor or kitchen window ideas with a beautiful seasonal wreath, too.
From fun, spooky designs, to more rustic, natural wreaths filled with inviting foliage and flowers, there are so many unique options choose from; no matter your Halloween scheme.
FAQs
How to decorate your kitchen for Halloween?
As we have explored in this piece, there are so many ways you can decorate your kitchen for Halloween. 
From purchasing a selection of new dinnerware and serverware to styling a stand-out Halloween table, many of the seasonal decorations you use in other spaces in the home, such as the living room or entryway, can be brought into your kitchen.
We recommend to make the most of your walls and windows by hanging festive garlands and wreaths, as well as making your everyday cooking habits feel more fun and festive through seasonal plates, pot holders and more.
---
One other way you can elevate your kitchen decor for Halloween is by styling the space with some twinkling string lights. Just like candles, a set of lights, like these Glass Pumpkin String Lights from Pottery Barn, can bring a sense of warmth and coziness to your kitchen, and they can be draped across a kitchen window, existing kitchen art ideas, or even round a kitchen island or table.