40 easy garden ideas for a fresh new look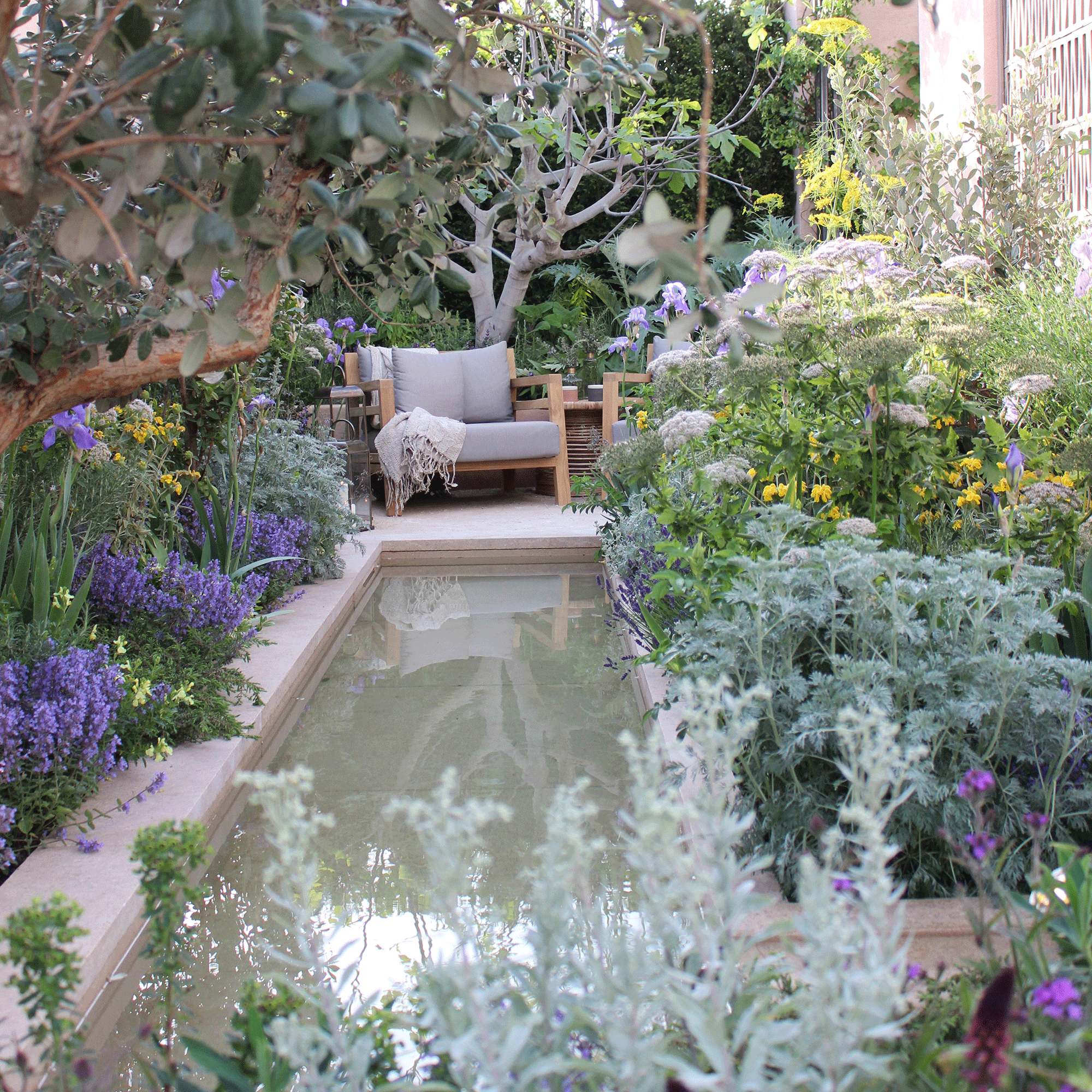 Easy garden ideas can sometimes sound like a contradiction if you're sorely missing a greenthumb. However, we're here to reassure you that there are so many things you can do that will transform your outdoor space without toiling away for hours in the garden. 
There are plenty of ways to give your garden an instant lift without having to call in the professionals for hard landscaping – which can also help you save on garden landscaping costs. However, we will level with you that some of the most impactful ideas in this round up will require a little patience to see the full results of any changes you've made. 
We've made the most of our cumulative100 years of experience and the emerging trends we've seen at different flowers shows this year to create a round up of the easiest garden ideas to spruce up your garden without stress and strain.
Garden ideas
Transforming your garden doesn't need to be a vast and overwhelming task. Sometimes a bit of paint and a few tweaks can turn a concrete block into an oasis.
Whether you're not much of a gardener or are just looking for easy ways to overhaul your garden instantly this weekend, we've rounded up some of the best tips we've learned from garden designers and planting pros over the years. 
1. Choose jewel toned plants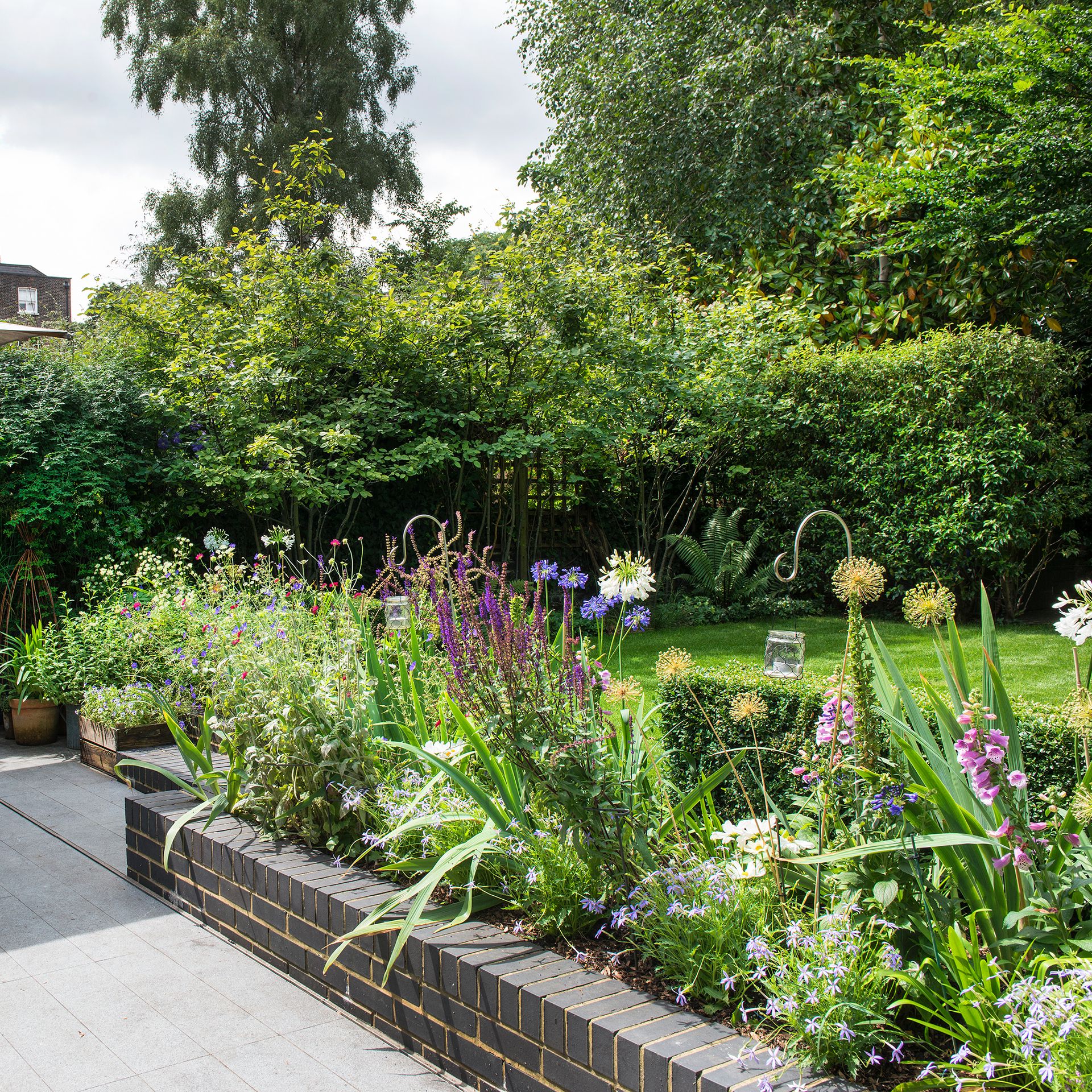 The easiest way to transform your outdoor space is with plants. But, when you're at the garden centre rather than just flinging random plants into the cart, consider first what plants will grow well in your type of garden, then plan out a colour palette. Our favourite colour scheme which we spotted as a trend at the Chelsea Flower Show this year was 'jewel gardens'. This involves opting for really rich and vibrant plants, interspersed with easy-to-care-for greenery such as ferns and hostas. 
Chris Beardshaw, a garden designer who included jewel-like planting in his 2023 Chelsea Flower Show garden explained that they can actually help create a more relaxing garden.  'Those jewel-like blooms, the subtlety, the modesty of those blooms, amongst verdant green foliage is in a way an encouragement for us to stop, to pause, to enjoy the moment we find ourselves in and enjoy the detail of everything that surrounds us,' he says.  'It's all about slowing down and enjoying what surrounds us.'
2. Create a canopy of trees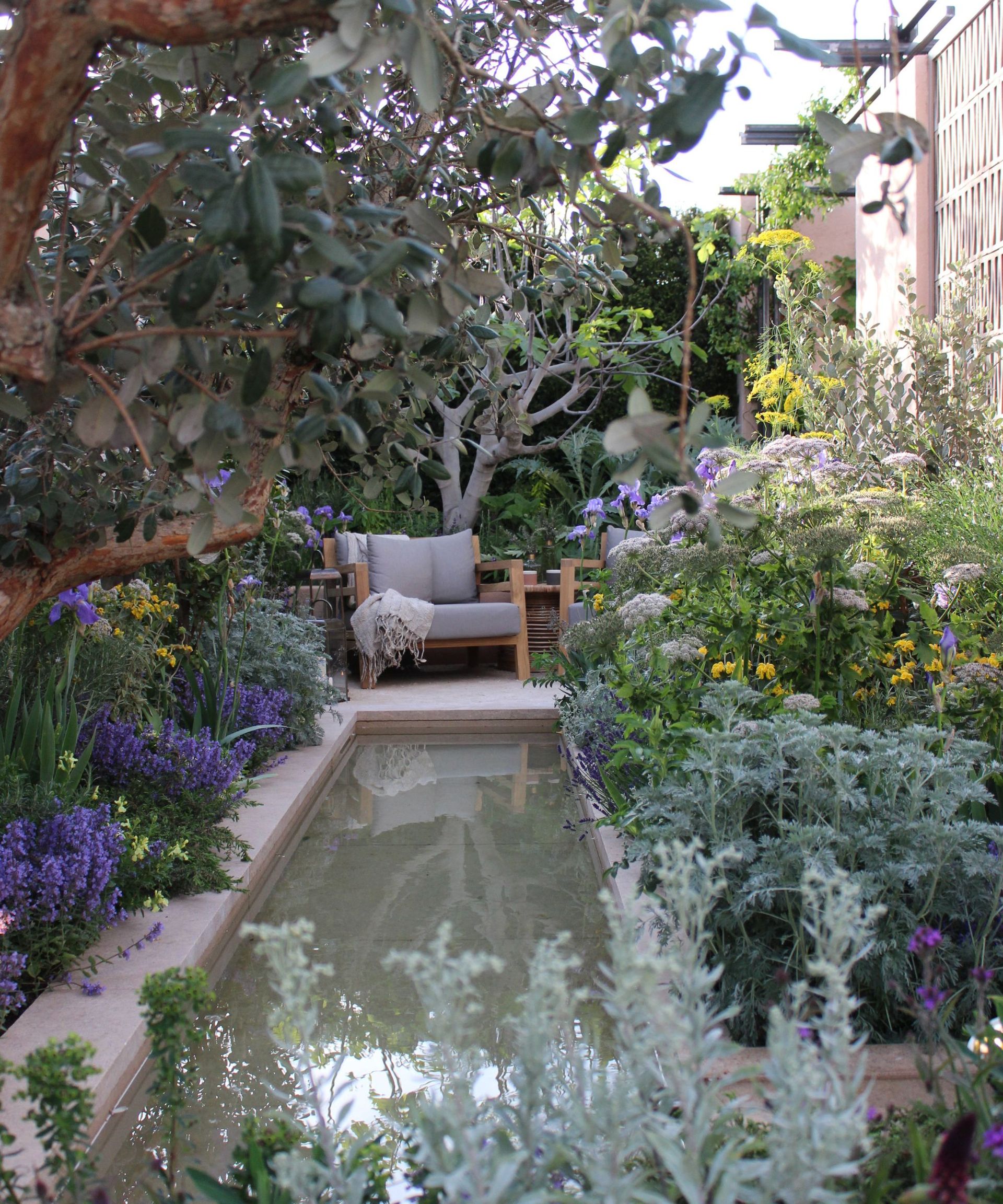 Adding trees to a garden requires a little patience if you don't want to have to remortgage your home to afford them. According to garden designer Christina Cobb,   who featured a small tree in her Restorative Balcony Garden at the Chelsea Flower Show 2023, the trick is to buy them as small as your patience will allow you to get them for the best price. 
'I would say instead of thinking about what specific tree to use, you more just have patience in your mind,' she explains. 'Go small and let it grow, and then you just have to think about the eventual height and spread of the tree. Just don't buy something like a Cyprus that is going to get massive. Keep it to something a bit smaller. So maybe something like a multi-stem amelanchier would be really beautiful.'  
3. Utilise gravel for a low maintenance garden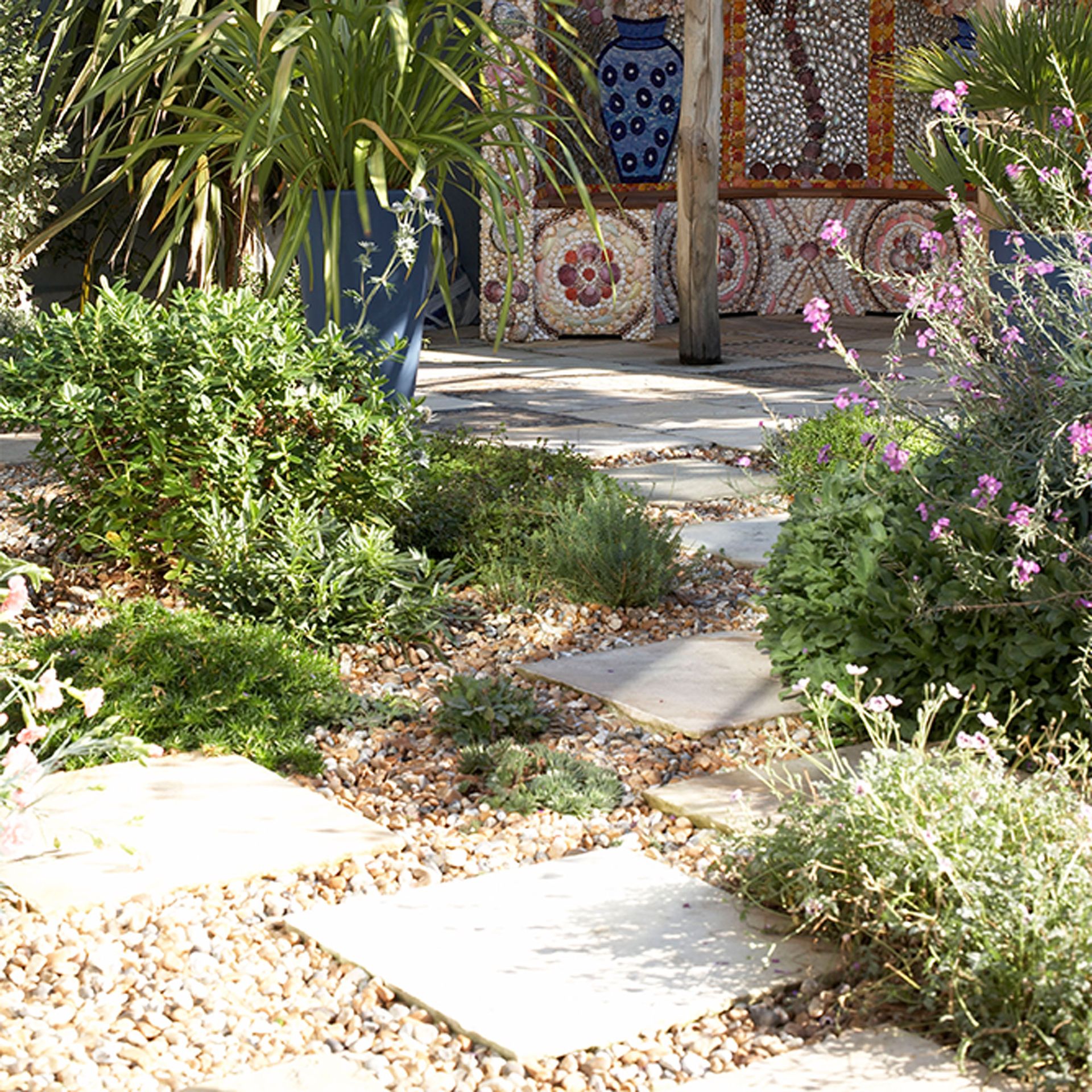 Gravel garden ideas have become a garden trend that has slowly been gathering speed in popularity. It is a super easy low-maintenance garden idea that will not only help keep weeds under control but also look super chic. 
All you need is to choose a suitable liner for the garden and choose where the pockets of plants are going to go so you can make space for them. Then simply fill the rest of the gaps in with gravel. That's no lawn to mow and no weeds to tackle, a double threat in a garden idea.
'People expect not to be able to grow on this stony ground and I think that's a lot of the problem with kind of more traditional approach,' explains garden designer Jon Davies of Wild City Studio. 'There's a wealth of beautiful wildflowers that grow in these very poor soils. That's actually what they really need. 
'You create these spaces that are full of the crushed stone and concrete, and they're very stressed environments – so you can't get the nettles and the brambles growing there. Instead, you get this flush of beautiful wildflowers.'
3. Spruce up your table and chairs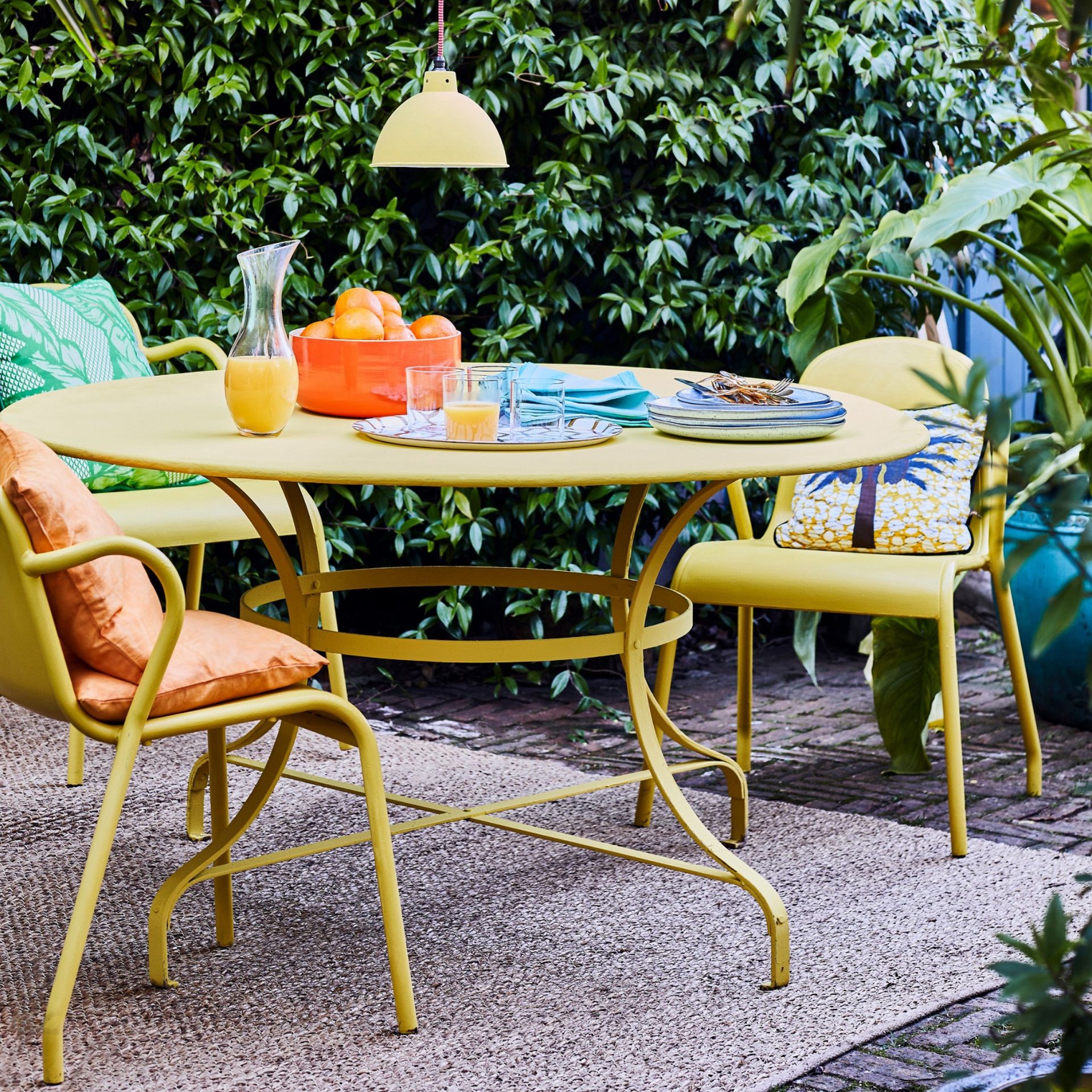 If you have to leave your furniture outside during the winter months even with a cover on they can look a little unloved come spring. Probably one of the easiest  budget garden ideas has to be simply giving them a refresh with a new colour.
'Chalk Paint™ loves the great outdoors! It offers an inexpensive way to freshen up garden furniture, fencing, plant pots, sheds, and even walls,' says paint and colour expert Annie Sloan.
'Choose bright colours to bring extra impact to your garden even when flowers aren't blooming. Or use cool-toned pinks and neutrals to create sophisticated, minimalist-chic exterior spaces.'
4. Create seasonal displays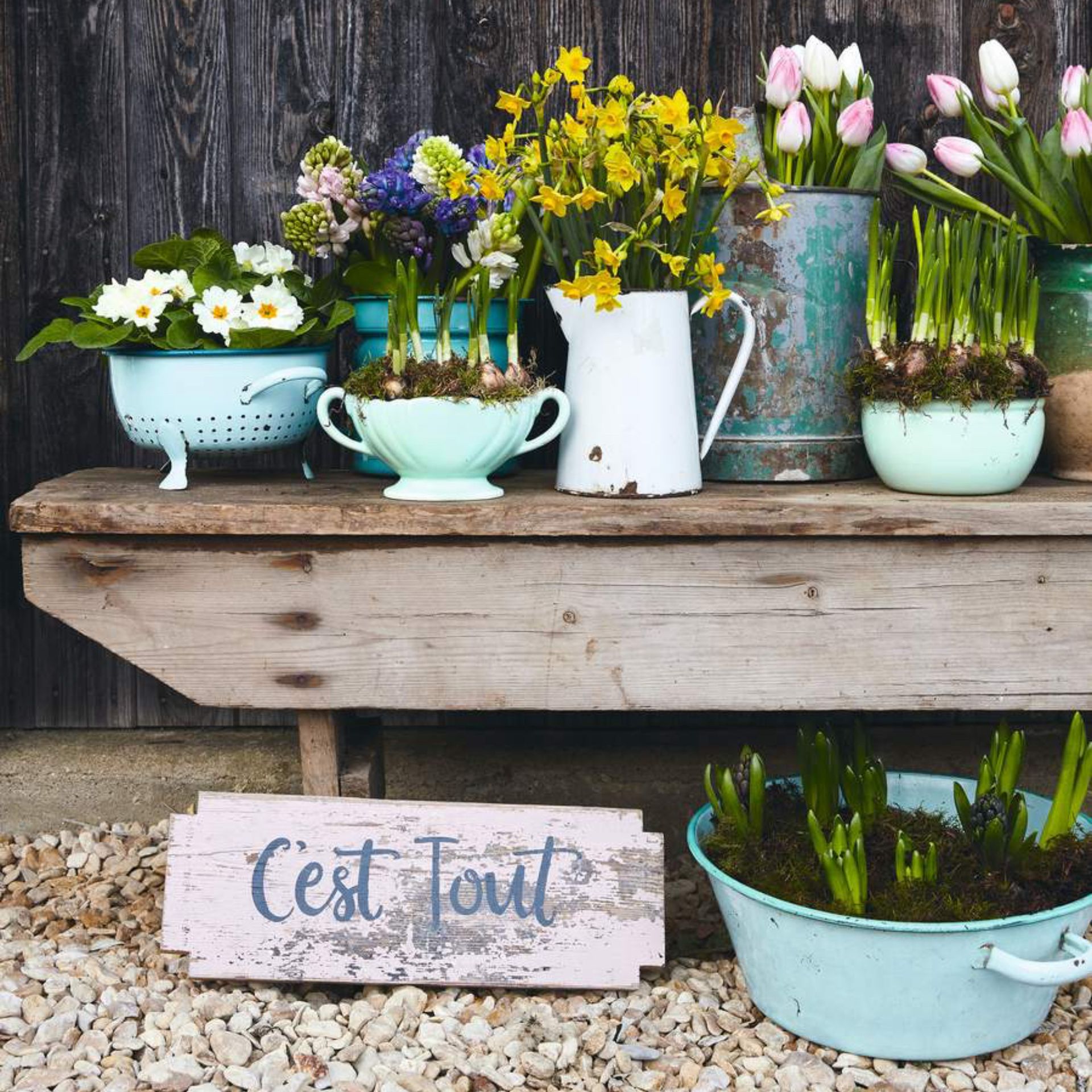 Styled displays aren't just for your interior, you can do them outside too. Plant up some pots with seasonal flowers – for spring there's hyacinths, daffodils and tulips to choose from. In the summer there's cosmos, sweetpeas and snapdragons to name but a few.
Get creative with this type of easy garden ideas and choose some quirky pieces like an old colander, vintage vases and old wash tubs, they'll look great full of colour. 
5. Upgrade your lighting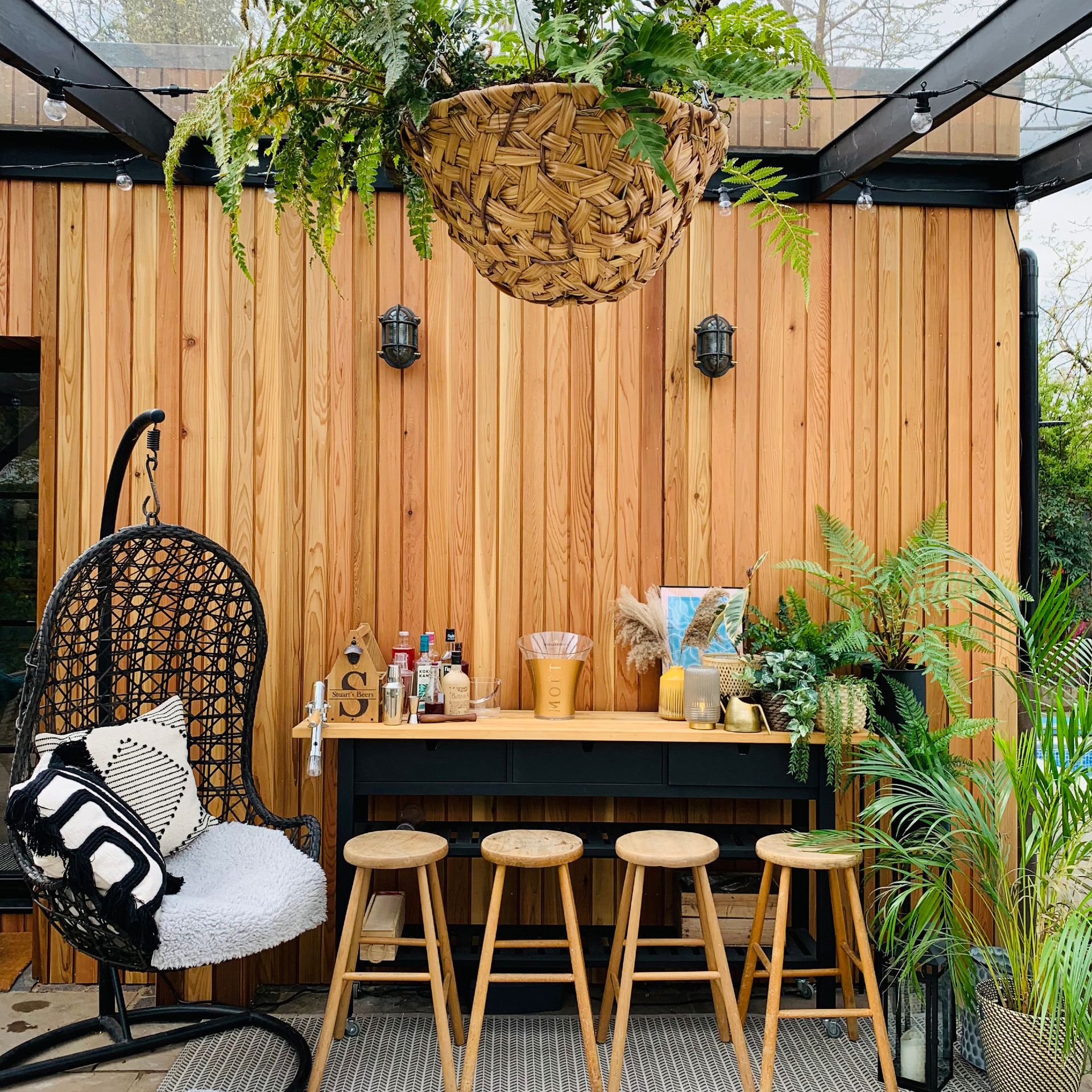 As with our interiors, garden lighting ideas are key and a well-lit garden will set the scene as the sun dips down and help to not only allow you to walk safely but to create a cosy feel too. 
'Try adding layers of light to allow flexibility, depending on the time of day and the ambience you want to achieve,' suggests ,' says Marketa Rypacek, managing director, Industville.  'Wall lights will provide practical illumination for mixing cocktails and drinks preparations, whilst pendant lights will keep lighting soft to create a wonderful ambience.'
Looking through the easy garden ideas lens we'd advise adding in more decorative, ad hoc lighting as needed if you don't have the time or budget to install wall or path lights.Think LED candles, lanterns and festoon lighting.
'Always ensure you opt for good quality outdoor lights that are compatible with LED bulbs,' adds Marketa. 'These are energy efficient and have incredibly long lives, making them the perfect sustainable choice.'
6. Line a path with stepping stones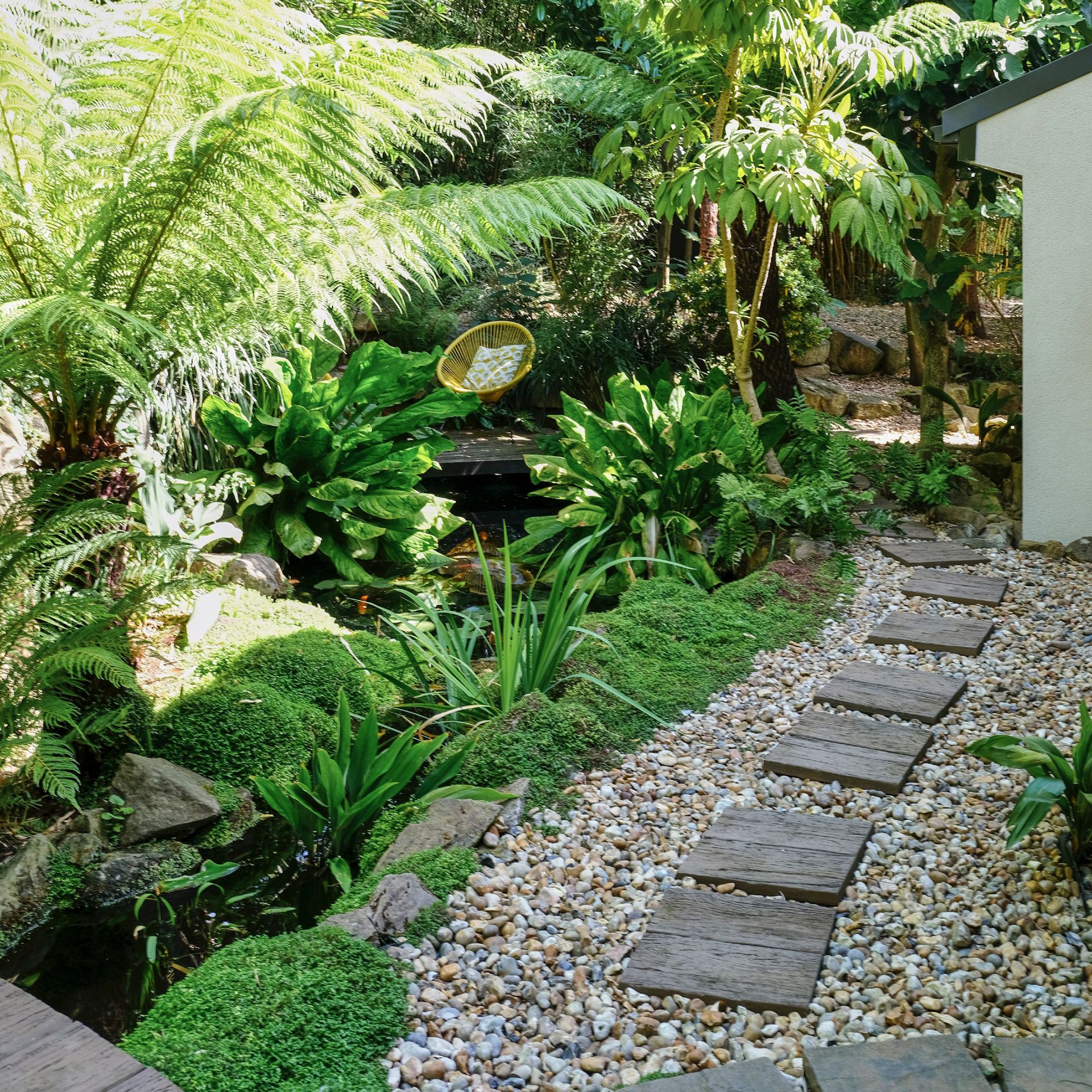 Create interest with a stepping stone garden path idea that meanders down to the bottom of the garden. Understated and practical, the irregular nature makes them a good alternative to a straight path plus it's a cost-effective low maintenance option to update your garden. 
Consider limestone, sandstone or slate, they'll add texture and if you choose contrasting gravel the result will be rustic and stylish. 
7. Turn a firepit into a focal point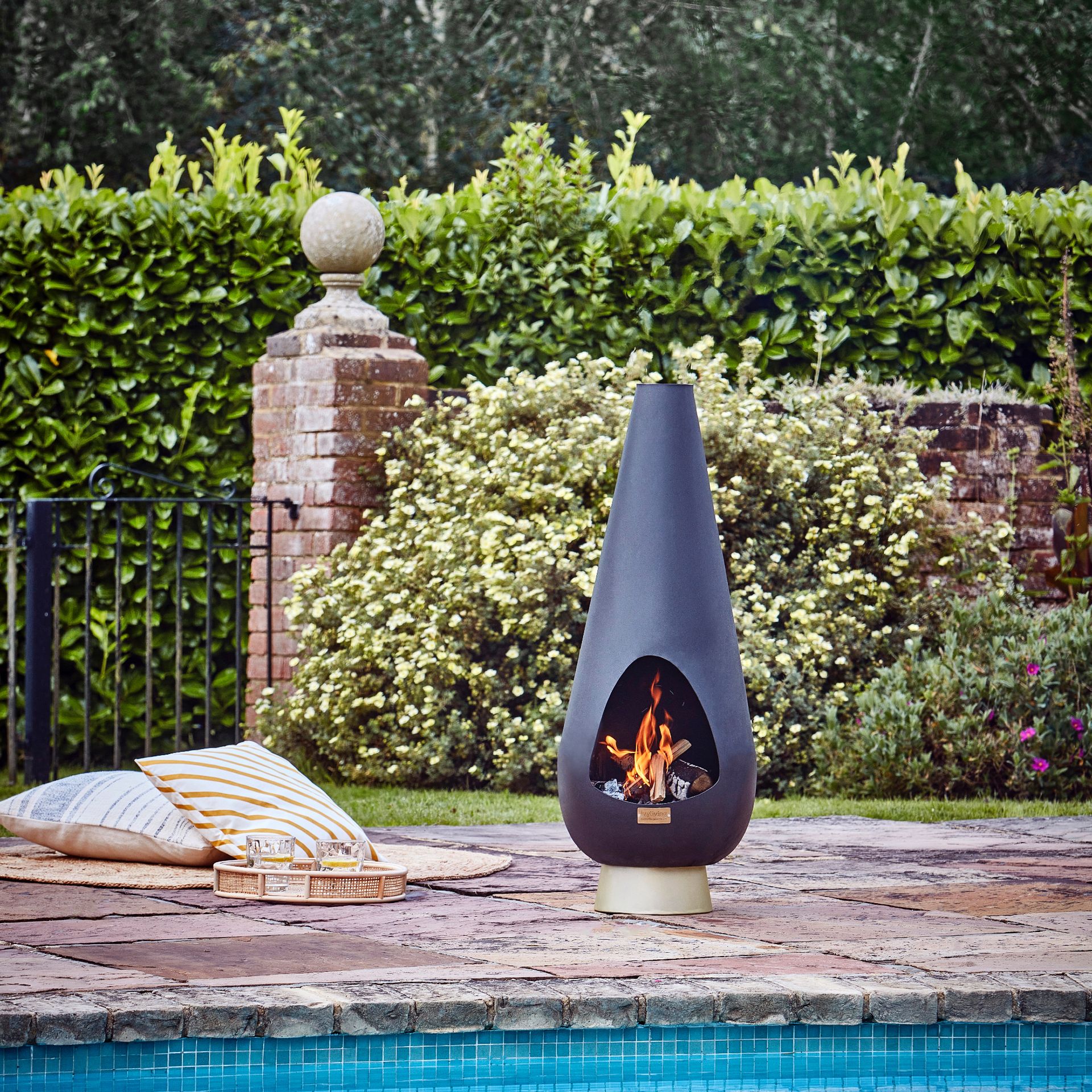 Outdoor fireplace ideas have evolved in the last few years, if you get the chill factor after the sun's gone down they are a stylish addition. You can have one built in, but it's when looking for easy garden ideas it's more likely that a portable version will suit. 
The chiminea design is a step up from the standard fire pit and ensures a more impactful heat and therefore makes it a safer option for families because the shape reduces sparks and directs the heat up and away. 
8. Install raised beds for easy gardening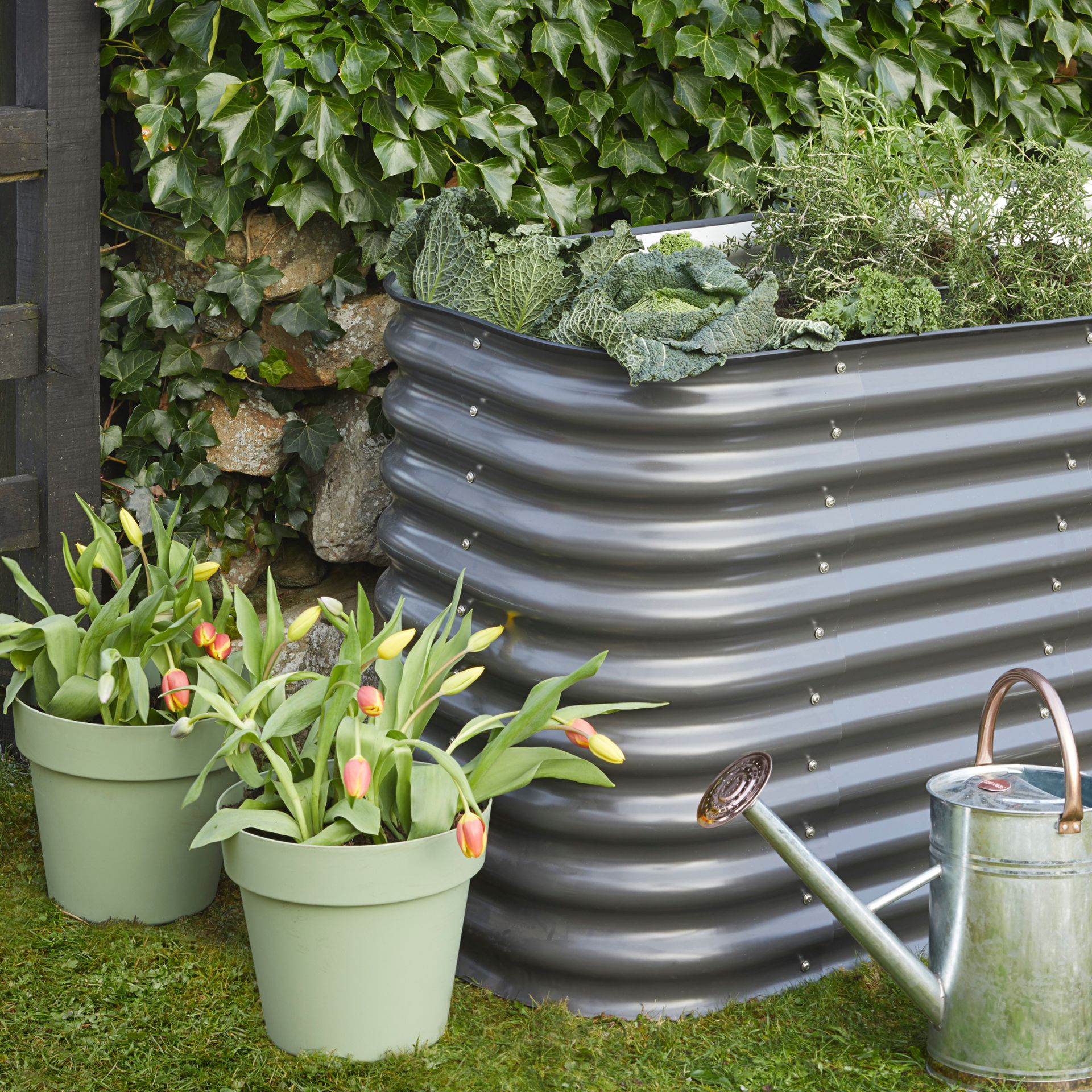 With more of us starting to grow our own fruit and veg, raised beds are ideal if you want more space. You can make your own with planks, but if you don't have the space then consider a design that has height and length over width. 
'Summer flowering bulbs like dahlias, lilies and gladioli can be planted in raised beds this spring for a burst of colour and fragrance in the summer months, and make great cut flowers for the home,' advises Marcus Eyles, horticultural director, Dobbies. 'Begonia corms can also be planted now in containers for early summer colour.'
9. Add in solar lighting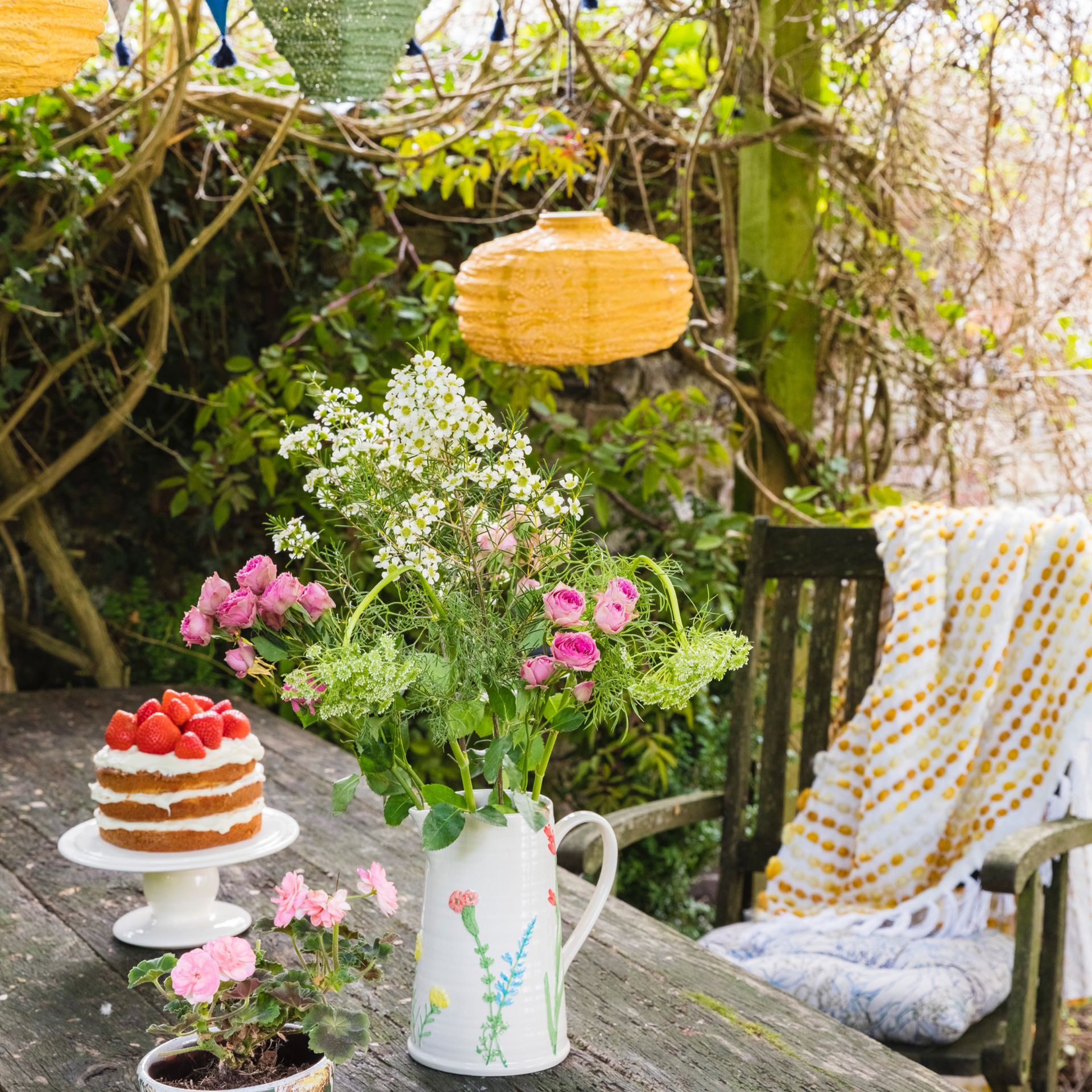 The beauty of solar lights vs battery-powered garden lights is that you don't have to do anything yet you get beautiful ambient lighting and you're not harming the environment – if that doesn't fall under the umbrella of easy garden ideas, then what does? 
There are plenty of stylish designs to choose from, we particularly like paper lantern-style designs, available on Amazon, that suit rustic gardens. They can add a pop of colour too. 
10. Pop up a pergola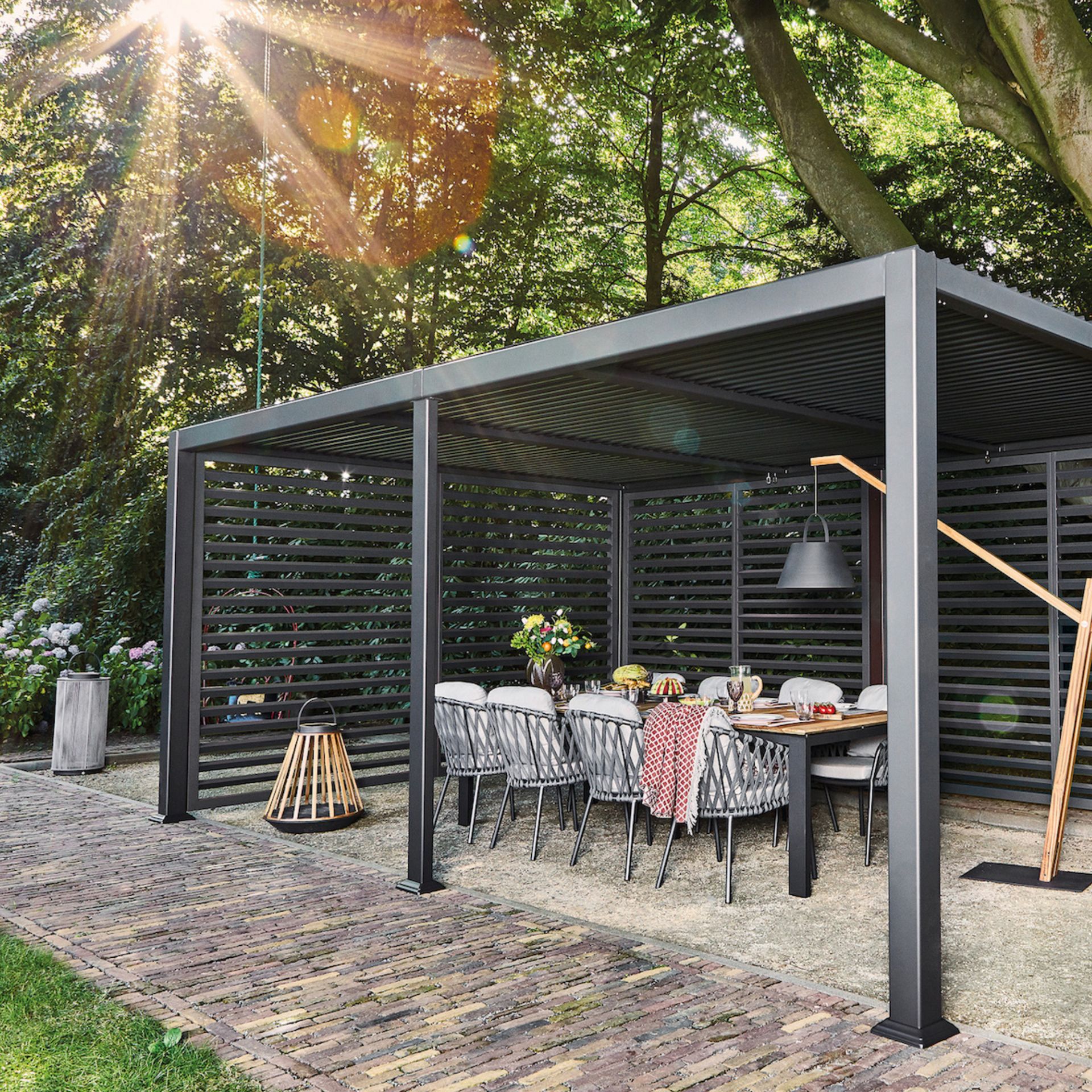 Pergola ideas add shade, zone an area and extend your living space. They're also a wonderful space for entertaining, all you need to do is choose a design that suits your space.
'Think about what you'll use the pergola for as this will determine the style and type of materials you'll want to introduce,' advises Reilly Gray, co-founder, Suns Lifestyle.  'For instance, a decorative wood frame will add a more traditional feel (and require more maintenance) whereas one in 100% aluminium will have a contemporary finish whilst being more robust, low maintenance, rust-proof and suitable for use all-year-round,'
'Aluminium will also last a lot longer than wood and the problem with wooden pergolas is once the wood gets wet it can drip sap on the furniture below which can ruin furniture. The powder-coated aluminium will never fade and will look the same forever, the wood will change almost instantly after it has been installed,' 
11. Adorn a patio with fairy lights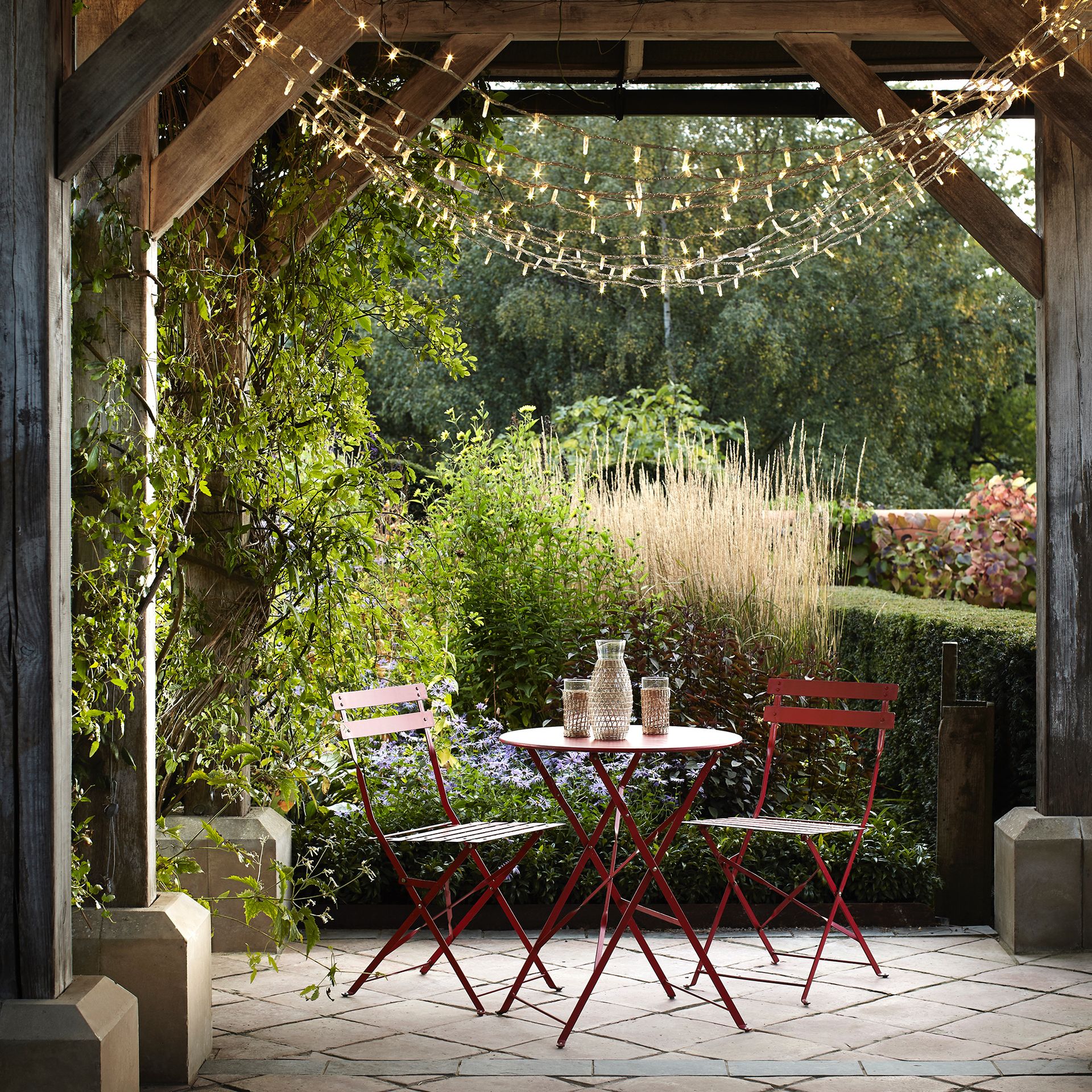 Create a sparkling canopy of fairly lights above your outdoor seating area for one of the most magical easy garden ideas. It will set a wonderful scene and add ambient light too. 
'Extend your living space and create an enchanting fairy light canopy so you can enjoy evenings in the garden as dusk begins to fall,' says Hannah Willis, product executive, Lights4Fun. 
'Daisy-chain multiple sets of fairy lights together and string the lights back and forth, up above the decking, attaching to pergola posts and wooden beams. Secure in place with cable ties for a fuss-free setup that'll give your garden a simple yet effective refresh throughout the summer.'
12. Furnish an old greenhouse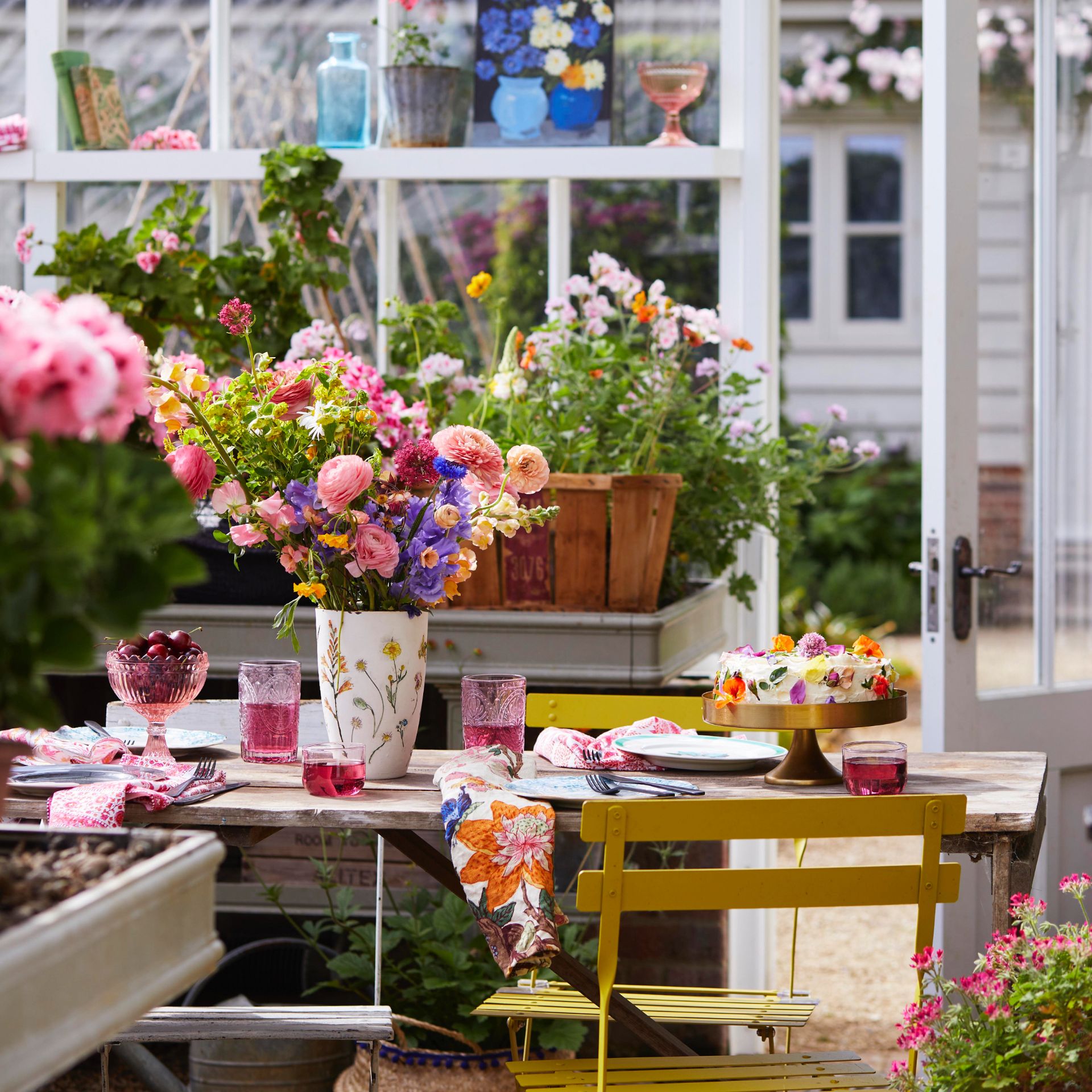 With the UK weather always being slightly hit and miss it pays to have a back up if you're planning on having a gathering with friends and family. This is where a greenhouse can come in handy.
'Looking to extend the brighter evenings and make the most of your outside space?,' asks says Nelly Hall, brand director of greenhouse company Alitex. 'With just a bit of imagination, you can use easy garden ideas to transform your greenhouse in the perfect setting for some alfresco entertaining – even if the Great British weather does threaten to scupper your supper!'
'Dress your dining table with botanical textiles and flowers from the garden, and use plush cushions and blankets to bring a sense of texture and warmth. For some extra wow-factor, impress your guests by using delicate edible flowers as garnish, or infuse your favourite gin with some homegrown flavours such as basil and cucumber or rosemary and ginger.'
13. Add in a folding bar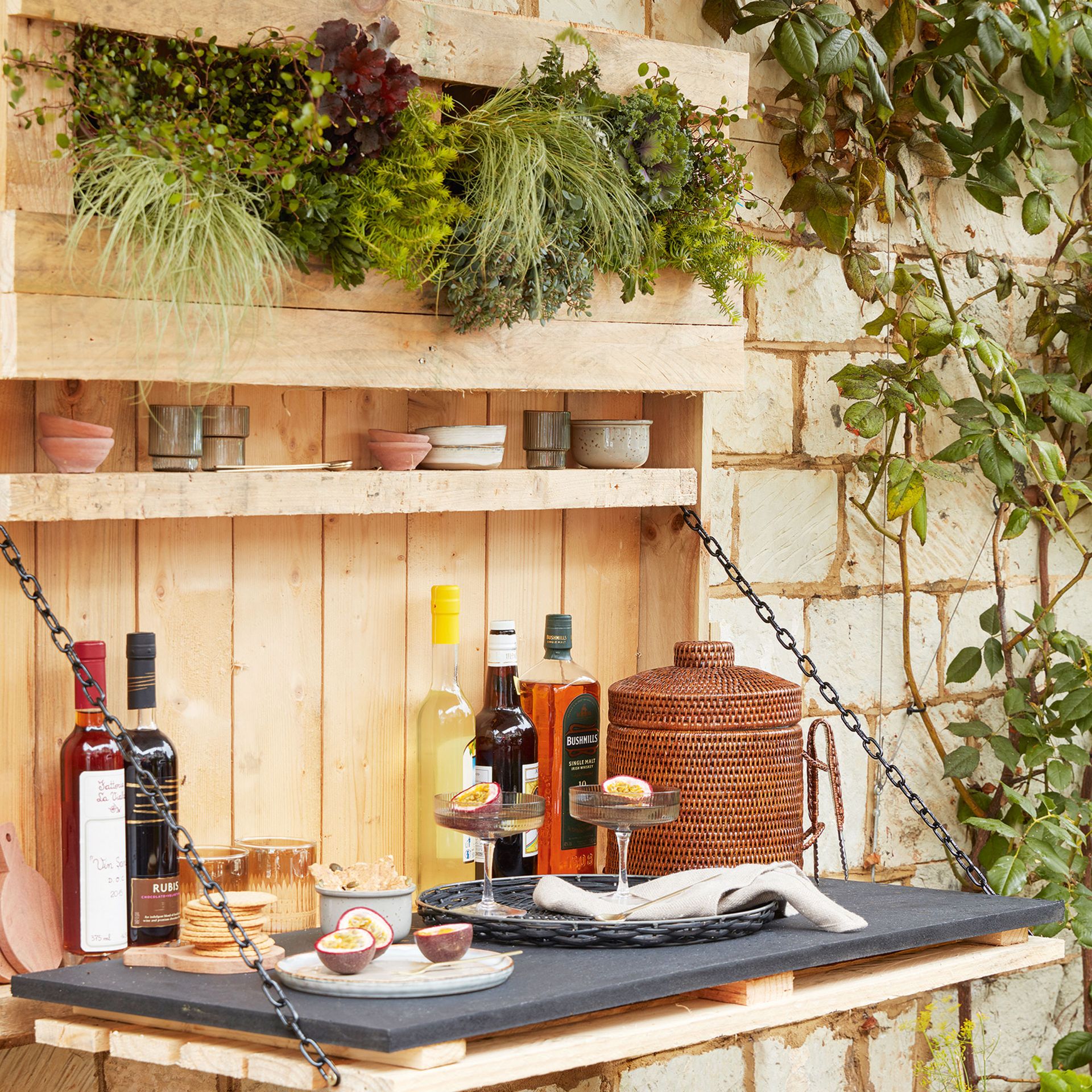 Outdoor bars are all well and good, but not everyone has the space for an extra room. Instead, create your own little entertaining zone with a clever pull-down bar made from a couple of pallets and lengths of chain.
An outdoor herb planter above keeps them within easy reach for drinks and barbecues.
14. Create seating zones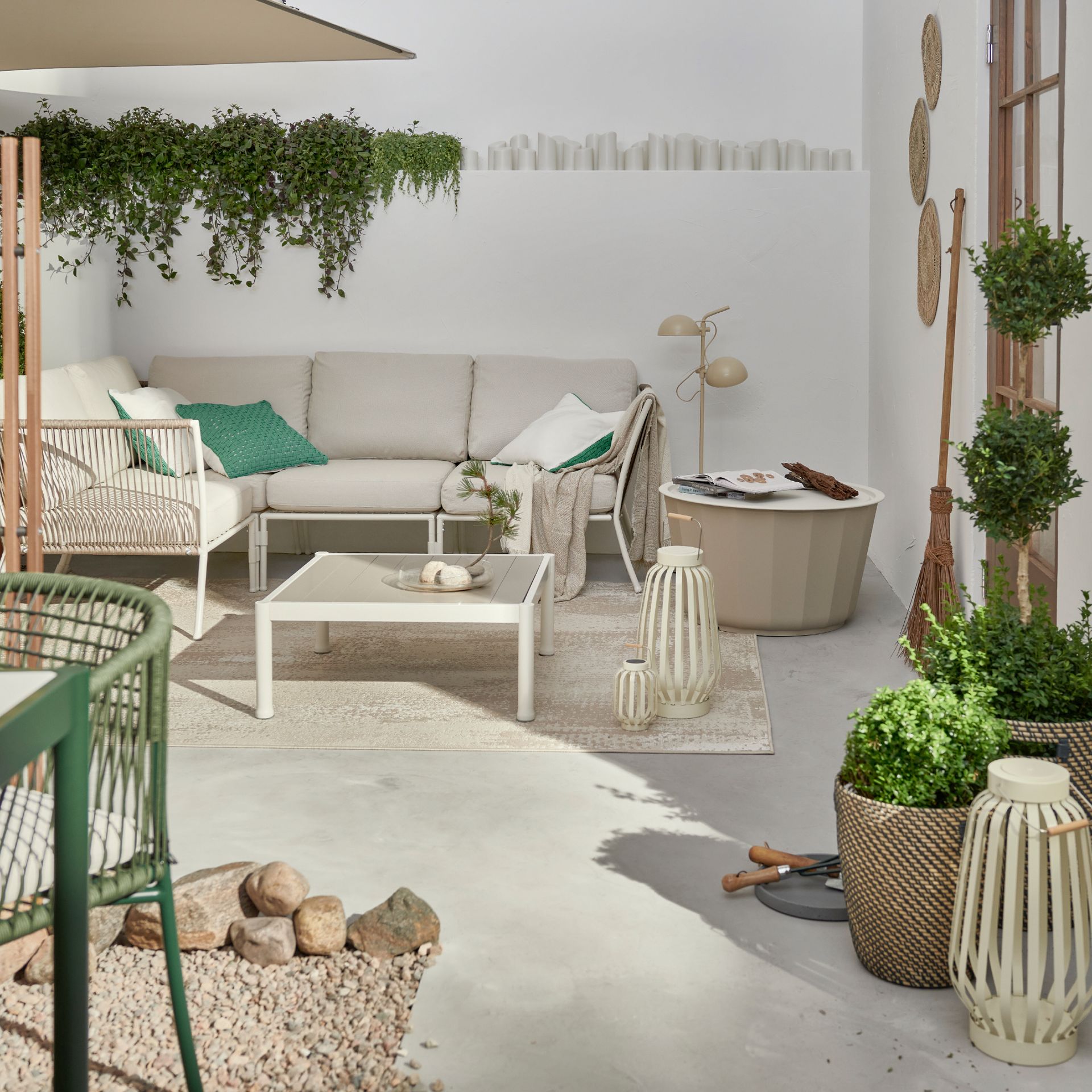 'Zoning your garden will make the space feel bigger and gives everyone their own space in nature,' says Chris Bonnett from Gardening Express. 'Dividing the garden up into different areas, with different purposes can make the space feel more organised and is a simple way to make the most of every inch of green space.'
Many people think of garden zones being created from structural additions. While it is true that planters, walls, screens and hedges help to separate out your areas, one of our easy garden ideas is simply using cleverly positioned seating.
Create various seating areas in one space by making them all feel distinct from one another. For example, a table and chairs for dining, a hanging seat or hammock for chill time, and casual seating areas delineated with an outdoor rug.
15. Fake a living wall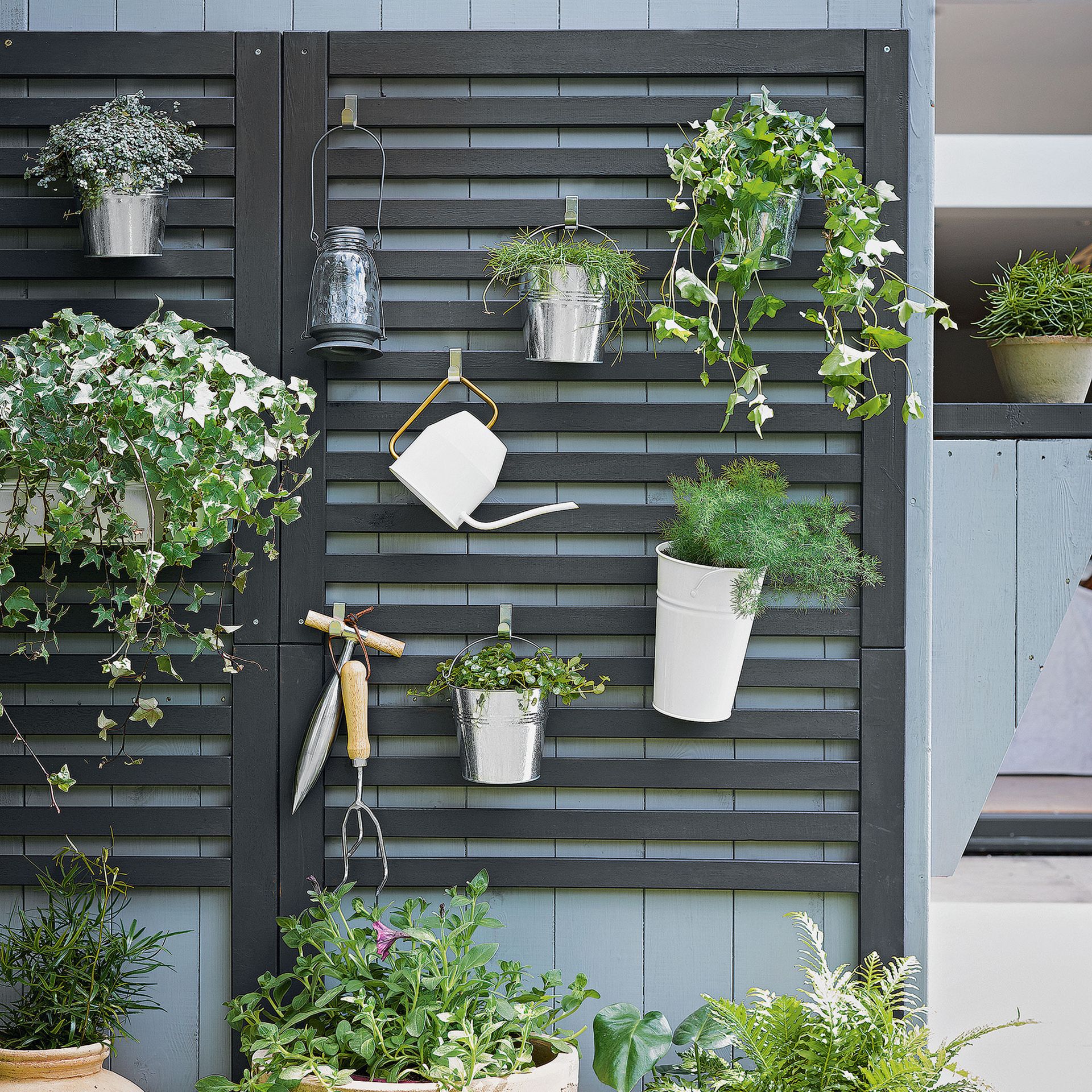 Brighten up the side of a shed or drab brickwork by fixing a couple of vertical panels. Paint this a bright colour to make a statement, or allow it to blend in with the rest of the colours in the space. Add sturdy hooks to hang bucket planters and fill them with herbs or trailing plants to create a living wall on a budget.
Another benefit of this type of easy garden ideas is that you can easily switch these up with the seasons so there's always some good- greenery.
16. Build on benches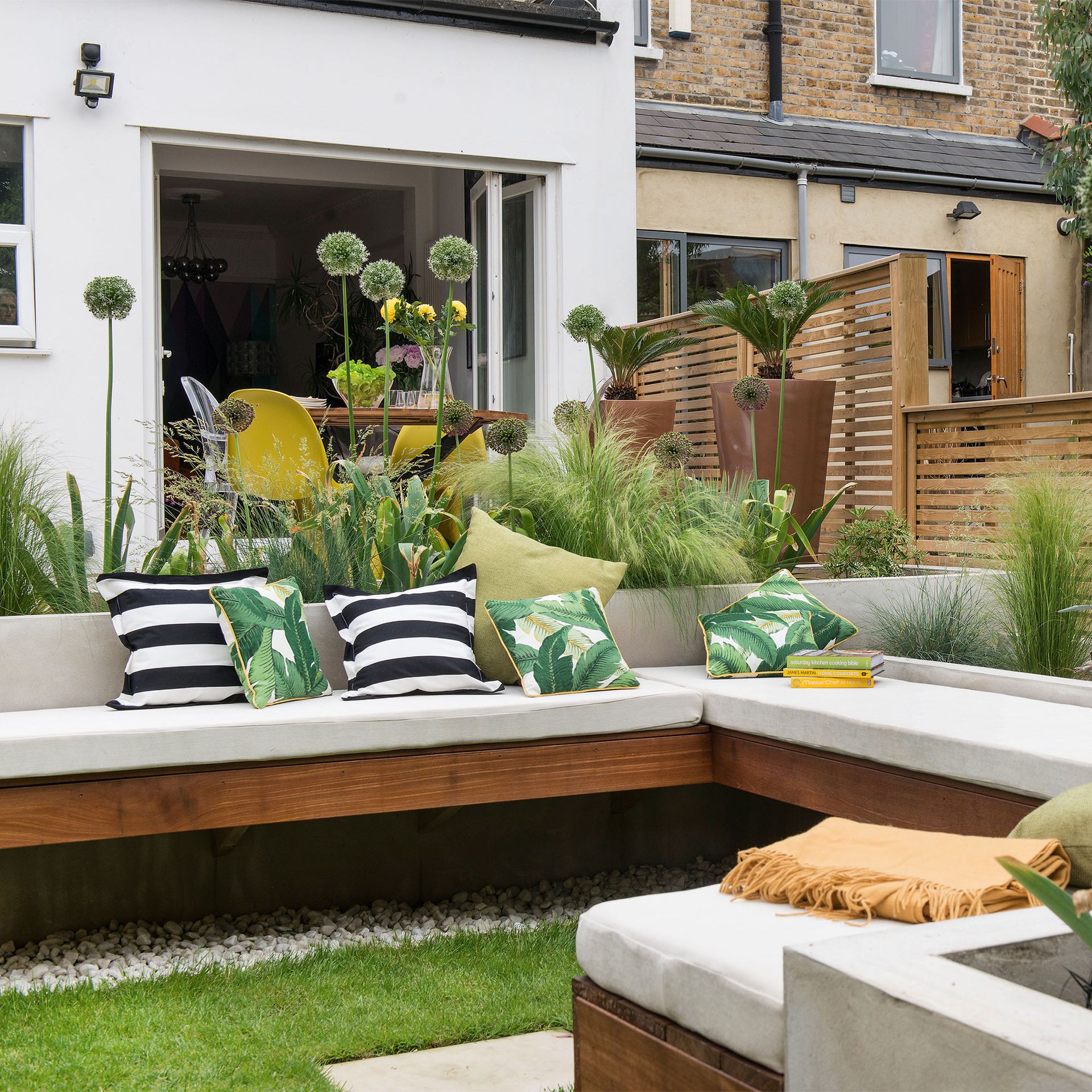 Raised beds are having something of a moment – and for good reason. They look great, and are incredibly practical for a number of planting styles. However without utilising easy garden ideas you may be missing a trick. 
Utilise the sides of the beds to add on benches for a built-in seating arrangement. Accessorise with cushions and blankets to complement or contrast with your planting.
17. Have an outdoor blackboard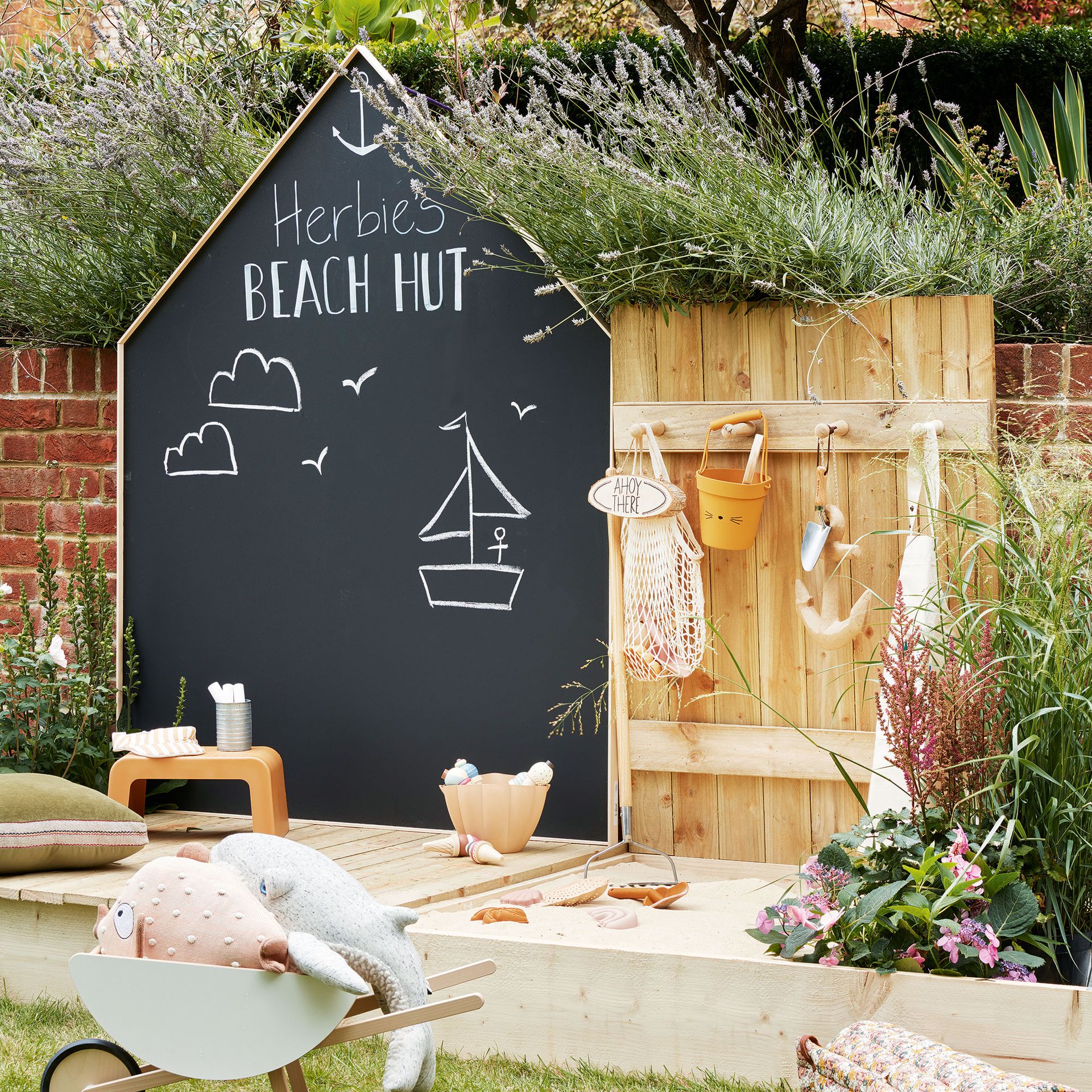 Sacrifice a section of a raised bed to create an area of deck with a giant blackboard and a covered sandpit for sunny-day play. It will keep the kiddies amused for hours so you can relax with one eye on them. 
Fix a peg rail to the underside of the lid for hanging toys
18. Turn an old stepladder into a plant stand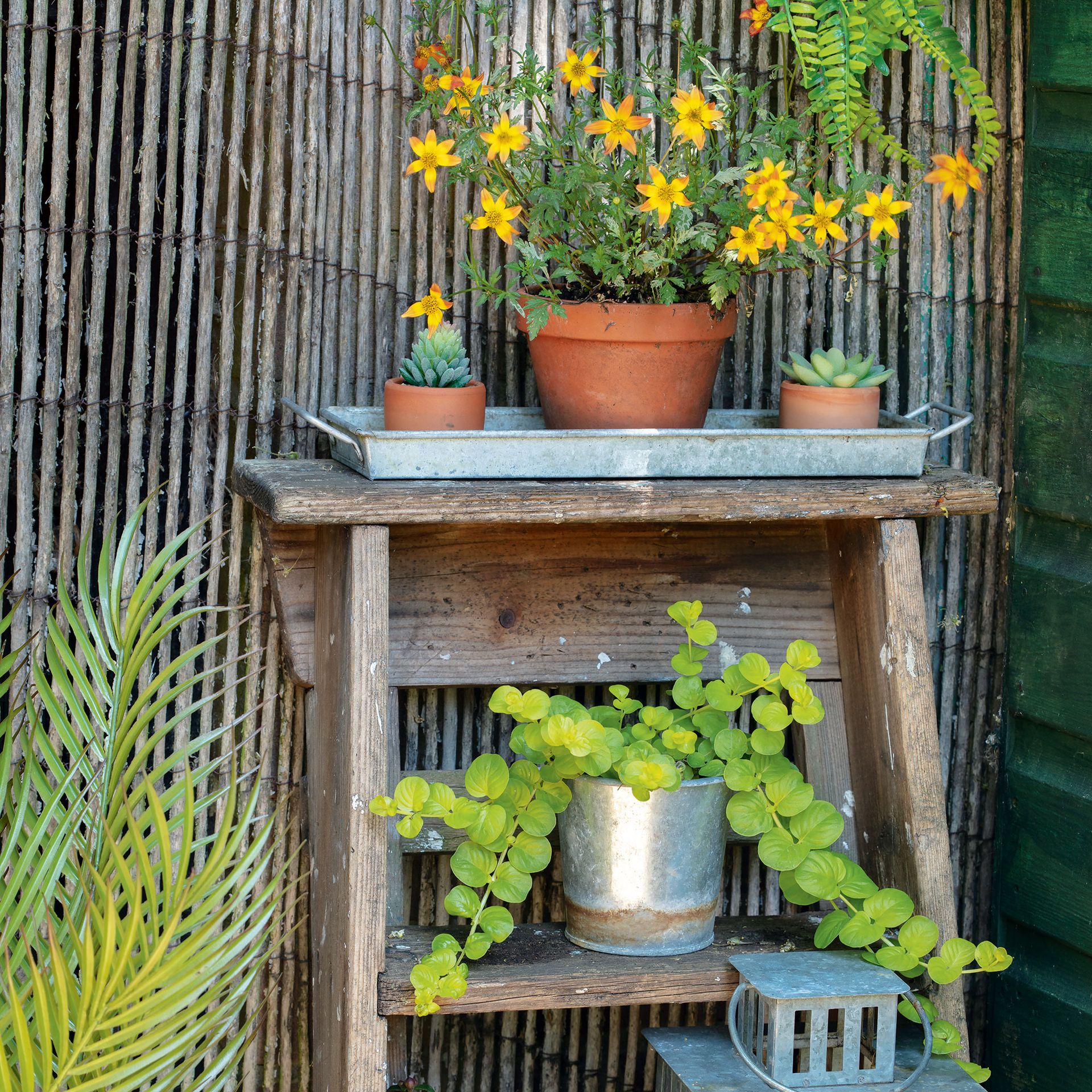 Create a vertical planting area by making use of an old stepladder. Lean against a fence and pile high with your potted plants and decorative elements. Keep the wood unfinished for a country garden, or sand back and paint in a bright shade to make a contemporary statement.
19. Add some colourful plant pots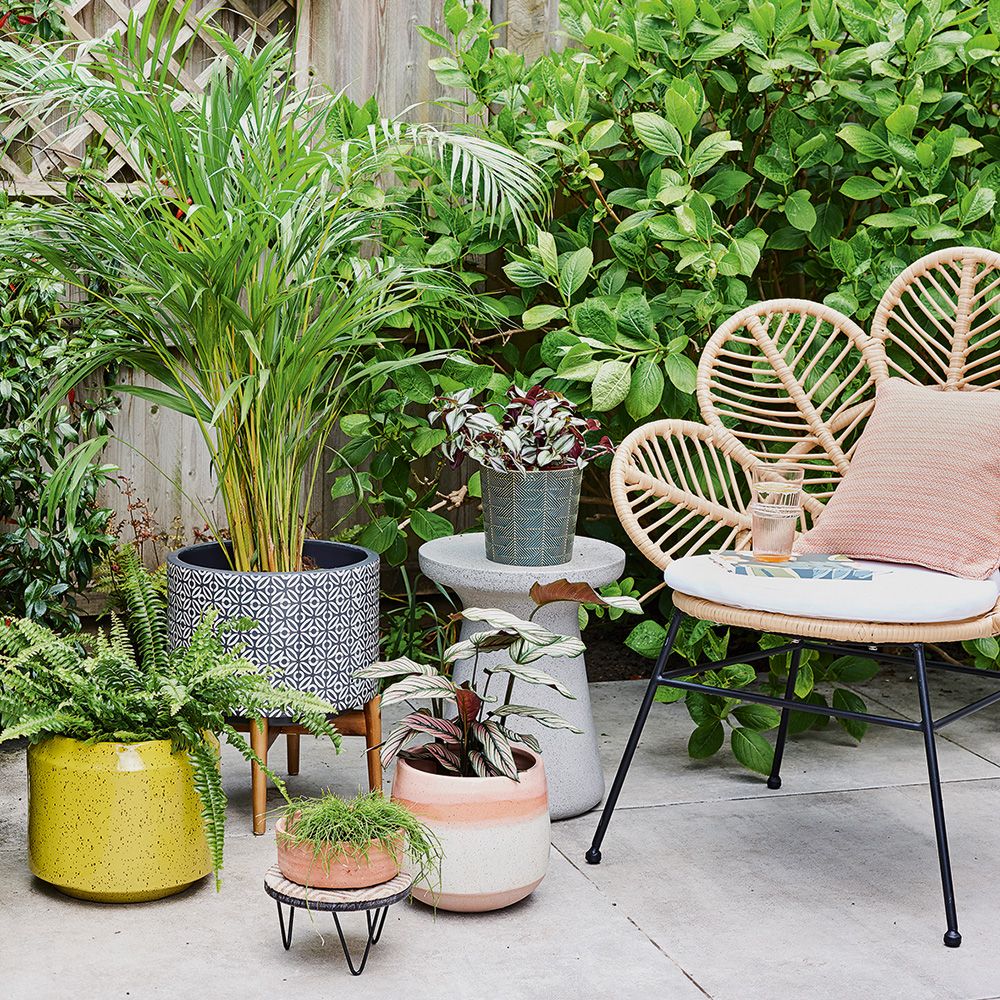 A gorgeous garden wouldn't be complete without some colour and now's a great time of year to start planning it. For easy garden ideas in grassless gardens, plant up a range of pots with summer-flowering bulbs – or buy some pre-planted containers – and dot them around the space.
If you can't wait a month or two for your bright blooms, make sure the pots you choose are cheery and colourful.
20. Embrace outdoor accessories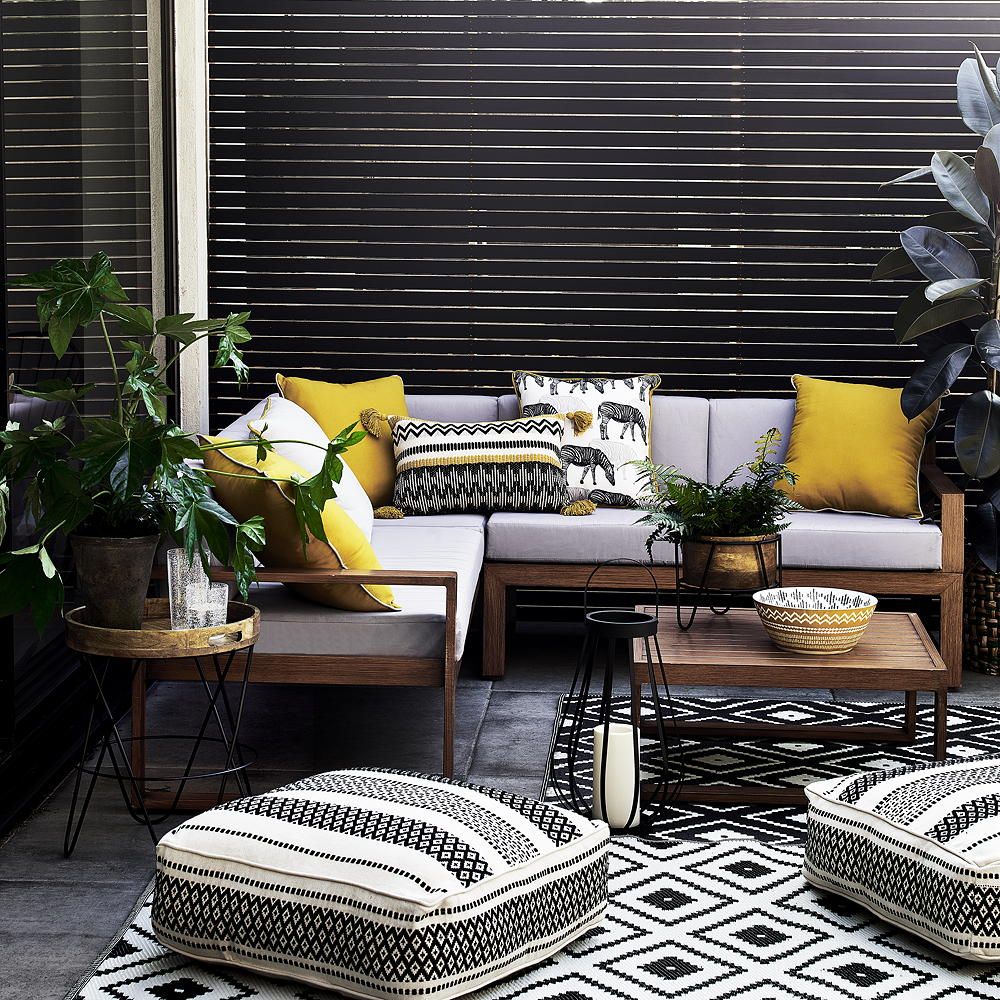 Make this the year of your new outdoor living room. Water-resistant rugs, comfy furniture, garden art and mirrors help create a stylish area to relax. Add an electric or gas heater to stay snug and you'll also get more use out of your new space during spring and autumn.
All home decor is making a move outside this year, we've even seen a growing trend for styling cafe lamps and even pendant lights outdoors. Treat your garden patio no different than you would any other room in your home. 
21. Upgrade your patio material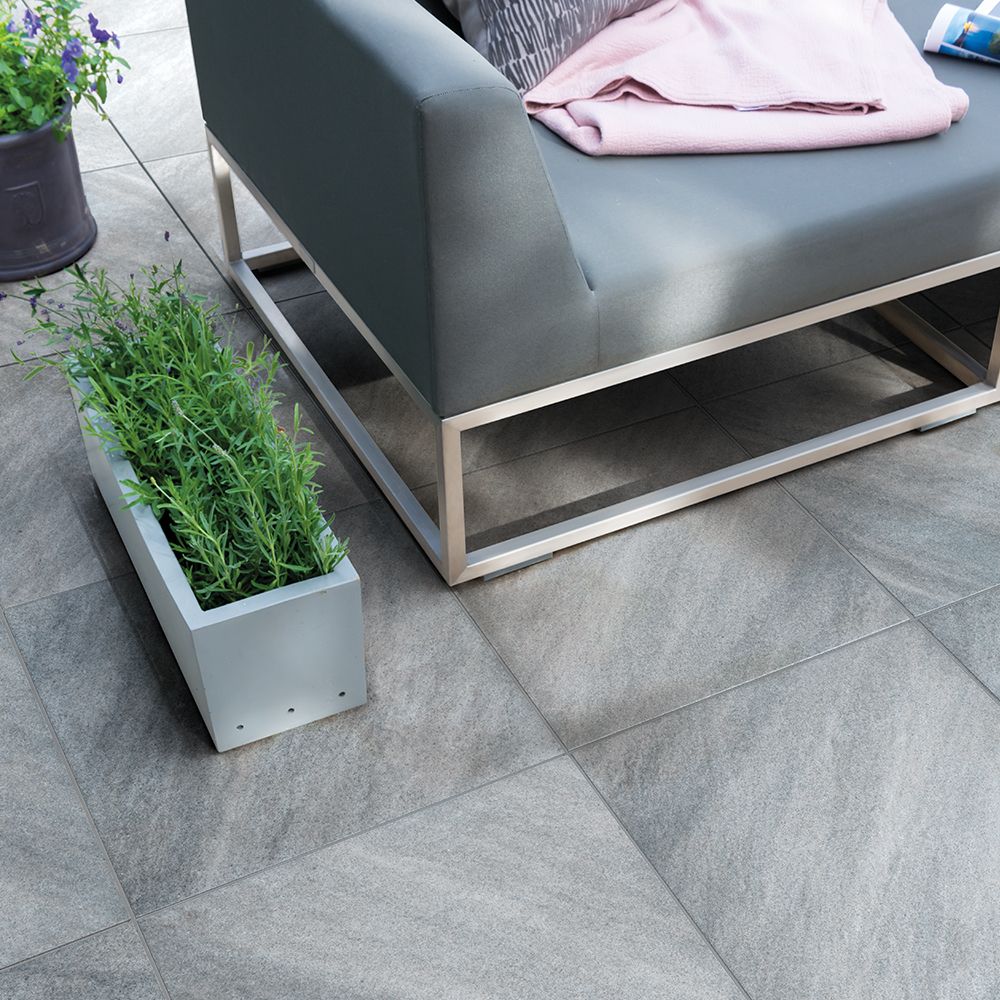 Think of your paving as the foundation of your scheme and you'll realise just how much cracked slabs and missing bits can let down your new look. Replacing your paving can make a huge difference to the whole space, so it's worth taking the opportunity to redesign the area at the same time.
22. Grow a wildflower garden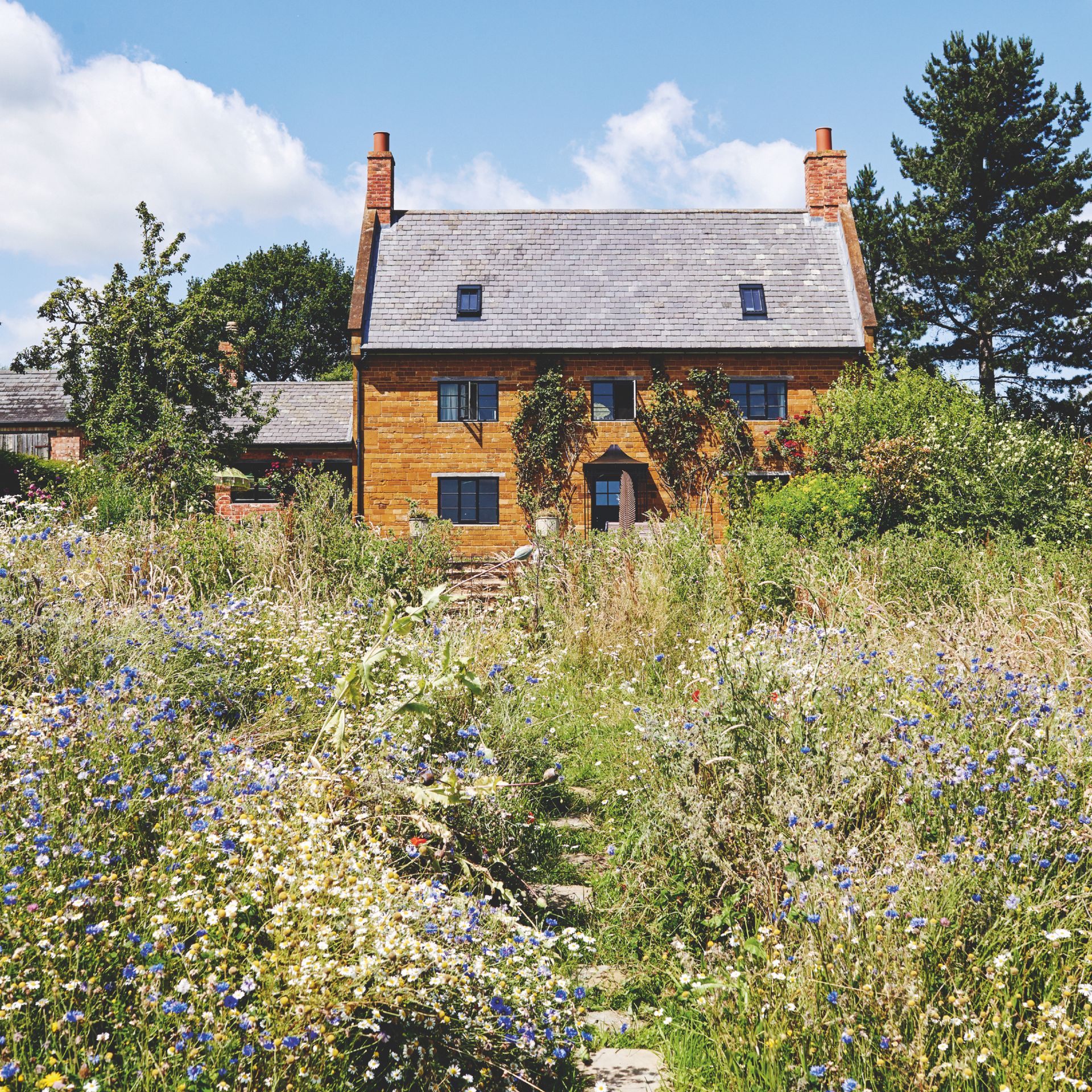 Add corners of living foliage that won't require constant upkeep, like a single bed of wildflowers penned in with sleepers or stones to stop them from spreading out of control.
Scatter mixed packets of wildflower seeds for the ultimate in easy garden ideas. To maintain your wildflower patch, you simply need to mow it back once in a while.
'To encourage perennial flowers and grasses to make good root development, it is important to mow the meadow in the first year after sowing,' advises the RHS. 'Cut to a height of 5cm (2in) after about six-to-eight weeks of growth, and repeat every two months throughout the first summer.'
23. Create a quiet corner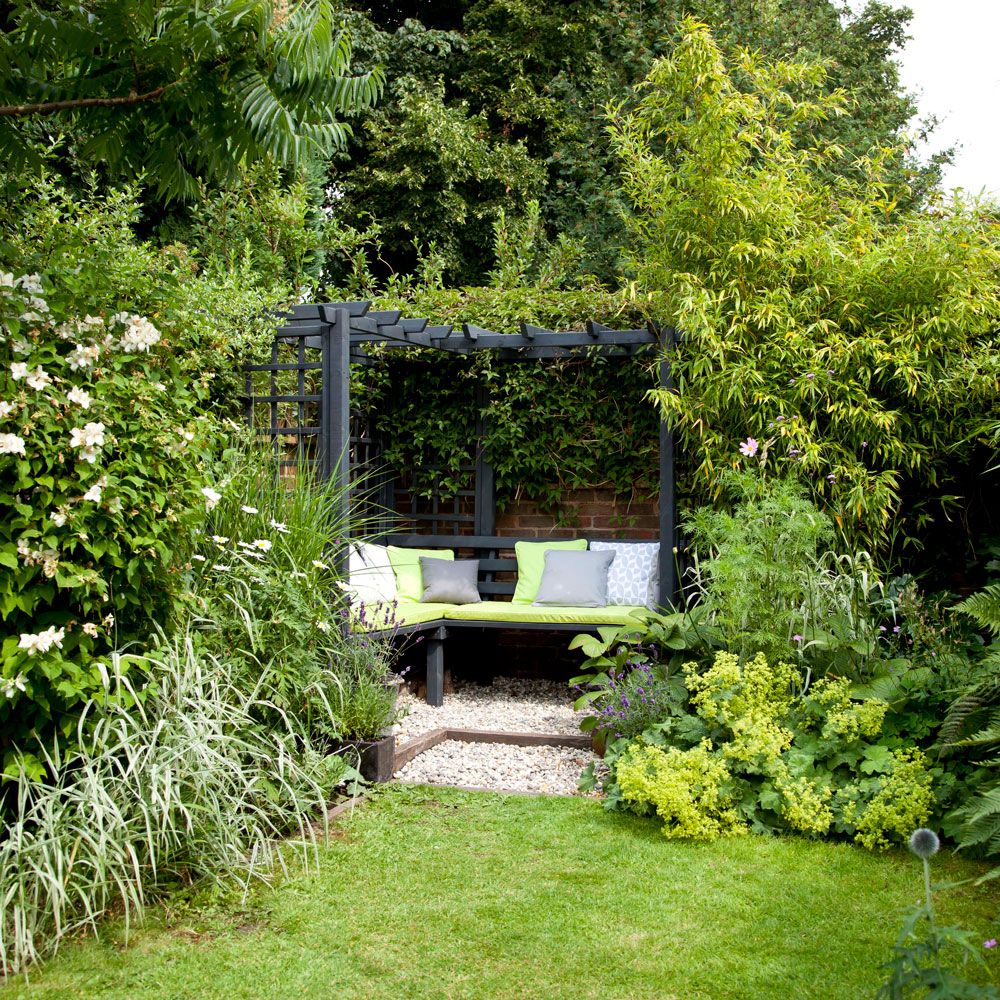 Make the focus of your garden on creating a feeling of serenity and wellness. Position a garden bench or furniture set in a secluded corner to allow a space for quiet contemplation, surrounded by a thriving oasis of plants. This example features a pagoda frame, to allow the garden to grow above the seating for a fully immersive experience.
24. Make your own hanging basket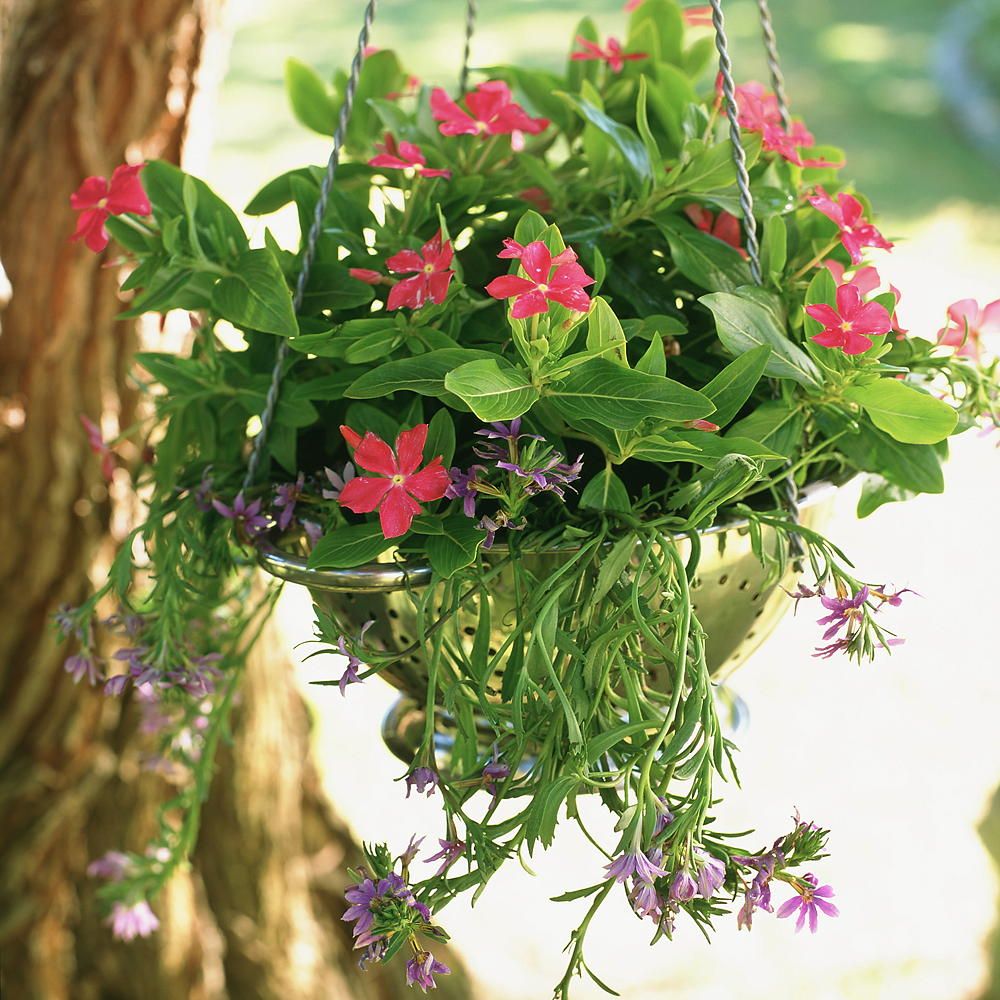 It's time to learn how to plant a hanging basket. If you have an old colander at home, you've got the perfect starting point. All you need is a liner, some compost and flowers to plant up and you're done. A DIY hanging basket is perfect for adding a splash of colour to a small garden that is short on floor space.
25. Take your old storage solutions outdoors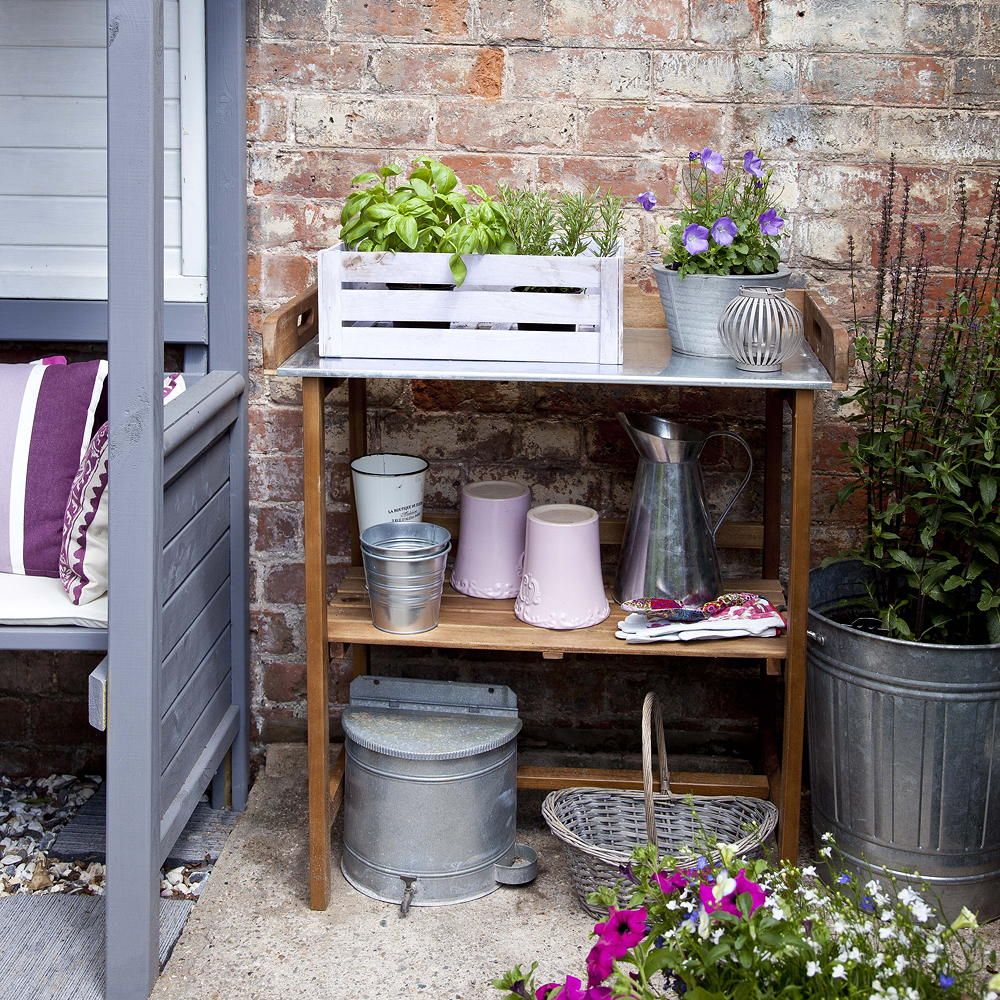 An old set of shelves are perfect for creating a budget friendly potting table or your own vertical planter. Be sure to weatherproof your furniture so that will last through winter and summer, why not consider giving it a colourful makeover with a pot of garden furniture paint?
26. Make a garden feel bigger with a mirror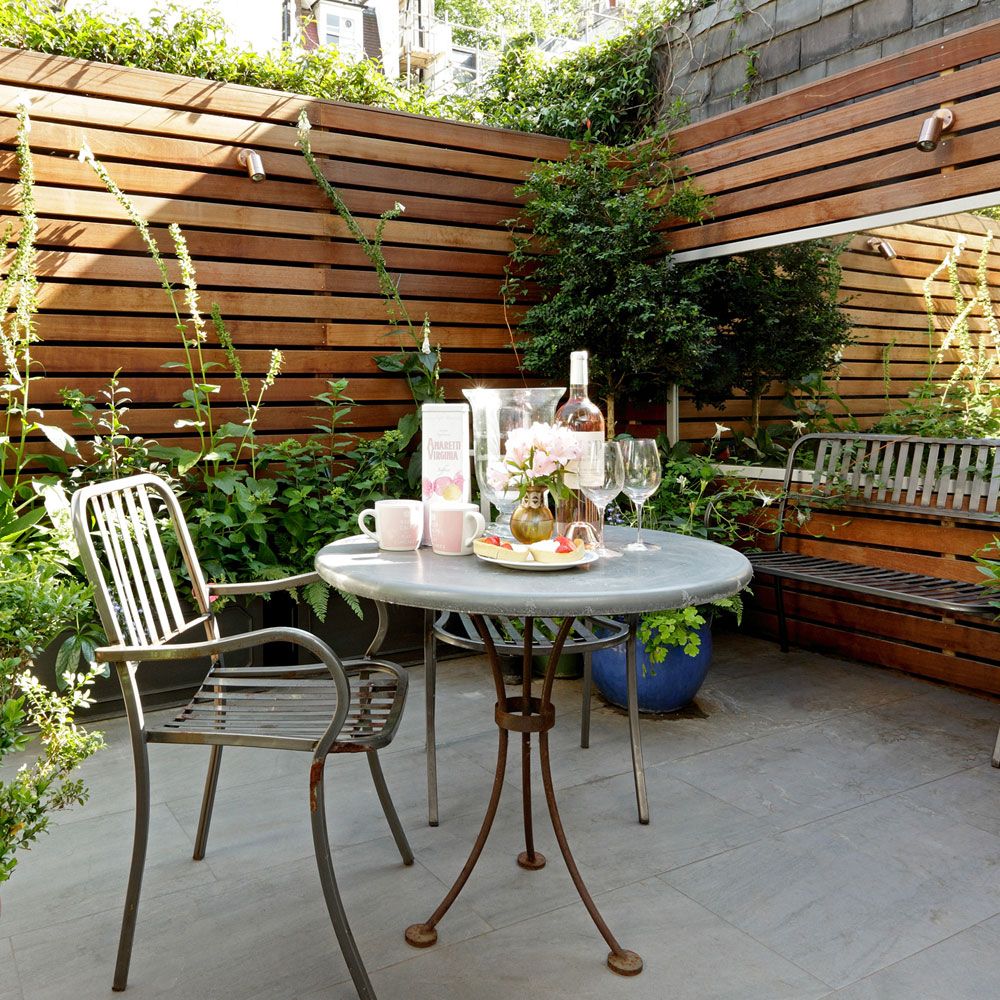 If there is a dark, gloomy corner, try transforming it with a weatherproof mirror positioned to create a focal point where there previously wasn't anything to see but cobwebs. In a small, enclosed area garden mirror ideas can also create the illusion of space.
27. Lay artificial grass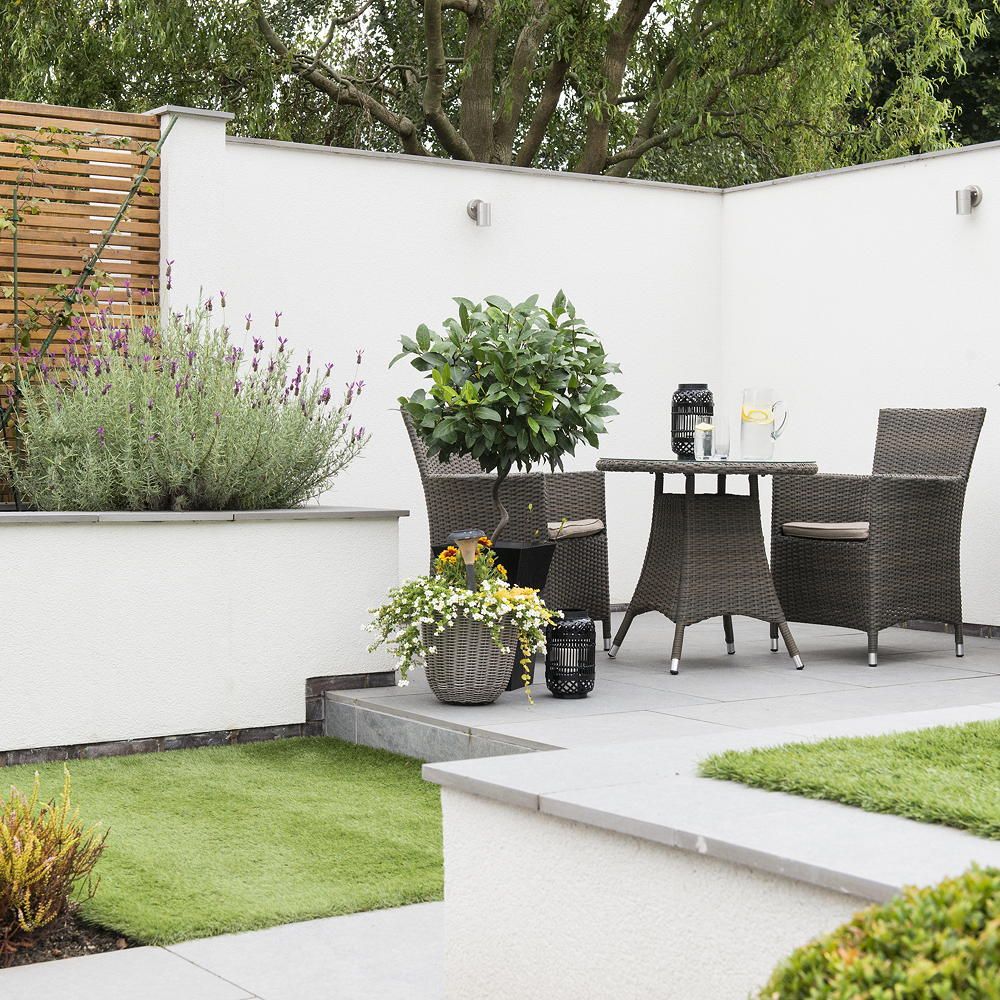 If you're itching for a lush green lawn, but don't want to forego easy garden ideas then artificial grass is the answer. No longer a taboo, thanks to some super-realistic designs, you won't be afraid to tell your neighbours what's got them so green with envy.
Just make sure to give it a once over with a stiff bristled brush every so often.
28. Encourage other things to grow with companion plants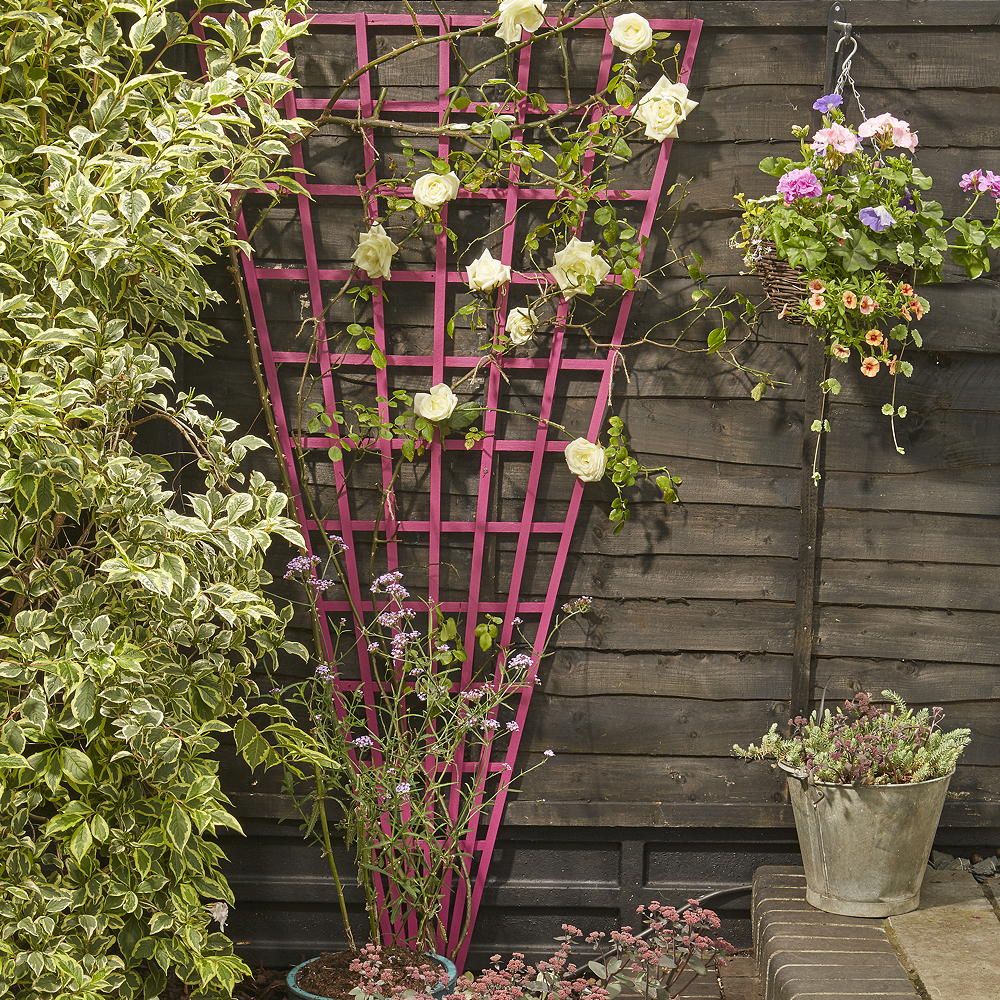 This handy tip requires a little research before hand. Group plants strategically based on what blooms grow well with others and will help them thrive. For example strong smelling herbs such as thyme grow well next to roses, as the scent deters blackfly.
29. Make a feature of overgrown flowerbeds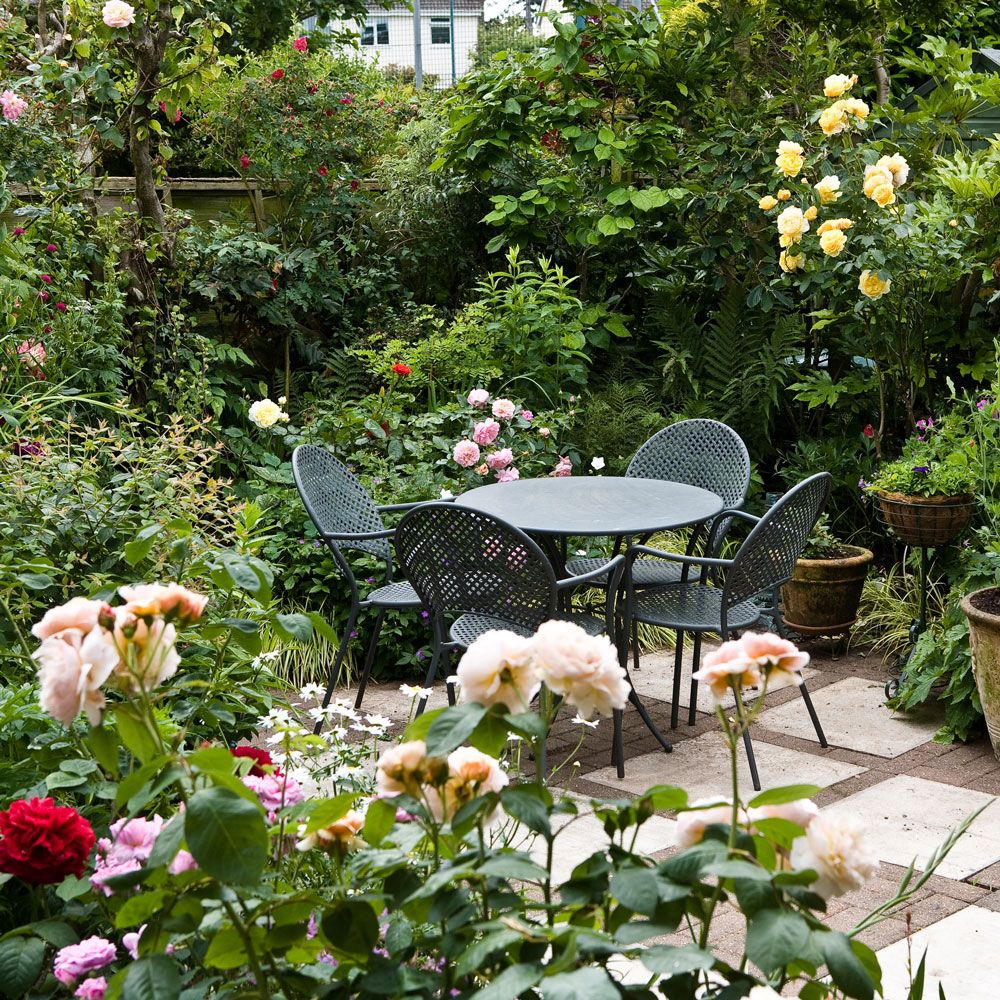 This is less one of the traditional easy garden ideas and more simply official permission to lay your pruning sheers down! Leave your mint to spill out of its plant pot, and alpine heather to grow unruly. Sometimes nature is best left to it's own devices.
Give daily pruning a rest, and make your neglect a garden feature. Just make sure you keep plants well fed and pick plants that can handle a little tough love.
30. Plant 'indestructible' succulents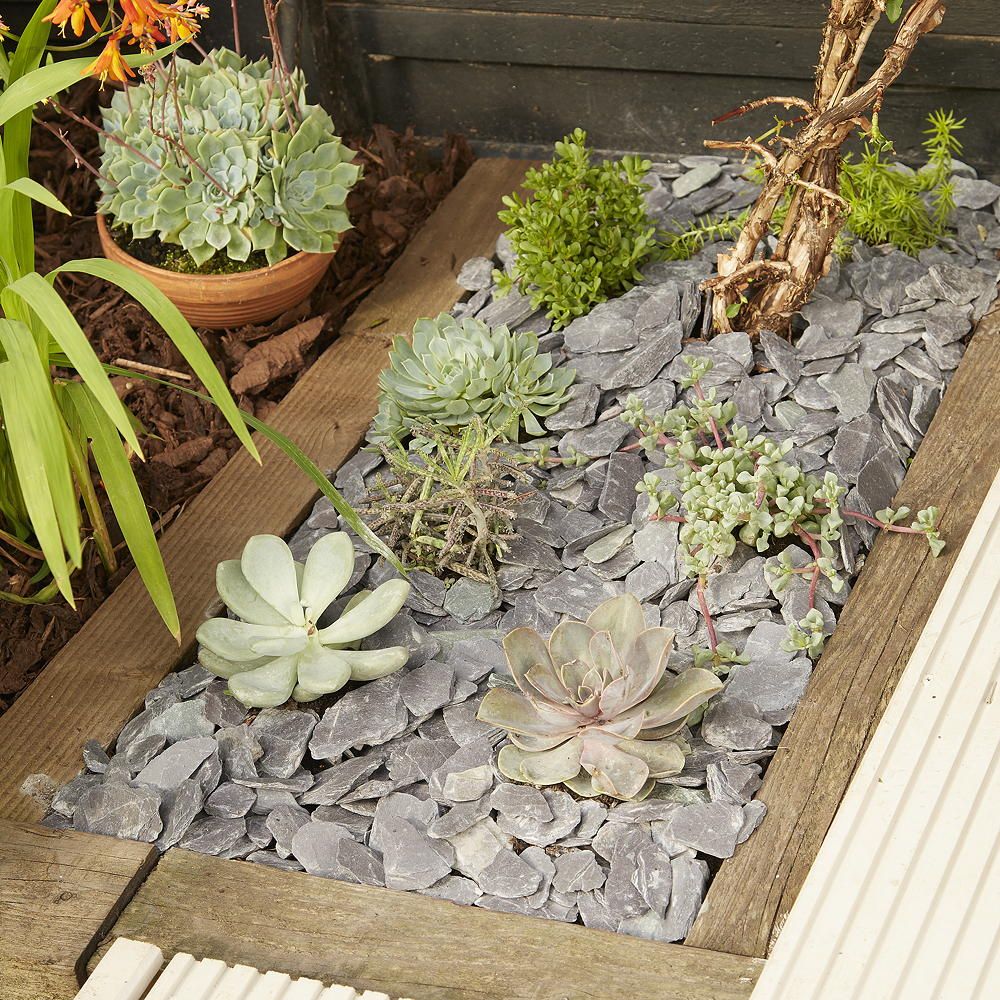 Instead of constantly battling with plants you just can't seem to keep alive. Consider investing in succulents that can cope without a daily water, and are basically indestructible. But if you fancy something scented, jasmine is surprise plant that can take a lot of battering, but will need a sip of water in dry conditions.
31. Power wash the patio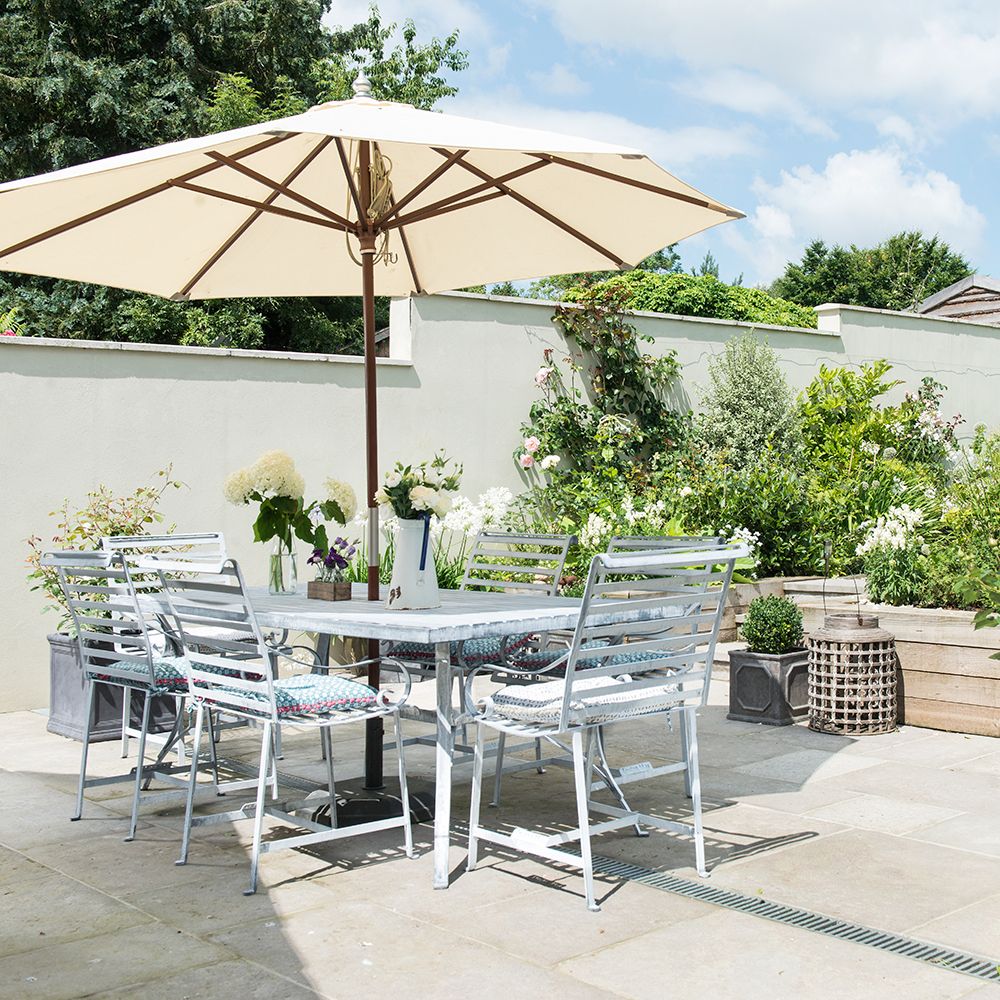 This is the perfect time to spruce up garden decking or paving by giving it a thorough clean. A pressure washer will do the job with very little effort – and the transformation is so satisfying, you're definitely going to want to Insta the before and after!
32. Upcycle a tired bench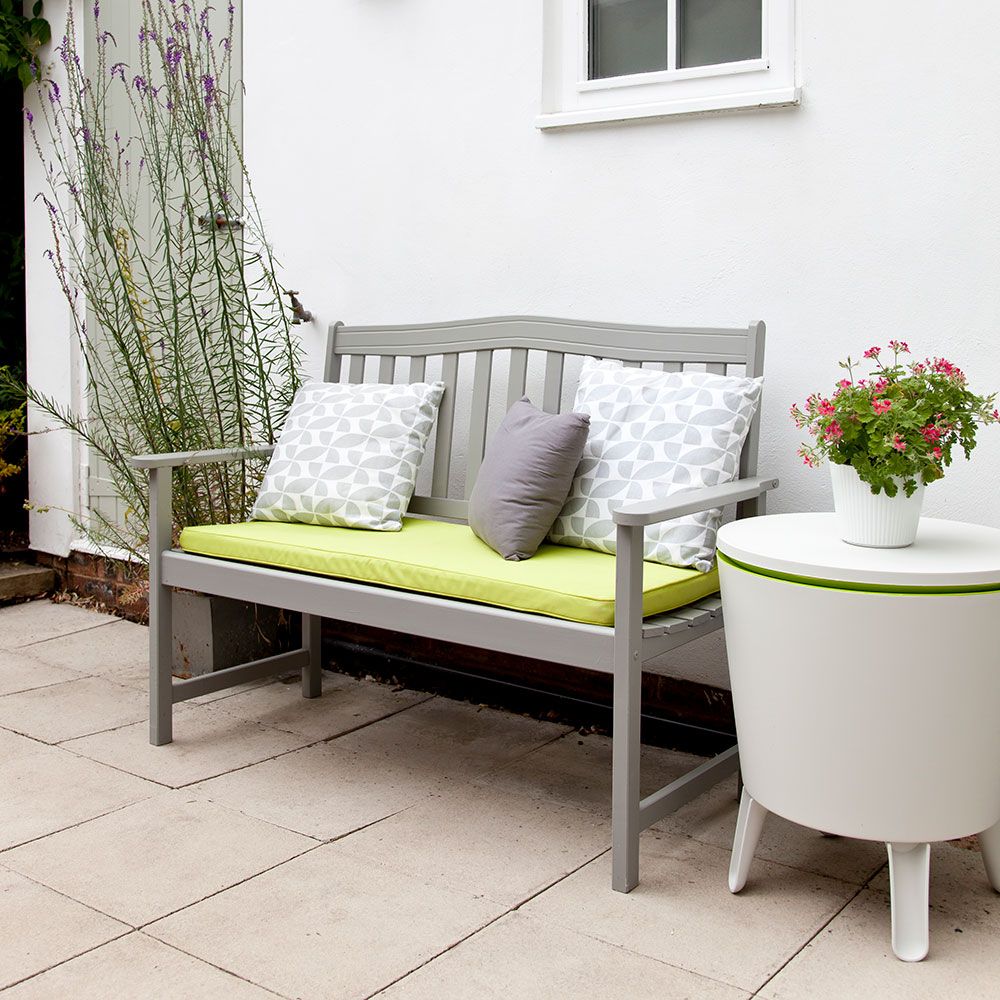 Look to garden seating ideas to make a quick change in your garden. Try moving a garden bench to a new spot and creating a quiet area for rest and relaxation. Dress it up with plenty of cushions and a seat pad and think about sprucing it up with fresh paint if it's been left untreated for a few years. We love the side table that doubles as a drinks cooler.
33. Choose seating that swings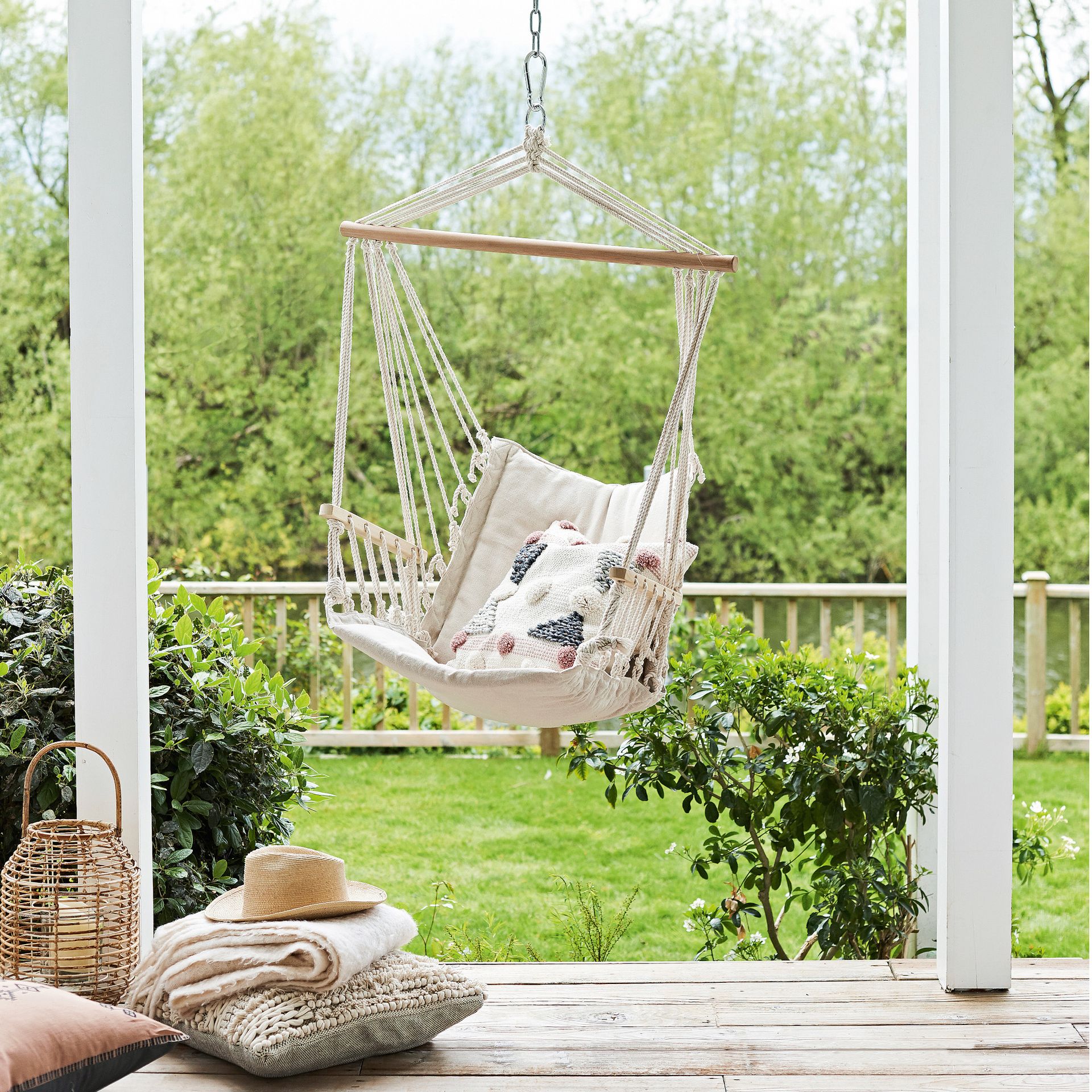 The best egg chair and hanging chairs can up the style factor in a garden instantly, not to mention create a lovely space to relax. For a boho vibe opt for an affordable hanging seat in a light canvas or a rattan egg chair. 
If you prefer cottage garden ideas a more traditional swing seat with space for planters on either side might be a better option for a cohesive garden design scheme. 
34. Plant herbs or bulbs in jars and tins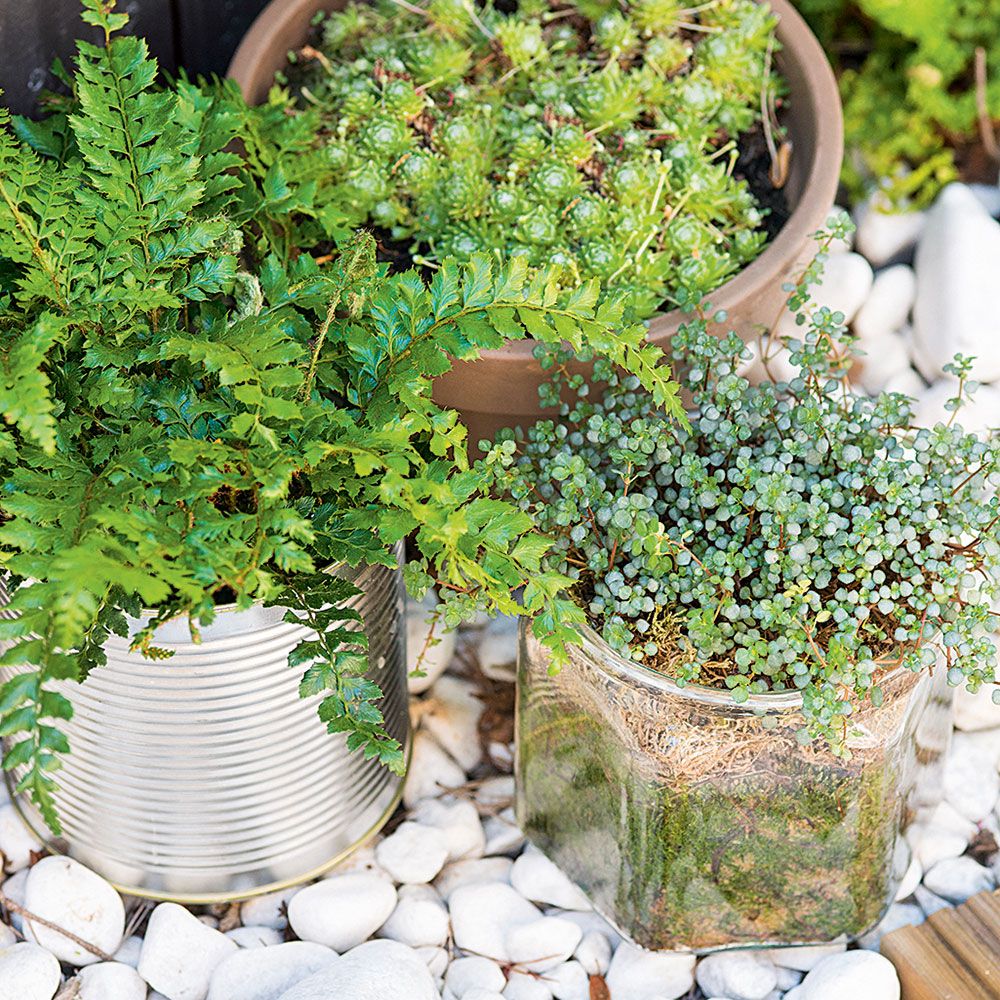 Why spend a fortune on planters when you could create a pretty display with recycled jam jars and food tins. Just be careful to sand down any sharp edges for you pot them up. Just remember to place a layer of stones at the base of the jars, and pop holes in the bottom of tins for drainage.
35. Paint the shed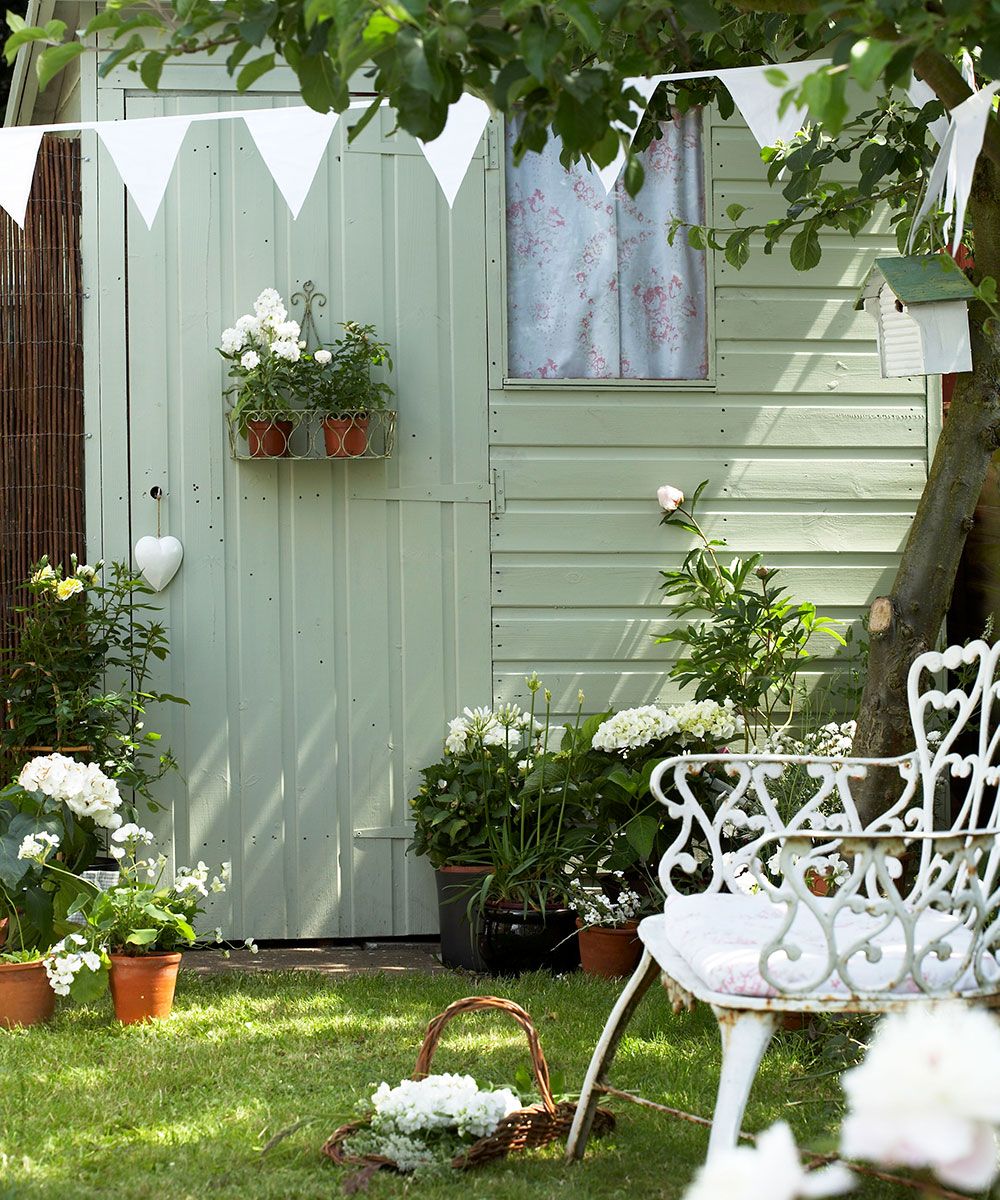 A pretty potting shed or smart summerhouse can be the focal point of any garden, but a shabby one can really spoil the view. Cheer up an outhouse by learning how to paint a shed. 
We'd choose a sage green, deep blue or charcoal grey, alternatively make a statement with a vibrant pink that will contrast with the garden greenery. 'Painting with black will give an urban and contemporary edge, while a soft sage green embodies a country cottage look,' adds Nelly from Alitex.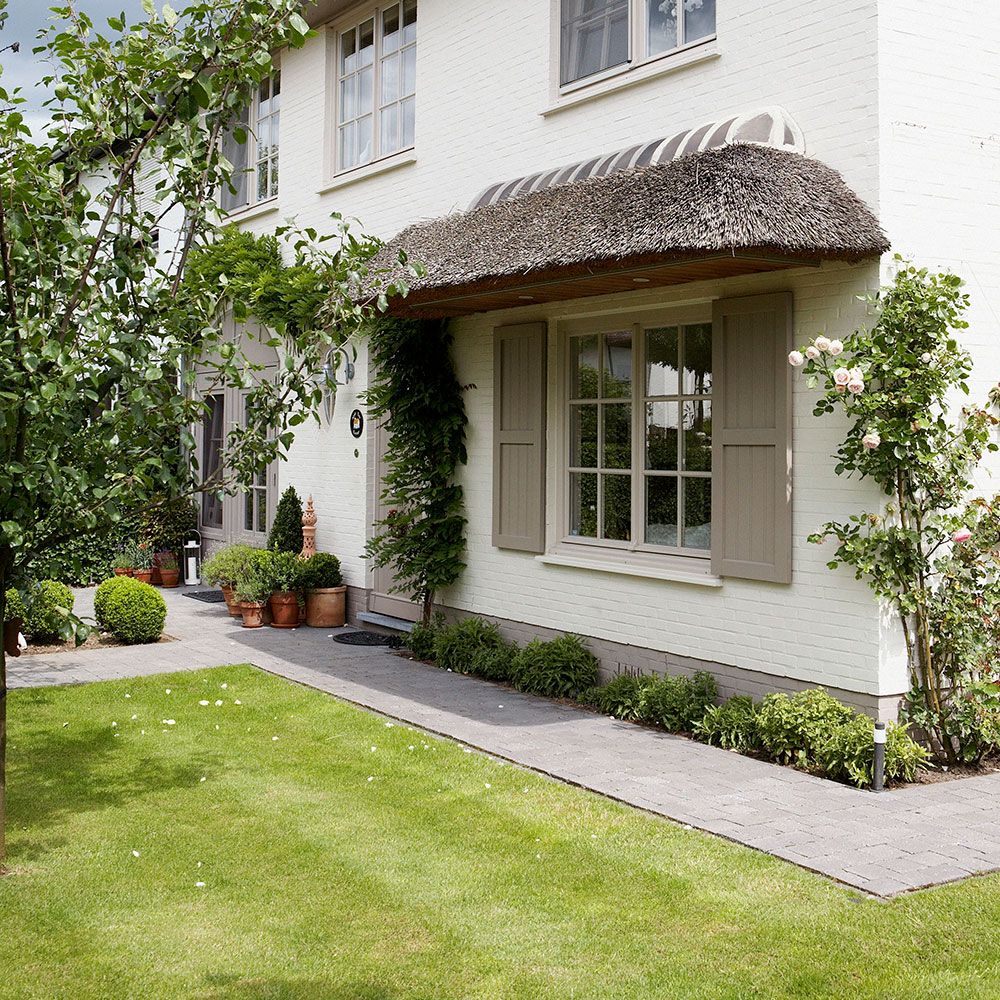 One of the easy garden ideas starts with knowing that a neat edge will keep your garden looking tidy. Moulded plastic edging, hidden in the earth keeps grass and weeds away from your beds and brick or stone edging help to frame your lawn – it's available at all good DIY stores and garden centres. Your friends will wonder how you did it!
Putting a border edging around your lawn keeps invasive plants where they belong and stops soil or mulch from spilling onto the grass.
37. Create a mini-outdoor kitchen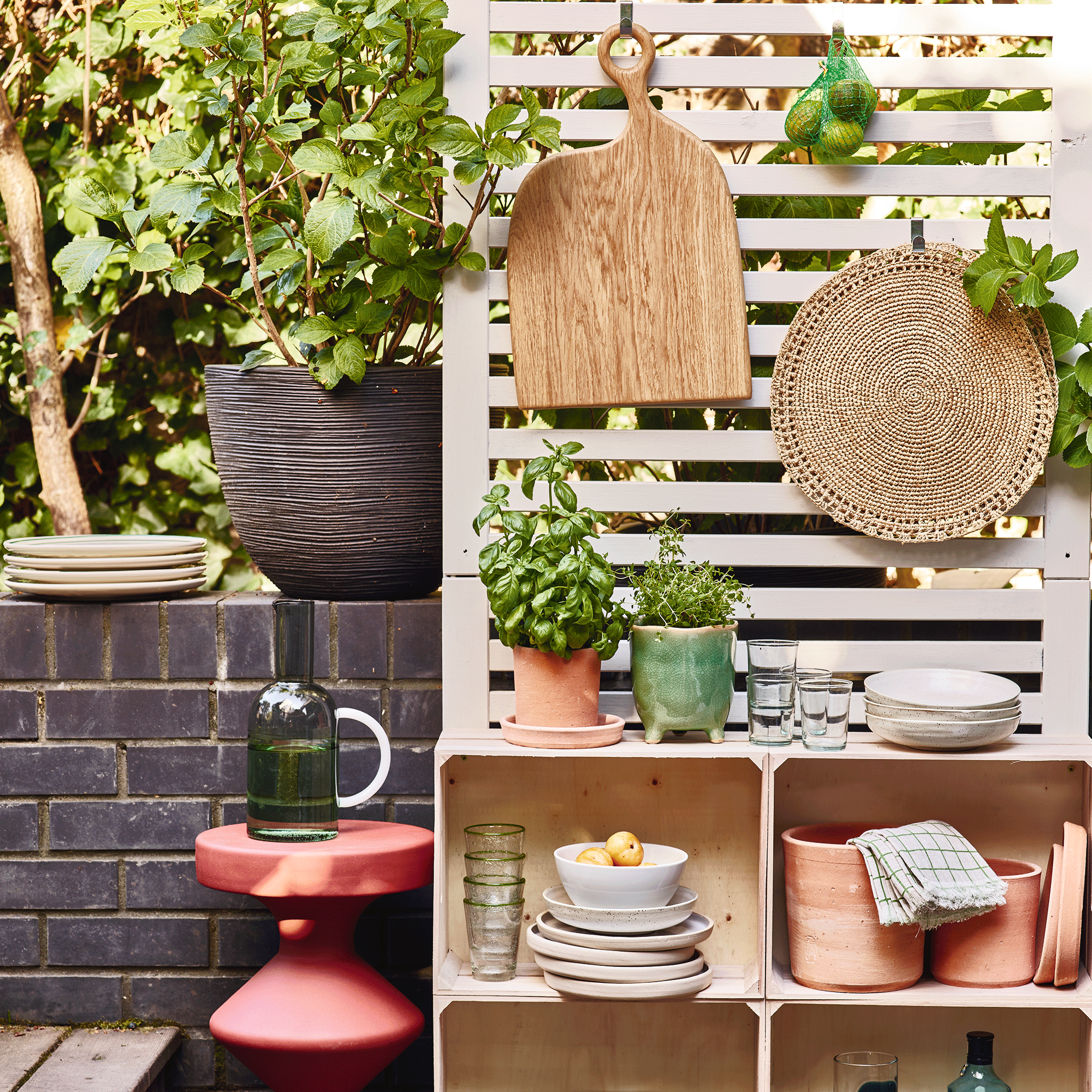 If you love entertaining an outdoor kitchen area is a must, but it doesn't have to be expensive. You can build in a countertop to rest the best BBQ or the best Pizza oven on if you have the space and skill. 
However, we've recently seen some ingenious methods for faking the expensive outdoor kitchen look by repurposing furniture and crates. For example, a potting table or some old kitchen cabinets can be turned into a worktop with storage, alternatively, you can stack old crates to create pretty open storage. 
The key is again to think about the space the same way you would an indoor kitchen, style it with a mini herb garden, proper crockery and a large wooden chopping board for that luxe indoor-outdoor look. 
38. Treat fences to a new look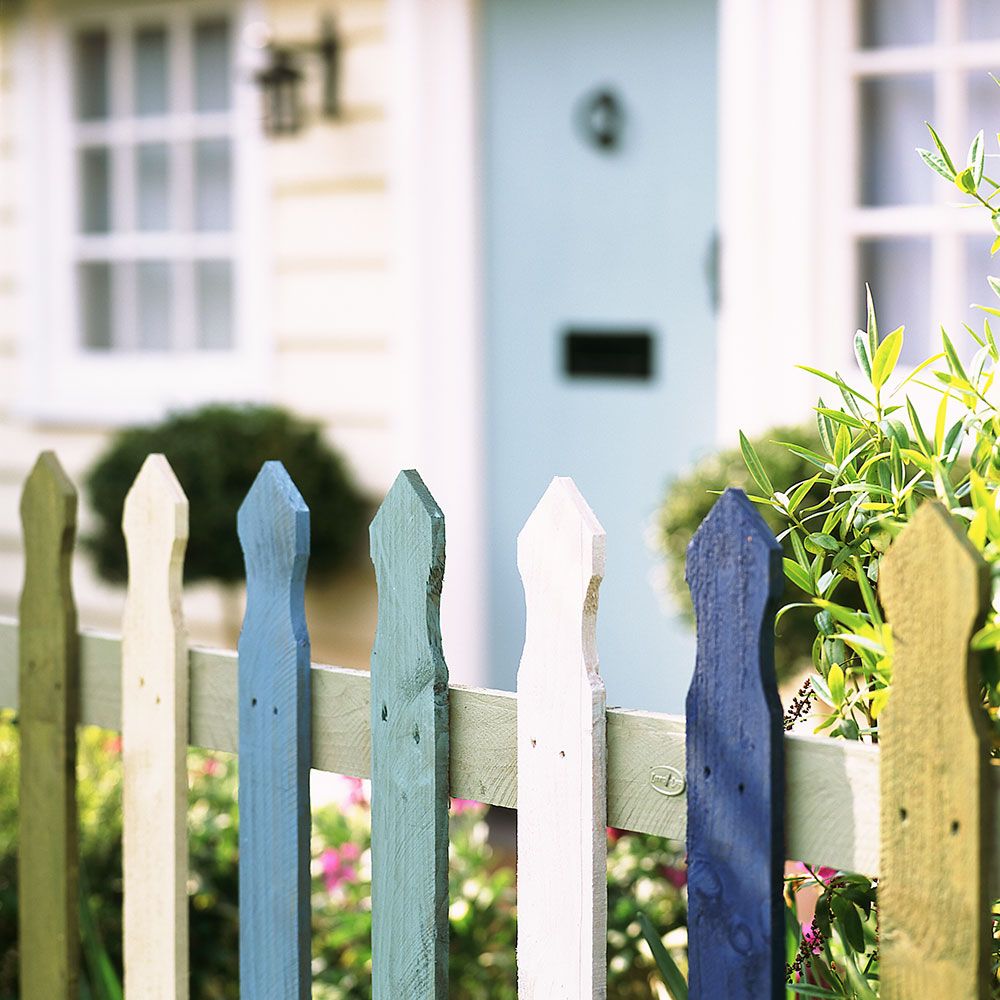 Garden fence ideas can be a fantastic opportunity for you to express your creativity. For a contemporary look, paint strips in complementary colours. Not only will you be adding valuable protection, you'll be making an artistic statement.
Alternatively, help a small garden look bigger by painting them in a green shade that will help them to recede into the background. It's a smart tip we've picked up from many garden design experts.
39. Hang a shade sail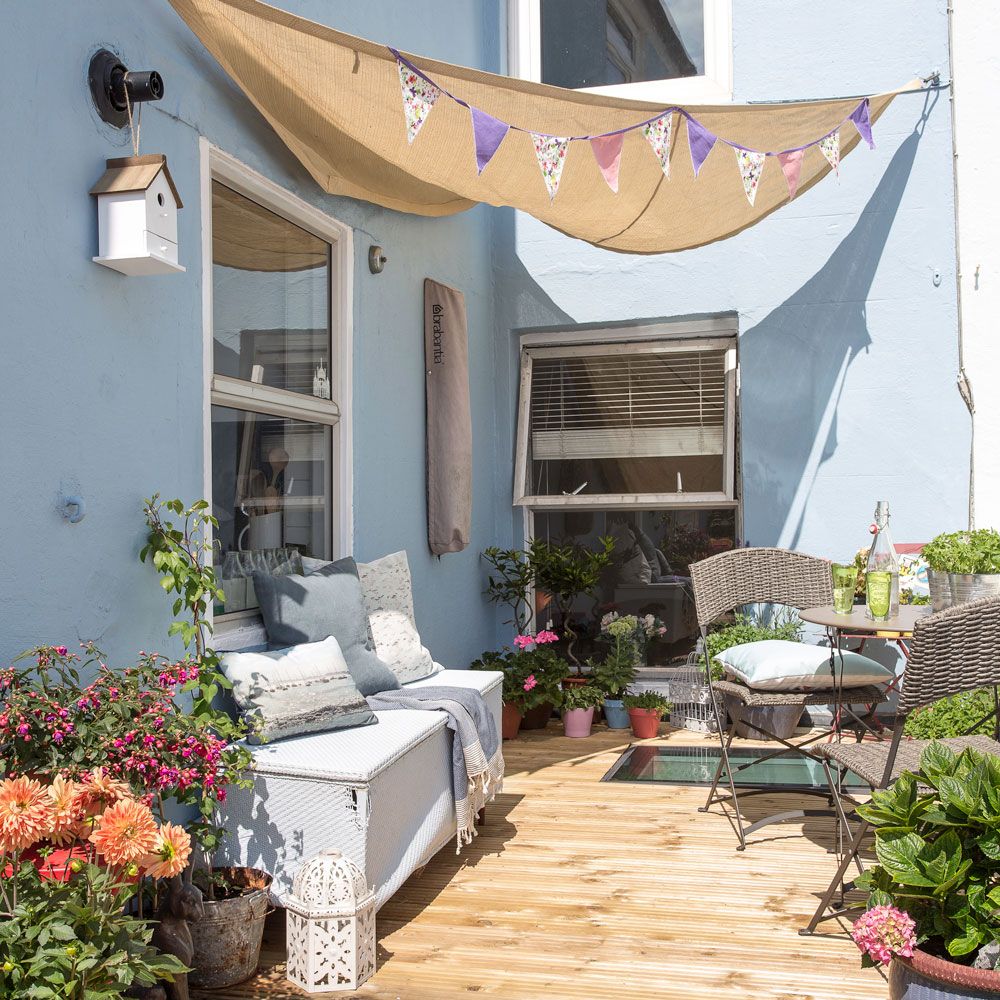 Make the most of hot summer days and create a shady corner in which to sit and relax. A simple awning like this one is easy to create – you could recycle on old sail or even sheets.
A parasol in a bright pattern is another great garden shade idea that will add colour to your garden while creating a cool, shaded area for relaxing.
40. Build your own pallet benches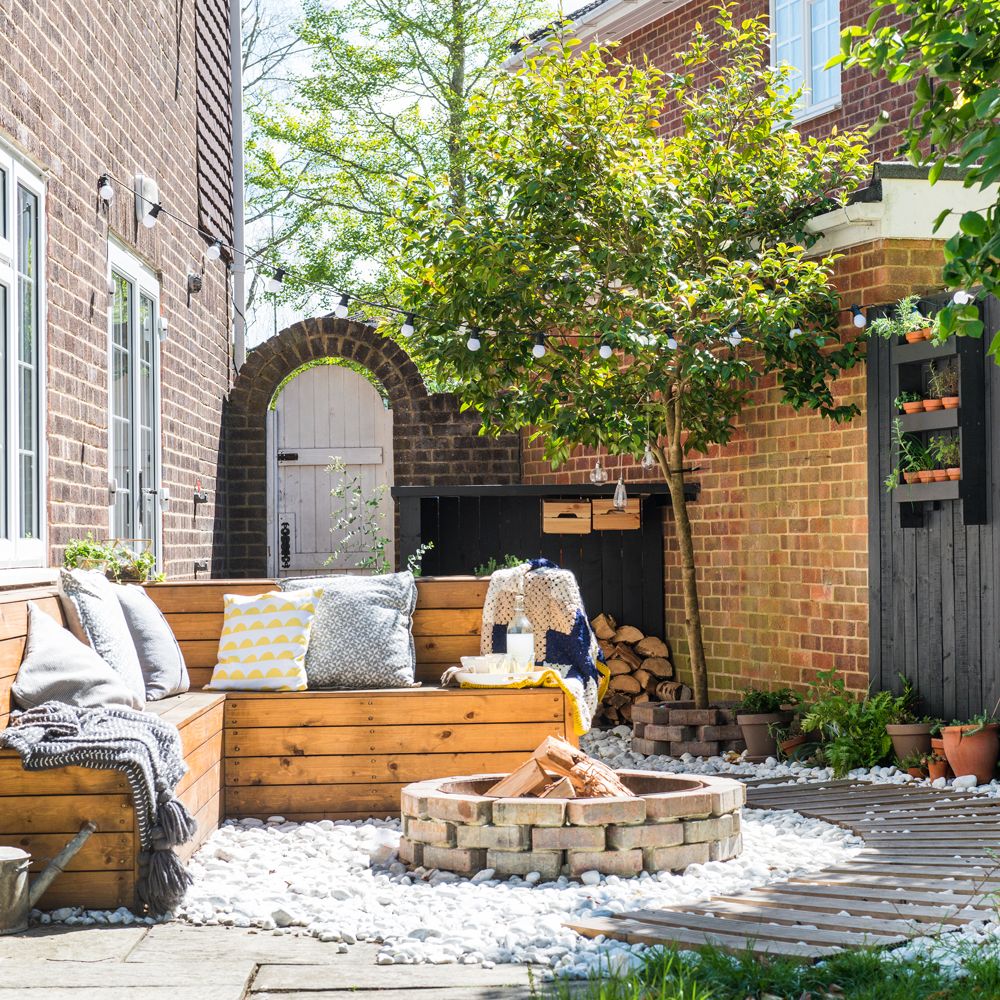 If you're really into DIY, why not learn how to make pallet garden furniture to create your own outdoor seating area? You could even make the hinged so that the whole unit doubles as garden storage for tools, or outdoor cushions. Continue the theme by building your own brick fire pit, allowing you to enjoy your garden late into the evening.
FAQs
How to I make my garden look nice with no money?
Keeping your garden neat and tidy will make a big difference. Ask friends and family if they have any old tools, unused tins of paint and ways to help you start growing.
'Spending time in the garden can have just as much impact as spending money,' advises Nelly from Alitex. 'Simply weeding, cutting back any old deadwood and turning the soil will tidy up your pots, beds and borders, giving you a clean slate on which to start your new growing season.'
'Local seed swaps are a great way to try growing new varieties of plants, fruits and vegetables – usually if you visit your local allotment, you'll find a 'seed library' where people leave any unused seeds for others to use. Facebook is also a great place to find other local gardeners that might have seeds or seedlings to swap or give away.'
'We're huge fans of reusing and upcycling to bring to life easy garden ideas – a fresh lick of paint can transform a garden shed or some old garden furniture. It also enables you to experiment with different colours and styles, which can update and totally transform your garden's look and feel.'
What is the lowest maintenance garden?
There's no such thing as a no maintenance garden as weeds will appear and a certain amount of upkeep will be required, but there are low maintenance easy garden ideas. One with no lawn and simply paved would work well – rather like a backyard – but one that can be a blank canvas if you want to have a certain amount of colour and get enjoyment from it. 
Hanging baskets take little attention and if you have a border or two consider easy-care plants like lavender, geraniums and wildflowers. 
How do I build a simple garden?
'My top tip for garden landscaping is to reduce work and long-term maintenance by using ground covering landscape fabrics,' advises Chris Bonnett from Gardening Express. 'It costs a little more, but it keeps the much-needed moisture into the soil over the hotter months.'
'Cover it with cost-effective attractive materials, such as coloured slate or stones in contemporary designs or chipped bark for traditional cottage style gardens. To set out new plantings in the fabric, simply cut holes and plant through it. It is also great to suppress weeds.'
'Another top tip for larger garden owners to consider when looking for easy garden ideas is to select low maintenance, ground covering plants,' continues Chris. 'Rather than dotting plans here and there which leaves them looking lost, plant in blocks to create impact.'
What are the easiest plants to grow in a garden?
Growing fruit and veg from seed is easier than you might think. Just pop a few seeds into some seed trays or pots filled with compost, leave then in a propagator or greenhouse, and water then regularly. Then in Spring, when there's no more frost, you can plant them in the garden!
Some simple varieties to try are:
Chillies and tomatoes Your seeds can be started off inside in March and April. Your plants will be ready to go outside in a sheltered, sunny spot from May.
Potatoes Buy seed potatoes – small potato tubers that are certified disease free – rather than use your leftover old potatoes! Start by 'chitting' them in February or March. This means letting then grow shoots by placing them in trays or egg cartons and standing them in a cool, light spot. Once the shoots are a couple of cams long, pop them in a mix of soil, organic matter and fertiliser in a sunny place. Water regularly, and you'll be able to harvest your potatoes in 10-12 weeks.
Runner Beans Sow these straight in the ground outside as soon as the soil warms up. Use canes to support them as they grow.