5 Welcoming Guest Room Ideas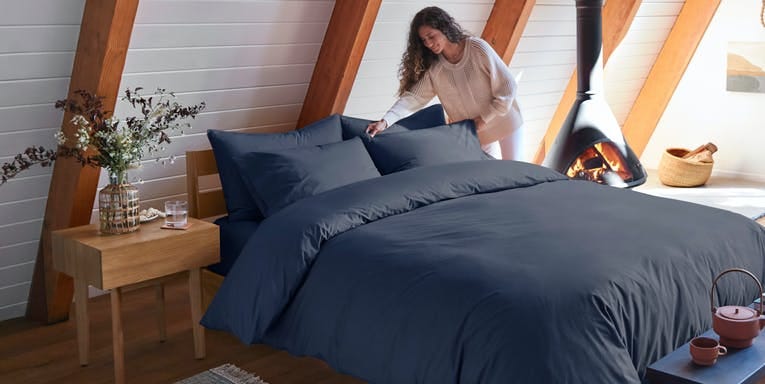 Creating a space where guests feel at home away from home takes more than dressing a spare room with a jumble of forsaken furnishings. While friends and family might not care so much about their dwellings, as a consummate host, you should. As the holidays approach, we're giving you five ways to set up an inviting, relaxing guest room that welcomes overnighters so warmly they'll want to linger a while longer.
---
1. Weave Some Dreams
Cocooning in cozy bedding is essential for helping those staying over settle in. A good place to start? Tuft & Needle, home of high-quality mattresses and linens. To help your guest room feel like a luxurious hotel instantly, opt for their Mint Mattress, mattress protector, cushy down-alternative pillows, and a set of their Percale sheets, which always seem freshly laundered. Bundle these items together to save 15 percent!
---
2. Tone It Down
The hues you choose can immediately establish a serene setting. (Energizing, bold shades have their place, but not here.) Pick a palette of calming color, like creamy neutrals or soft pastels, for relaxing vibes. To keep the look from becoming too monochromatic (and one-note), add dimension with tonal shades in the same color family rather than contrasting hues. Layering textured touches in those hues—a faux fur rug underfoot, a knit throw on the bed, woven window treatments—gives the space a cozy feel.
---
3. Add A Custom Touch
Ensuring a comfortable stay means adding personal, unexpected touches to the room. Do you know your visitor's favorite flower? Leave a vase full of them on the bedside table. Consider setting out a pitcher of water with glasses, having fuzzy slippers on hand, hanging a full-length mirror, or infusing the air with a warm and cozy fragrance from a candle or diffuser. And though it may seem like a no-brainer, ensuring there's ample storage space (empty drawers, with extra hangers in the closet) will make houseguests feel genuinely taken care of.
---
4. Keep Things Quiet
Many people have a restless slumber when they're not sleeping in their own bed and outside noises they're not used to (cars on the street or the crying baby next door, perhaps) don't help. For a fast fix, try a white noise machine like the T&N + SNOOZ which uses fan noise to maintain a constant, not cloying, background sound. Bonus: The accompanying T&N White Noise app, lets your guest set timers, create a fade in or out, and enable dark mode, all without having to leave the bed.
---
5. Light It Right
Setting a homey mood inside your guest room is as much about the décor and bedding as it is about the way you illuminate it. Whether you have a statement chandelier or recessed fixtures on high, make sure the central switch has a dimmer so those staying over can control the brightness. Bedside table lamps are another must. This diffused lighting gives the room a soft, soothing glow perfect for unwinding after long journeys. Just make sure the switches are within reach for reading or navigating the confines of a dark room at night.
Create a guest room so cozy, your guests may never want to leave. Shop Tuft & Needle's new Everyday Bundles and save 15% on bedding essentials.
This content is created and maintained by a third party, and imported onto this page to help users provide their email addresses. You may be able to find more information about this and similar content at piano.io
https://www.elledecor.com/design-decorate/room-ideas/a37808952/5-guest-room-ideas-that-will-make-your-visitors-never-want-to-leave/