Bedroom layout ideas: 12 ways to make the most of your space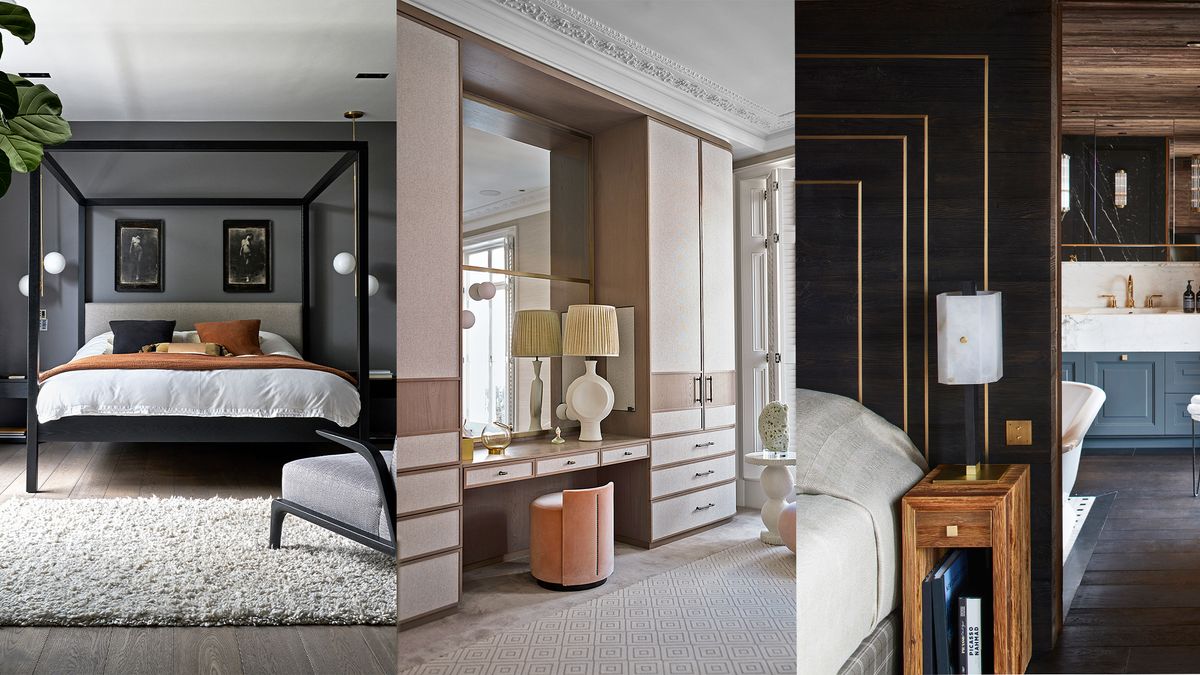 Bedroom layout ideas are an essential part of any bedroom design. How your bedroom is arranged will have a huge impact on the functionality of your space so it's important to get it right.
Whether you're looking to create your own restful sanctuary or planning a space to accommodate guests, the key to a successful bedroom design is balancing practicality with style, and luckily there are plenty of ideas that marry the two.
To help get you inspired we've rounded up an array of bedroom ideas to help you lay out the perfect space along with some handy tips from the experts.
Bedroom layout ideas
Finding the right bedroom layout ideas can be a daunting task as there are an infinite number of ways to arrange a bedroom depending on the size, shape and specific function of the room. Whether you're looking to create a large and luxurious master bedroom or small bedroom ideas, the best place to start when it comes to how to design a bedroom is to make a floor plan, say the experts.
'We typically start by collecting the dimensions of the bedroom to help us determine what we can fit into a space without it feeling crowded,' says Bria Hammel, creative director of Bria Hammel interiors. 
'We first take into consideration where the windows, door frame, and/or fireplace are located. This will help us determine the natural flow of the space. Next, we'll section off the space dividing it into bed/nightstand area, dresser/closet area, and lounge/sitting area.'
Once you have a clear floor plan it will make it easier to determine the flow of the space and where to position your furniture. 
1. Start with the position of the bed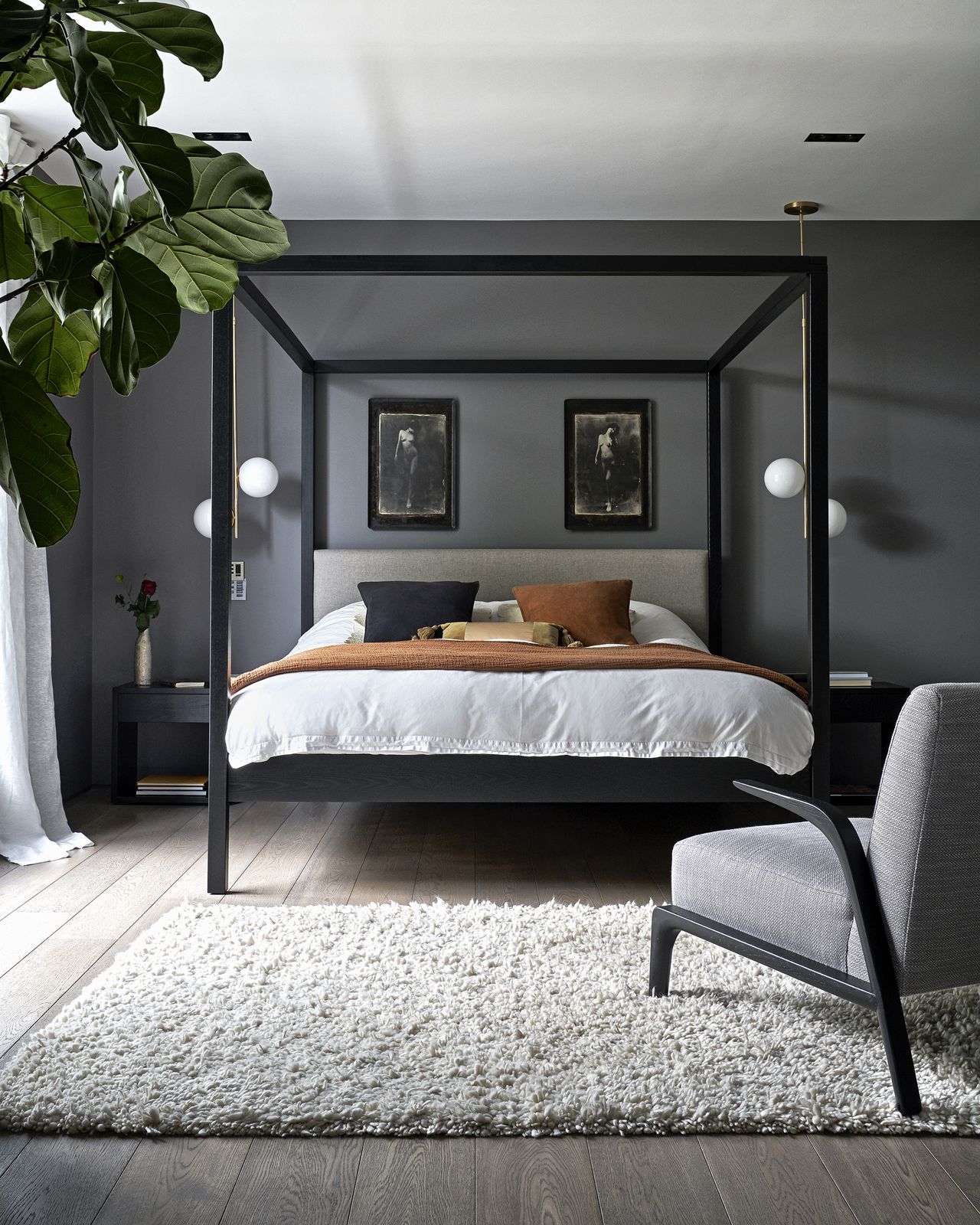 When designing a bedroom layout the most important decision to make is where to position the bed – being the largest piece of furniture in the room it will have a big impact on how the space functions, looks and feels. 
'When designing a bedroom, the bed always goes first and you design around it,' says Interior designer Esther Dormer. 'The most typical bedroom layout has the bed headboard facing you as you enter the room.' 
When positioned opposite a doorway a bed, 'can be a focal point that draws you into the room and gives you a sense of balance and symmetry,' adds Zac Houghton, CEO at Loftera. 'If a bed is placed in front of a window, it can block natural light and create a sense of imbalance.'
It's also important to think about the size of the wall the bed sits against and other architectural features in the room explains Bria Hammel, creative director of Bria Hammel interiors. 'In most of our bedroom designs the bed is positioned on the main, longest wall with no obstruction. If a bedroom has a fireplace, we love to place the bed on the opposite wall and ensure that it's in alignment with the fireplace.'
2. Make the most of beautiful views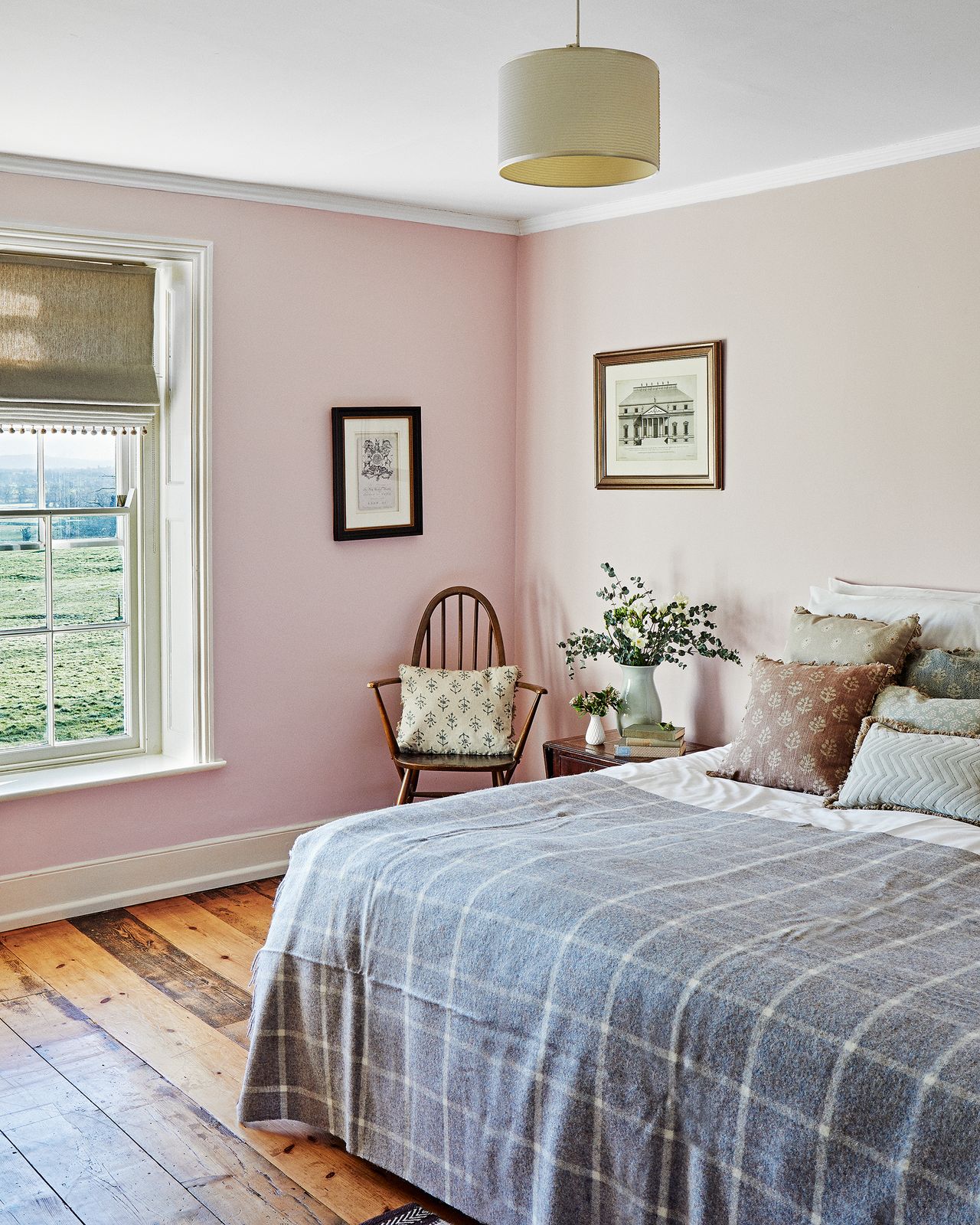 There's nothing like waking up to a beautiful view to put you in a good frame of mind for the rest of the day, so if you're lucky enough to have a country bedroom with beautiful views then be sure to position the bed with a clear line of site to the window in order to make the most of them. Take care to create a bedroom layout where the furniture does not obscure or obstruct the window – and choose window treatments that can easily be pulled back.
3. Take a cue from the architecture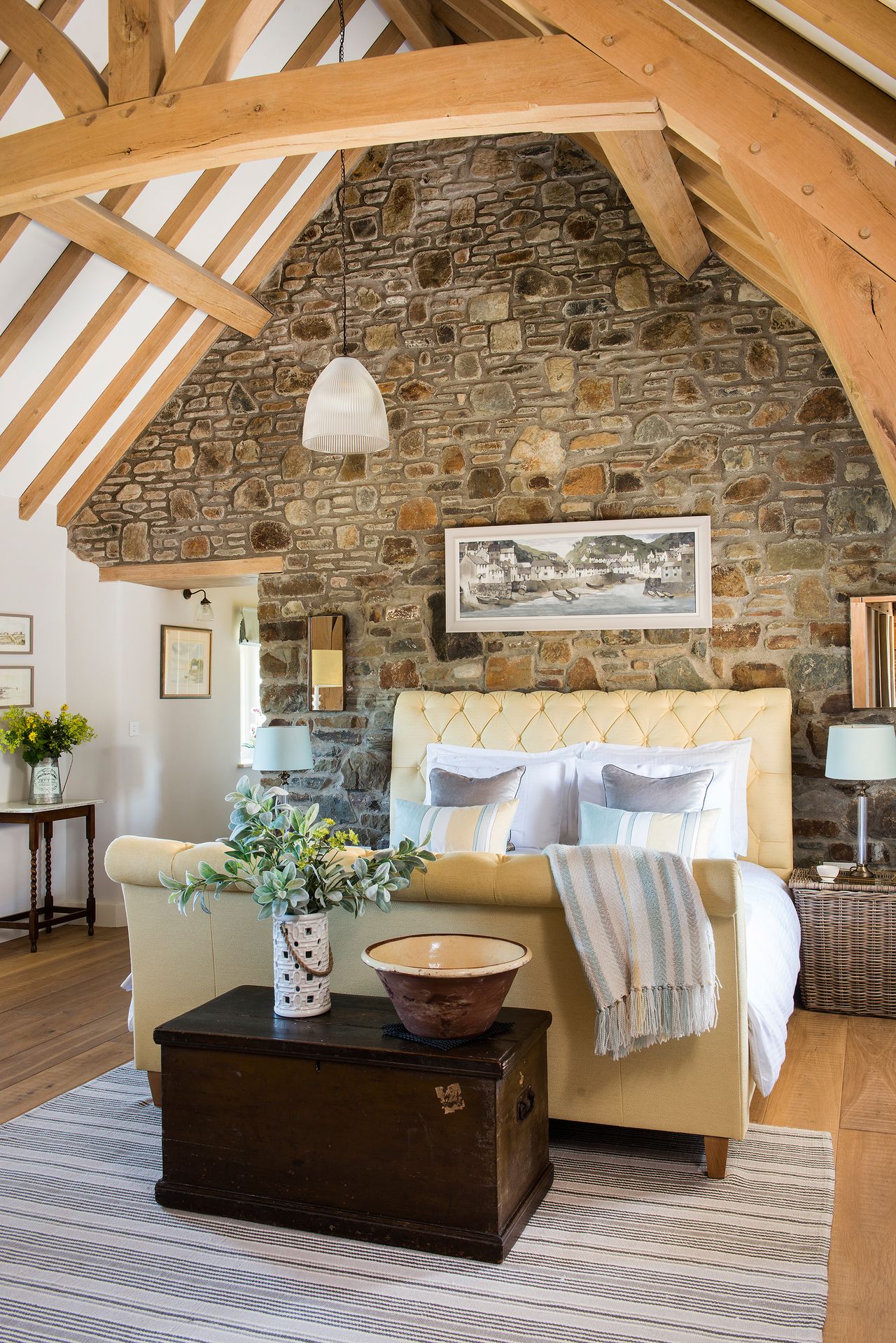 With so many bedroom layout ideas to choose from it can be hard to know where to start, but often there are clues in the architecture of the space. If you have a beautiful period home full of original features such as an exposed stone wall then why not set your bed against it as a way to really showcase it as part of your design?
4. Create a seating area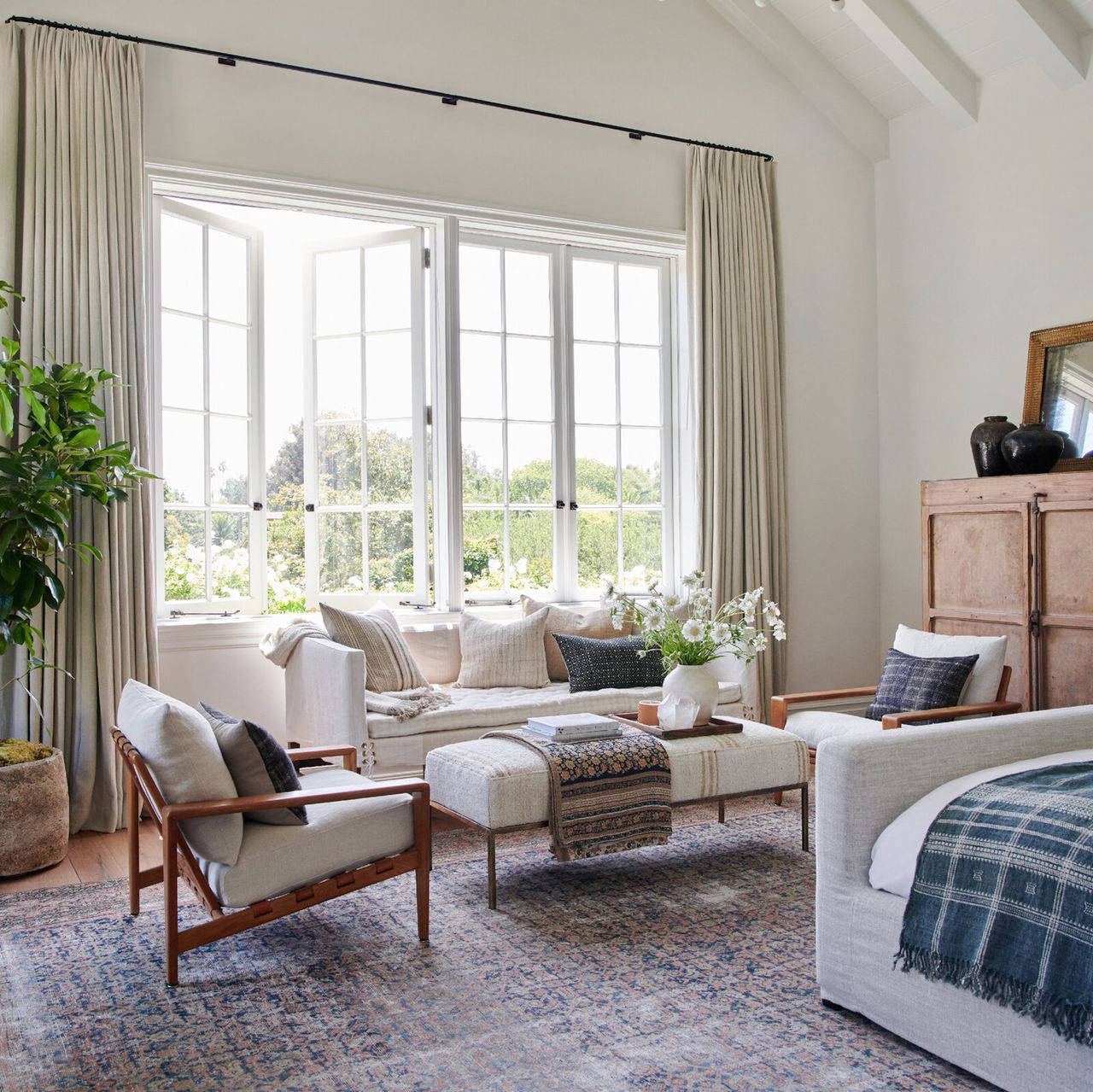 If you have a large bedroom or are looking for main bedroom ideas then why not consider creating a relaxing seating area? 
Having an additional seating area alongside the sitting room offers an extra place to escape to at the end of the day, especially when you want some quiet time away from the bustle of the main household. If adding a seating area consider arranging it near a window where views can be enjoyed.
5. Add an ensuite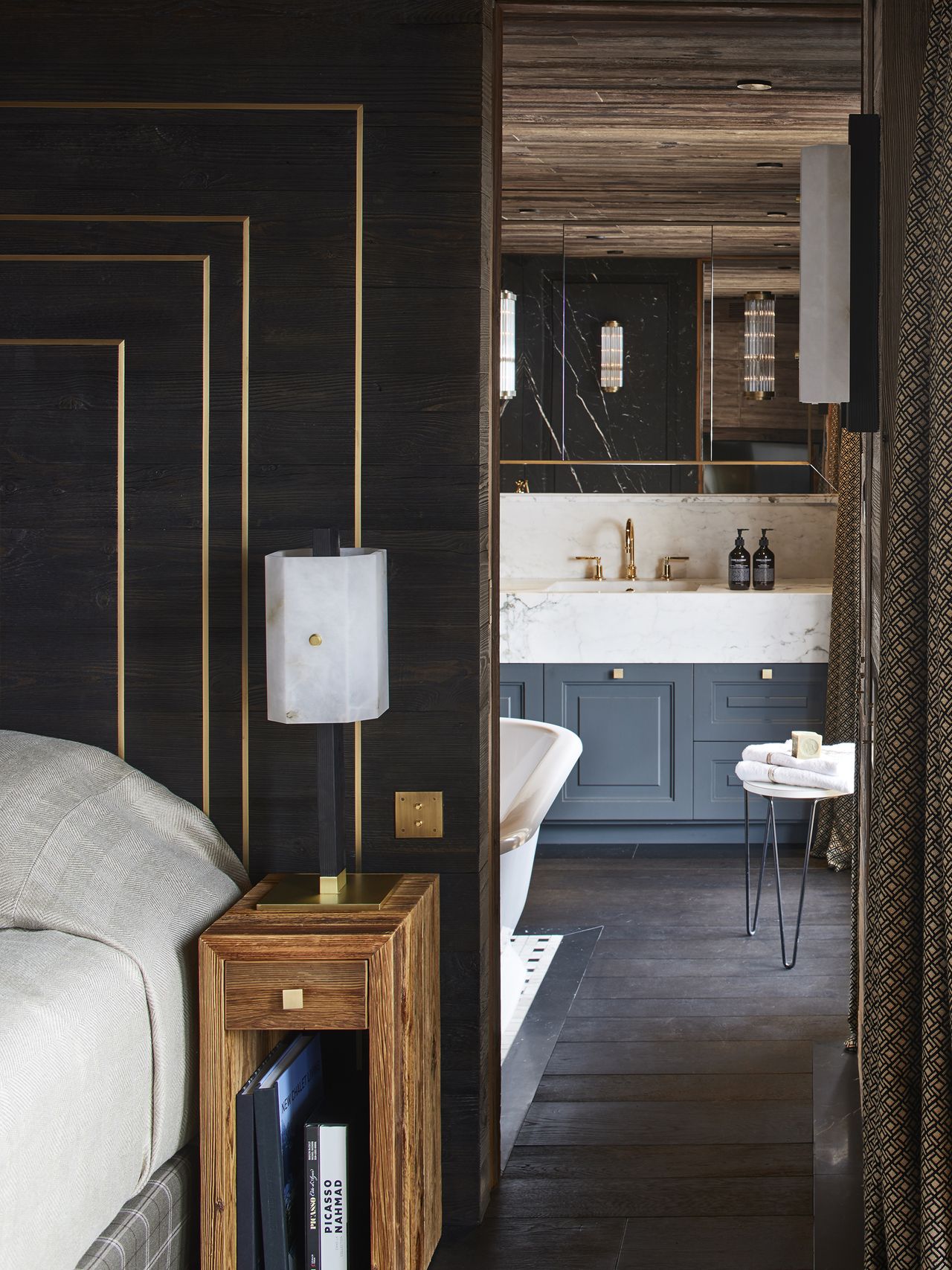 Perhaps the ultimate in luxury bedroom ideas, an ensuite bathroom is the perfect addition to a restful sanctuary, allowing you to bathe, relax and unwind for bed in the privacy of a self-contained space. 
Reminiscent of boutique hotels, it's popular for an ensuite bathroom to be tucked behind a partition wall with a doorless entryway. When an ensuite is in the same line of site as a bedroom think about decorating the rooms with complementary materials and finished to help unite the space as demonstrated in this design by Humbert & Poyet. Designed in tandem, both spaces display dark wood warmed up with metallic detail.
6. Link your bedroom with a walk-in closet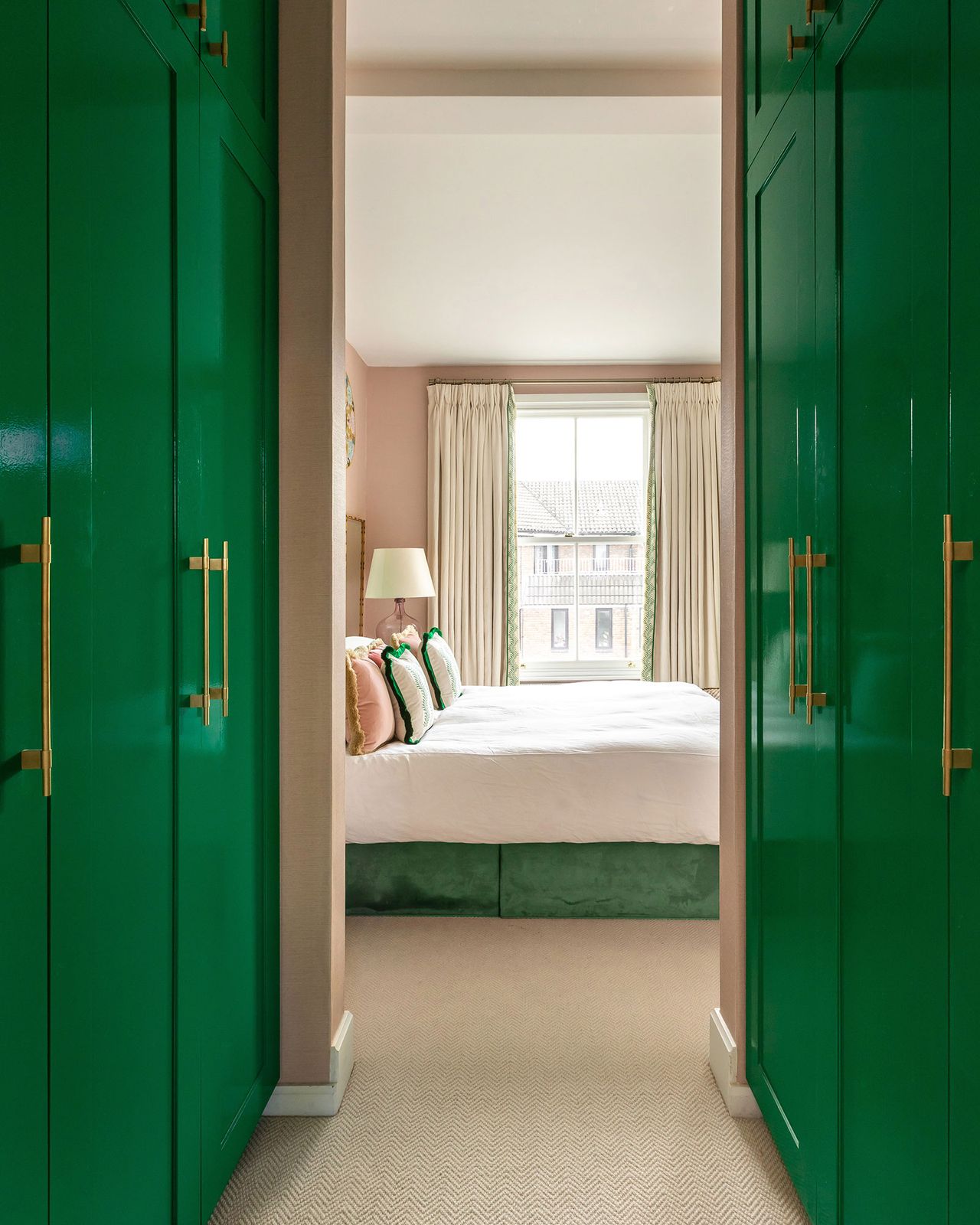 Walk-in closet ideas are one of the best ways to maximize space in a bedroom layout. Dedicating a separate room to store clothes, shoes and bags will free up valuable floor space in a bedroom leaving the area feeling neat, tidy and clutter-free.
Fitting bespoke closets is a brilliant way to make the most of the height of the space. 'Fitted wardrobes are the perfect solution for individuals looking to store lots of clothing items, without dominating too much space in the bedroom. The big advantage of fitted wardrobes is of course that they can fill the space and cope with any idiosyncrasies', says senior designer at Neville Johnson, Simon Tcherniak.
'We ask our clients to do a big clear out and count every piece in their wardrobes,' says Irene Gunter of Gunter & Co. 'We then have a great basis to work out what takes priority in your wardrobe – is it shelving, hanging space, or the shoe collection that are the key drivers?'
7. Make the most of awkward angles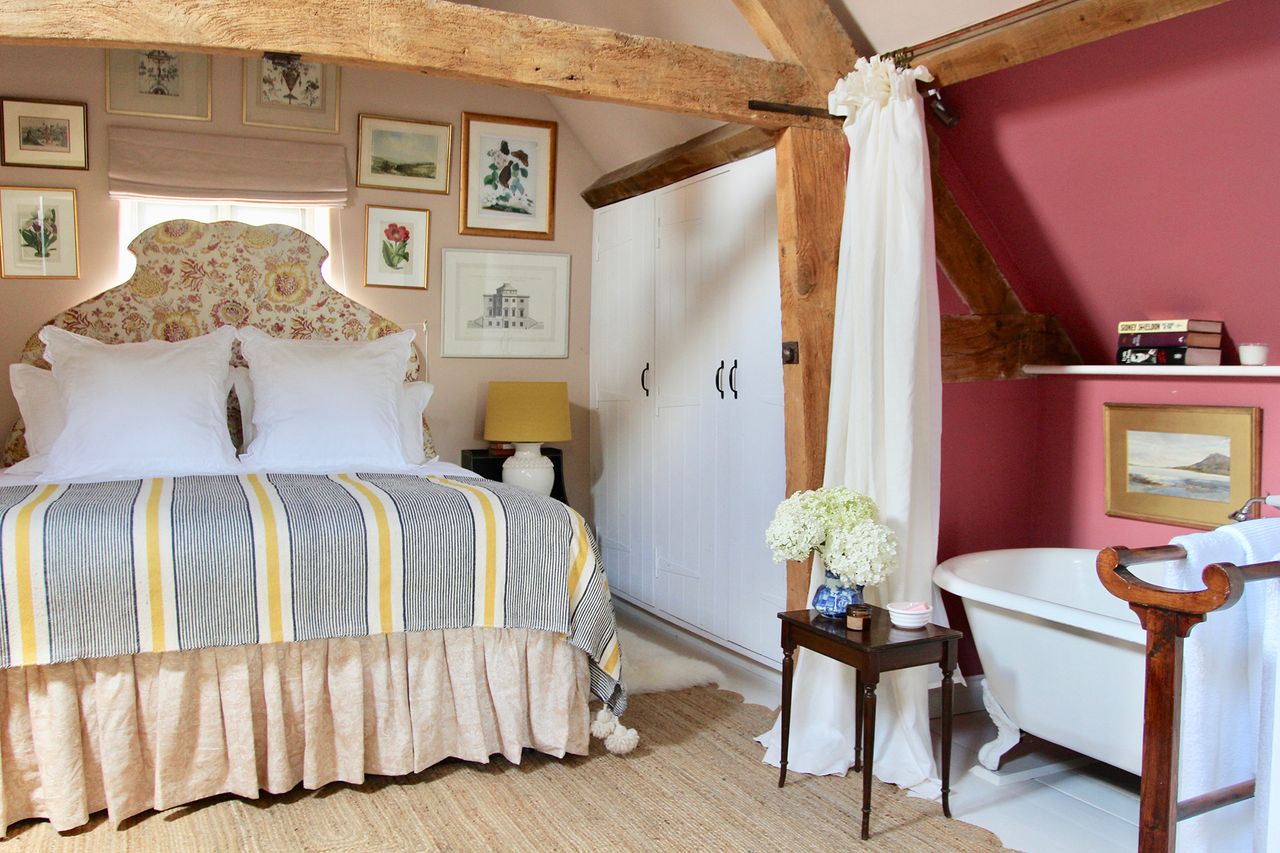 While they may boast characterful features like wooden roof beams, bedrooms with sloping ceilings such as loft conversions and attic bedrooms can make designing bedroom layout ideas particularly tricky. However, with some clever thinking these awkward spaces can make beautiful multifunctional bedrooms as demonstrated in this ingenious layout. 
In this beautiful guest bedroom idea, the interior designers at Vanrenen GW Designs have made the most of awkward alcoves by fitting them with bespoke closets as well as a luxurious roll top bath set behind a curtain to create a fun ensuite bathroom idea. 
8. Create a window seat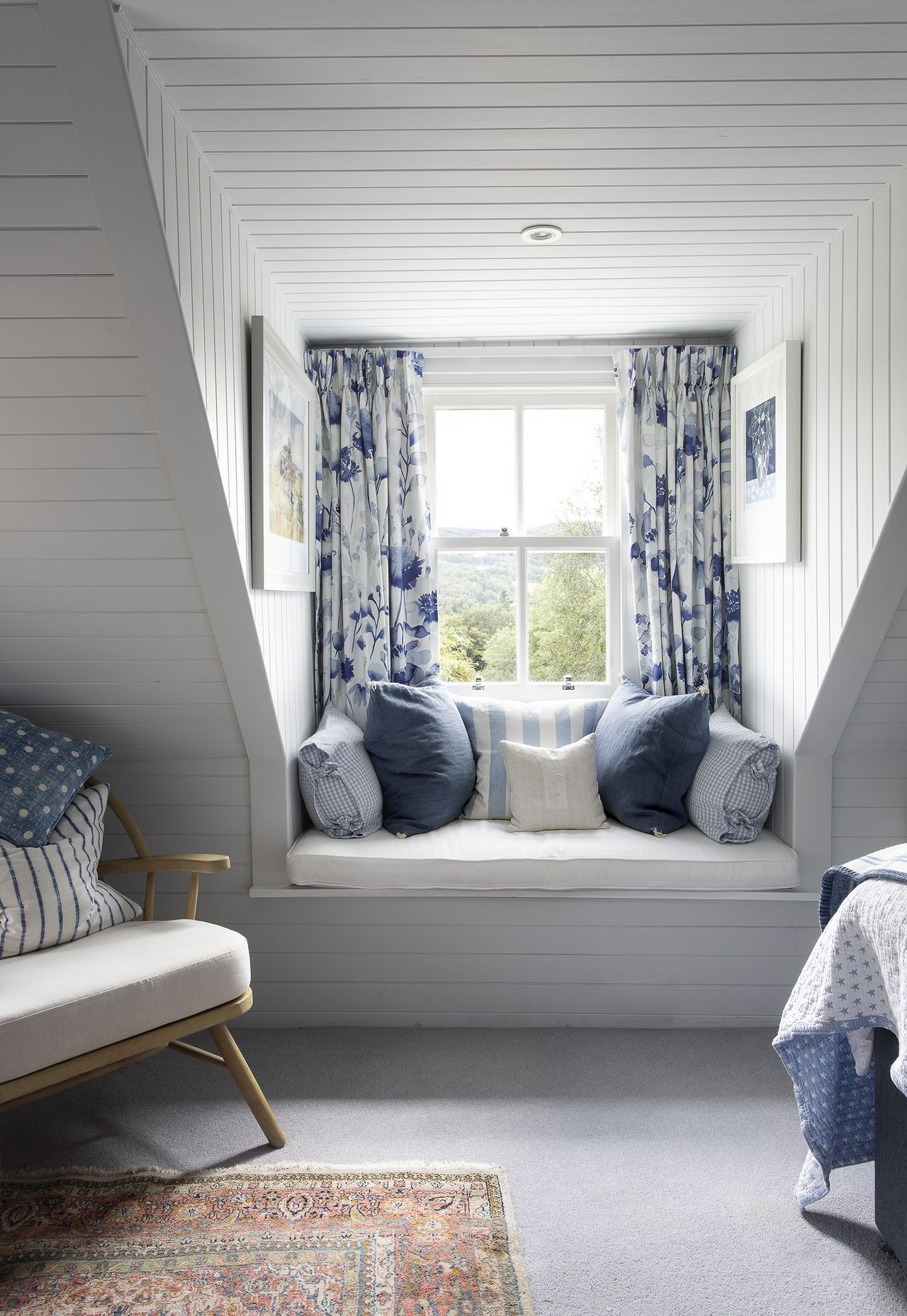 Whether used to curl up with a good book before bed or to enjoy aerial views of a garden, adding a window seat in a bedroom is a brilliant way to enhance a restful sanctuary. If created by a bespoke joiner, the seat can be fitted perfectly around the architecture but can also be designed with a chest underneath and a lift up lid in order for it to double as a bedroom storage idea.
9. Try a twin bedroom layout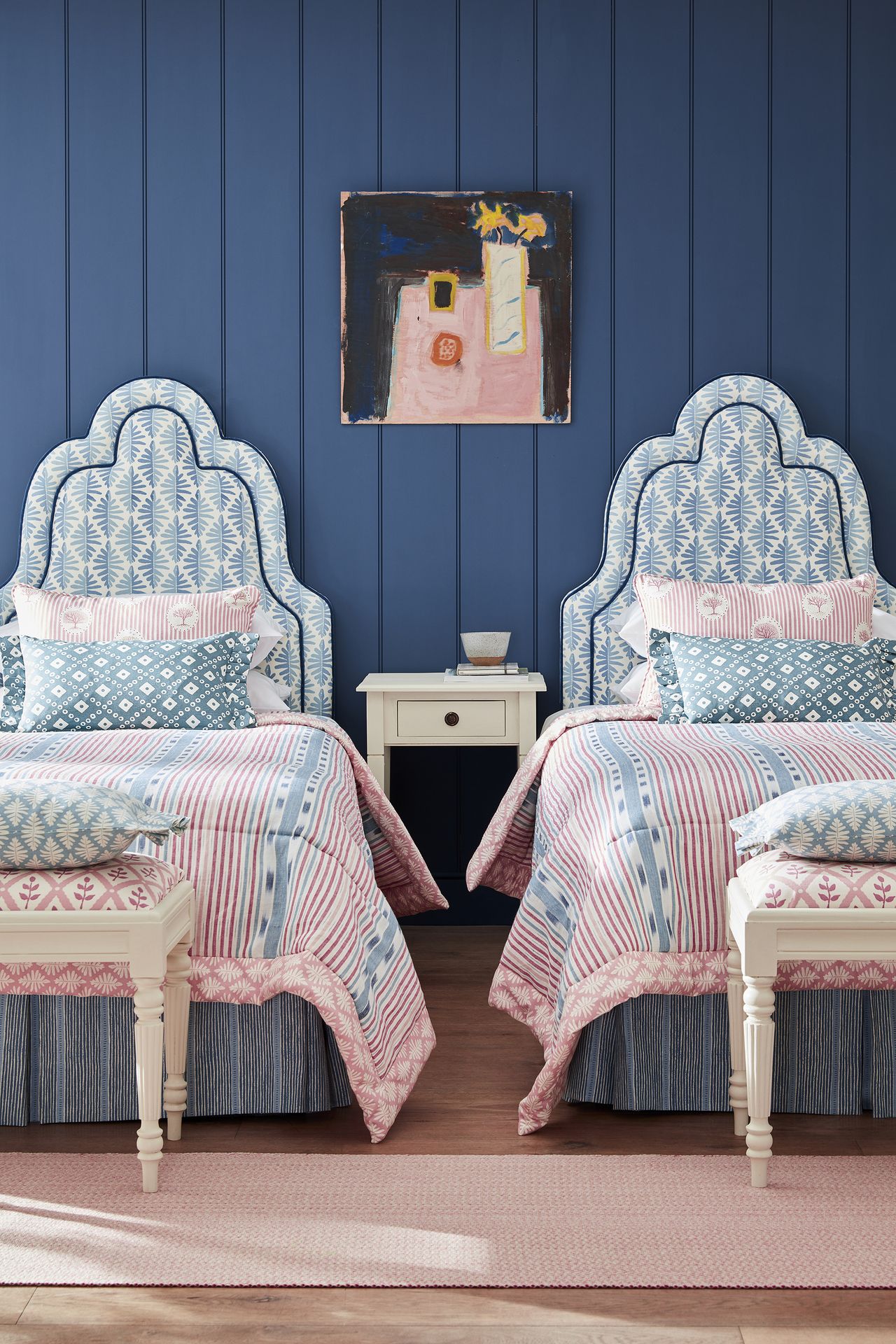 Reminiscent of boutique hotels, twin bedroom ideas can serve multiple functions. If you often have visitors staying you may want to consider a twin bedroom as a flexible alternative to a traditional double guest room as it offers multiple sleeping options with the ability for two beds to be moved together for when couples stay. This type of layout can also work well for bedrooms for siblings or, as a single child's room that offers an extra bed – perfect for sleepovers. 
When it comes to twin bedroom layouts symmetry is a common theme. Opting for matching bed designs separated by a single nightstand will create visual harmony. If the twin bedroom is reserved for guests and not used regularly then you can afford to be a bit more experimental with interior design so why not create a talking point with matching upholstered headboard ideas?
10. Make space for a dressing area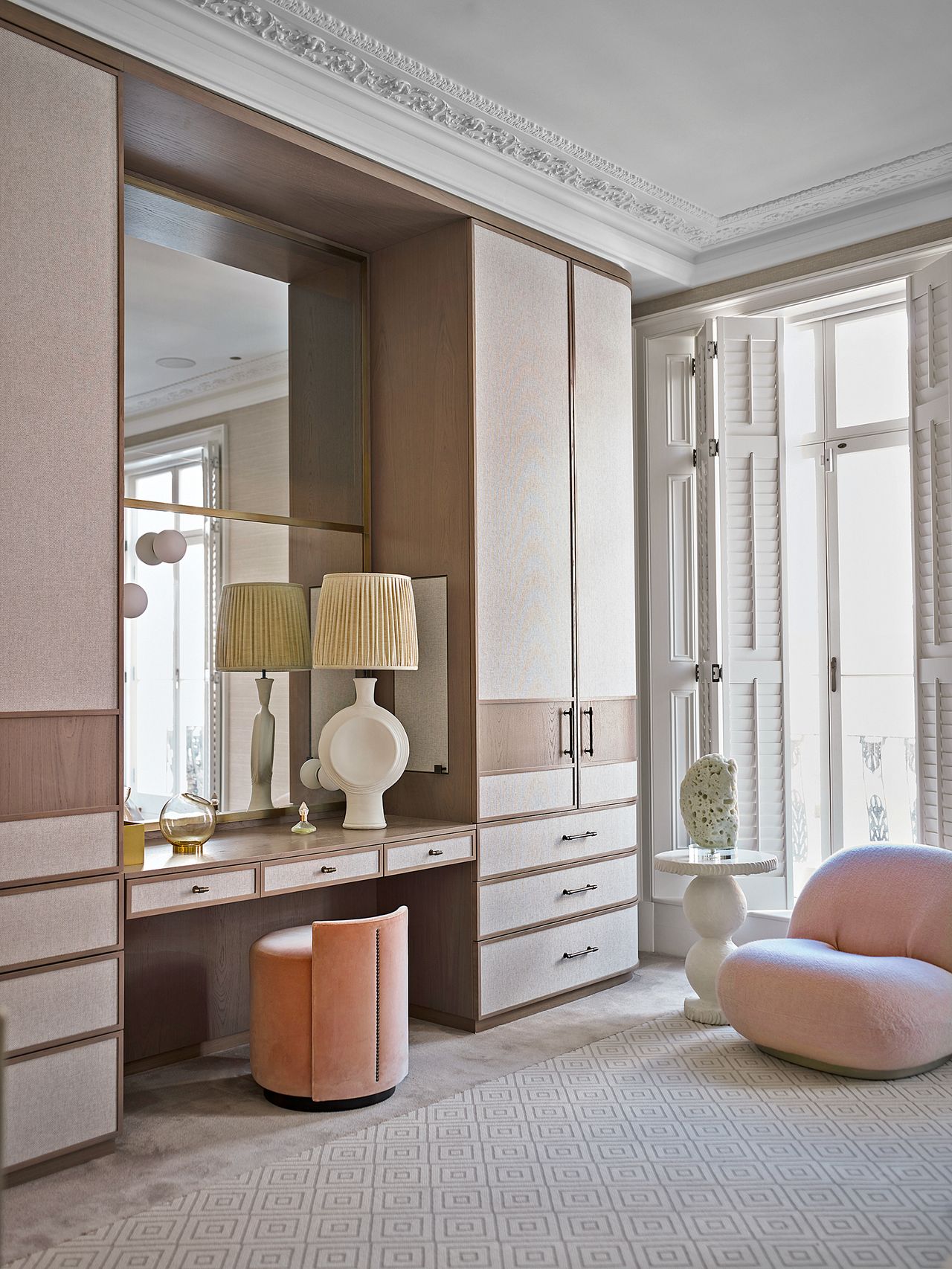 If space allows consider dedicating an area of your bedroom layout to a dressing area. No dressing room idea is complete without a large mirror and dressing table – for a chic, streamlined look consider fitting a table between built-in closets as done here in this design by Gunter & Co and be sure to include a stool for perching on while fixing hair or make up as well as a comfy chair to sit on while putting on shoes. Where possible it's a good idea to position a dressing table near to a natural light source.
11. Create a bed nook in a small bedroom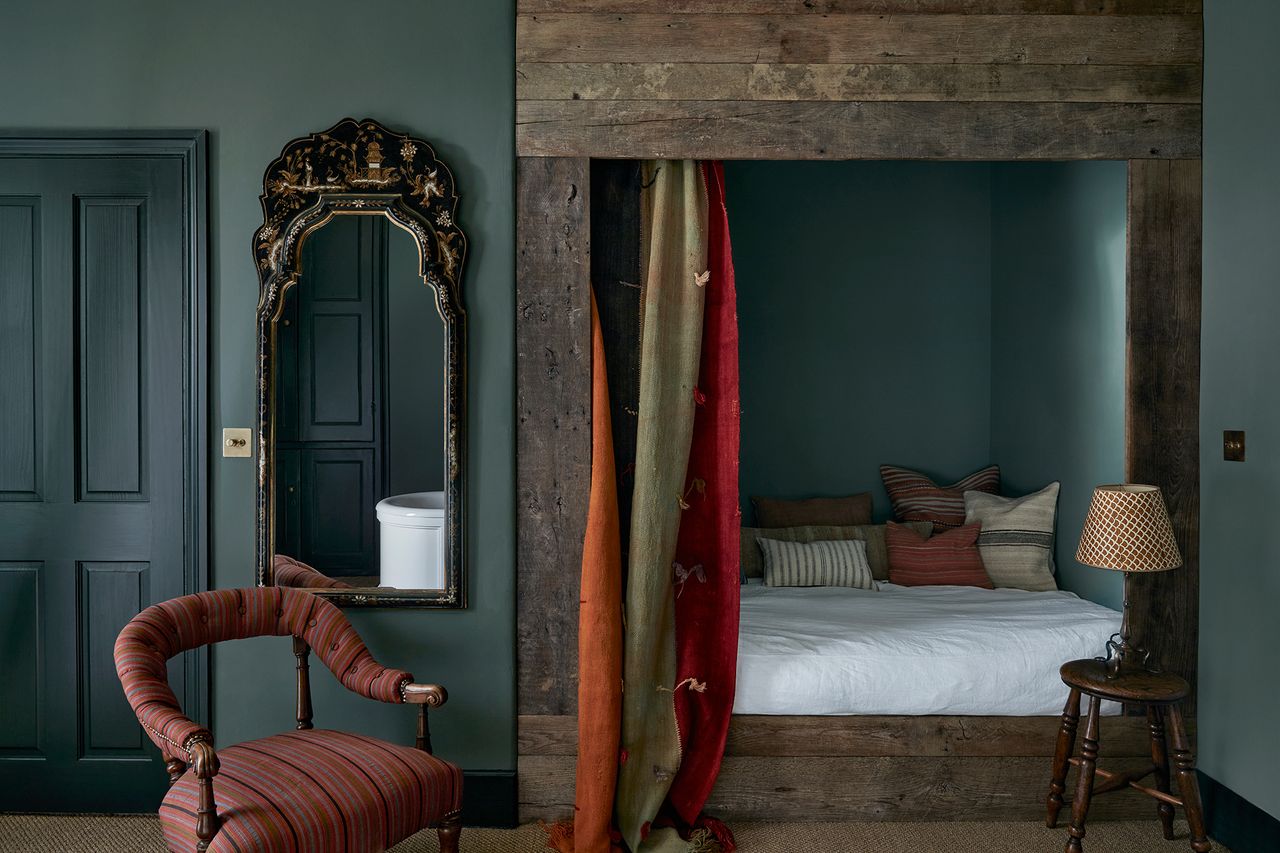 Where space is at a premium why not embrace the small proportions to create an intimate bed nook? A perfect small bedroom layout idea, fitting a bed into a tight corner and enclosing it with a curtain will create a cozy hideaway to shut yourself off from the world after a long day, plus makes a playful talking point in guest bedroom.
To enhance the cocooning atmosphere you could also introduce dark bedroom paint ideas as done here in this space by Thurstan. 
'We would usually lean towards quieter palette combinations, but darker shades can work really well within smaller spaces,' says founder James Thurstan Waterworth. 'They create a perception of depth and lend a cozy, cocoon-like feel – welcome in every bedroom. For the walls, we suggest a deep midnight blue or a petrol green, then lift this by layering careful accents of color, perhaps a burnt orange or a similar earth-toned hue – ochre, terracotta or a softer peach.'
12. Make space for a desk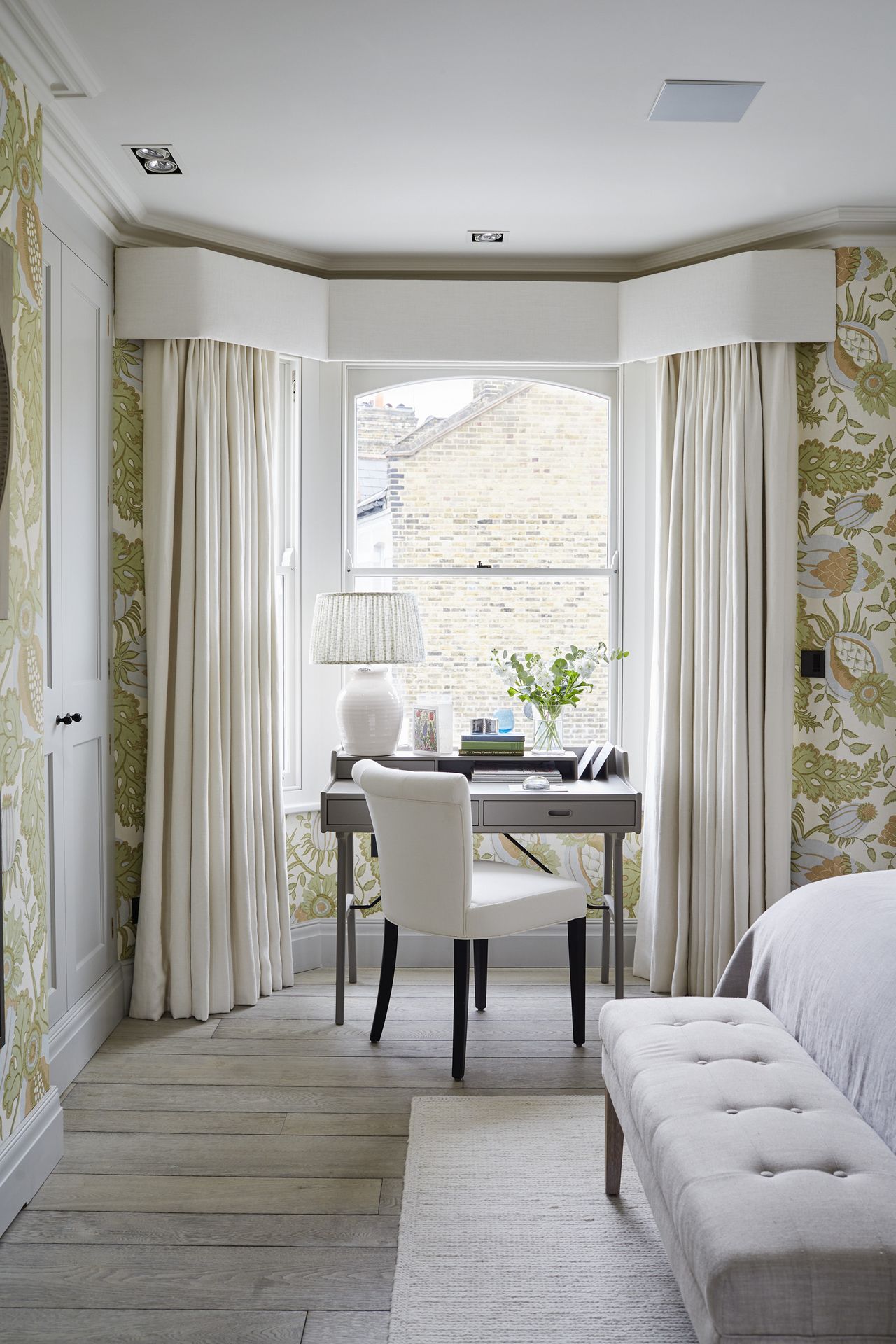 If you don't have space for a home office then the bedroom can double as a work space during the day, but if you are thinking about a bedroom layout with a desk then be sure to consider where you position it.
'Most people want their bedroom to be a place to relax and unwind so if you are also using it as a workspace, try to position the desk away from the bed to create a separate space in the room,' says Sarit Marcus, professional interior designer and founder of Minted Space.  'I recommend putting the desk on a separate wall from the bed.'
'If a desk is to be incorporated, you might make sure it is placed near to natural light, ideally in front of a window,' adds Louise Wicksteed, design director at Sims Hilditch.
13. Zone your space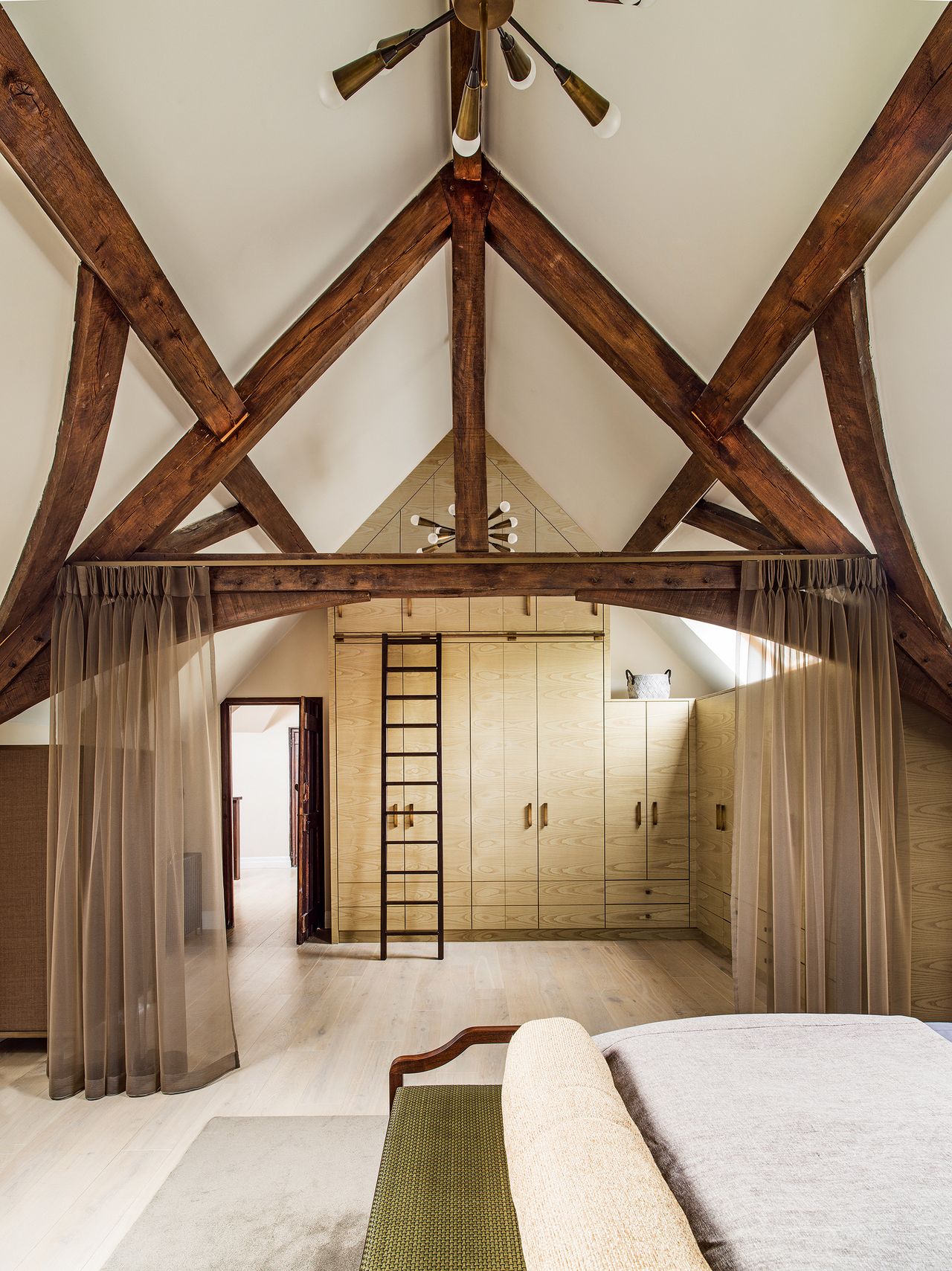 Do you use your main bedroom as a multifunctional space? Does it double up as a home office or maybe a space to do yoga? Perhaps you want to create a dressing room area? Zoning the space using a curtain or freestanding screen can be a quick way to define separate areas – of course this does depend on the size of the space and whether the shape lends itself to being divided. Choosing a sheer bedroom curtain idea is a brilliant way separate areas in a bedroom as it can help a sleeping area feel more intimate in the evening while keeping the overall space feeling bright and light throughout the day.
What is the best way to layout a bedroom?
The best way to lay out a bedroom will depend on many factors including the size, shape and purpose of the space – for example, a master bedroom will have different layout requirements to a guest bedroom or a child's bedroom. 'The layout will also depend on what storage requirements you need, but also whether the room needs  to fulfil any additional functions,' says Sarit Marcus, professional interior designer and founder of Minted Space.
'Will there be a sitting area? A desk? A musical instrument? Once you have determined the various uses for the bedroom, creating a balanced layout and determining the focal point are key elements to establishing a cohesive layout.'
While the type of the bedroom will determine the layout, there are some design principles that are common practice among many interior designers.
'A classic layout that we typically follow is to put your bed in the center of the most visible wall, and add two nightstands to either side if you have the space,' says Anna Franklin of Stone House Collective. 'I recommend putting the bed in the center of a main wall, and whenever possible, ensuring that it does not block any windows.'
Similarly, Bria Hammel explains that, 'in every bedroom design we create, the bed is positioned on the main, longest wall with no obstruction. If a bedroom has a fireplace, we love to place the bed on the opposite wall and ensure that it's in alignment with the fireplace.
Being restful, relaxing spaces, symmetrical layouts are a good choice as they bring harmony and balance.
How do you make a bedroom plan?
To make a bedroom plan the first step is to create a floor plan of your space which includes dimensions and the position of doorways, windows and any other architectural features like fireplaces and alcoves. 
'Using a piece of paper to sketch out a general floor plan of the space is a simple and easy way to visually plan a bedroom. Alternatively, if you have access to an online tool, this can help with accuracy of size and leftover space while playing around with the design,' says Anna Franklin of Stone House Collective.
One the floor plan is established this will give a clearer idea of where furniture is best placed.
'Play around with different layouts. Measure your largest pieces and tape it out in the bedroom so you can feel the amount of space you have for foot traffic rather than just seeing the dimensions on a piece of paper,' advises Sarit Marcus.