Eagan music grad masterminds "The Haunt" in family yard | Apple Valley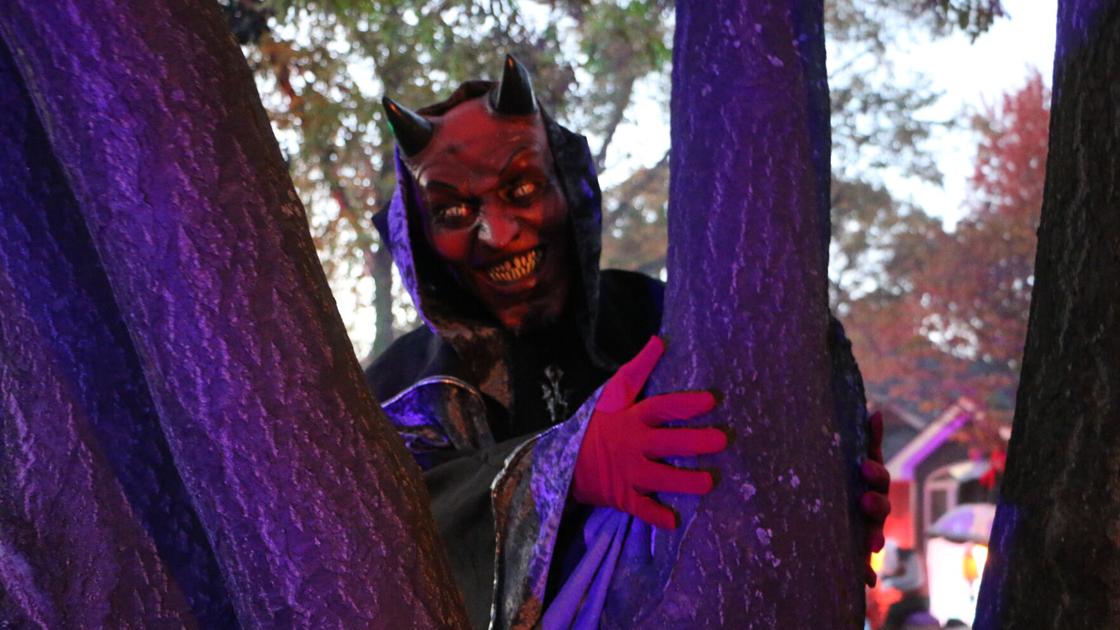 Father and son will bring scary fun on Halloween night   
Masterminding a theatrical Halloween Haunt scene, John Kuntz combines his love of scaring people with his passion for music and dramatic set design.
The design work began in December when John got inspired to put together a frightful outdoor Haunted House. It is now creating a buzz in the Eagan neighborhood and will soon be the talk of the street this Halloween night when trick-or-treaters flock to the home to get a little frightened and make memories.
"This neighborhood did not expect this, and I did not expect this until I decided to come back home," said Kuntz, who loves all things scary and finds joy in getting into the Halloween spirit.
This two-story home at 3719 Greensboro Drive in Eagan will come alive with spooky music, fog machines, and strings of lights swaying from treetops to spotlight all the scary scenes.  The yard is decorated with devilish details like thin spider web-lined bushes, and bloody bodies hanging from tall tree branches. The yard embodies all the scary stuff of nightmares like a couple grim reapers, skeletons, and a lighted graveyard. Face masks from classic horror films like fan favorite characters Freddy and Jason will surely spook all come to encounter Halloween tricks and treats. 
When asked why he likes to scare people and why do others enjoy being frightened?
"It is a particular kind of person who is attracted to these kinds of things, and I know I am not alone in the house haunting," Kuntz said.
Five years ago, this home was well known in the neighborhood as the house who decorated a super scary Halloween garage that all the youngsters had fun walking through. Each year John enlisted his siblings and friends to work inside scaring all who were brave enough to enter the darkened space decorated with devilish details. But when John moved away to college, the scaring stopped and went on a five-year sabbatical.
When asked about his childhood Halloweens, Kuntz recalls dressing up in scary costumes and looking forward each year to a night of the unknowns and truly wanting to be frightened.
"There was one house that stands out to me when I was so young walking down the hill, they had a pretty modest setup, but they had some foiled curtains that kind of glistened in the light, and that stuck out to me," he said. As a boy, he mustered up courage to approach the curtains because he said he would not let the fear and dread absorb him.
"I remember I had this confidence to burst right on through," Kuntz said. He discovered a live dummy seated to scare and surprise the trick-or-treaters.
That heart-racing feeling stuck with him from his childhood and he realized it was fun to be scared on Halloween. Since then, John has been chasing that wholesome fun feeling of being scared and scaring others on Halloween. After all, he said you never outgrow Halloween joy even if you can no longer knock on doors dressed up in a child's costume.
In sixth grade, he bought his first bloody skeleton at Party City where he would later work to support his Halloween decoration collection.  
"My parents used it as a vehicle to teach me how to save money, and I would put a monthly savings allowance in my Halloween savings account and it would accumulate over a year."
Kuntz, 25, is a recent college grad who earned a master's degree in music composition from the University of Memphis in Tennessee, and now he works for St. Paul Chamber Orchestra in the development department.
"I love my work but in college I was engaged in theatre production the whole time in the capacity of a composer or performer, and I am always looking for musical opportunities in composition, teaching piano, or working on composing music," Kuntz said.
His theatrical set design skills shine when you encounter the depths of decorating details in the Halloween Haunt that rivals most you may have seen in your neighborhood.  
In high school, this house built a reputation on the block as having a super scary and fun haunted house set up in the dark garage.
Since his family invested in new siding and windows and finished the garage, John could not decorate the garage this year. This is what led to "John's Haunt" devilish design in the front yard.   
This Halloween John will be dressed as a red devil wearing a mask that possesses piercingly, evil-looking eyes. His father Tom will have fun lurking around the yard sporting a flowing, frightful costume and ghoulish mask while he has fun carelessly swinging a toy chainsaw that sounds realistic.
His mother Laura will calmly coax brave children to come up to the door and select a full-sized candy bar. At the doorway there is a frightening, crying bloody baby in a sling decoration near a hanging skeleton and monster sitting in a lawn chair.   
This father and son duo said they are mindful and careful not to scare the young children, but both look forward to the lurking and frightening older children because that is what Halloween is about, they report.  
"The parents love it, and especially the dads love it," John said.
In December, John reached out to let the neighborhood know the haunted house would return outdoors this year.   
"I have always liked scary movies and all things scary, and I don't know where it comes from because I do not fit the mold of the typical horror fan. I like to put together sounds bites from horror movies on my computer and I put together my favorite sounds with sound samplings," John said.
Designing dramatic, scary scenes is so rewarding, John said.
His father Tom recalls when John was a teenager, he engineered a scary organ with PVC piping and sprayed the plastic piping gold before attaching it to the keyboard. Then he installed a fog machine nearby that added a dramatic feel when the organ played. It is safe to assume that organ brought joy and scares to all who visited the dark Eagan haunted garage.
Several animatronics spout scary noises and some have battery trigger pads that go off in surprising ways to shock who steps on top of them. A cemetery with walkway lights welcomes all who enter the front yard from the sidewalk.
"The idea of one day owning my own haunted house or chains of haunted houses would be great where I can do a lot of set designs and be that person behind the curtain when people walk through is a very exciting idea to me," Kuntz said.
"This year I decided to invest in the lighting more heavily because it is all in the yard, so I wanted the trees to be lit up in a certain way," he said. "It takes a lot to do this and this year I have had fun and put blood, sweat and tears into the music and three-minute walk in the yard to give it a big impact."
John said it is all worthwhile when he hears feedback from youngsters who are impressed with his devilish decorating, "That makes my heart warm when the kids are so inspired and they say they want to do this when they grow up, and then I know the kids got to really experience the fun of Halloween."
https://www.hometownsource.com/sun_thisweek/community/apple_valley/eagan-music-grad-masterminds-the-haunt-in-family-yard/article_a7e99122-3317-11ec-953e-2b8bdc1ea203.html