Grey dining room ideas: 11 designs using this classic shade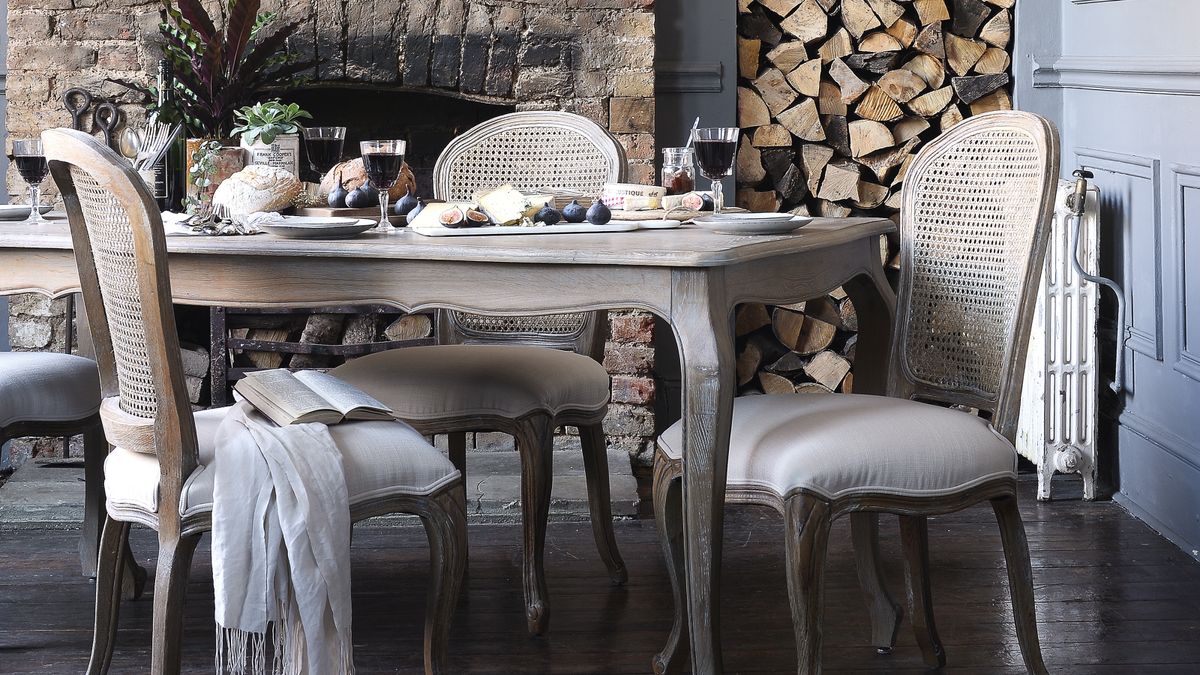 Choosing between grey dining room ideas can be tricky. And when it comes to implementing this shade in your sit down eating space, there are a few considerations to take into account. 
One being, that although grey can be cool and calming or moody and warm, it can often be seen as a rather safe style choice.
So we've put together some of our favorite grey dining room ideas that are stand out from all the rest. Forget soulless style and faceless furniture, this gallery is full of all the grey goodness, with all the nitty-gritty detail.
Metallic and silvery grey tones, gunmetal and sea-like shale shades can all be discovered in these dining room styles.
Grey dining room ideas to whet your interior appetite
'Using multiple shades of grey across different mediums such as a wall paneling idea helps prevent a grey dining room from feeling flat,' says Rebecca Snowden, interior style advisor at Furniture And Choice
'Don't forget to mix textures too, like pairing a smooth marble table with supple leather chairs, and having a large and comfy rug.'
1. Use your island for informal mid-week meals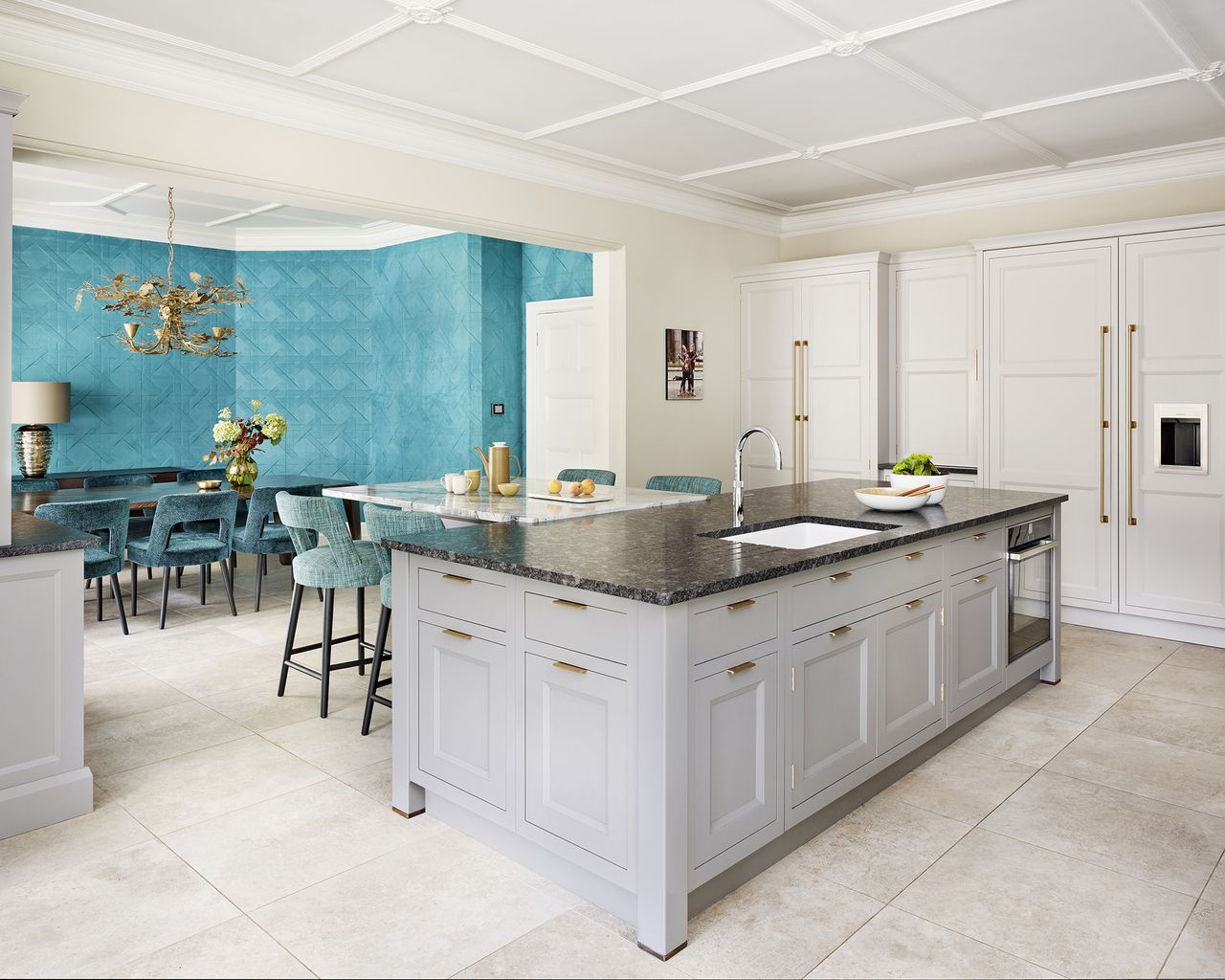 'With a more relaxed feel than the formal dining area adjacent to the kitchen, the grey "island table" acts as an intermediate dining space where the family can gather,' says Richard Moore, design director of Martin Moore.
'Sitting opposite each other is a  highly sociable layout and allows traffic through the flow of the kitchen without disturbing the cook.' 
'There is still great demand for neutrals, particularly greys, but more and more we are seeing neutral tones used as the base against which bolder, brighter colors can really pop in smaller areas of the kitchen.'
2. Create an opulent space with a luxury dining set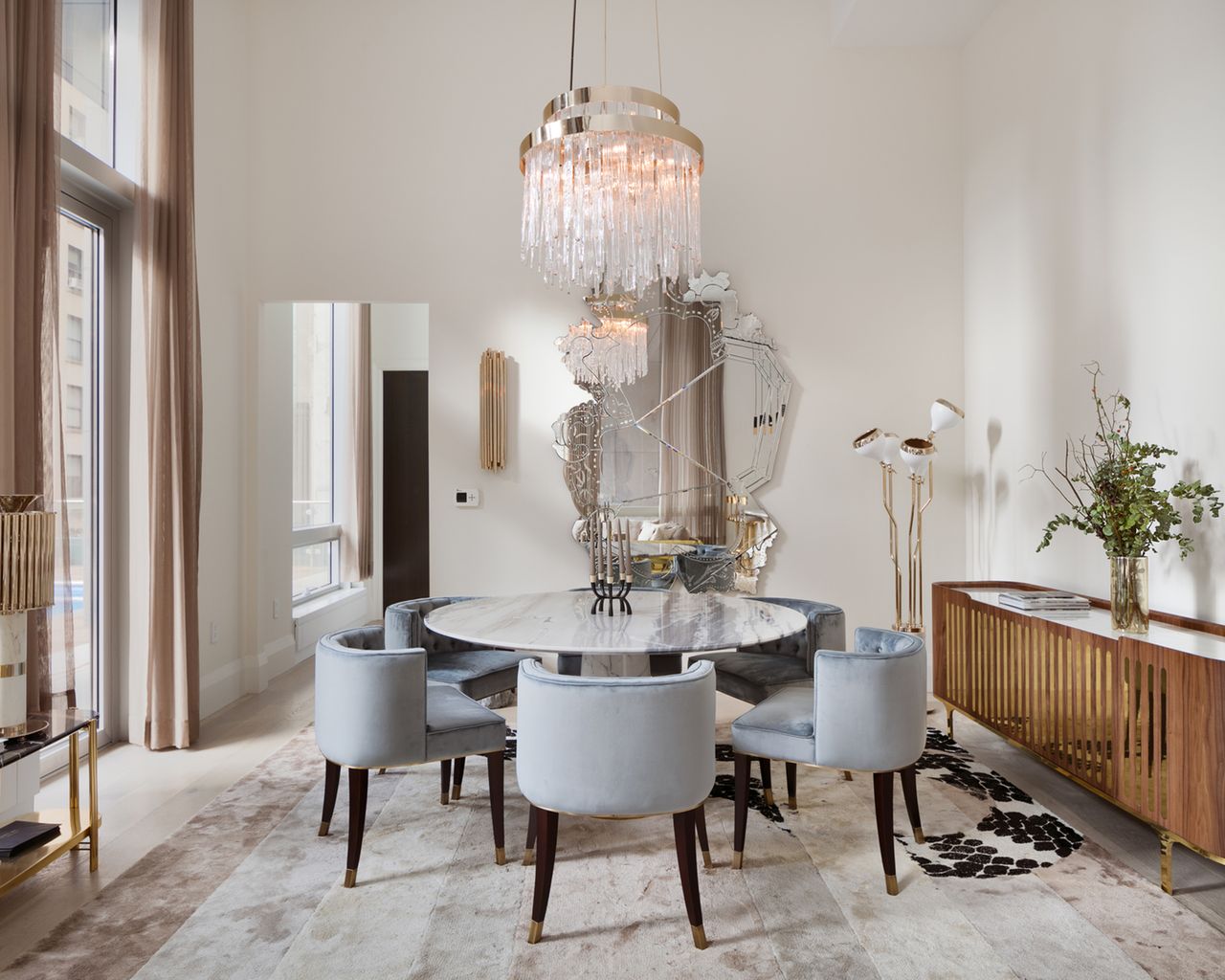 There's so much to love in this opulent grey dining area from BRABBU Design Forces and it all comes down to an eye for excellent furniture choices.
In this NYC dining room, a white marble table is paired with button-tufted, rich cotton velvet chairs with walnut stained legs. The environment is bursting with light –with lots of help from the ornately-detailed large mirror idea, chandelier and of course, the wall and floor lamps giving this grey space a warm glow.
3. Create a French country feel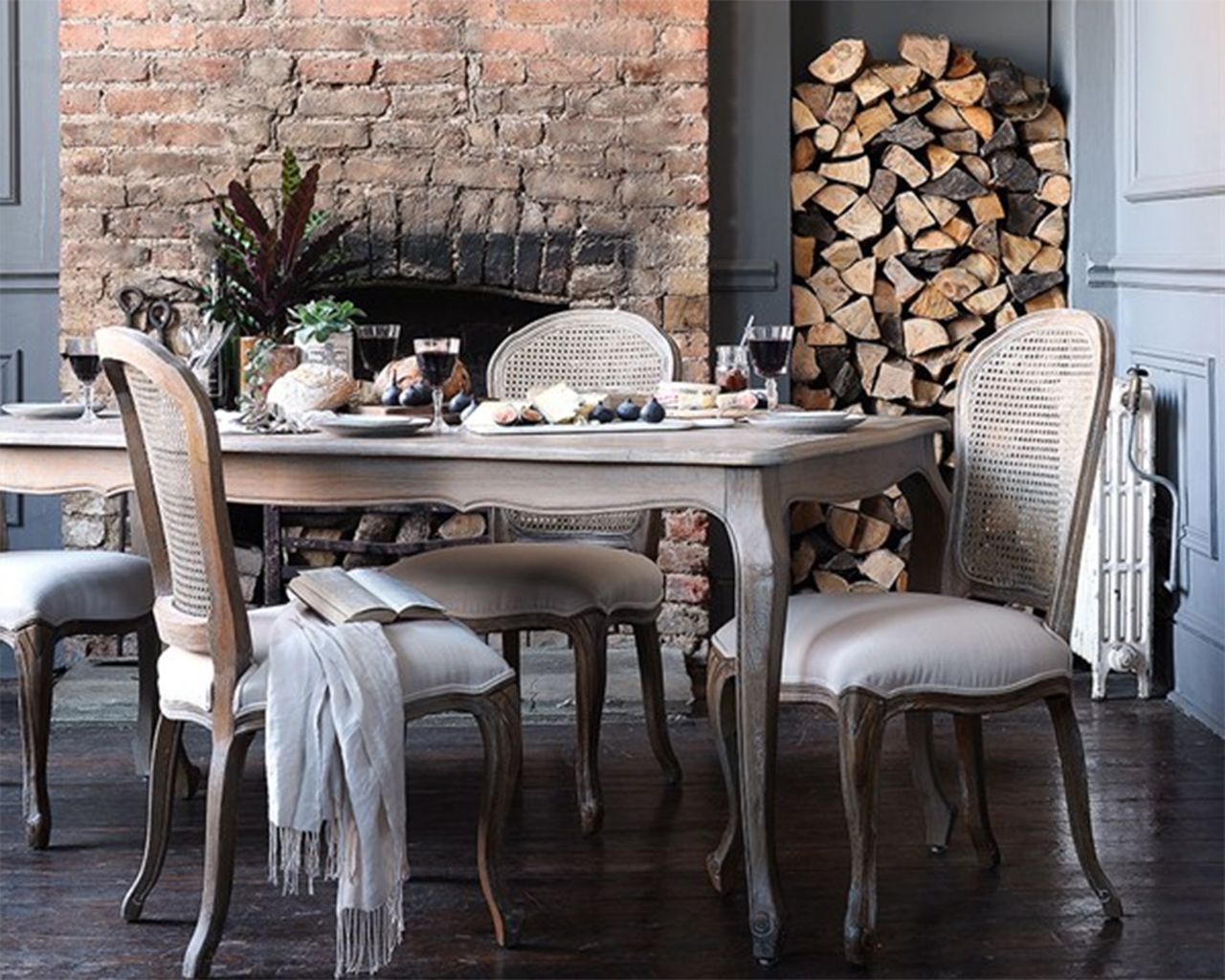 Make dinner time an altogether more elegant experience by sitting down to eat at with a French-inspired table in your grey dining room.
The Camille Limewash Oak table from Cotswolds Co is sturdily made from solid oak and premium oak veneers then treated to a hand-applied, grey-toned limewash finish that gives it an appealing vintage look.
With six chairs included, it's big enough for everyday family dining and throwing the odd dinner party too. With carved detailing along the side and gracefully curved legs, it will sit well in any style of décor and make the perfect spot for your family to gather and catch up with everyone's news.
Just as it has been styled here with the exposed brick wall and chopped logs, we'd use this furniture as part of our fireplace ideas.
4. Pair grey with black, white and hues in between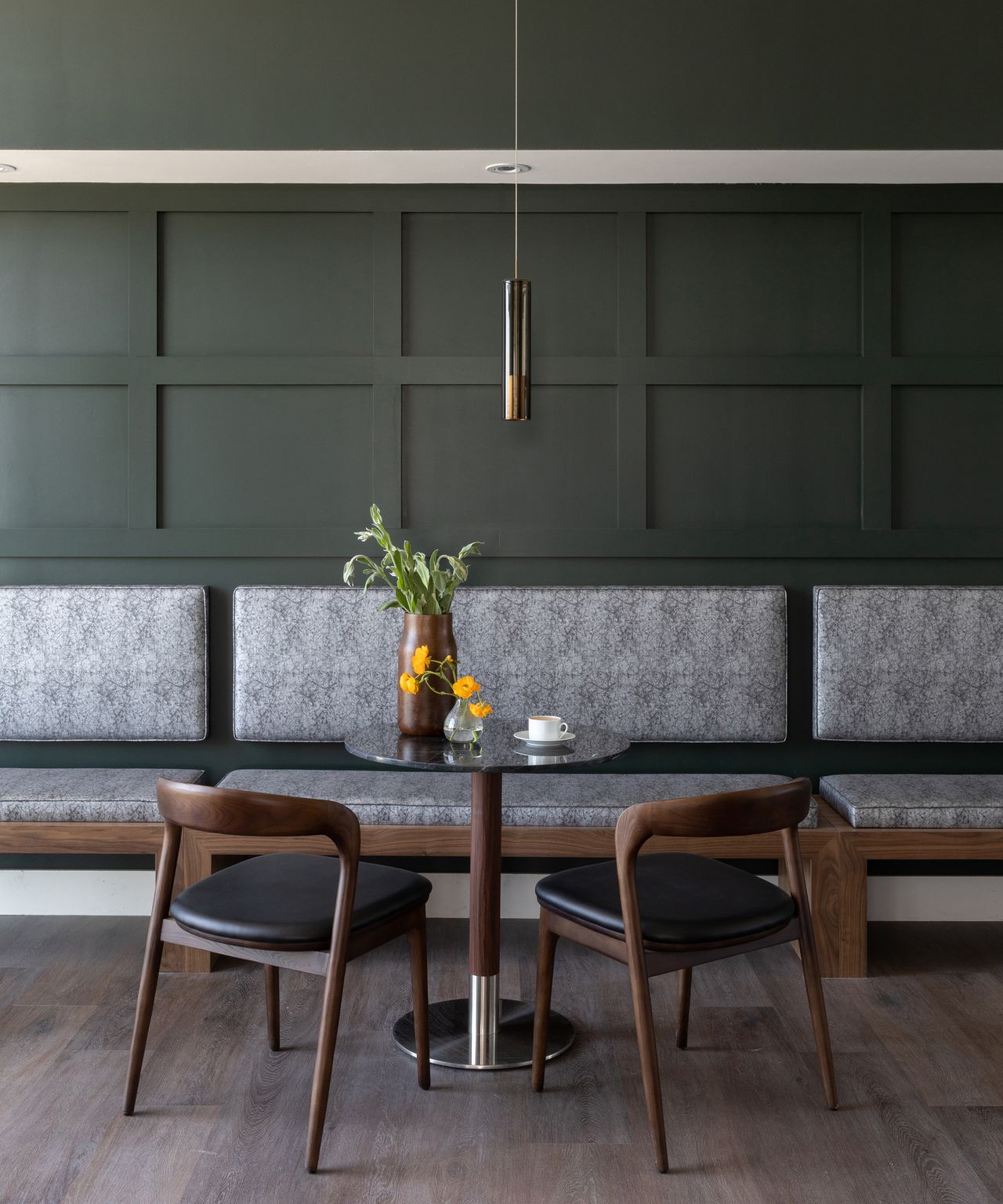 'Grey can fit wonderfully in almost any room, and it can easily fluctuate from ultra-luxe to ultra-relaxed,' says Heather McKeown, Land & Sky Designs. 
'It will always look stylish when adjacent to the colors it limbos between: black and white.  An easy way to make a space feel modern and clean is to keep the colors on a greyscale.'
'There is a caveat, however! I am all for monochromatic spaces but having too many variations of grey without a pop of color to break it up can make an otherwise elegant color feel monotonous. Try adding a punch of color via a vibrant bouquet or colorful objet d'art.'
4. Create an American diner with booth-style seating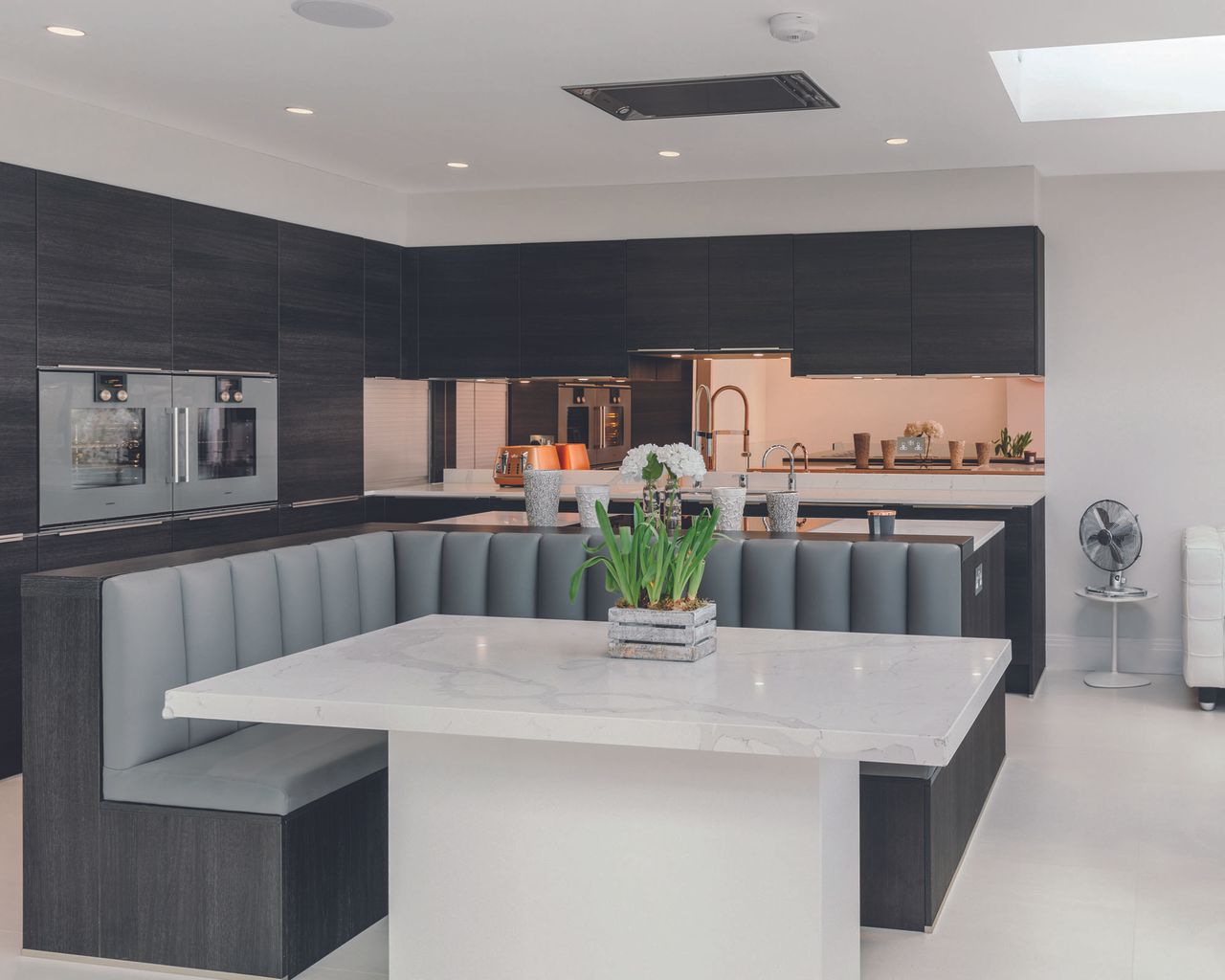 Centered around an L-shaped cook zone with off-white Carrara quartz worktops, matching dining table and a light grey leather banquette, this open-plan kitchen creates ample seating and dining options for both family and friends.
With the view to emphasize the vivid accents of white, Brandt Design recommended a dark oak wood veneer to provide contrast and a dynamic backdrop for the mirrored rose gold backsplash.
Extending the well-designed island unit is a highly-practical banquette seat, which ensures a comfortably contained area for informal dining, home/office work or light entertaining. Defining the space through color and shape, this modern kitchen idea is the perfect introduction to the 8-seat dining area with yearlong views of the garden.
The banquette was a great marker to work the rest of the design around, dedicated areas to be created by zoning the room and ensuring an efficient use of space. The beauty of this kitchen lies in its simplicity, promising a comprehensive range of interior storage solutions, clutter-free work surfaces, floor-to-ceiling fitted furniture and ample seating and dining space.
'Consider how you can incorporate different seating areas in your room scheme, so that you might be able to have a designated space for casual dining, such as a breakfast bar or diner-style booth as well as a dining table for family sit-down Sunday dinners or special occasions.' says Julia Steadman, commercial director, Brandt Design.
5. Want luxury and convenience? Choose leather chairs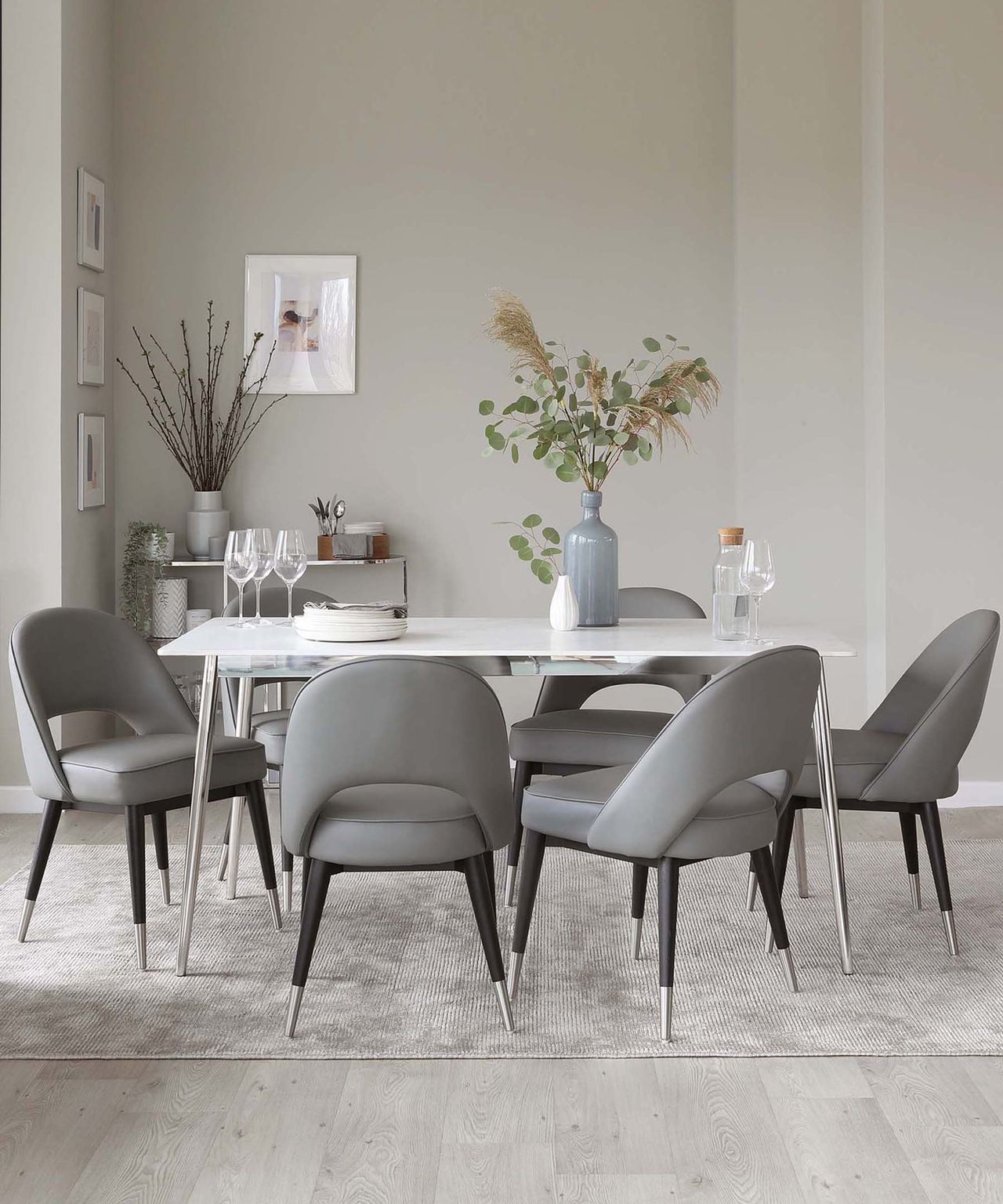 Just like an expensive car trim, leather can do wonders in interior spaces – including grey dining areas. Styled well, it can look less Doctor's surgery and more diner's delight.
Aside from looking good, the benefits are endless. Other than oozing cool Italian aesthetics, it's a durable material that gets better with age – often having more longevity when compared to its upholstered counterparts. 
It's also easy to clean, so whether it's a sippy cup splash, or an accidental drop of vino – it's wipe-clean surface means you won't be worrying way into the evening on how to clean leather.
6. Incorporate storage around your seating area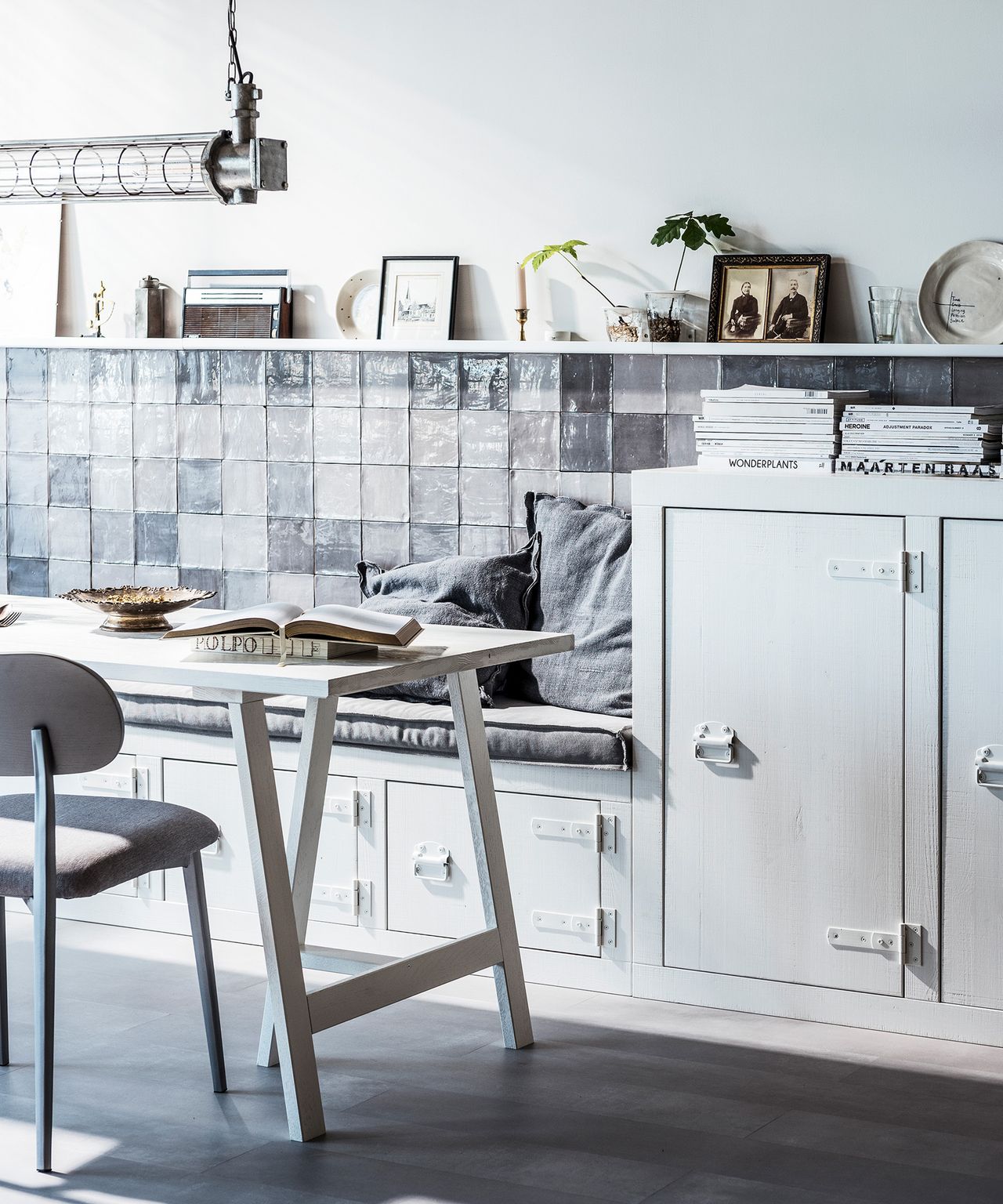 It can often be a balancing act trying to lay the table. Juggling multiple plates, holding a few glasses between your fingers and navigating through narrow hallways can often make you feel like you wish you were an octopus – if only to reduce the amount of trips from cupboard to table. It begs the question: why not add a small kitchen storage idea into this room?
If dressers are too big for a dainty space, the Bunk White Pine Storage Cabinet from Woood is a storage giant, offering up plenty of space for plates, glasses and so much more. 
With a rough sawn finish gives this storage cabinet has stunning rustic finish that is sure to be a gorgeous addition to your grey dining room idea, kitchen-diner with three large compartments each featuring a shelf.
7. Pair grey with green to inject life into the room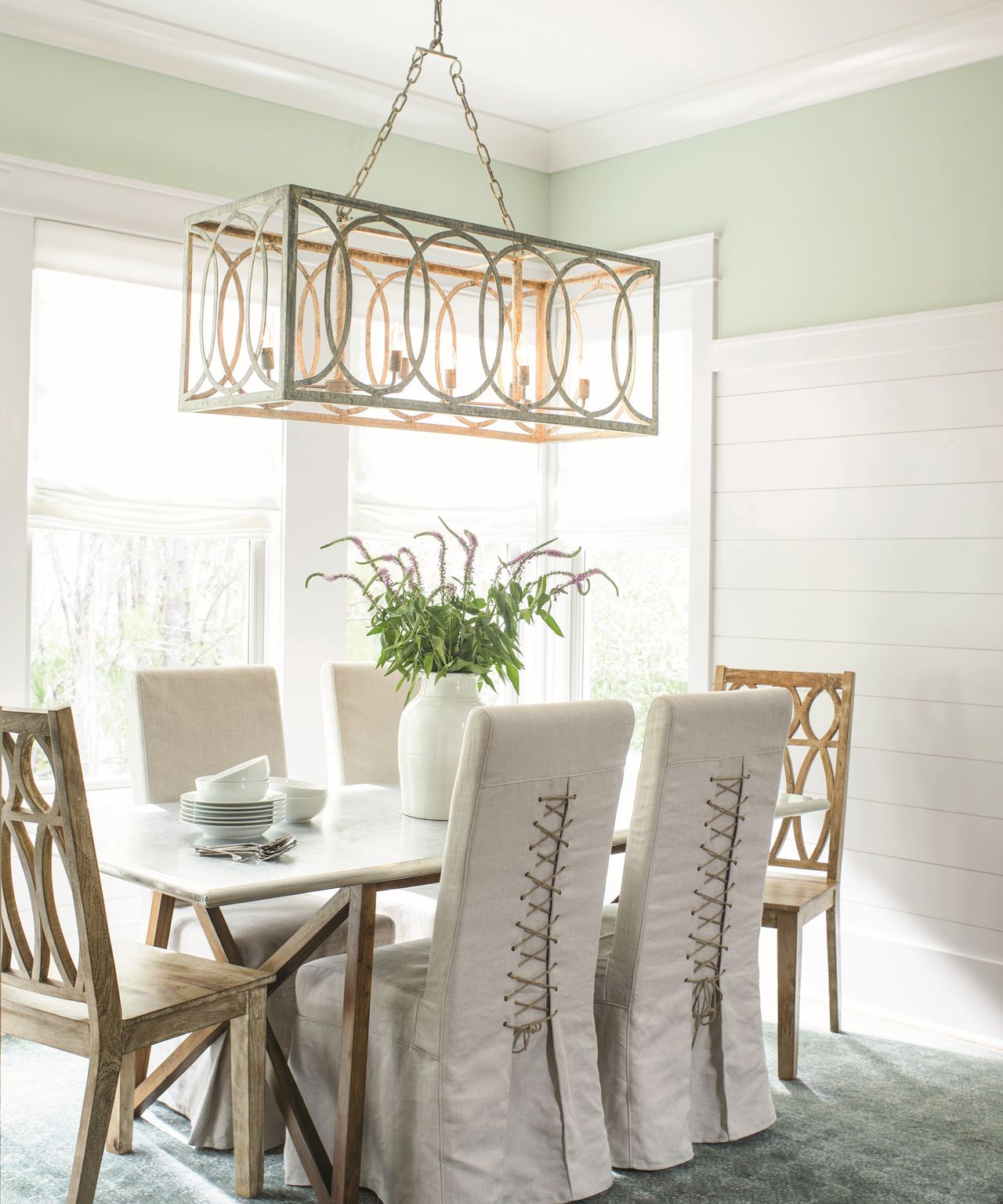 A refreshing combination, we love the look of this Benjamin Moore white, green and grey dining room and those dining chairs are giving us Kim K vibes with the cinched in, corset-style detail. And, how the looping wooden chair motif is similar to the boxy dining room lighting idea. But this partnering of colors isn't a coincidence but a rather conscious decision.
'A lovely way to bring out the undertone in a grey is to partner it with the same, or similar colour, for example, a grey with a green undertone decorated with green will make the undertone more dominant,' says Natasha Bradley, interior expert, Lick Home 
'A flat grey carries no positive physiological benefits, it can actually generate a dull and lifeless emotional response, which is why I always recommend that my clients choose a grey with a coloured undertone. As it brings out the positive psychological traits in that undertone colour, for example, a grey with a green undertone will bring life into a room.'
8. Go for galvanized chairs and industrial finishes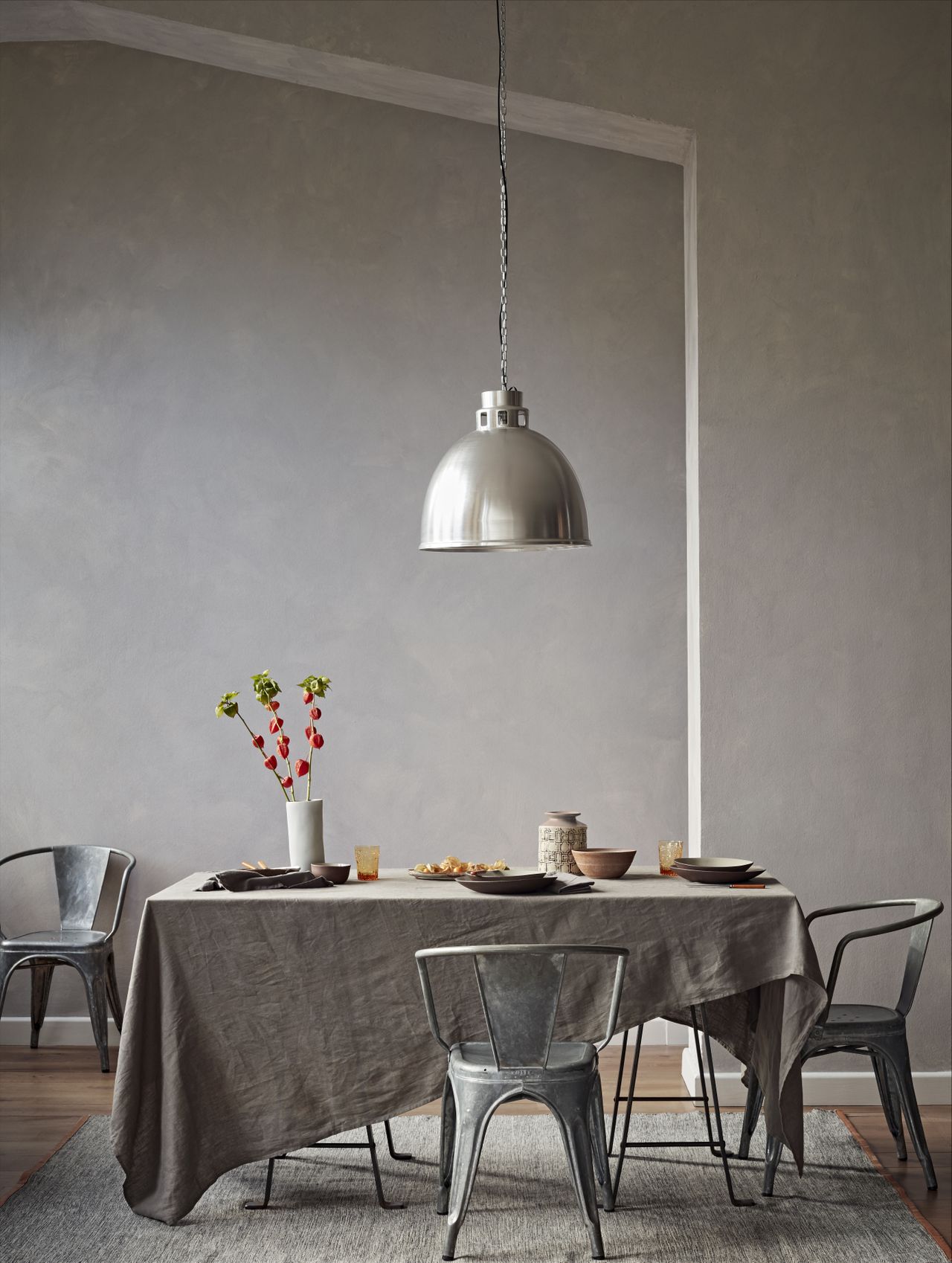 If prim and proper, formal dining with a few different forks and knives laid out isn't for you – take a look at this industrial chic grey dining room idea.
Sure, it's not fine dining, but this no-frills scheme has all the familiar foundations you'll be used to in an eating area. Chalky grey wall paint ideas, a statement pendant light, unironed tablecloth and textured rug underfoot give this space an laid-back and relaxed feel. 
Add flowers, as shown, to soften this grungy scheme where you can tuck into your grub. Or swap the white vase for a mini metal bucket.
9. Fake the look of concrete with wipeable resin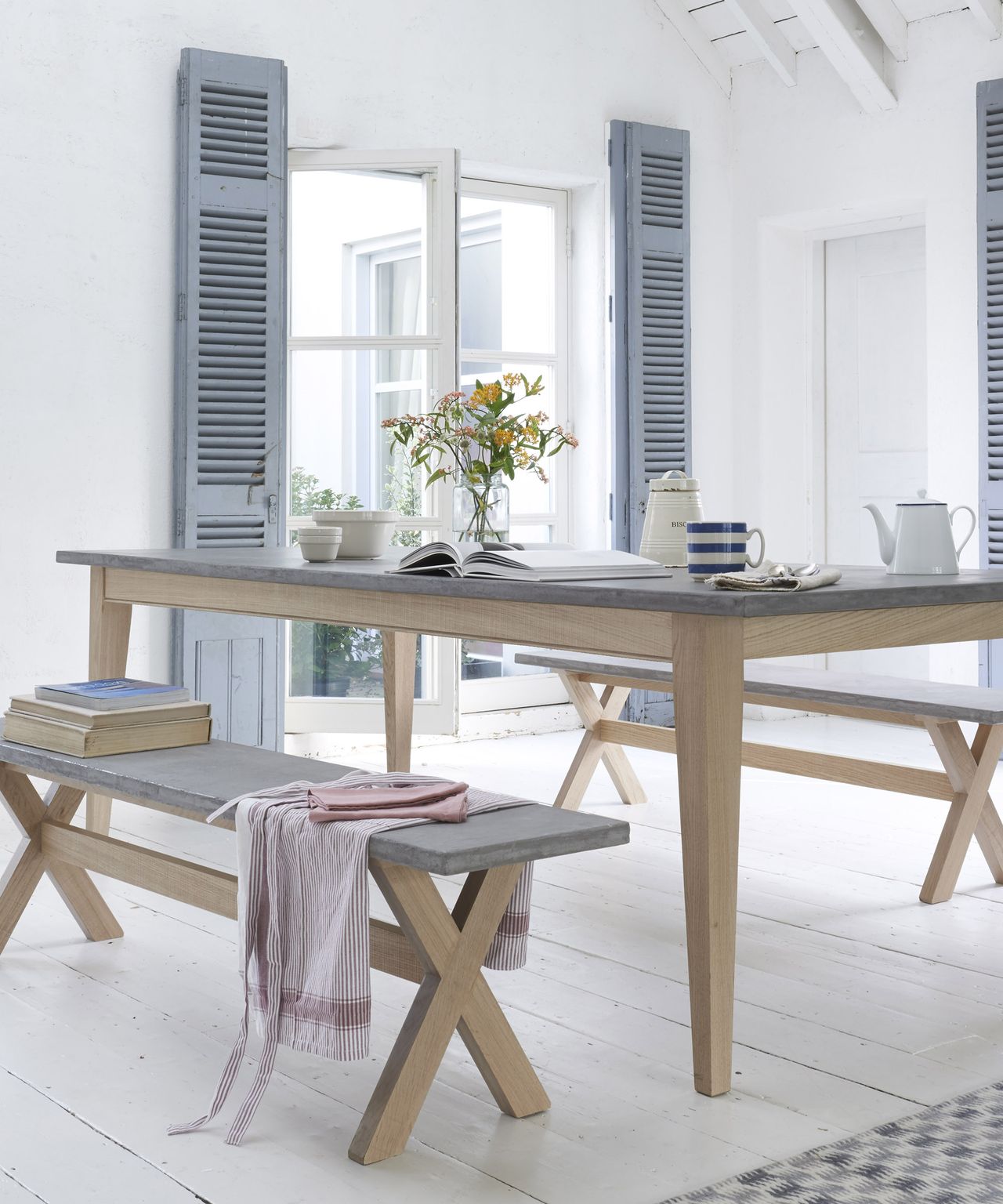 As cool and edgy as concrete is, it can be tough to maintain, especially if it gets grubby and greasy with spills and food stains. You may be thinking that it is not a family-friendly surface as it's stubborn to clean. 
So, if you're still looking for something that's quirky and can resist everything your kids throw at it (literally), try looking for a faux concrete table top which uses resin instead.
This conker oak kitchen table by Loaf looks like lovely polished concrete but is actually a tough resin that is wipeable, warm and beautiful. This alternate to concrete is lightweight, very durable and incredibly practical and easy to clean.
And the long and thin, blue-grey shutters are a soothing tone too, as one expert explains:
'As grey can be quite cold, it's really important to consider the natural light direction in the room you are decorating. If you have a south-facing room, I would recommend a green and blue undertone.' says Bradley.
10. Go for an all-grey area – but use different shades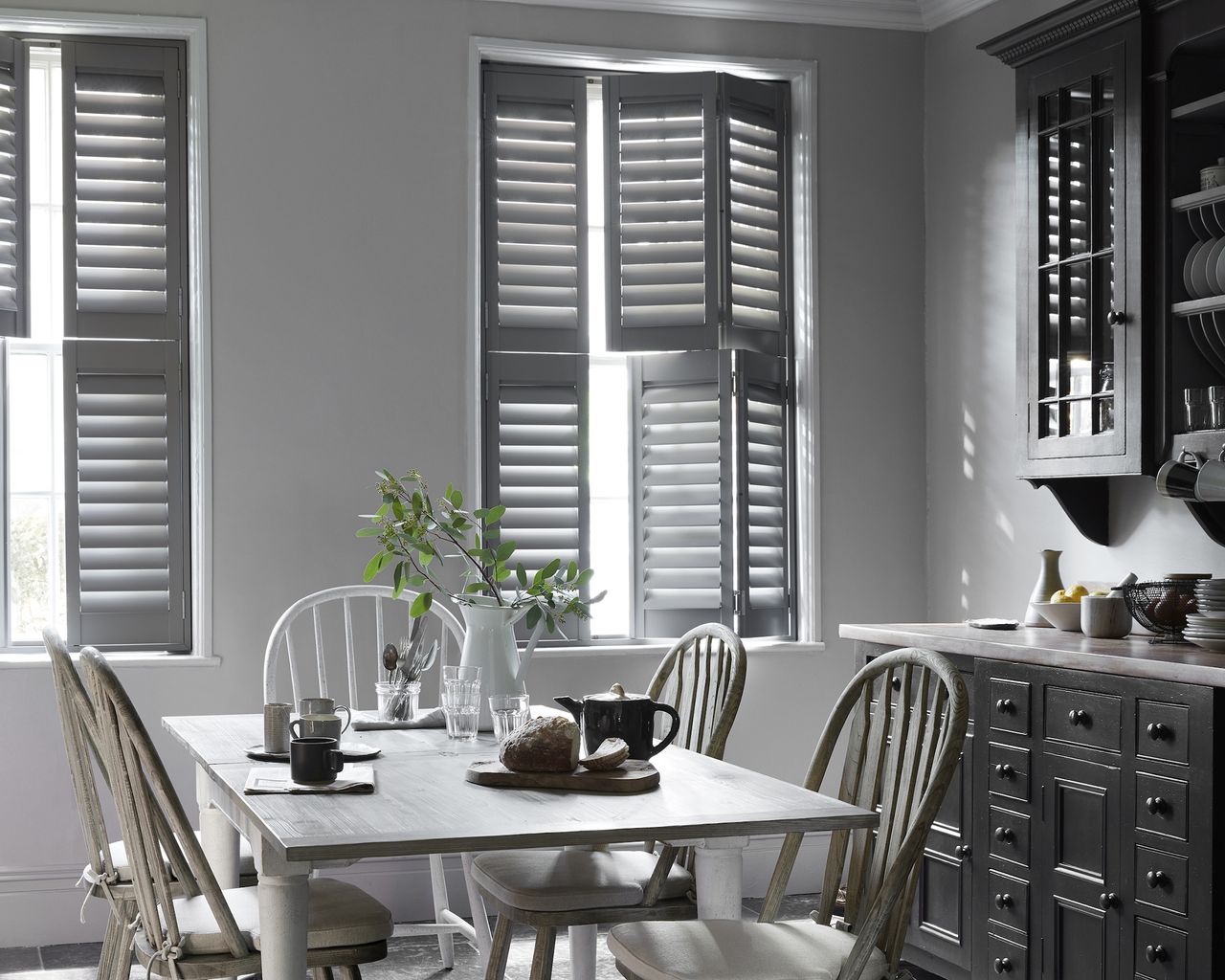 'To offer a beautiful twist to any room, I recommend choosing grey as an alternative to white, when decorating your woodwork. But make sure you are matching the undertone to the colours on your walls, to add elegance, character and drama to the room.' says Bradley.
For example, using a window treatment like shutters can help create an intimate atmosphere in a grey dining room idea that envelops your dinner guests in coziness.
11. Freshen up grey with florals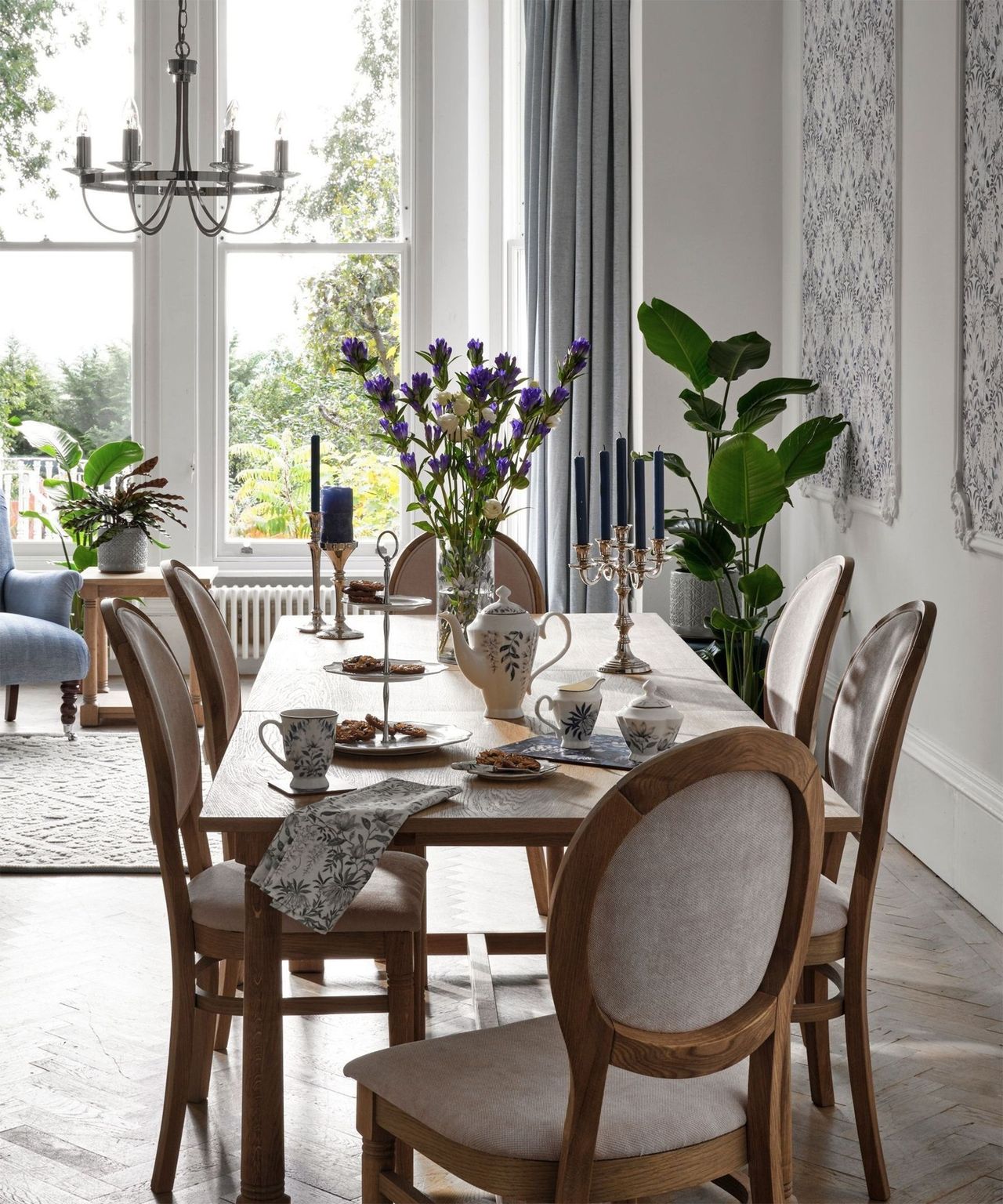 'A beautiful and easy way to soften the look of a grey room would be to introduce a light, bright and airy floral print into your walls through panelled wallpaper sections – this will freshen up the grey and create a softer slightly more feminine feeling in the room' says Helen Ashmore, head of design, Laura Ashley.
'If you're looking to make a grey room feel a little warmer, try incorporating a floral print into your soft furnishings such as cushions, curtains and bedlinen, this is a great way of bringing in some accent colours to your scheme and softening the look.'
'Another beautiful way to soften the look of a grey room would be to style with gorgeous warm-toned wood furniture pieces. The warm colours and natural look will balance out the coolness of the grey. Team with a fresh floral in your curtains and cushions to create a cosy and welcoming environment.'
Which color is best for a dining room?
'Grey is one of the few evergreen interior trends. This versatile shade can be used to create a light and airy scheme or a rich dark luxe look,' says Rhiannon Phillips, buyer, rugs, Carpetright.
'The important thing to remember is to add personality. Whether that's through decorative accessories or layering, hits of texture and tonal pieces will help to pull the look together. Our textured grey rugs are an easy way to achieve this look without breaking the bank.'
Why is grey a good color for a dining room?
'A great alternative to pure white and extremely on-trend in terms of the latest interior color schemes,' says Matt Phillips, head of UK operations, Rotpunkt.
'Grey brings a soft, neutral element to any type of kitchen dining room setting, while adding sophistication to a dual color palette – especially when used in combination with stark white accents and contemporary matt black elements.'
'The need for more sensitive interior design has reawakened the markets love for industrial-style kitchens where individual expression is being achieved through careful material selection and this has led to the specification of more forgiving colors like grey, which are extending both the lifespan and resilience of kitchen surfaces.'
'For me, interior color trends continue to embrace the darker color palette, showing fewer primary colors and a greater emphasis on black which is contrasted by shades of grey, taupe and biscuit beige.'
How can I make grey look less 'cold' in a dining area?
'Layering your lighting will help a cooler grey shade feel warm and inviting,' says  Xander Shreenan, interior designer at home decor brand, Dowsing & Reynolds.
'Choose soft glow options for your wall lights and have at least your ceiling light on a dimmer switch so you can control the ambiance. Carefully place table and floor lamps in corners and on shelves to create additional pockets of light. As a finishing touch, candles will give that lasting comfortable, homely feel.'
https://www.realhomes.com/design/grey-dining-room-ideas