Island paint color ideas: 11 ways to bring personality to a kitchen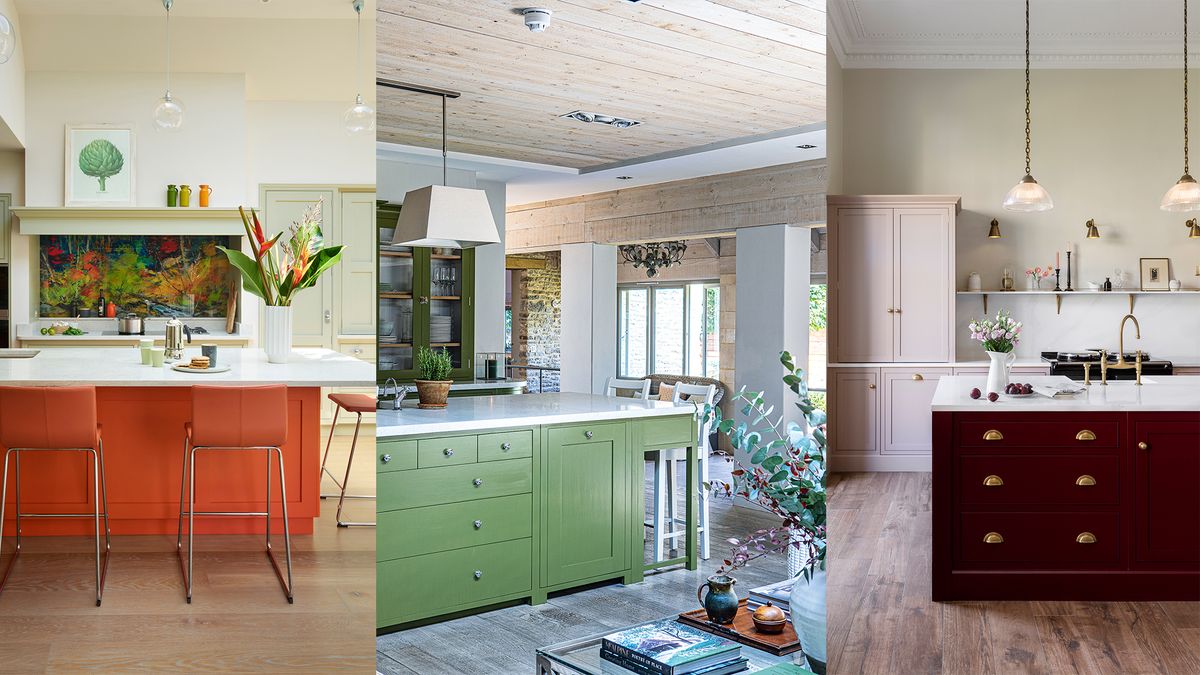 Island paint color ideas are a fabulous way to bring personality to a kitchen or kitchen-diner, allowing you to stamp your individual style on the space.
Kitchens are the heart of the home and spaces where we spend lots of time, so it's important they are spaces we enjoy being in and color can play a huge role in this. An instant mood-enhancer, color has the power to transform the look and mood of a space, so when it comes to choosing shades for your kitchen island it's worth thinking carefully about how you want the space to feel and function.
To help get you inspired we've rounded up an array of paint colors to think about, alongside the more structural considerations for your kitchen island ideas, along with some handy tips from the experts.
Island paint color ideas
Choosing island paint color ideas can be tricky as the options are endless. In the past it's been common for kitchens to be painted in neutral colors with the island painted to match, but more recently industry experts are seeing a shift to more experimental painted kitchen ideas as homeowners seek to make their decor more unique.
'We're seeing much more color being introduced into the kitchen as we move away from stark white spaces or lots of wood. Whether this is a color pop from accessories or a lick of paint, introducing a splash of color is a great way to update a kitchen and give it a new lease of life,' says Helen Shaw, UK director at Benjamin Moore.
'More recently we have seen a trend for accent colors being used on the kitchen island as the rest of the cupboards are kept in a neutral shade. In kitchens we often see tones of blue or green being used to draw the eye to the center island, however more recently we have seen a trend for more vibrant hues coming through such as shades of teal or verdigris.'
In addition to adding personality, kitchen color ideas used on islands can be a clever visual device to help anchor schemes and define different areas within a kitchen, says Richard Moore, design director at Martin Moore.
'Color is a great way to signpost different zones within a kitchen, using different colors or shades to mark out the transition from, say, the cooking zone to the dining area.'
1. Contrast with your cabinets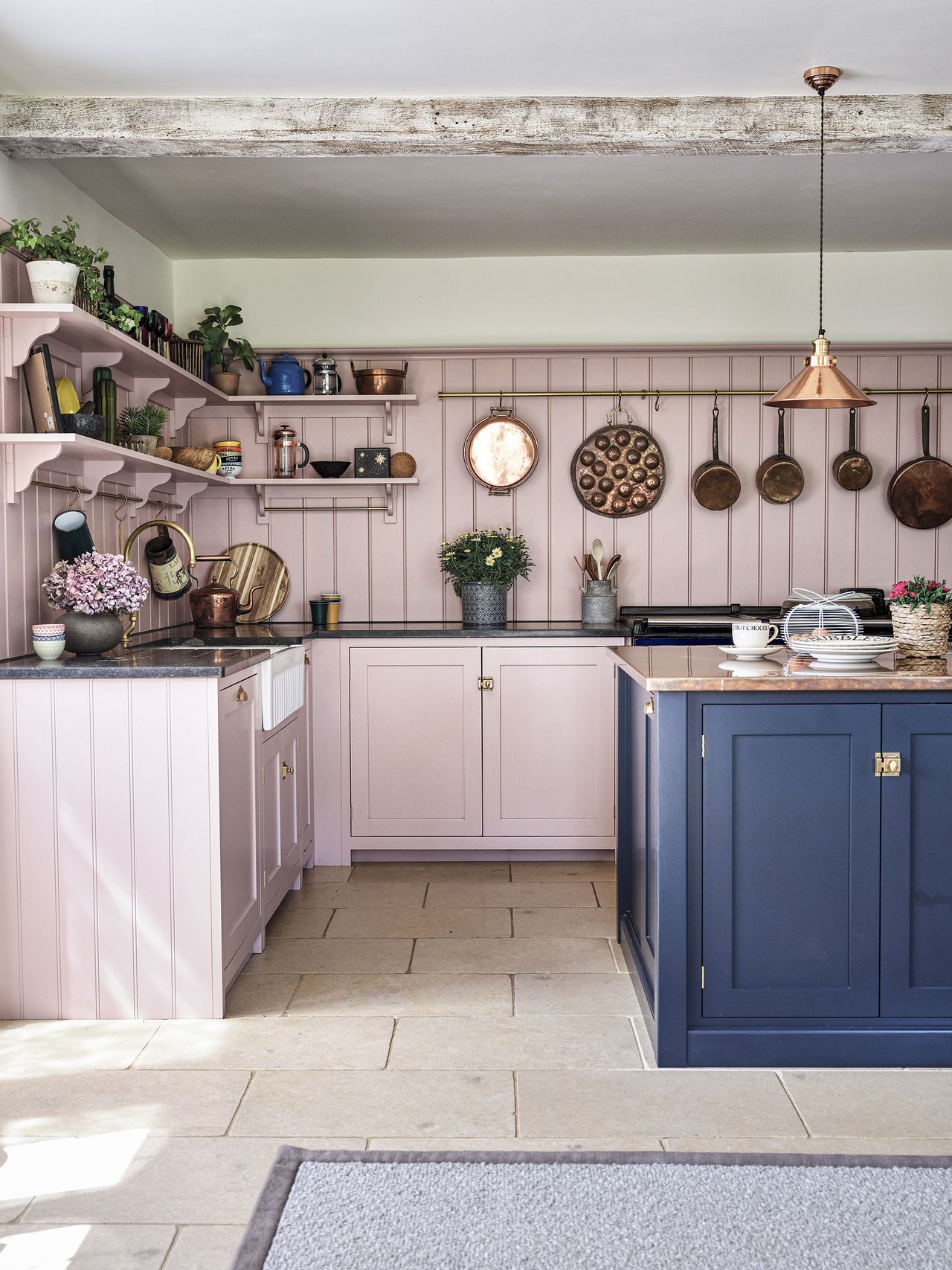 Painting an island in a contrasting color to your painted kitchen cabinet ideas is a growing design trend which offers the chance to get creative with color combinations. 'If you want to make your kitchen island a standout feature, opt for a contrasting color to the rest of your cabinetry,' suggests Ben Burbidge, managing director of Kitchen Makers and Burbidge. 'It will help to create a focal point and add a touch of contemporary luxury to the kitchen design.' 
Pastel pink and navy pair particularly well as this scheme proves – to discover what colors work well together and to help develop decorating color palettes, be sure to take a look at the color wheel. 
2. Go bold with blue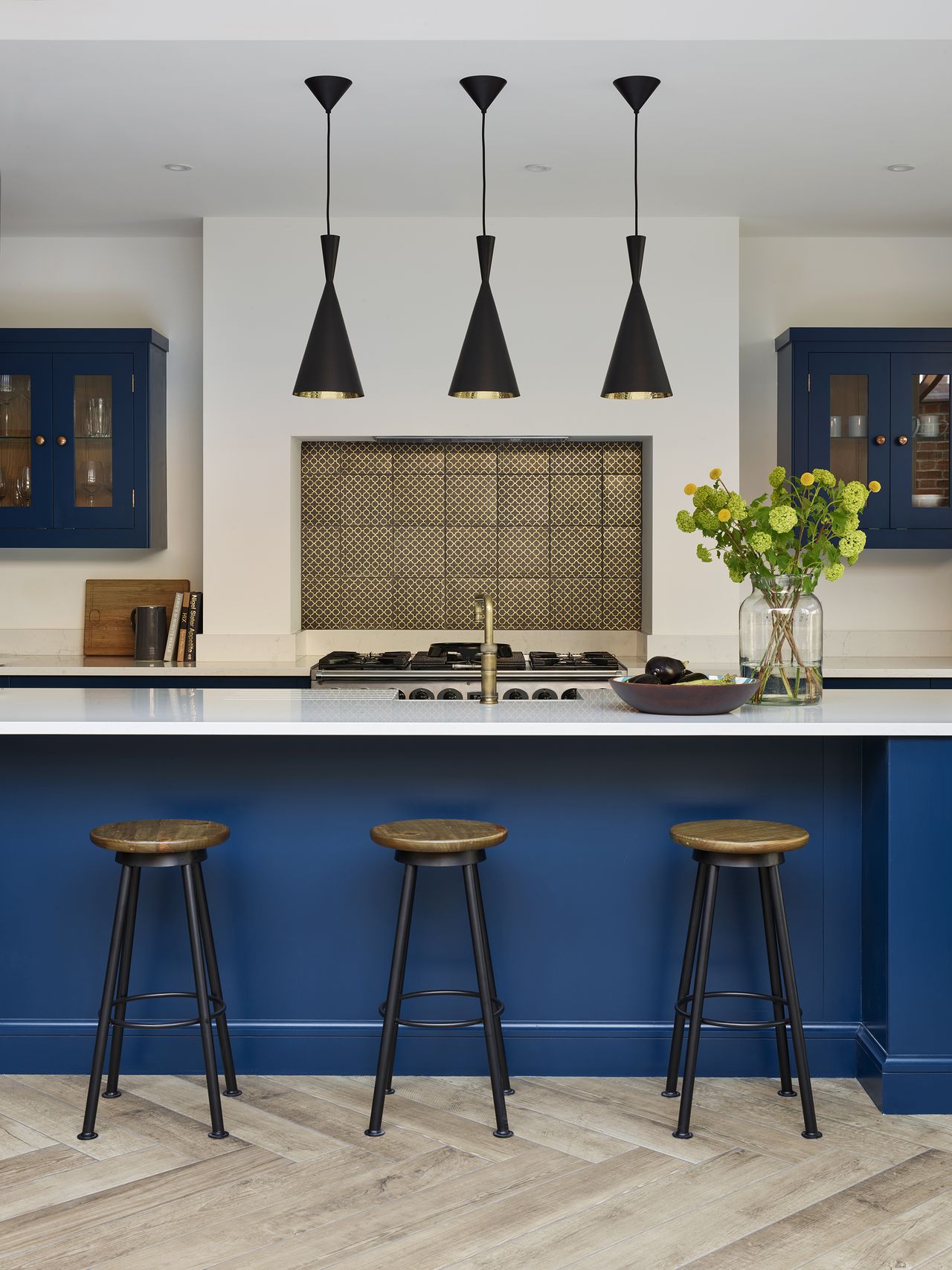 When it comes to current trends in island paint colors, 'strong, dark blues and greens or bluey greens' are all currently popular says Emma Cowburn, senior kitchen designer at Harvey Jones. 'We still see a few grays, but these are becoming less so,' she adds. Whilst they may be on trend, blues and greens are also wonderfully versatile and timeless, so make a great choice for traditional kitchens, plus they work really well with warm tones of natural wood and stone. 
If you're wondering what tone to use, 'be bold,' says adds Emma Cowburn. 'The beauty of the island is that is a smaller surface area to re-paint. So, my advice is to be bold and let the island be a show of your personality! Who cares if it doesn't work in five years' time – you have a painted kitchen, you've paid for the option to repaint – enjoy that benefit!'
3. Bring the outside in with leafy green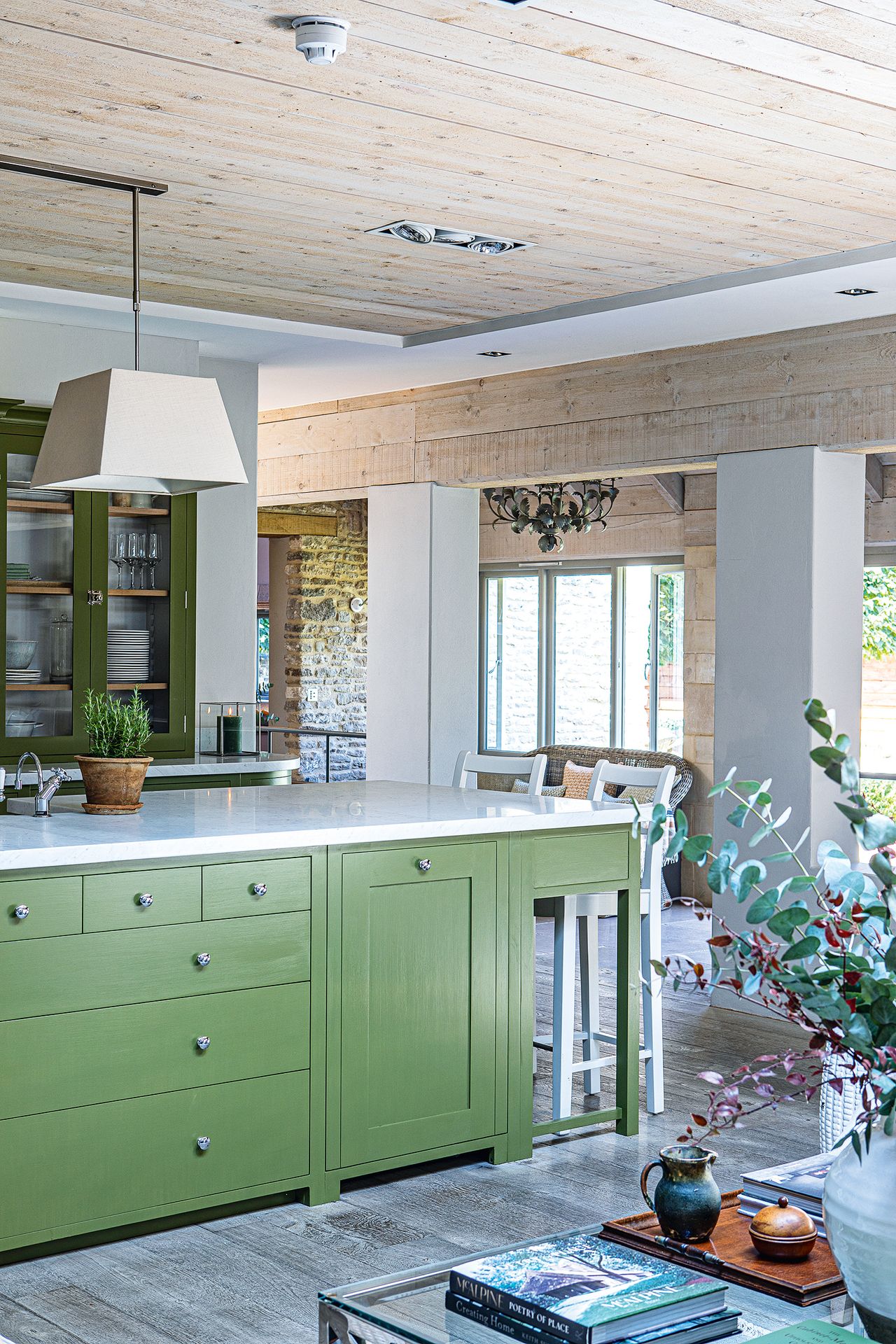 Inextricably linked with nature, botanical green island paint colors are a brilliant way to bring vitality and energy into a kitchen. Conjuring the beauty of nature, green is a timeless shade which has the ability to calm as well as energize and bring optimism, so it's no wonder that green kitchen ideas are proving popular. Ranging from crisp apple shades to deep forest tones there's plenty of inspiring ideas to choose from.
4. Create drama with dark colors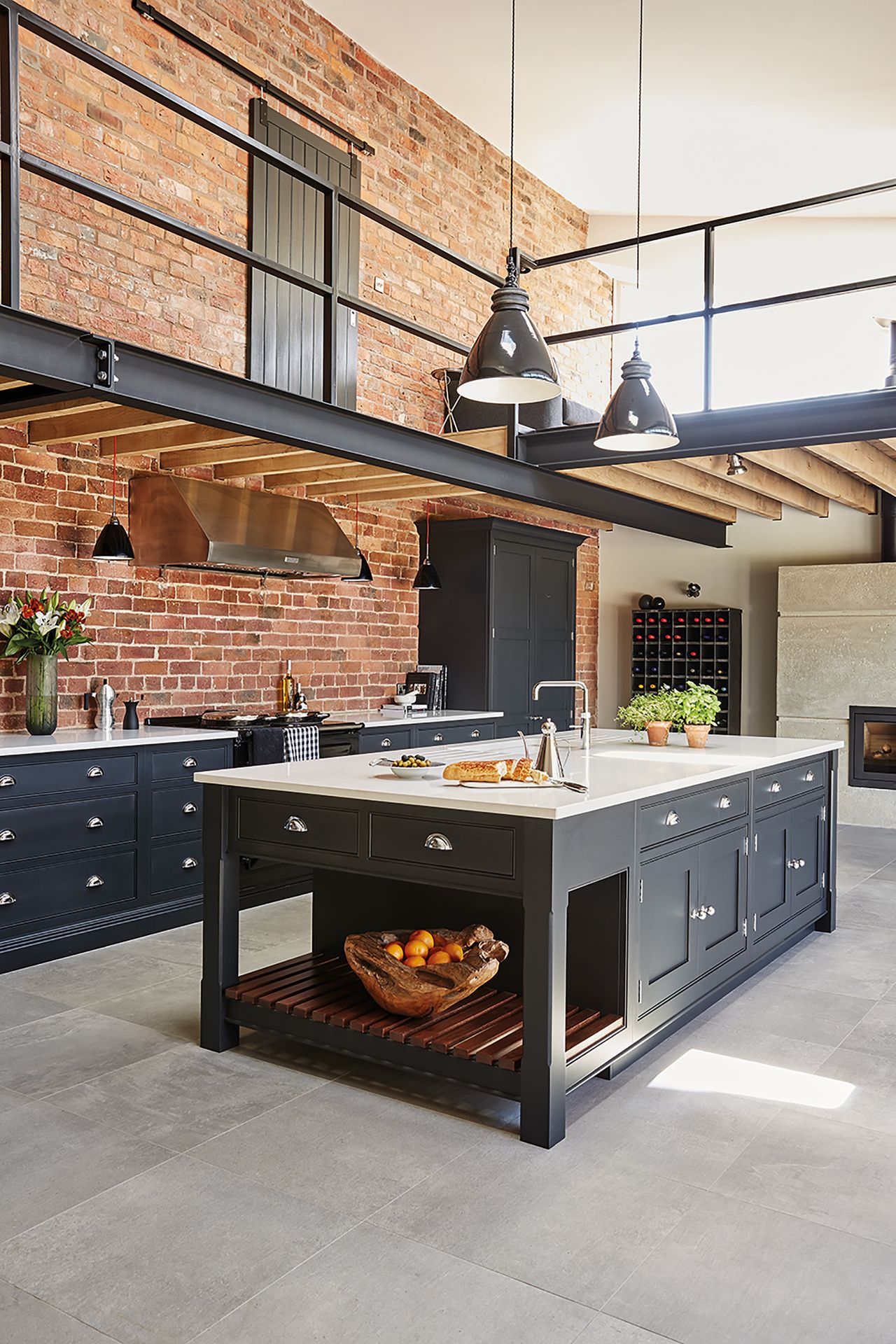 If you're looking to make a statement then why not consider a dark kitchen island? 'Dark and dramatic black paint finishes have a way of adding ambience and sophistication to a kitchen,' says Tom Howley, design director of the eponymous kitchen company. 
'Used on the main run of base and wall cabinetry, black can look luxurious and majestic with a timeless, intimate appeal. If you're not feeling as brave, why not opt for a statement black island counter, or maybe black accessories like taps and handles?' 
5. Bring joy with vibrant orange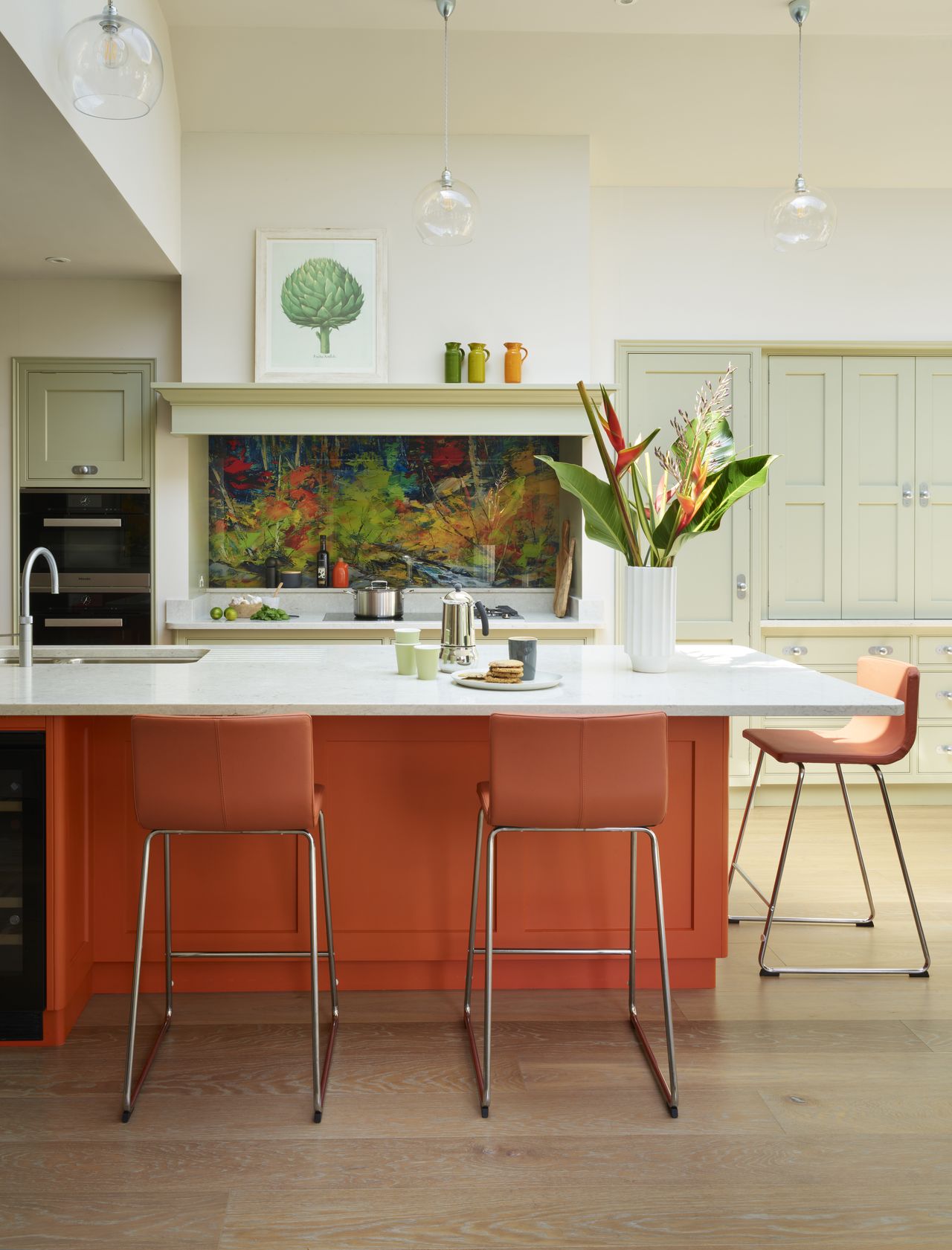 If you love bold color but are cautious when it comes to using it within interior design, then try limiting it to use on a kitchen island suggests Richard Moore, design director of Martin Moore. 
'You can always successfully incorporate bold colors into a kitchen – it just depends on how adventurous you want to be with it. For those who want to introduce color without overwhelming a space, we would recommend choosing stronger shades for small touches such as a feature island, bench seating, or even cupboard interiors.'
Joyful and warm, orange is guaranteed to bring an uplifting, happy feel to a kitchen even on a gloomy day.
6. Opt for classic black and white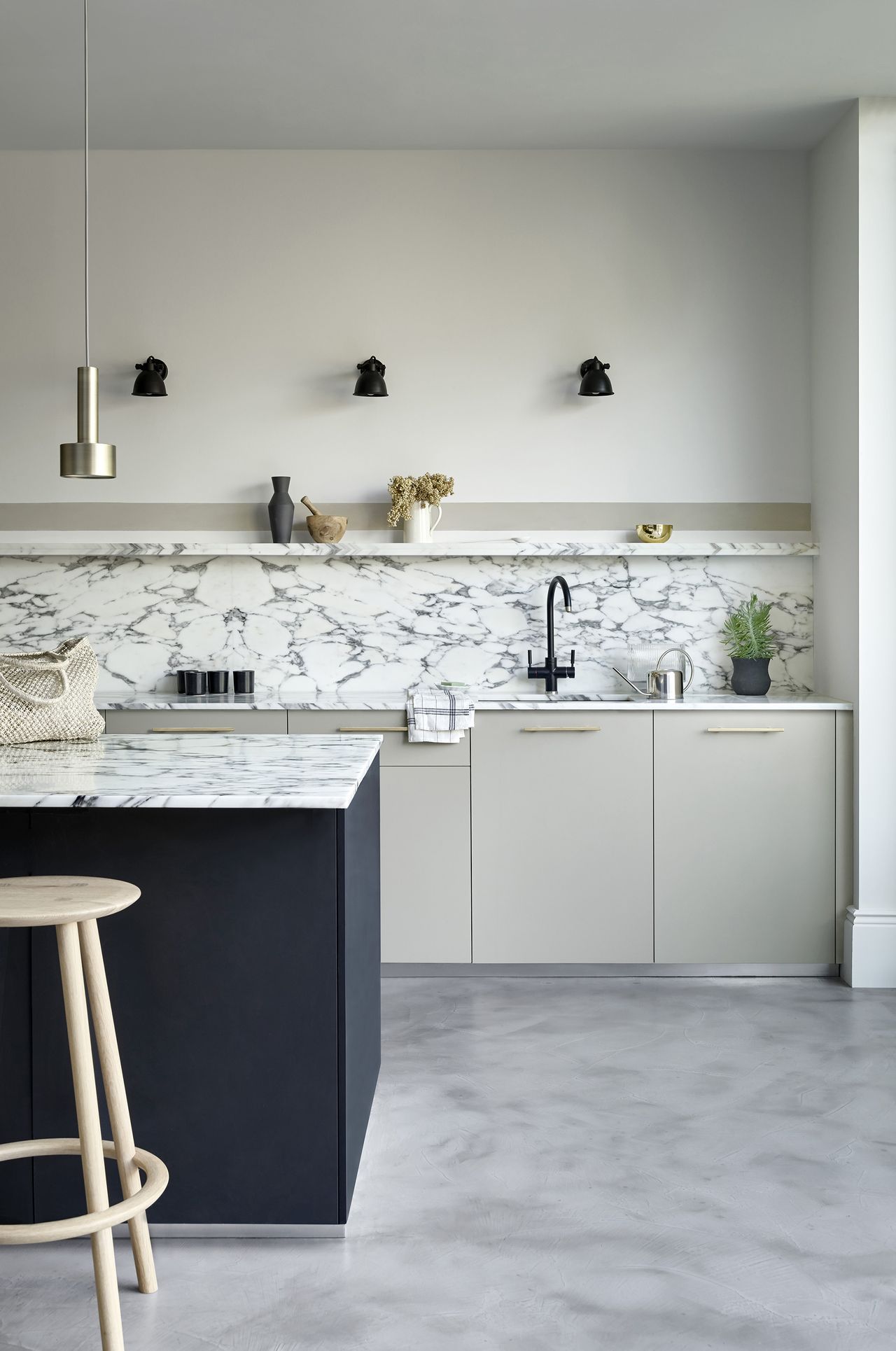 A kitchen is a big investment as well as a space in which we spend lots of time, so when it comes to design longevity is key. For a look which will stand the test of time you can't go wrong with a black and white kitchen. 'Paired-back monochromatic design schemes will create a timeless look,' says Andy Greenall head of design at Paper & Paint Library. Painting an island in a dark color and keeping base cabinets light is an easy way to achieve this. 
Not only does the dark color on this kitchen island create a sleek and timeless look, it is also helps tie the kitchen scheme together by co-ordinating with the dark veins of the stunning marble splash-back and worktop.
7. Show off brass fittings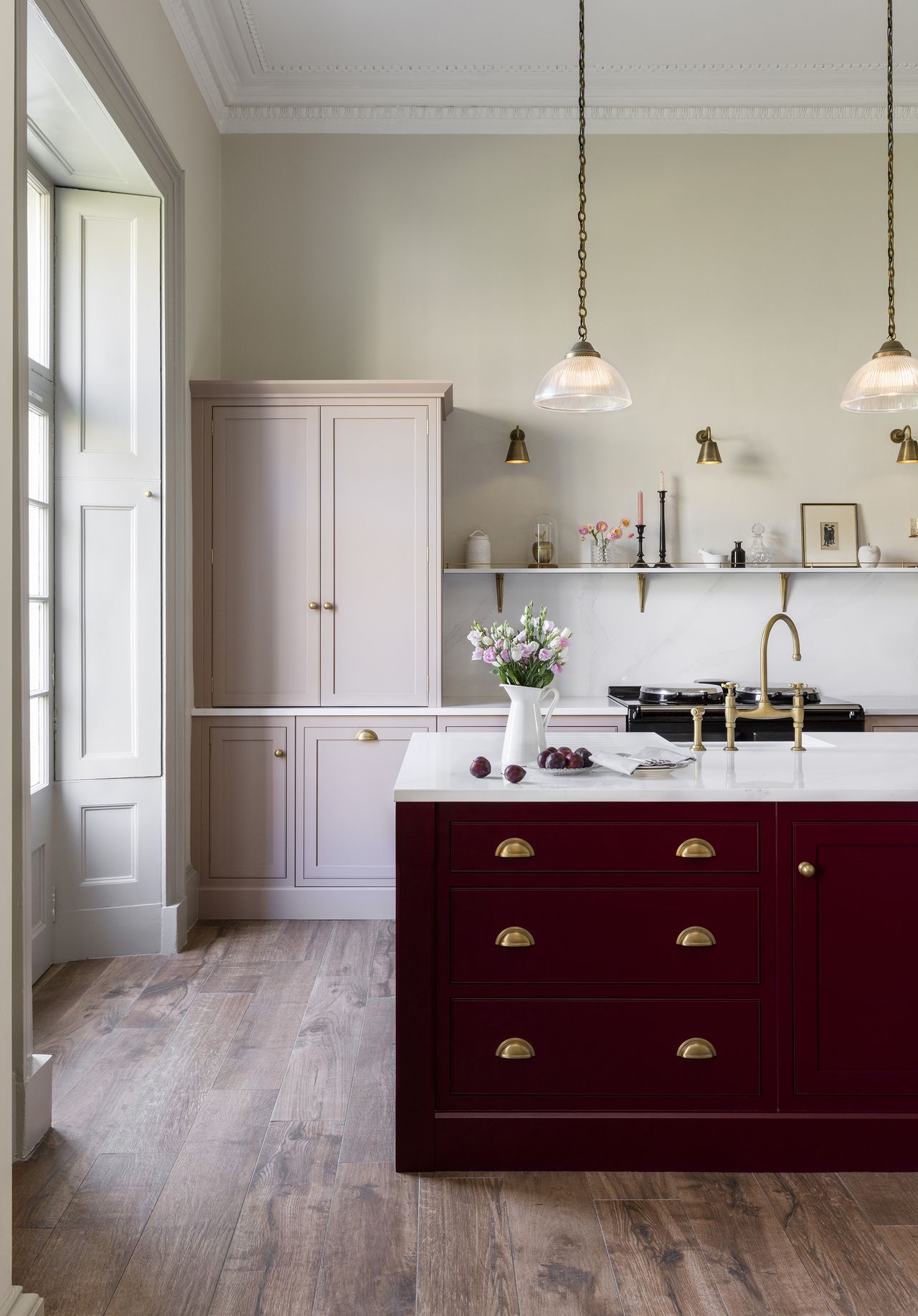 When it comes to choosing paint colors for an island you need to consider a number of factors: from the colors used in adjoining rooms to the direction of natural light, but it's also worth thinking about the finer details, too such as what colors might sit well with the fittings you're planning to use. 
'With brass handles and accessories becoming more popular, that dark island contrast really makes the gold stand out,' says Emma Cowburn, senior kitchen designer at Harvey Jones. 
Charcoal and navy set off brass particularly well, but for a modern kitchen idea why not venture to the warmer end of the spectrum and try a deep wine shade and pair it with a soft pink as demonstrated here?
8. Bring warmth with yellow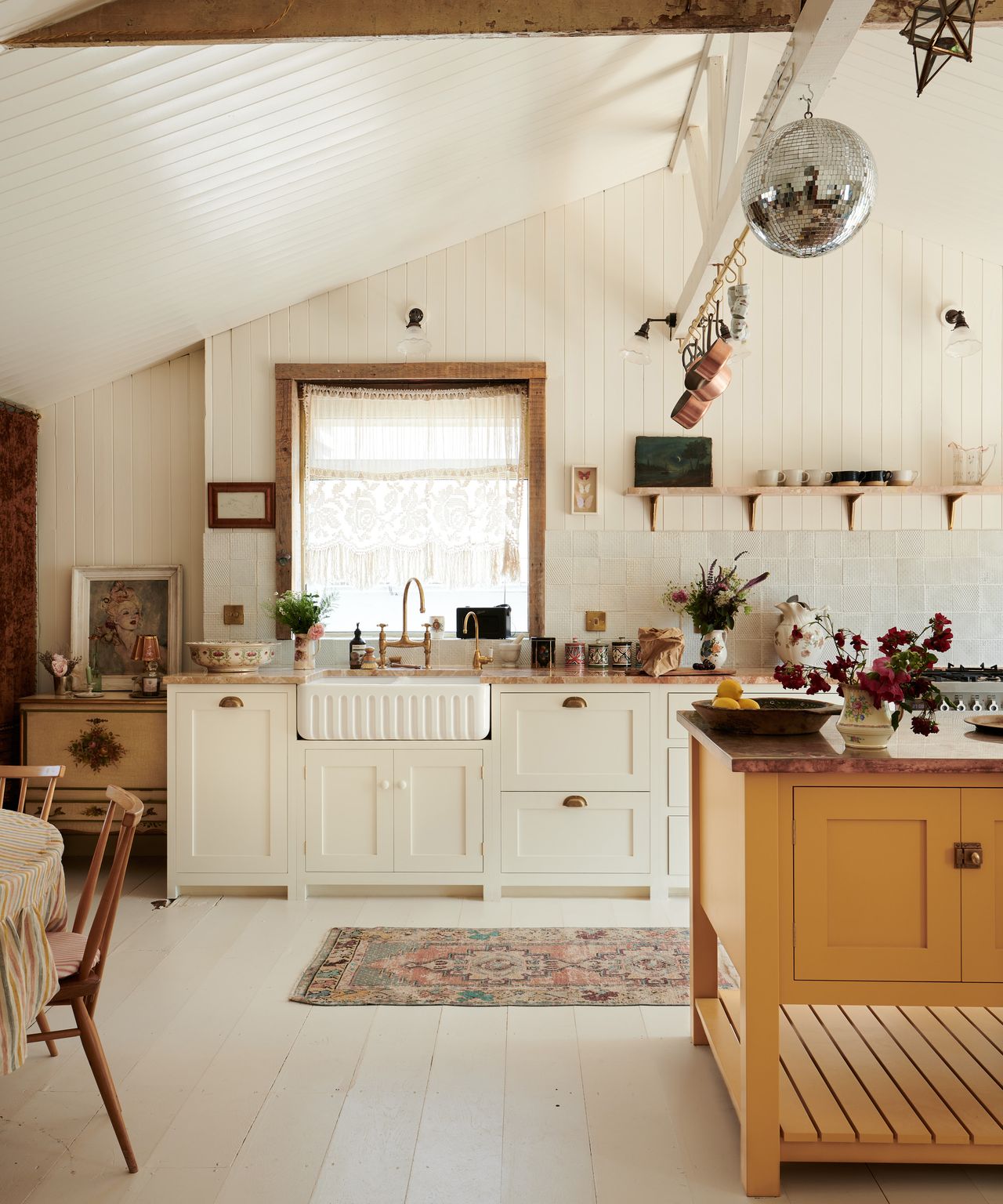 If you're looking to bring warmth and joy to a kitchen then you can't go wrong with a golden yellow. Beautifully uplifting and brimming with vintage charm, 'this Shaker kitchen is simply designed, just one long run of 'Linen' cupboards and a 'Scullery Yellow' prep table with a copper worktop,' says Helen Parker, creative director at deVOL. 
A brilliant color for everyday spaces like kitchens, 'yellow is a shade that provides positivity to a space. It is a color that makes us feel uplifted, happy, energised and invited,' says Ruth Mottershead, creative director of Little Greene. 'Yellow paint colors have an inherent brightness, freshness and warmth that makes them an ever-popular colour all around the home, creating a feeling of warmth and cosiness, it is sunshine in your home.'
9. Try a dark green in a light space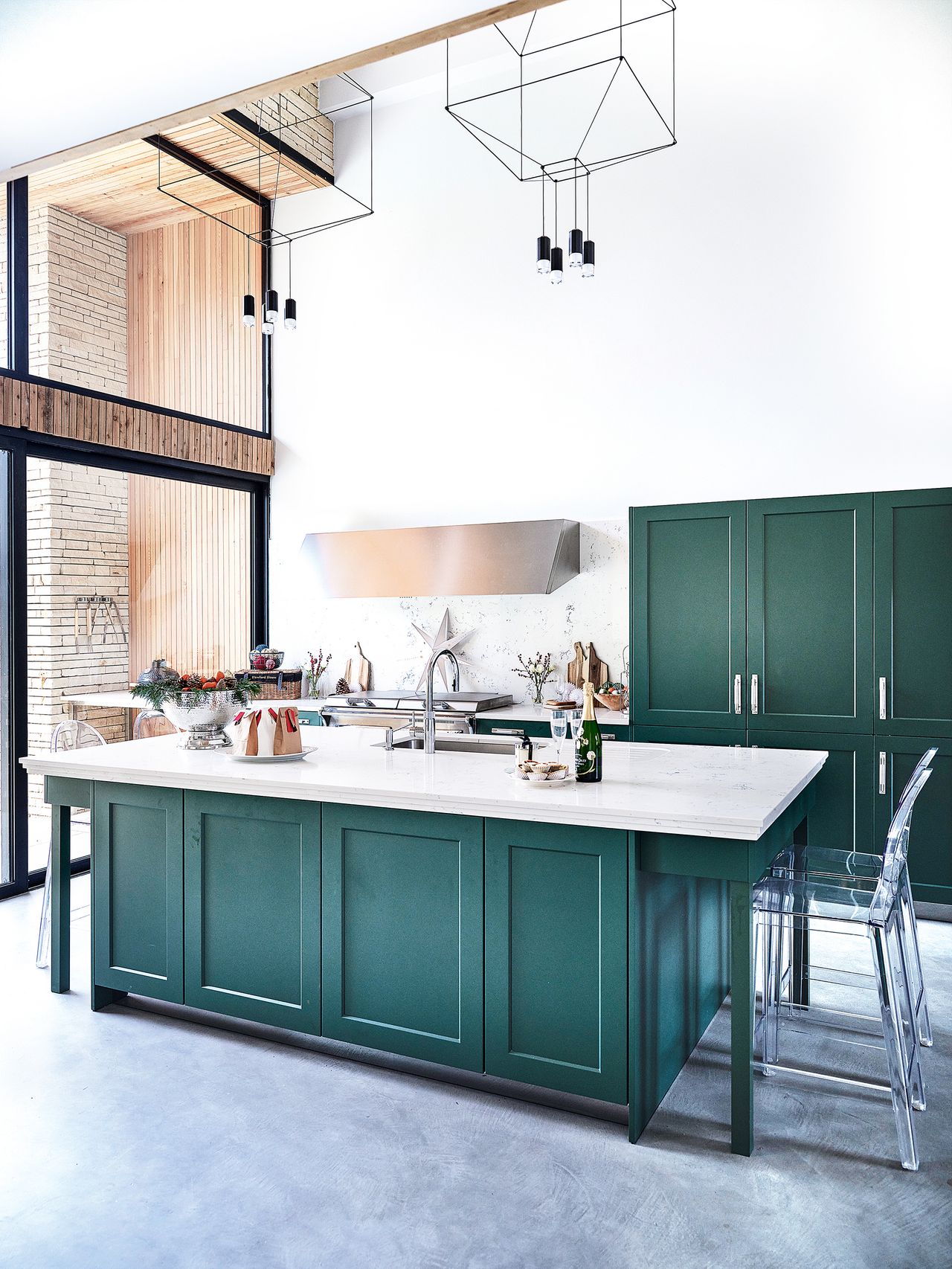 Industry experts have tipped green to be one of the most popular kitchen colors in 2022. The beauty of green is that is it hugely versatile with a green for almost every style and situation. Choosing the right green for your kitchen can be tricky, but there are some key things to consider says Leanne Dunn, director of Planet Furniture. 
'Natural light plays a major role, as do ceiling height and window position. Lots of light and space lend themselves to darker or bolder shades. Your choice of worktop and tiling will also influence the shade – natural finishes such as oak and granite look great with lighter greens whereas bright white offers a striking contrast to deeper shades.'
10. Brighten the space with pastel blue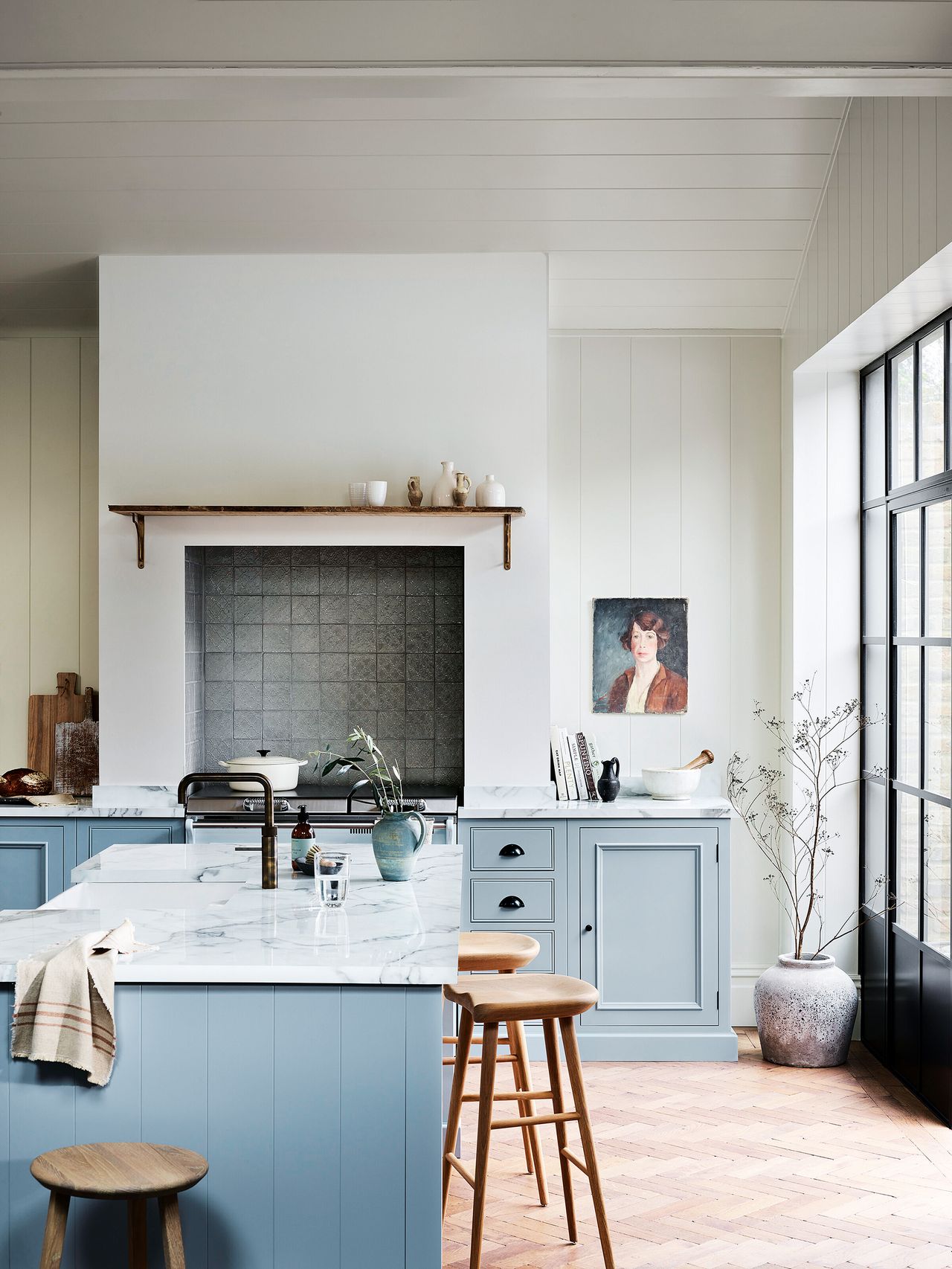 Bright and uplifting, yet with enough color to bring personality, pale blues make a timeless choice for kitchen islands. Conjuring the sea and sky, light blue is naturally soothing and is guaranteed to bring a calming feel to busy family kitchens.
Pastel blue and duck egg are also brilliant colors for a country kitchen as they pair beautifully with the honeyed tones of natural stone and timber.
11. Take inspiration from a wallpaper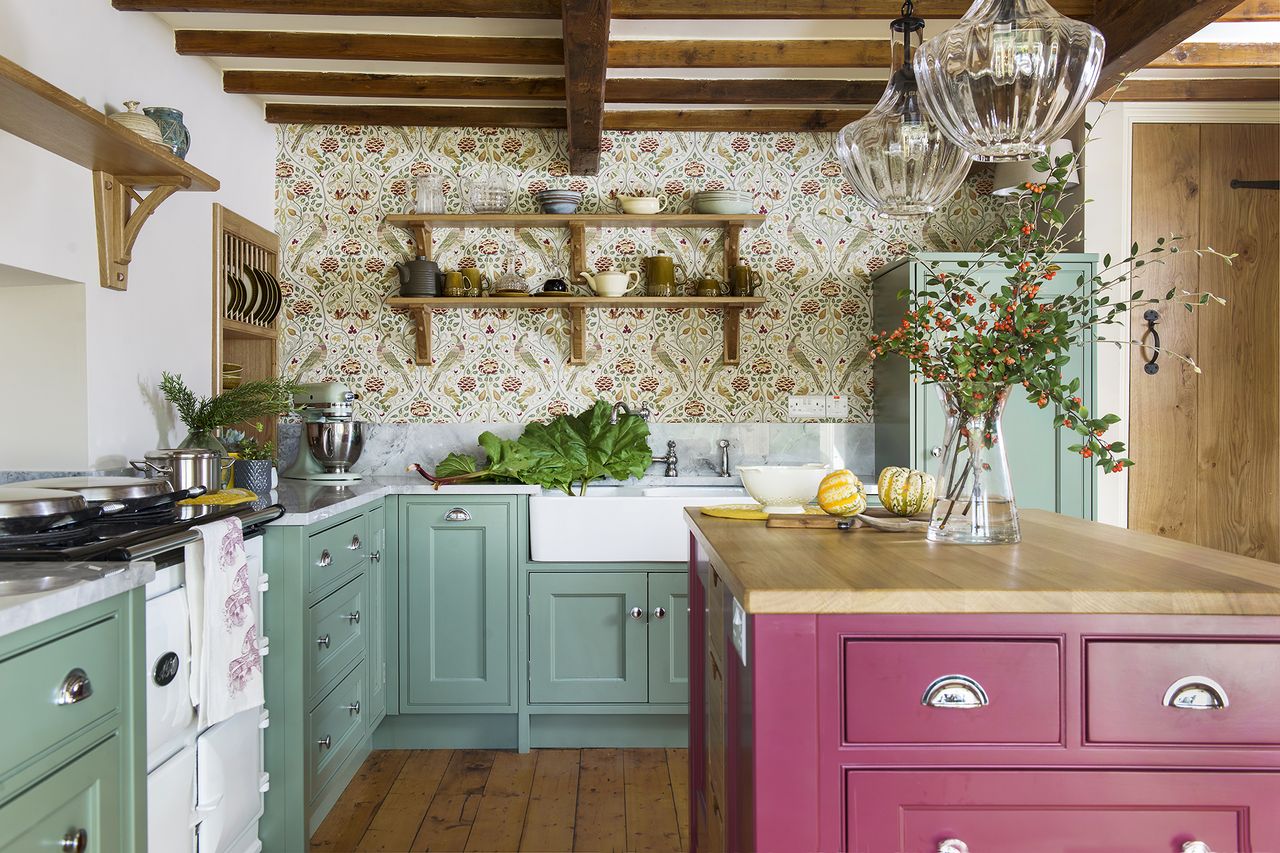 If you're wondering what colors to paint your kitchen island and cabinets, then a kitchen wallpaper or a fabric print can be a great place to start. In this kitchen the base cabinets are painted in Farrow & Ball's Calke Green and the island in Radicchio, both of which both correspond to tones found in the Morris & Co wallpaper used on the feature wall.
Can a contrasting island paint color make a kitchen look better?
Paint is a quick and easy way to make a kitchen, and kitchen island, look instantly better. With a huge array of colors to choose from paint is the perfect way to add personality to practical spaces like kitchens and, provided your island is suitable for painting, a fresh coat can instantly transform the look and feel of your kitchen.
To create a statement consider try a vibrant shade such as orange, or a experiment with a contrasting shade to your base cabinetry. Alternatively, try a calming neutral for an uplifting, timeless space. 
What is best paint finish for kitchen island?
Kitchens are one of the busiest rooms in the home so it's important that the paint used on an island is hardwearing – durable satin and eggshell finishes which can be easily wiped clean are the best finishes for an island. To get the best finish when painting a kitchen island be sure to use a primer and to familiarize yourself with how to paint kitchen cabinets.
Practicality is key when it comes to choosing a paint finish for an island, but it's also worth thinking about sheen, too, explains Ruth Mottershead of Little Greene. 'The choice of finish used determines the level of sheen, so the look and feel of the space is an important consideration. Matt and eggshell finishes are classically beautiful when paired with wooden countertops and stone flooring, whilst a sleek high gloss finish can look striking and contemporary.'