Media Room Becomes a Guest Suite, Thanks to These Design Details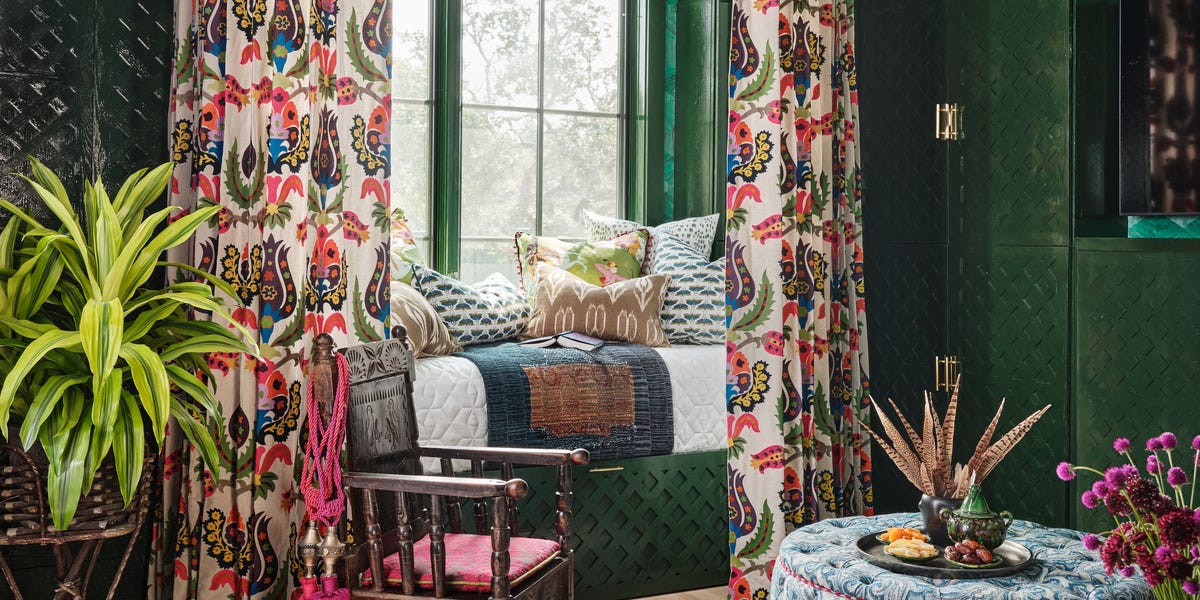 A den or other lounge-y room that doubles as guest quarters is always a great use of space—but if you don't set it up with comfort in mind (indulgent textures, sustainably sourced elements), you probably won't end up getting many visitors. That's why, when designing the dual-purpose media room and visitor's suite in House Beautiful's 2021 Whole Home, the team at French & French Interiors created an inviting area with eco-friendly accents that friends and relatives would not only admire but clamor to reserve. Pull-out couches need not apply.
"We wanted the space to really envelop you," explains Heather French, lead designer and co-founder of the Santa Fe-based husband-and-wife firm. That began with what she calls "this really dramatic bed space" made for the most sumptuous of afternoon naps and Sunday morning lie-ins at the built-from-scratch spread in Fredericksburg, Texas.
Opting for a custom trundle bed that can be converted into a king-size sleeper, they had an oval curtain rod custom-built to wrap around it. "You can draw the drapery and just really disconnect, get cozy, read a book, and be private," French says. And since they were going for the look and feel of an upscale boutique hotel, they swathed the mattresses in linens from Macy's Oake line made with TENCEL™ fibers. Crafted from renewable wood sources and cellulosic fibers that absorb and wick away moisture, TENCEL™ fibers are not only compostable and biodegradable but also durable, breathable, and less prone to wrinkles than other fabrics. "They're incredibly soft and insanely luxurious," adds French. "They're similar to cotton but smoother, with an almost satin feel. They're really, really beautiful."
Hooked on the material's soft-to-the-touch vibe, she also selected TENCEL™ Modal towels for the room's adjoining bath. "Everything in the whole space has this special feel to it," she says.
French then tackled the crucial job of choosing the right fabric to surround the sleeping quarters, knowing that's what would bring the rest of the design elements together.
"Generally, for all of my projects, I start with a keystone fabric," French says of building the scheme around one standout piece. And she went wild for the bold green, blue, pink, and orange hues in an embroidered option from Fabricut. To play off of the fabric's rich emerald shades, she paired it with Phillip Jeffries geometric wallpaper and a high-gloss Farrow & Ball paint for the custom entertainment center. The cabinetry itself is equal parts functional ("Guest rooms can kind of be the dump place for the stuff you're not sure where to store, and this gives you an option to hide it all away," says French) and fashion, thanks to the latticework and the fun striped Farrow & Ball wallpaper inside.
Known for their ability to play with colors and prints, the designers were thoughtful about each piece they brought in. They draped a vintage Suzani fabric over the couch, for example, because the pattern was similar in size to the drapery.
"As you add in more pattern, you want to make sure to vary the scale," French says. The team went with a smaller pattern for the bed and sofa cushions, which "makes the room not seem so busy and crazy."
The other key, French adds, is to make sure that the colors all jump off of each other, incorporating at least a few solid-hued pieces, too, that stop the eye. This is the thinking behind the white Geometric Embroidered Quilt from Macy's Oake line made with TENCEL™. "We wanted to keep the bed simple and clean," she says, reasoning that in every room, "you kind of need that breath of fresh air."
The result is what French calls a real destination space: a multi-purpose, multi-functional spot that serves equally well as a quiet private library or movie-night venue. "It feels like a place that you'd want to come back to, to spend time with your family and guests."
This content is created and maintained by a third party, and imported onto this page to help users provide their email addresses. You may be able to find more information about this and similar content at piano.io
https://www.housebeautiful.com/room-decorating/bedrooms/a37476301/this-cozy-media-room-transforms-into-a-proper-guest-suite-thanks-to-these-design-details/