Mnuchin's 740 Park Avenue Apartment Sells to Lacey Tisch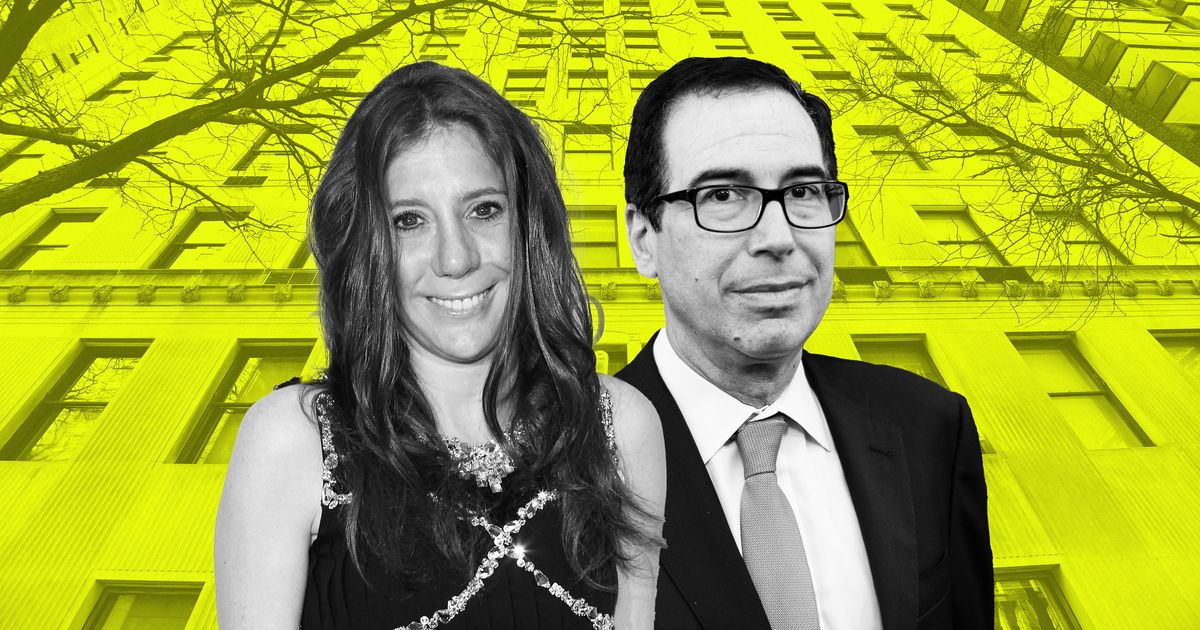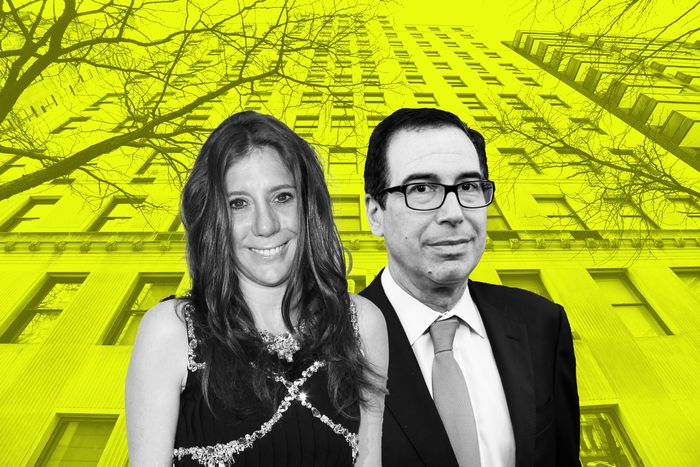 Photo-Illustration: Curbed; Photos: Getty Images
It took three years and a $10 million price cut, but Steve Mnuchin, Donald Trump's Secretary of the Treasury, has finally sold his apartment at 740 Park Avenue. The buyer, Lacey A. Tisch, the daughter of Loews magnate Andrew Tisch, purchased the apartment for $22.5 million using a trust in her name, according to city records.
The 12-room duplex on the 9th and 10th floors of what is widely considered the richest co-op in the city has the features you'd expect: its own elevator landing, marble floors, high ceilings, wood-burning fireplaces with marble mantels and an 800-square-foot living room with four oversized windows "across 34 linear feet of Park Avenue frontage," according to the Warburg listing. The brokers who have that listing are Carol Terner Lederman, Mnuchin's aunt and the apartment's previous owner, and her daughter, Judy Kloner. The property has been in the family since the 1960s; Mnuchin bought it from Lederman for $10.5 million in 2000, according to Michael Gross's 740 Park: The Story of the World's Richest Apartment Building. As a New York profile once put it, "Mnuchin wasn't born on third base so much as a few inches to the left of home plate." While a student at Yale, he drove a Porsche and lived at New Haven's Taft Hotel.
So it's fitting that his old apartment is going to another child of privilege. (Though not surprising: The old Park Avenue co-ops are not known for being particularly welcoming to the self-made.) Tisch, whose grandfather Larry Tisch founded the Loews Corporation conglomerate with his brother, is the director of brand marketing at Loews Hotels, according to her LinkedIn page. But she also has some business ventures outside the family firm: she founded Travelin Gals, which provided gadding-around-the-cocktail-bars-of-Europe advice for young women but appears to now be defunct. And this fall she's opening a wellness space, Sage and Sound, on the Upper East Side. Very 2021!
Tisch will be moving three blocks north from the 5,000-square-foot duplex she purchased at 655 Park Avenue in 2014. She paid $16 million for that one, also a co-op, also with a private elevator landing and lots of marble. She is married to Jonathan E. Schulman, a lawyer.
Mnuchin's apartment was first listed for $32.5 million in 2018 and went through several price cuts, most recently to $25.7 million. Apparently, he hadn't used it as his primary residence for a while (he and his third wife, Louise Linton, have a 22,700-square-foot house in Bel Air, and of course they did that little stint in Washington), as the somewhat dated renovation indicates. One of the master bedroom's en-suite bathrooms (there are two) has a black floor, a black toilet, and a black shower. (Maybe that's where Linton got the inspiration for the leather outfit she wore to the Bureau of Engraving and Printing?) That highly dramatic bathroom is also located right next to a built-in office space, separated by what appears to be a pocket door, which is certainly convenient for work from home but perhaps not ideal for Zoom calls. Also probably not the original Rosario Candela layout.
But renovating shouldn't be a problem for anyone with the means to buy at 740 Park. The building, which doesn't allow financing, was the childhood home of Jacqueline Kennedy Onassis. Other former residents include John D. Rockefeller Jr. (first occupant of the big penthouse), insurance mogul Saul Steinberg (who bought Rockefeller's old apartment); David H. Koch, who died in 2019, and John Thain (of the famous office renovation). Blackstone Group founder Stephen A. Schwarzman (who now owns Rockefeller's apartment ) and Madoff associate Ezra Merkin live there now as well.
https://www.curbed.com/2021/09/mnuchins-740-park-avenue-apartment-sells-to-lacey-tisch.html