Pantry storage ideas: 10 ways to keep your pantry organized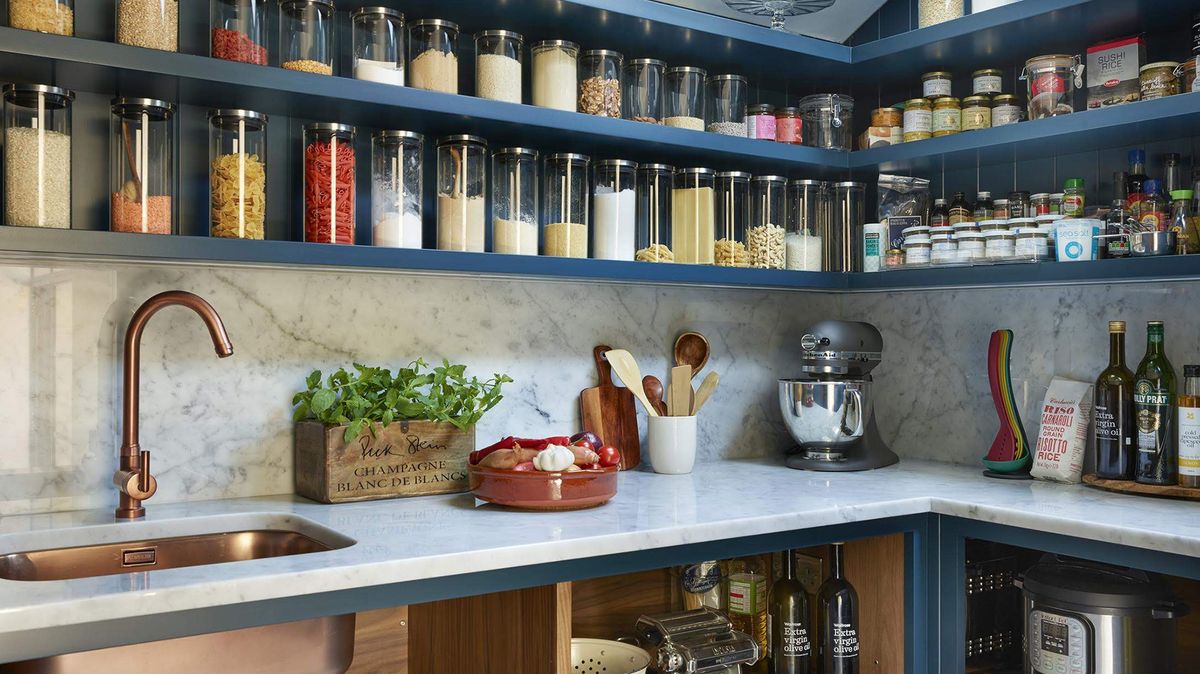 Pantry storage ideas are an important part of any larder or pantry design. The ultimate kitchen storage solution, the pantry was historically used to store food primarily, but today it has evolved into multi-functional space used to store not just food, but also large appliances, serveware and table linens. In fact, anything that keep our kitchen feeling clutter-free is especially important with today's open-plan living spaces. 
If space allows, a large walk-in pantry offers the ultimate storage area, while bespoke pantry designs integrated as part of a fitted kitchen are a brilliant way to maximize kitchen storage. Alternatively, a freestanding pantry or larder may be a flexible solution if space is at a premium. Whatever the size or style of pantry you chose, taking time to plan the pantry storage ideas within it is essential for ensuring your pantry is fit for purpose – and everything is easy to find.
To help you get inspired, we've rounded up a range of storage solutions to add to your list of pantry ideas, from built-in solutions to small storage ideas for housing those store-cupboard staples.
Pantry storage ideas – what to consider
Which pantry storage ideas you choose will depend on what purpose you want your pantry to fulfil and what you need to store. 
'A pantry can offer flexible kitchen storage ideas to meet the needs of every home. From bespoke mesh baskets for vegetables, specific wine storage, open shelves to store dry goods, and an area dedicated to plugged in appliances,' says Allison Lynch, senior design Consultant at Roundhouse.
'Think about how the pantry can adapt to suit you but always consider easy access. For instance, shallow shelves ensure that items don't get lost, and a work surface to allow small machines to be stored and used without moving them into the kitchen.'
If you are thinking of adding a pantry, whether an adjoining walk-in design or integrated into a kitchen, then consider working with a kitchen designer to create a bespoke solution. 
To get the most of our your pantry storage, it's important to first create a comprehensive list of all the items you will need to store explains Charlie Smallbone, founder of Ledbury Studio.
'Every household is different, so the first step is to sit down and consider what you want to store. This might result in racks in the doors at varying heights to store spices, jars and bottles, and drawers – as well as shelves – inside to keep loose items organized,' he says. 
'Perhaps you want space for wine, which will require dedicated shelving, or space to keep small appliances such as a toaster, kettle and coffee machine, much like a breakfast bar. If so, you'll need to incorporate sockets. If you're a baker, consider marble kitchen countertop ideas that helps dough stay cool.'
1. Choose open shelving for a walk-in pantry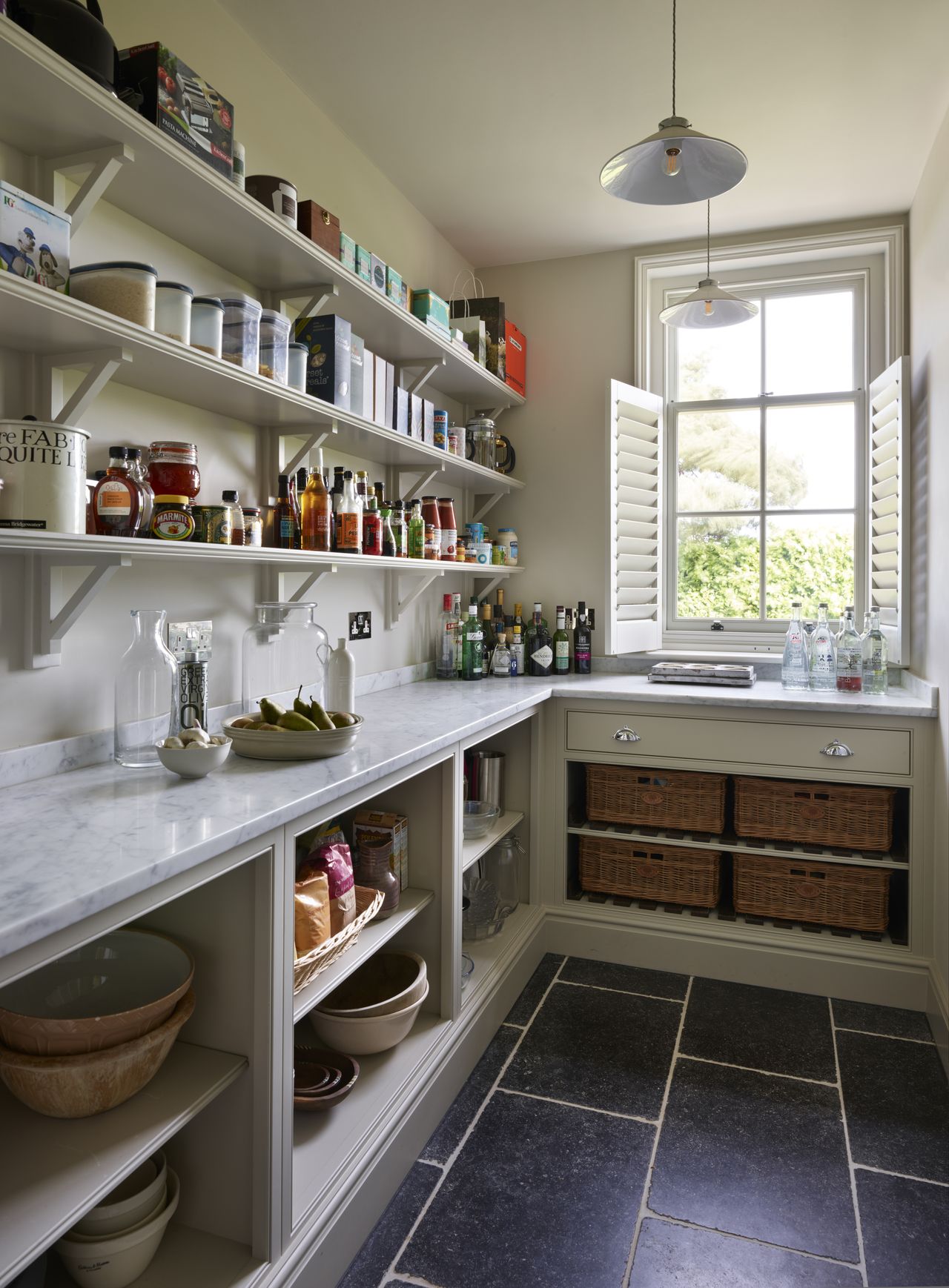 'If you are planning a walk-in pantry then opt for easy-access open kitchen shelving ideas,' says Richard Moore design director at Martin Moore.
'The beauty of bespoke pantries is that everything stored can be seen at a quick glance. For this to be the case, pantry shelves shouldn't be too deep, and should be kept to a bespoke depth that is appropriate for the items that are being stored.'
'The bottom shelves should have the most depth, being used to store platters, food baskets and more. Shelves should then decrease in depth the higher you go. This keeps everything easily accessible and easily visible,' adds Richard Moore.
2. Maximize pantry storage with bespoke shelving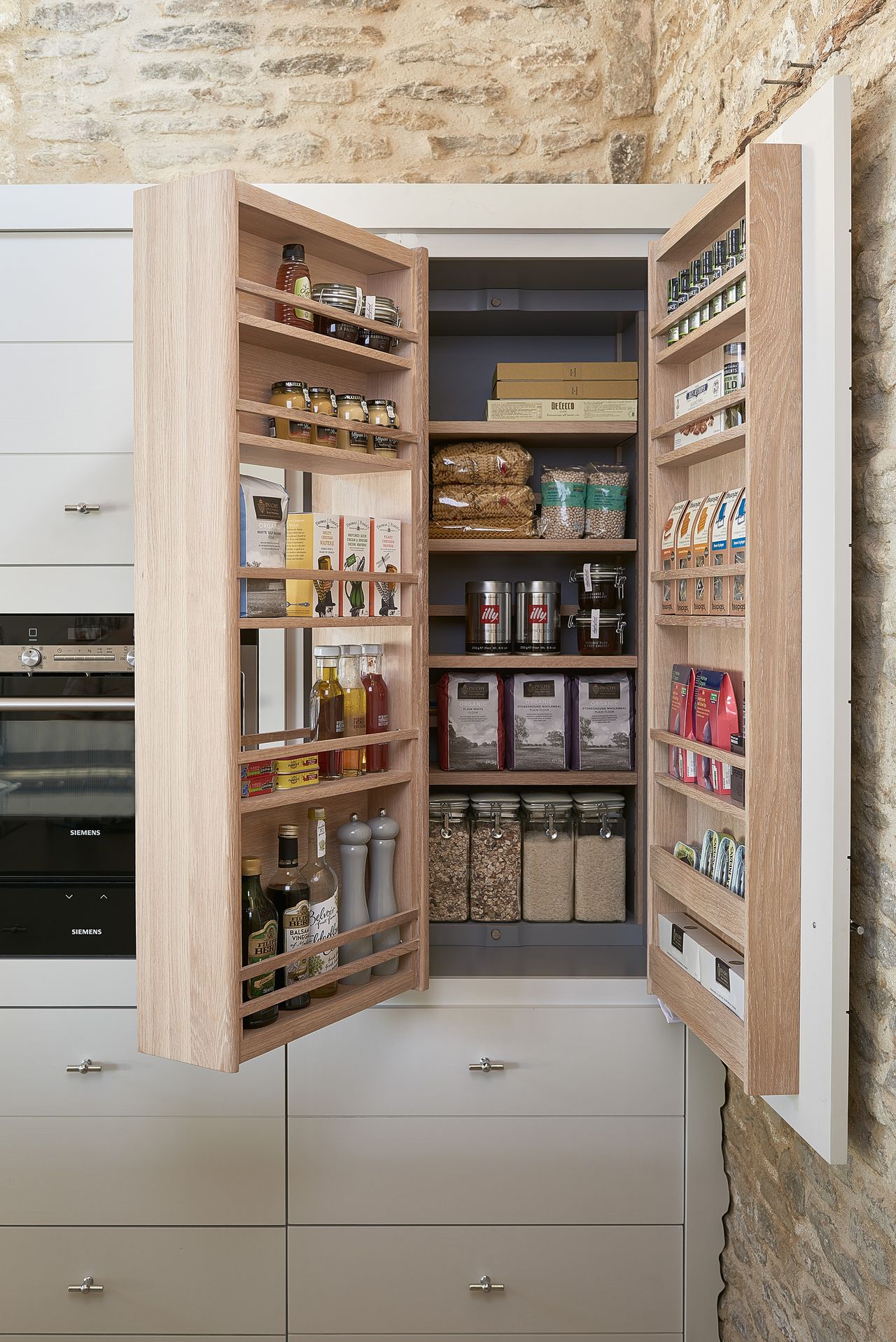 'If you do not have space for a walk-in pantry consider bespoke kitchen storage ideas such as cupboards with multiple layered shelves,' suggests Louise Wicksteed, design director of Sims Hilditch.
'Bespoke joinery is a great solution to maximize space in a small pantry. Recessing shelving into walls and creating bespoke cupboards with in-built draws and shelving in the door works well,' she says.
'Pantry door ideas and cupboards with multiple in-built shelving is a great idea for saving space. Such a design can be found in our studio kitchen (above). The deeper cupboard allows for layered shelving space which can be folded in on itself, creating three spaces in which to store food: the main body of the cupboard, the fold-in shelf and the cupboard door.'
3. Use the back of the door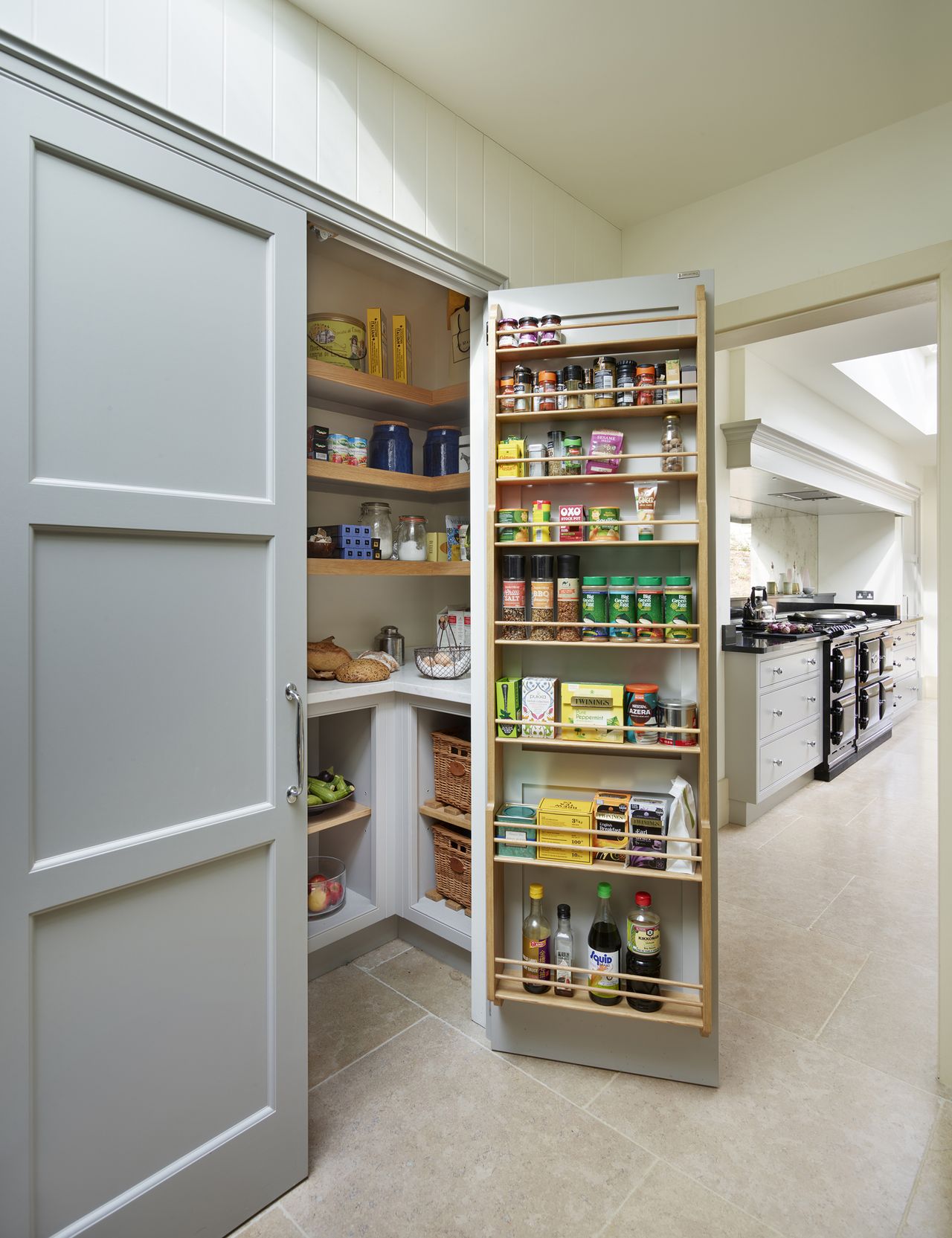 The priority of a pantry is to provide maximum storage for store cupboard ingredients, and fitting narrow shelves to the back of a pantry door is a great way to achieve this, whether a walk-in design or built-in larder unit.  Also a great kitchen cupboard storage idea, pantry door shelves are particularly handy for storing small items such as spices or for keeping frequently used ingredients easily visible and accessible such as teas and cooking oils. 
This design by Martin Moore is a brilliant pantry organization idea as offers a series of shelf heights, from small at the top, to larger at the bottom, making it a flexible solution for storage a variety of items.
4. Use storage baskets for a traditional look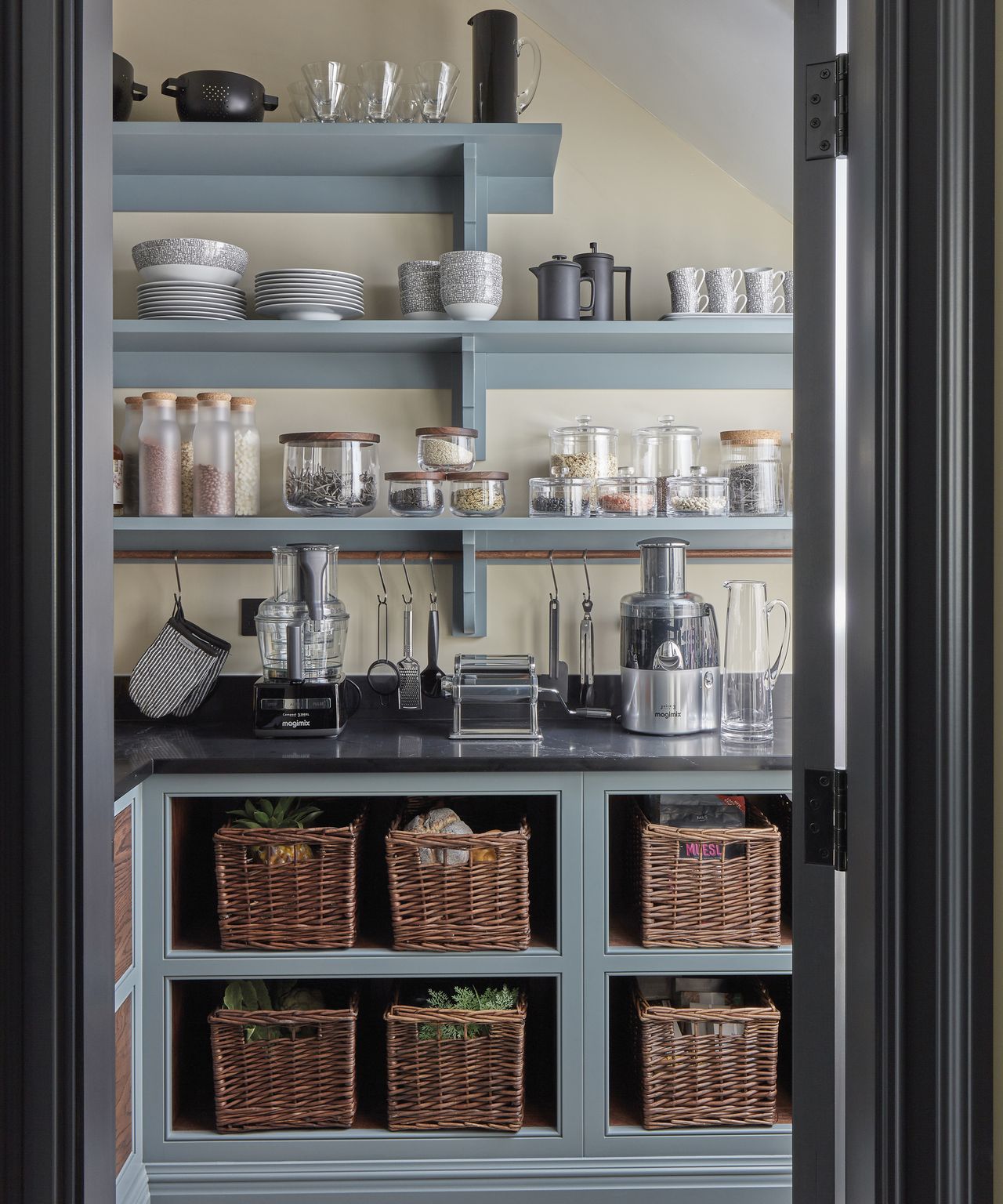 When it comes to walk-in pantry ideas, 'group similar goods together using baskets and shelf organisers,' suggests Tom Howley, design director at the eponymous kitchen company. 'This not only looks tidy but stylish when the doors are open. If including baskets or larger storage combinations take into consideration shelf height and depth,' he adds.
As good solution for storing larger items like linens, wicker baskets are a perfect country kitchen idea for those looking to create a relaxed, rustic look. 
5. Incorporate a bar area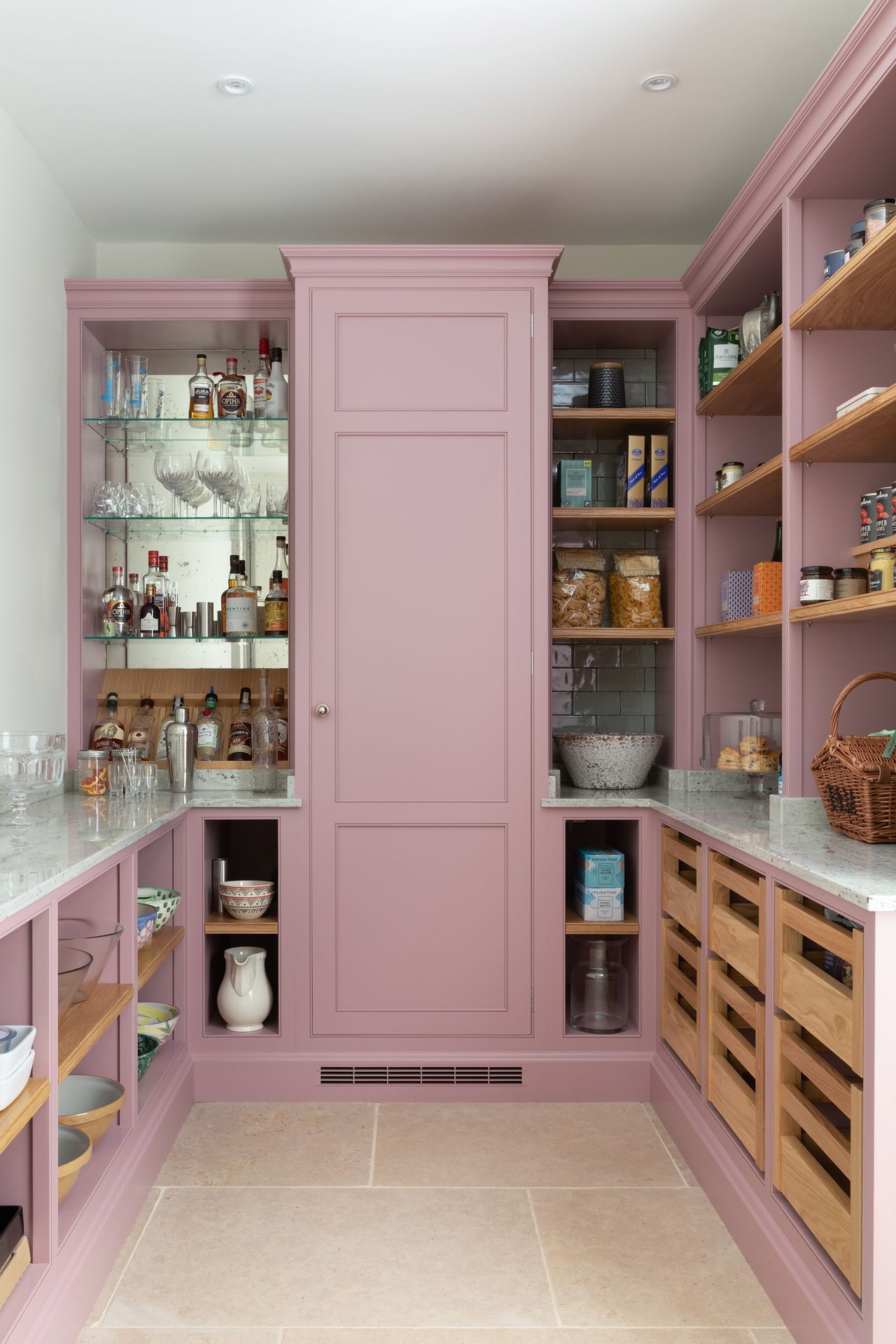 Are you planning a walk-in pantry with bespoke fitted kitchen cabinet ideas? Then consider adding an area to store liquors and spirits, as shown in this design by The Secret Drawer. 
'Introducing a home bar area within your pantry ideas not only creates the perfect opportunity for after or pre-dinner drinks, but on a more practical level it adds useful pantry and kitchen storage to conceal the less decorative and more habitually used serveware and store cupboard ingredients,' says Clara Ewart, head of design at Kitesgrove. 
'We often incorporate mirrors and glass into our designs,' explains Richard Moore, designer at The Secret Drawer. 'They not only add an element of sparkle, but they are also easy to keep clean and help to visually expand the space.'
6. Choose a sliding storage unit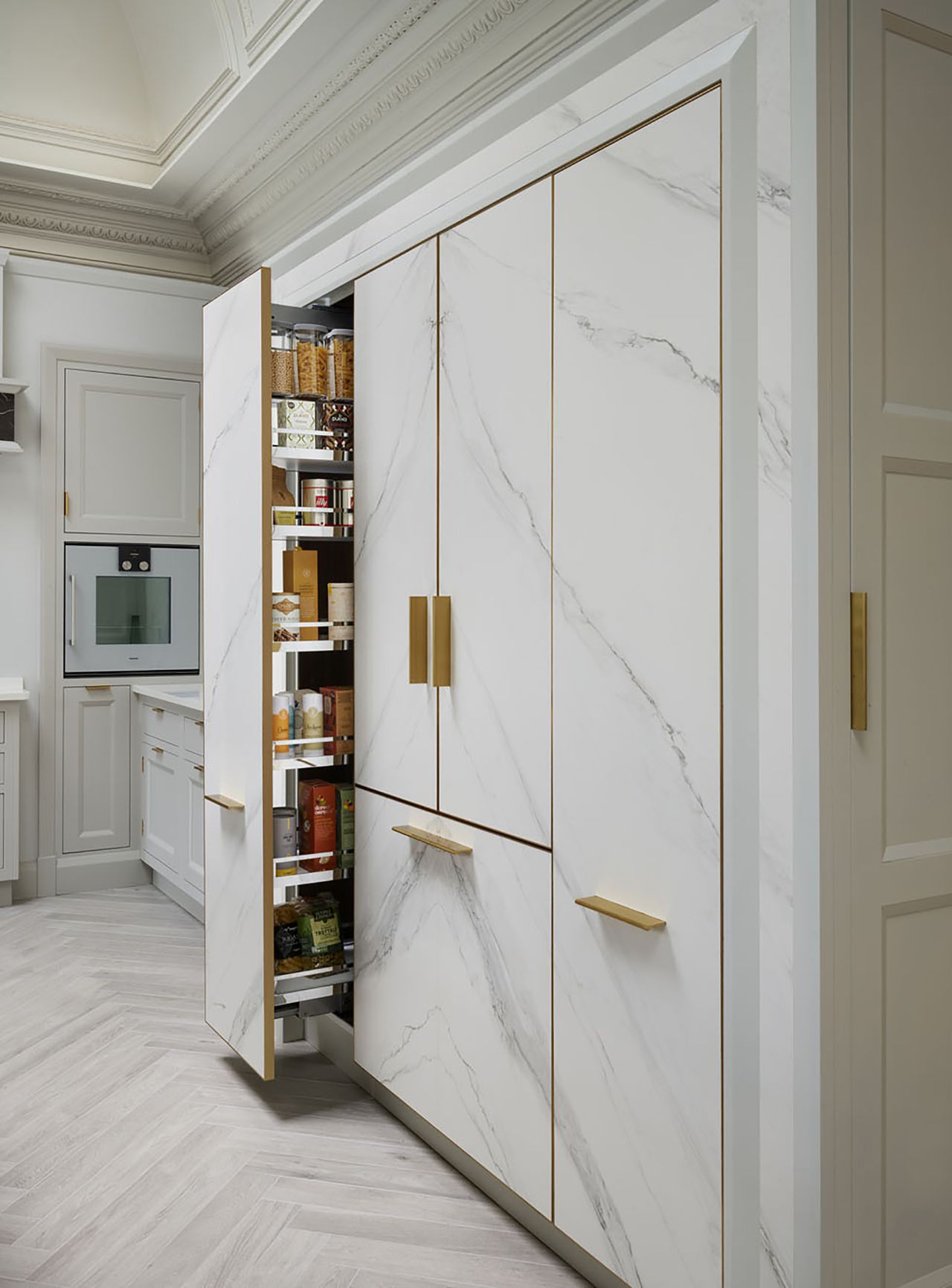 If you don't have space for a walk-in larder, consider incorporating a pull-out storage unit into your kitchen ideas. A fantastic kitchen cupboard storage idea, this allows all your store cupboard items to be viewed at once, rather than in a standard cupboard with deep shelves in which items can easily get pushed to the back and forgotten about. 
7. Store dry goods in labelled glass jars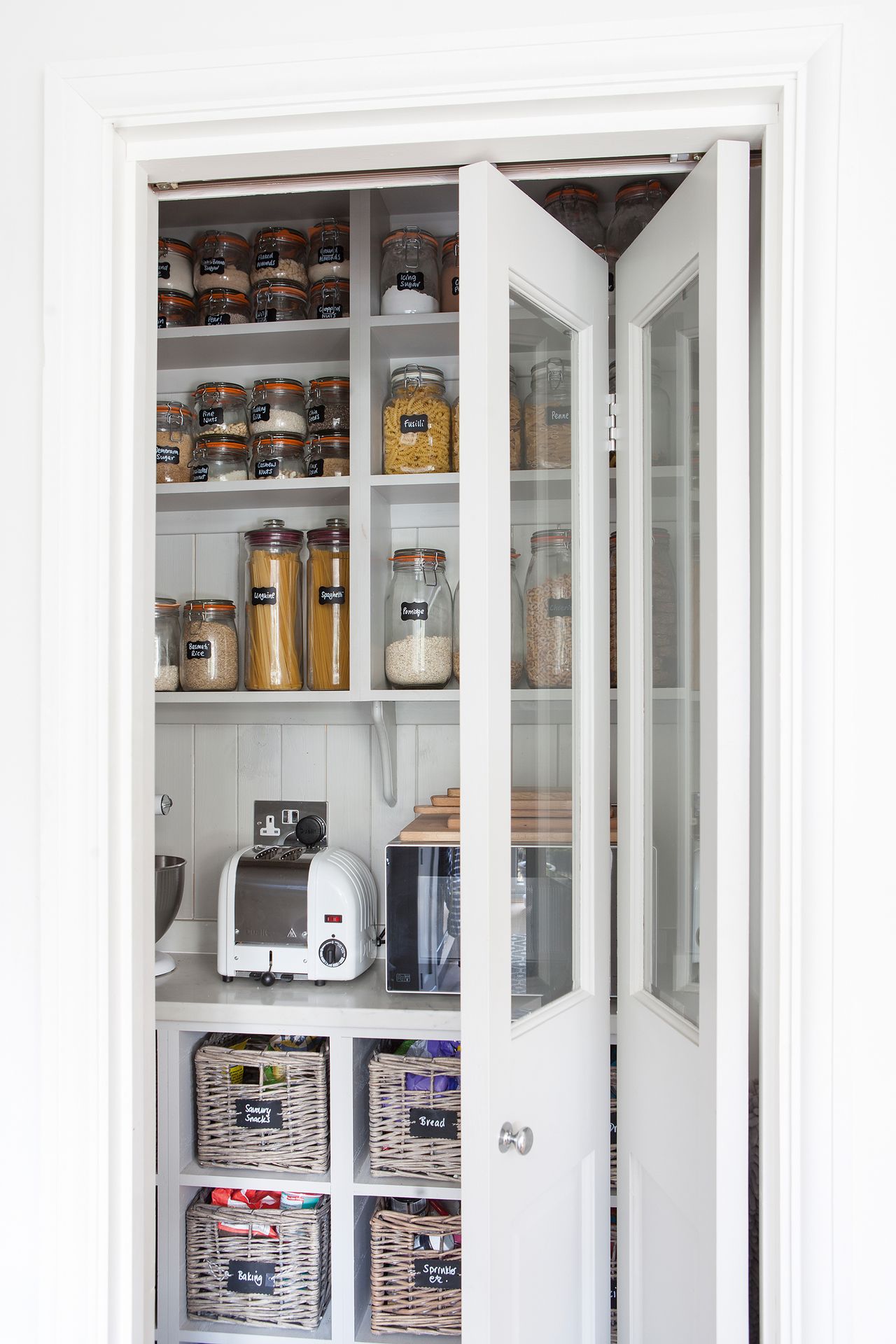 When it comes to pantry ideas it's important to consider how you store your food as well as the furniture. 'We recommend investing in glass jars to store dry goods such as pasta, rice and cereal. Not only does this help to keep your food fresh, but it makes it easy to see what you have,' advises Louise Wicksteed, design director of Sims Hilditch. 
Kilner jars with a rubber seal will are a brilliant choice for air-tight storage but they also look slylish too, which is important if your pantry has glazed pantry doors. Labelling the jars will mean there's no question about what lives where. 
8. Make space for large and integrated appliances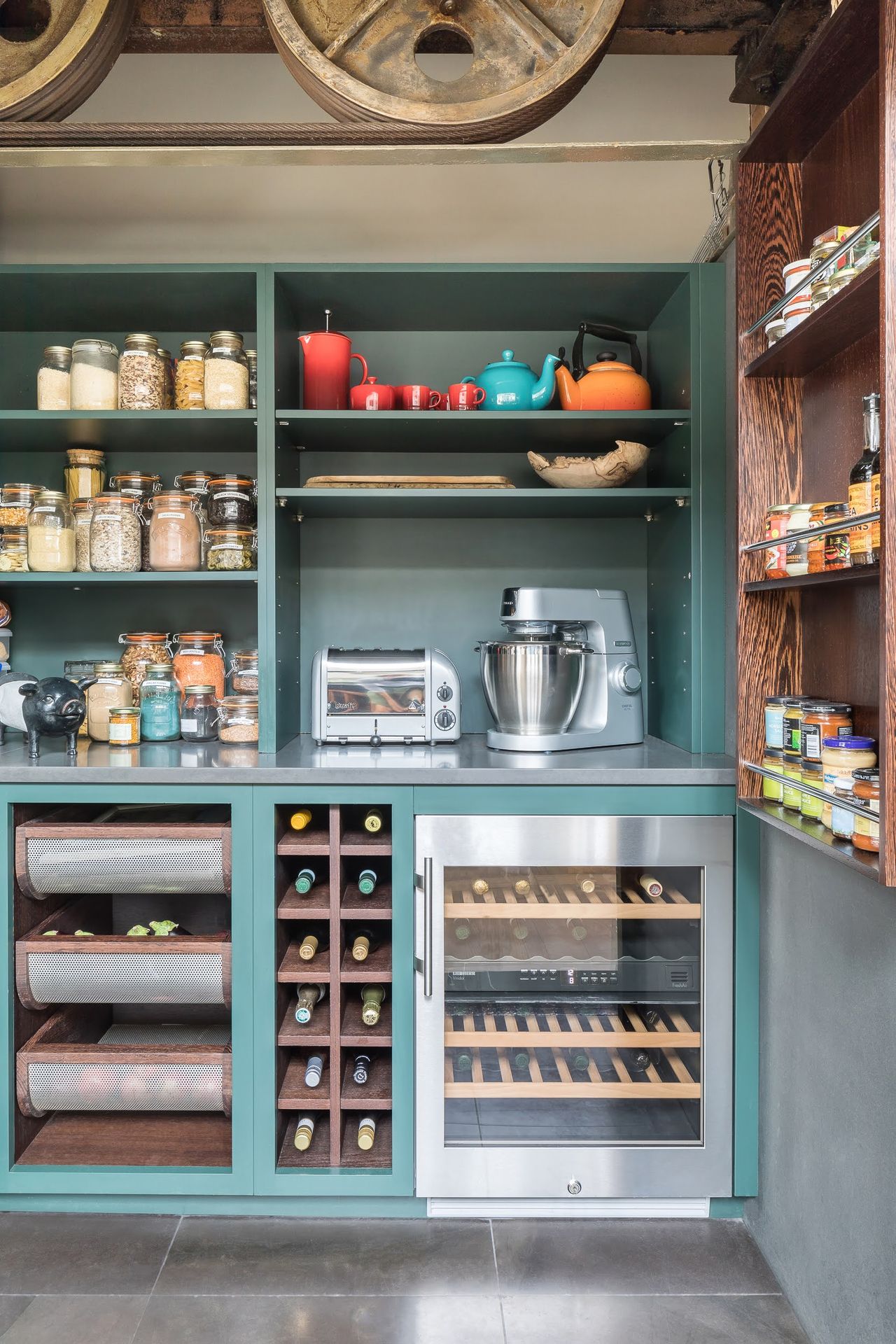 If you are planning a bespoke walk-in pantry then factor in countertop space for lesser-used appliances, such as  stand mixers, bread-makers and sous vides, as this will free-up limited surface space in the kitchen. 
The pantry is also a good place to incorporate integrated appliances such as wine fridges, especially if you're after a more rustic country look in your main kitchen area.
'If you chose a bespoke design the pantry can be tailored to fit the space you have available and the style of your kitchen. This pantry is a capacious example, with tons of internal storage including drawers deep enough to accommodate cereal packets, and pocket doors lined with narrow shelving for bottles and spices, eliminating the need for kitchenalia,' says Allison Lynch, Senior Design Consultant at Roundhouse.
9. Choose deep integrated drawers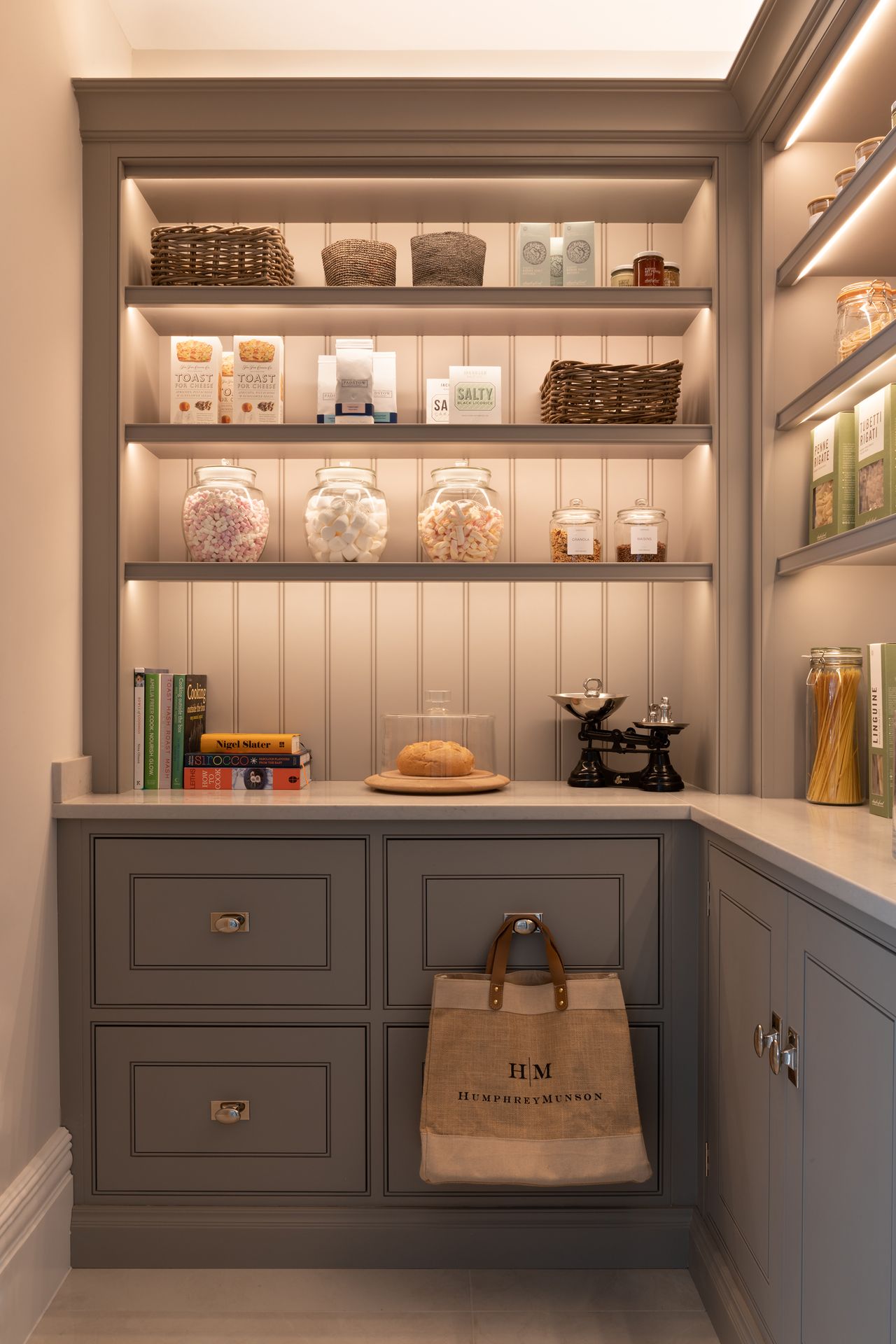 If you're planning a walk-in pantry consider factoring in deep drawers to conceal larger items. 'Including deep drawers in a pantry is always a good idea for things you don't want on display – or don't use regularly – such as small appliances like hand mixers and baking equipment,' suggests Louisa Eggleston, creative director at Humphrey Munson. 
'Pantries always look great with beautiful glass Kilner jars filled with baking ingredients and drawers provide the perfect spot to stow away the half used bags.'
10. Fit a vintage-style plate rack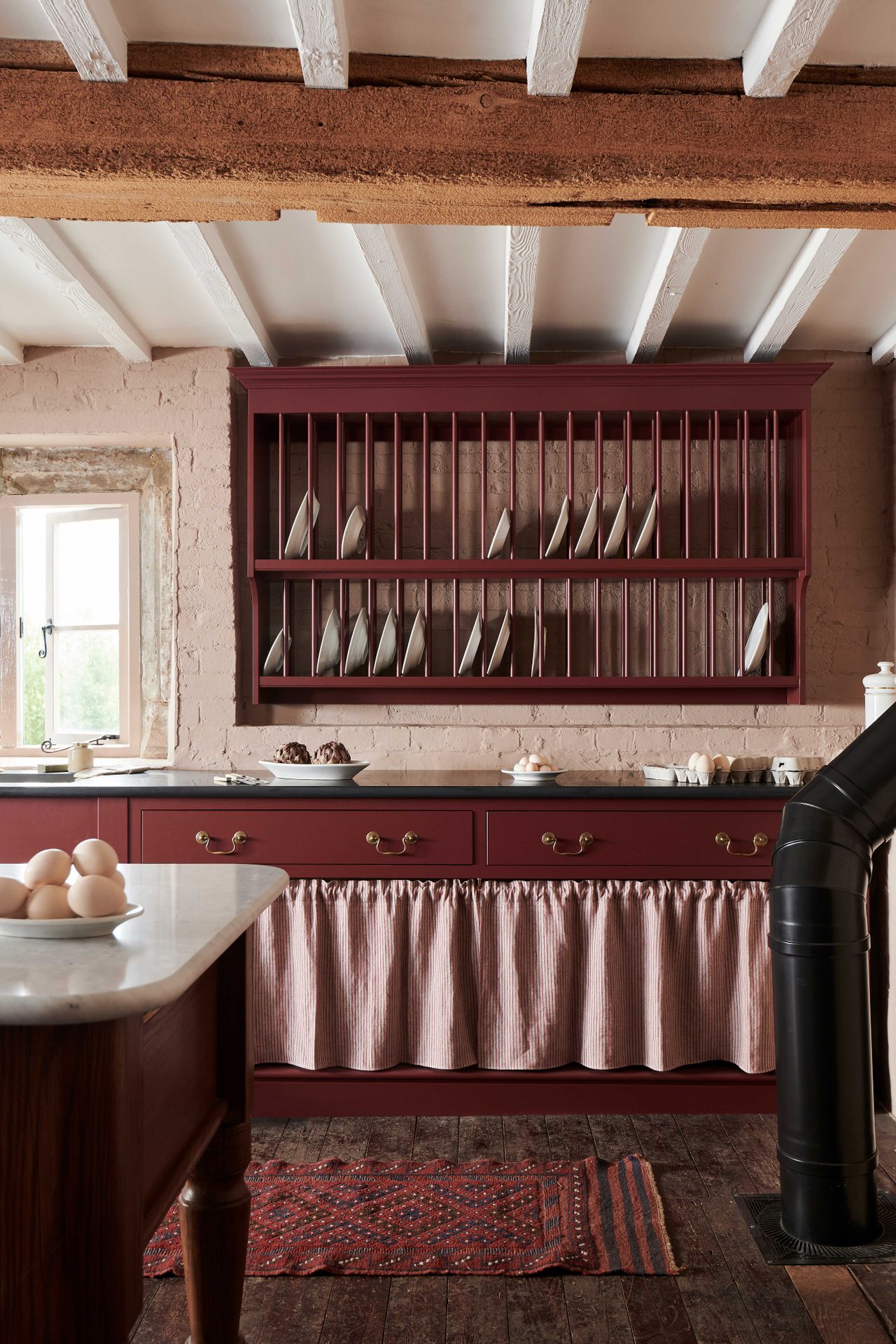 Historically the pantry would be used for storing food but today it serves a multi-functional purpose providing extra storage for to help keep the kitchen clear and clutter-free. Why not keep crockery neatly stored and easily accessible with a vintage-style open plate rack? Inspired by the Victorian kitchens of grand houses, Devol's Heirloom Collection comprises furniture and storage solutions such as pot hangers, vegetable boxes, a dairy table and a plate rack which all make perfect traditional kitchen ideas. 
How do I maximize pantry space?
One of the best ways to maximize your pantry space is to work with a kitchen designer to create fitted joinery tailored to the items you need to store. Built to fit around the architecture of your space and any awkward angles, bespoke kitchen storage and pantry ideas are often most effective way to make the most of wall and floor space in a pantry.
'Effective storage is of course the primary function of the pantry, this comes down to not only the internal working of the cabinet but also where to incorporate it into a kitchen design,' says Tom Howley, design director at the eponymous kitchen company.
'With a bespoke kitchen designer, you will be able to design floor to ceiling units that give maximum storage as well as being able to tailor the internal components to your storage needs.'
How do you organize a narrow pantry?
The key to a well organized pantry is for everything to have a specific place and to be easily visible and accessible. Plenty of wall shelving which makes the most of the height of the room is really useful in a narrow pantry, however, keep them between 18-24 inches in width to make sure store cupboard essentials are easy to see and reach – deeper shelves don't necessarily make for a well organized pantry, explains Louise Wicksteed, design director of Sims Hildtich.
'A deeper shelf allows for more storage space, however, you must be careful not to allow this space to become cluttered,' she says. 'Stay organized by ensuring everything has its place. Store larger items together on the bottom shelves and decant smaller, messier items into glass jars or baskets to be stored on the upper shelves, in bespoke drawers and cupboard doors.'
When it comes to foods and ingredients stored in a narrow pantry 'why not decant dried goods into stylish containers?' says Tom Howley. 'This is a great option if you have glass-fronted or open storage as it keeps everything looking beautiful as well as being easy to find. Storing items in containers allows you to throw out bulky packaging and free up some room. Stackable square containers are the most space efficient,' he adds.
In addition to the kitchen storage ideas and containers you use, for effective pantry organization you may also want to consider the order and location of different foods, appliances and ingredients, too.
'From experience, I suggest organizing your food into sections – for example, keeping spices, pastas, baking ingredients and other dry goods together,' says Charlie Smallbone, founder of Ledbury Studio. 'A scattered approach makes it more difficult to find what you're looking for while cooking. Another pantry organization tip is to keep foodstuffs you use most regularly at eye level. This comes down to the individual of course, but as a cook myself I like my herbs and spices within easy reach.'