Planter box ideas: 10 ways to create spectacular displays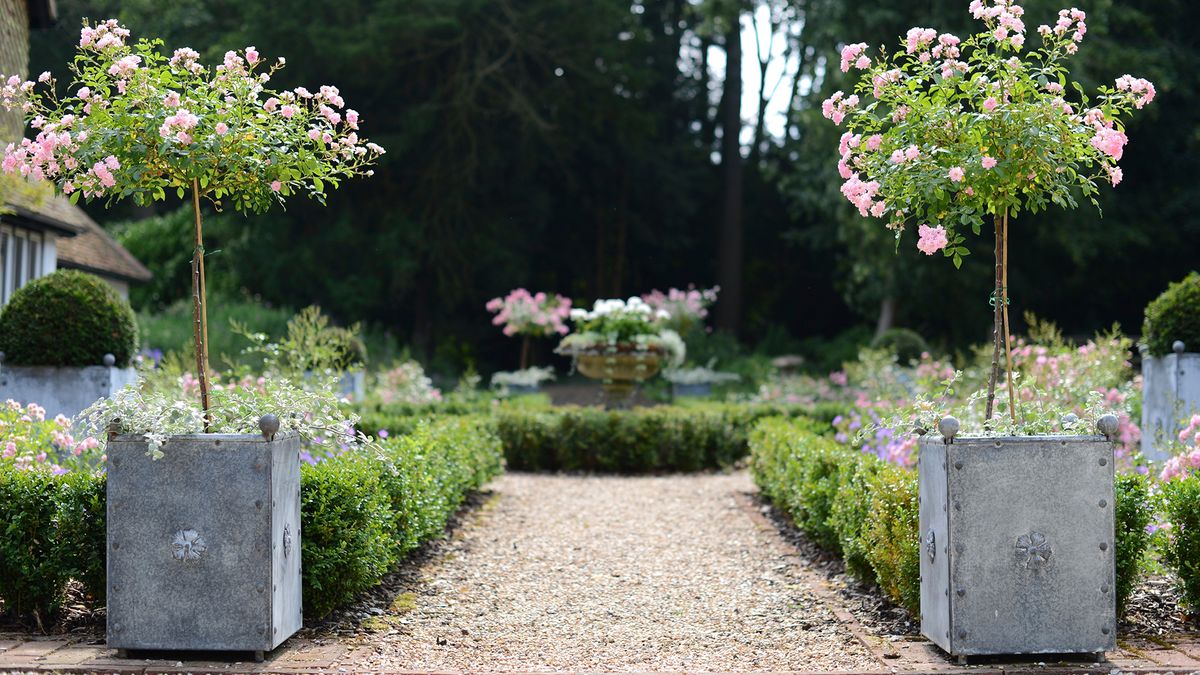 If you are seeking stylish planter box ideas to give your yard a lift, then look no further. Choosing stylish containers, pairing plants and pots effectively, and locating them for maximum effect can transform your outside space. 
When it comes to choosing the perfect planter to realize your container gardening ideas, there are plenty of materials, shapes and sizes to choose from. And brave and bold planting choices will immediately draw the eye and make an impact. 
Whether you are after a window box bursting with seasonal blooms or a majestic large-scale container with small tree, your choice will contribute hugely to your property's appeal. 
Planter box ideas
Planters are ideal when you're looking for small garden ideas or if you have a larger backyard. Place in pairs either side of the front entrance, line up along the walkway or poolside or plant up a standout design to bring seasonal interest to your porch. 
Use them for flowers, foliage, or trees, or opt for herb planter ideas so you can bring your herb garden ideas to life, taking inspiration from the planter box ideas we've put together here.
1. Introduce rhythm and interest with planter boxes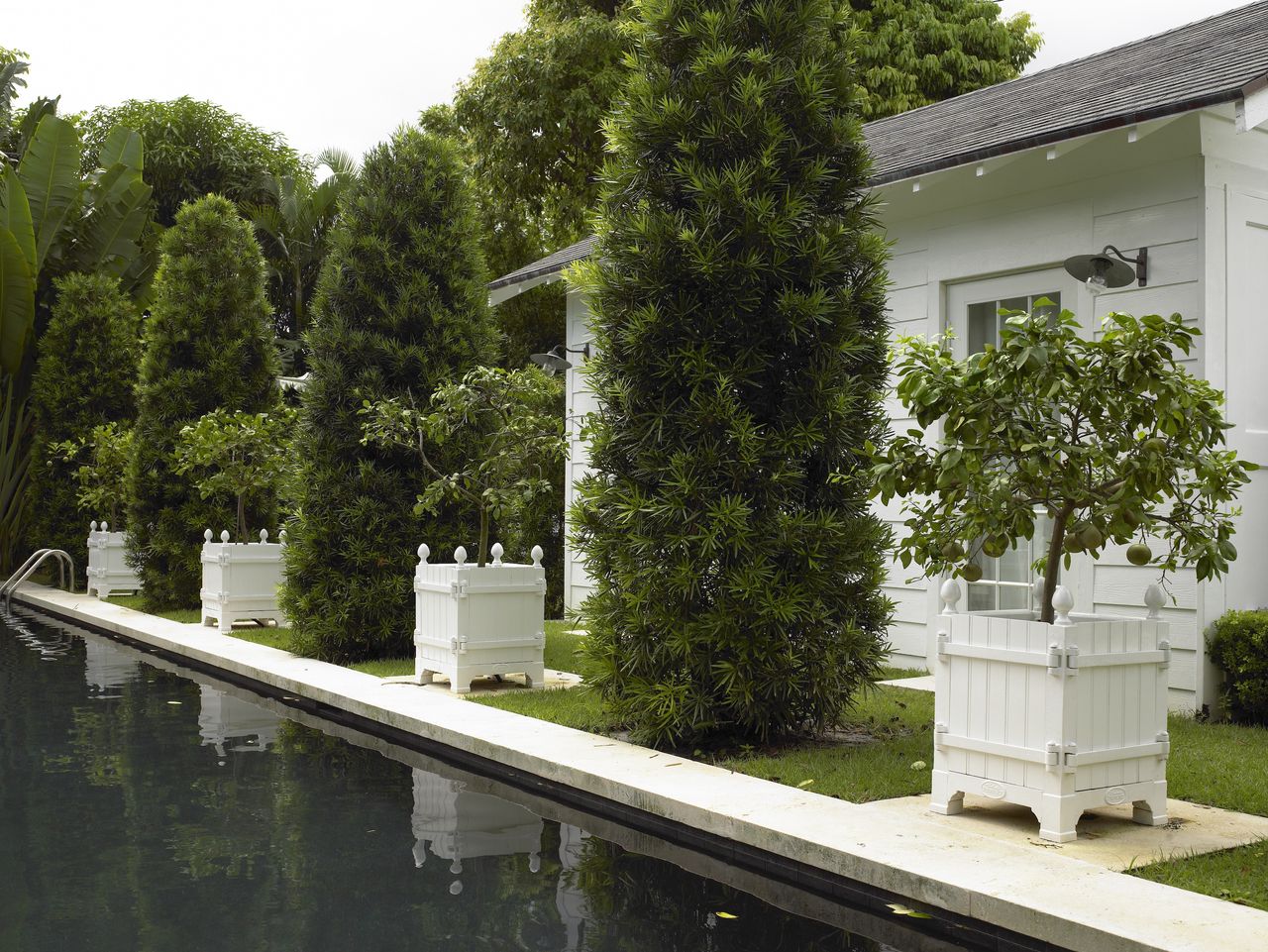 If you want your planter box ideas to create a true spectacle, line them up along a terrace or at the poolside and intersperse them with topiary. Choosing a striking shape and color and pairing them with dark leaved evergreens makes them an eye-catching feature. 
Wooden planter boxes add a formal note and have a rich heritage, as Sarah Casey from Authentic Provence explains. 'The handmade Authentic Provence Versailles garden planter is an exact re-edition of the French planter boxes from the 17th century as seen throughout the gardens at the Château de Versailles. Traditionally, citrus trees are planted within these vessels. Our Versailles planters have removable wood panels in order to easily extract the citrus tree, or care for its roots.'
2. Go for circular planter boxes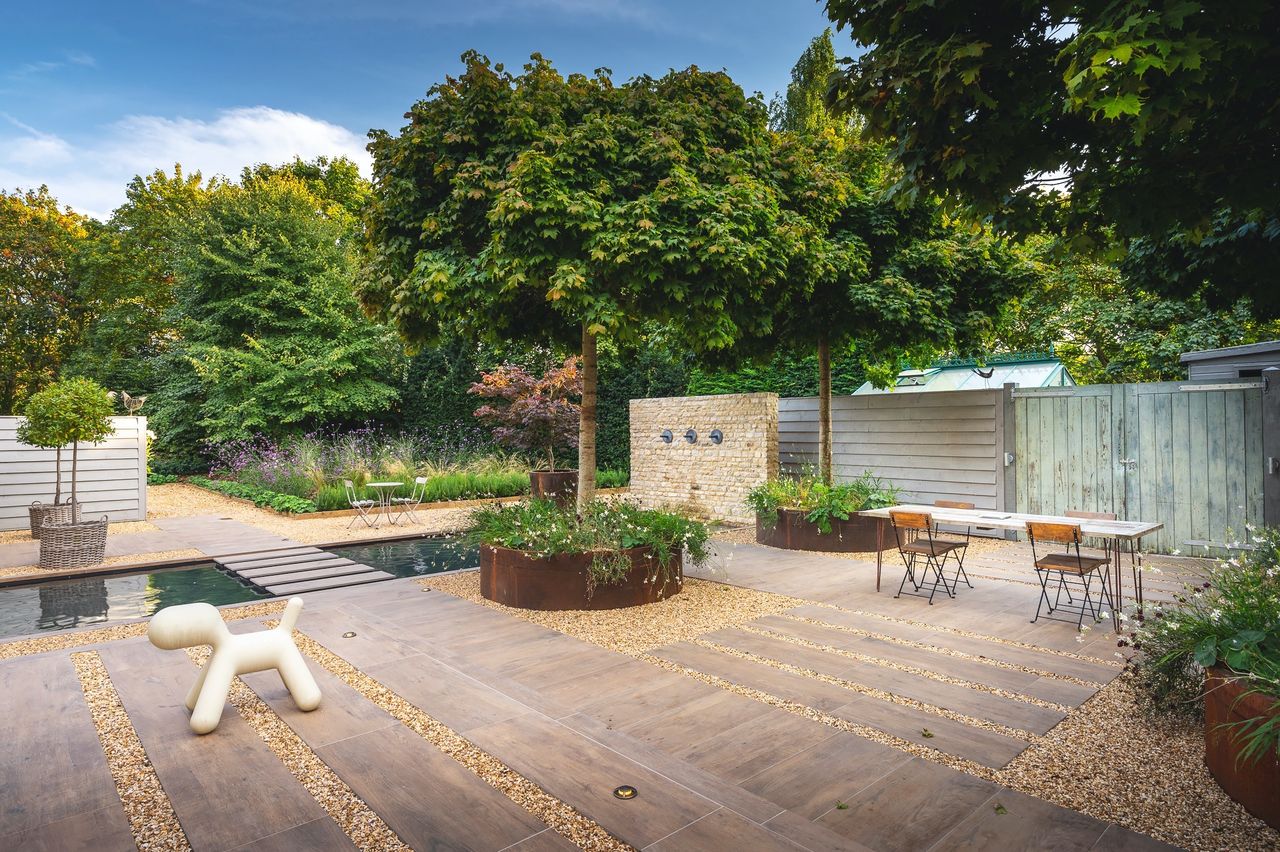 Elegant and ideal for planting trees and sprawling blooms, circular planters add instant grace to any outdoor space. Besides adding a sense of movement and gentle lines to a design, they also contrast beautifully with square and rectangular paving, rills, walls and fencing. 
Pepper a space with two or three large scale circular planters – as shown in this design by Jo Alderson – to encourage guests to wind their way between them and explore the space beyond. Plant them with an ornamental tree and they will cast a delicate dappled shade beneath them, creating the perfect place to sit out of the sun.
Jo Alderson explains, 'Being mature these trees did the job instantly and are one of the main architectural features of the garden. These trees weigh well over a ton each so specialists were employed to use tele handlers to place them. Each tree is guyed using tensile steel wires beneath the ground and planted in organic compost with a timed irrigation system.'
3. Brighten up railings and balconies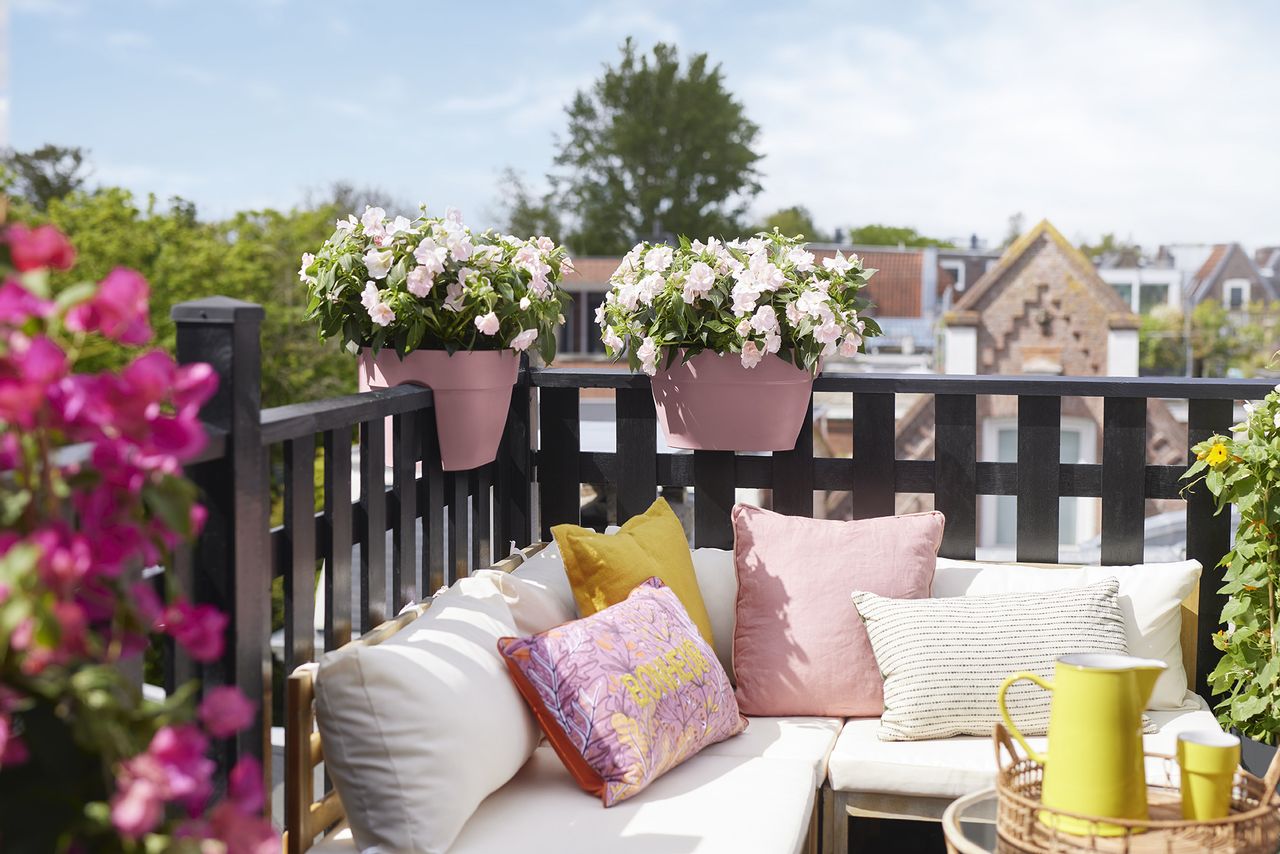 Make the most of flower power with balcony garden ideas like this bridge-style planter. Designed to slot over the handrail it can become home to cheery annuals for a seasonal display, trailing vines and or even herbs and homegrown crops. Place at regular intervals for a smart symmetrical look or maximize the effect by nudging them up right next to each other.
The team at Dutch sustainable flowerpot company Elho say, 'The flower bridge model offers a simple way to create a sea of flourishing plants that disguises urban surroundings, as they are suitable for almost any balcony, easily slotting on to a variety of railings up to 2.6 inches (6.5cm) wide. Each of these pots has a large growing space allowing plant roots plenty of room to grow.'
4. Style up a corner with planters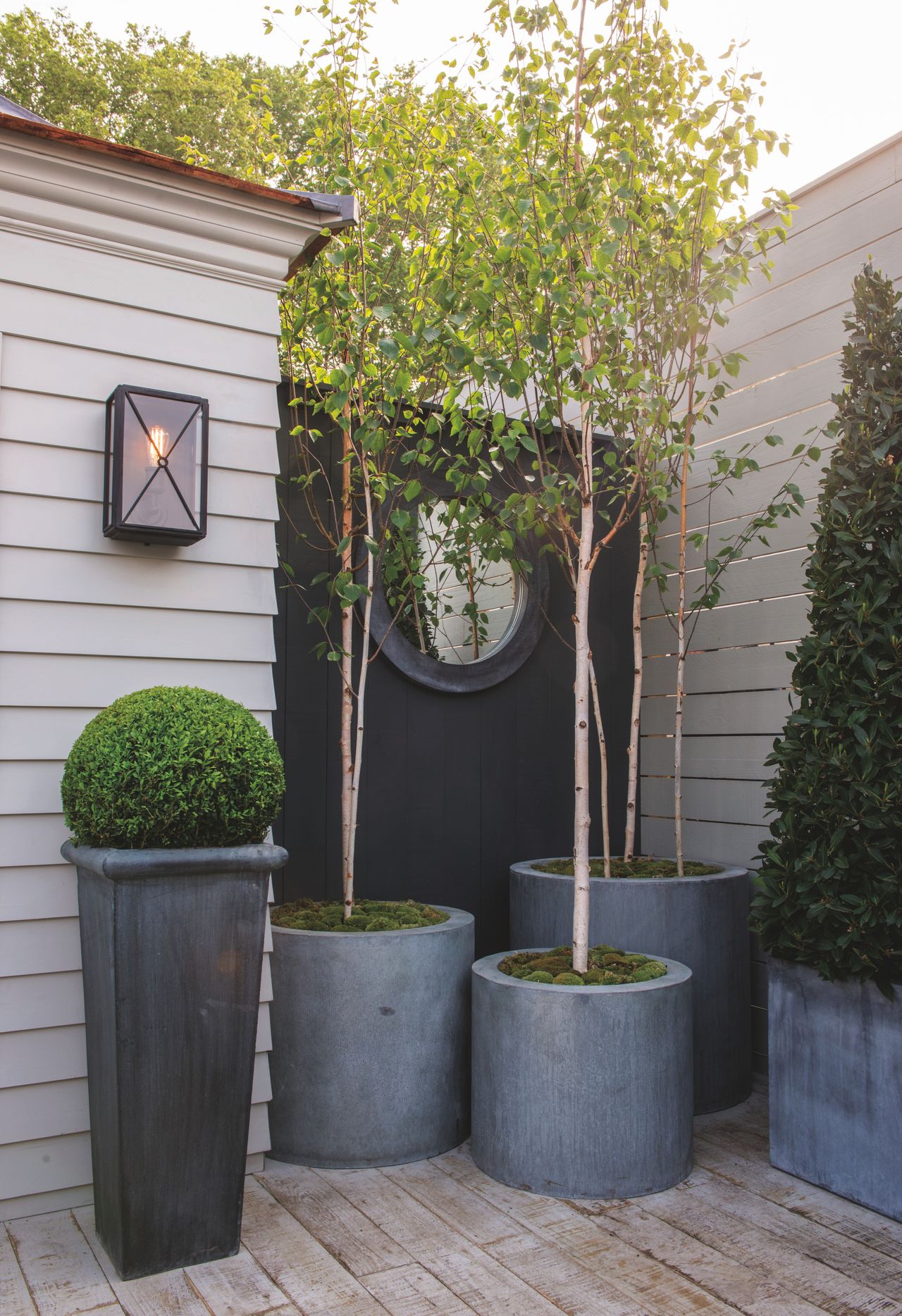 Want to add some leafy interest to an empty corner of your yard? Then planter box ideas are the answer. Not only can you group and position them to make the most of your available space, but you can also tailor the planting to suit your style and your yard's aspect. Many designs come in a range of sizes and heights, so why not opt for a trio to create a smart and cohesive display at slightly different levels?
Add a touch of variety by mixing in a few containers of contrasting shape or size but do stick to the same finish or material for a smart, co-ordinated display.
When it comes to choosing plants, decide on how bold and colouful you wish the result to be. A mix of clipped evergreens and slender deciduous trees – such as these white stemmed birch trees – create a timeless feel that also reflects the change in seasons, but tropical garden ideas using cannas, fatsia and palms would suit warmer climes or try sculptural drought lovers such as agaves, manzanita, cactus and lantana. 
5. Go big with Corten steel planters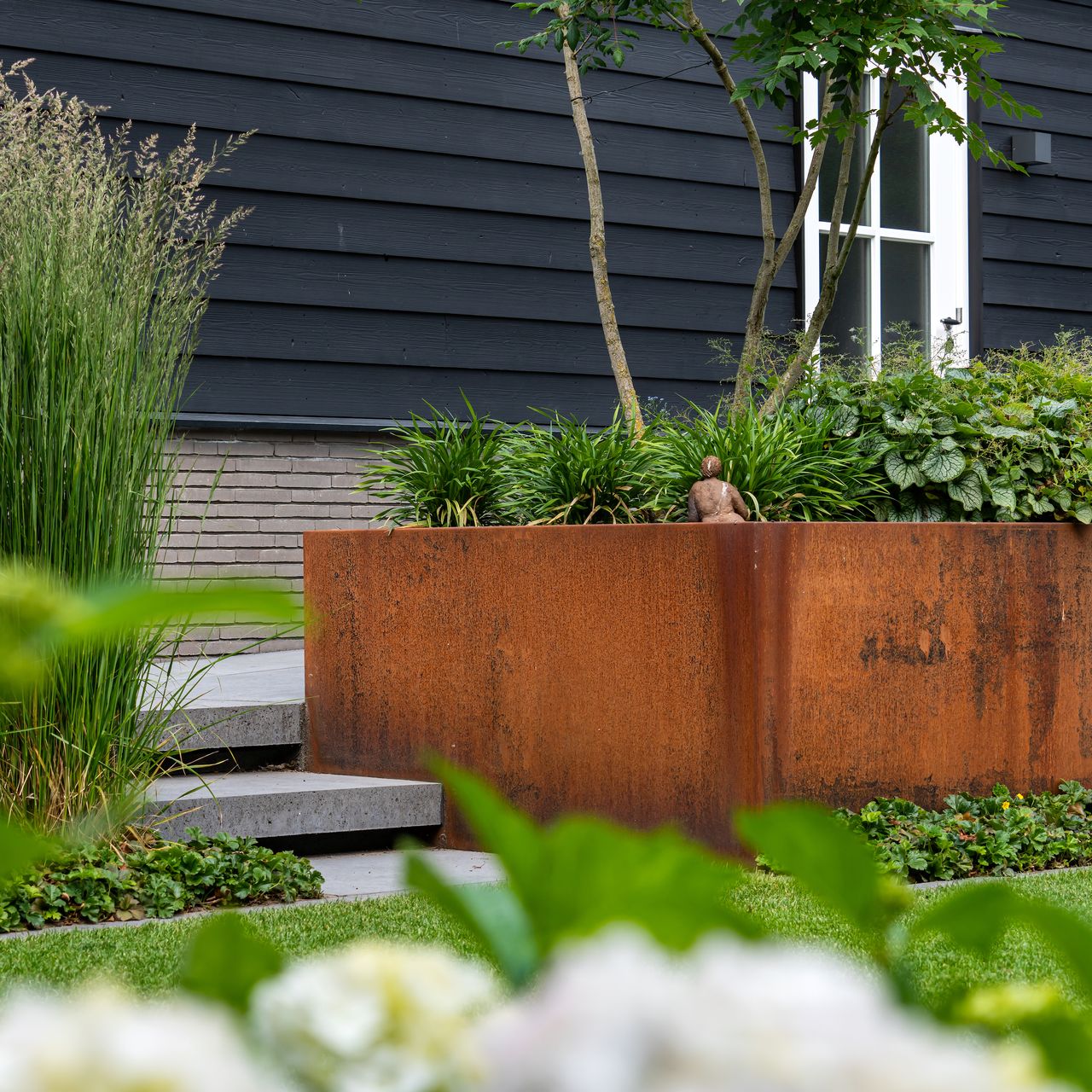 Bold and beautiful, large scale weathered steel planters make a striking statement either side of a walkway or in the middle of a border. With their rich rusted surface that develops and intensifies with age, they make the perfect foil for lush foliage and textured grasses. Substantial in size with circular, square and rectangular shapes all on offer, they are perfect for showcasing trees for small gardens, ornamental grasses and low growing evergreens such as carex, brunnera and Coral Bells (heuchera).
6. Choose a planter for the perfect growing conditions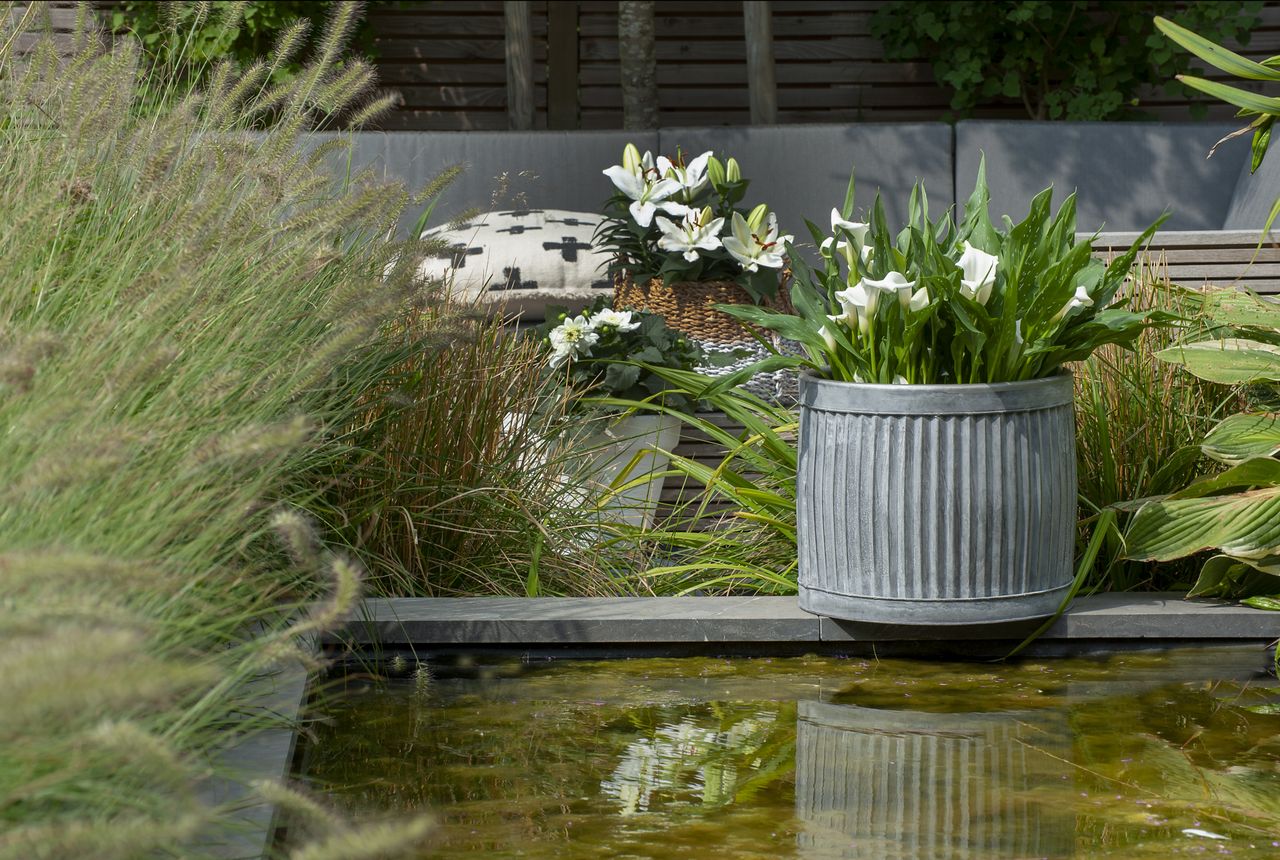 Planter boxes provide portable and versatile growing opportunities. Not only can they be repositioned – with the caveat that some may take more effort and ingenuity to move than others – but the soil and drainage can be  tailored to suit the plant you wish to grow. 
Water-loving Calla or Arum lilies thrive in cool, moist compost and like to have their heads in full sun, so raising them in a pot is the perfect way to meet their complex needs. Likewise, if the soil in your yard tends to be acidic or clay based it will make growing some plants such as lavender, Euonymus and lilac almost impossible. Naturally lime loving, these striking and fragrant plants could be among your planter box ideas instead as you can go for an alkaline soil mix.
Planters also enable you to make the most of the different aspects of your garden. Cool shady spots are ideally suited to growing ferns, foam flower (Tiarella) and hostas.
7. Plant up a wild and wistful display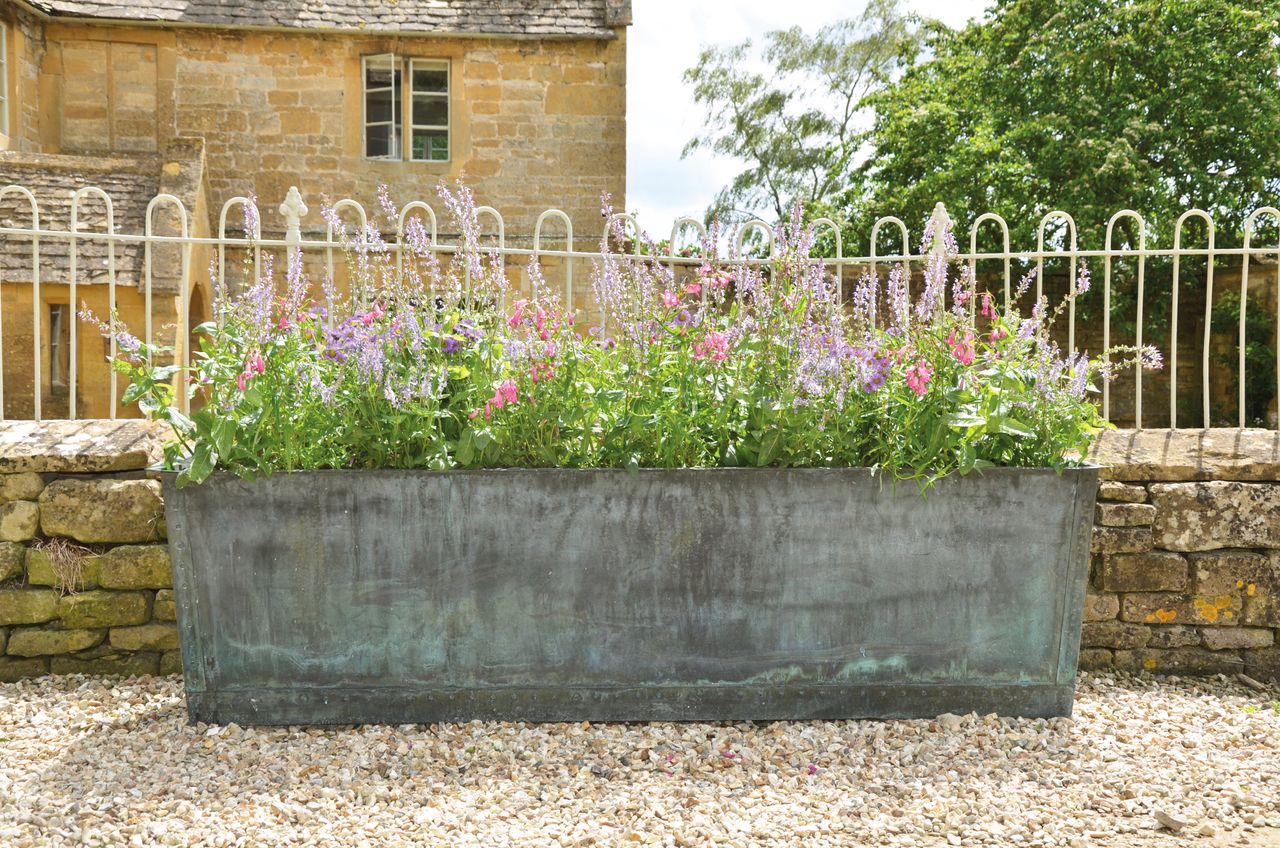 There's something magical about a large-scale industrial-style planter teamed with a mass of airy and delicate blooms. The contrast of textures is enchanting and whether the container is made of concrete or sheet metal it's sure to highlight the intricacy of the tiny flowers. 
Go for as big a design as your yard will accommodate and fill with four or five plant varieties to create look of a wild grassland or prairie. A long, rectangular planter such as this antique copper design is ideal for edging a terrace or subtly dividing up a vast patio or courtyard into smaller, more intimate spaces.
8. Make a statement with a potted tree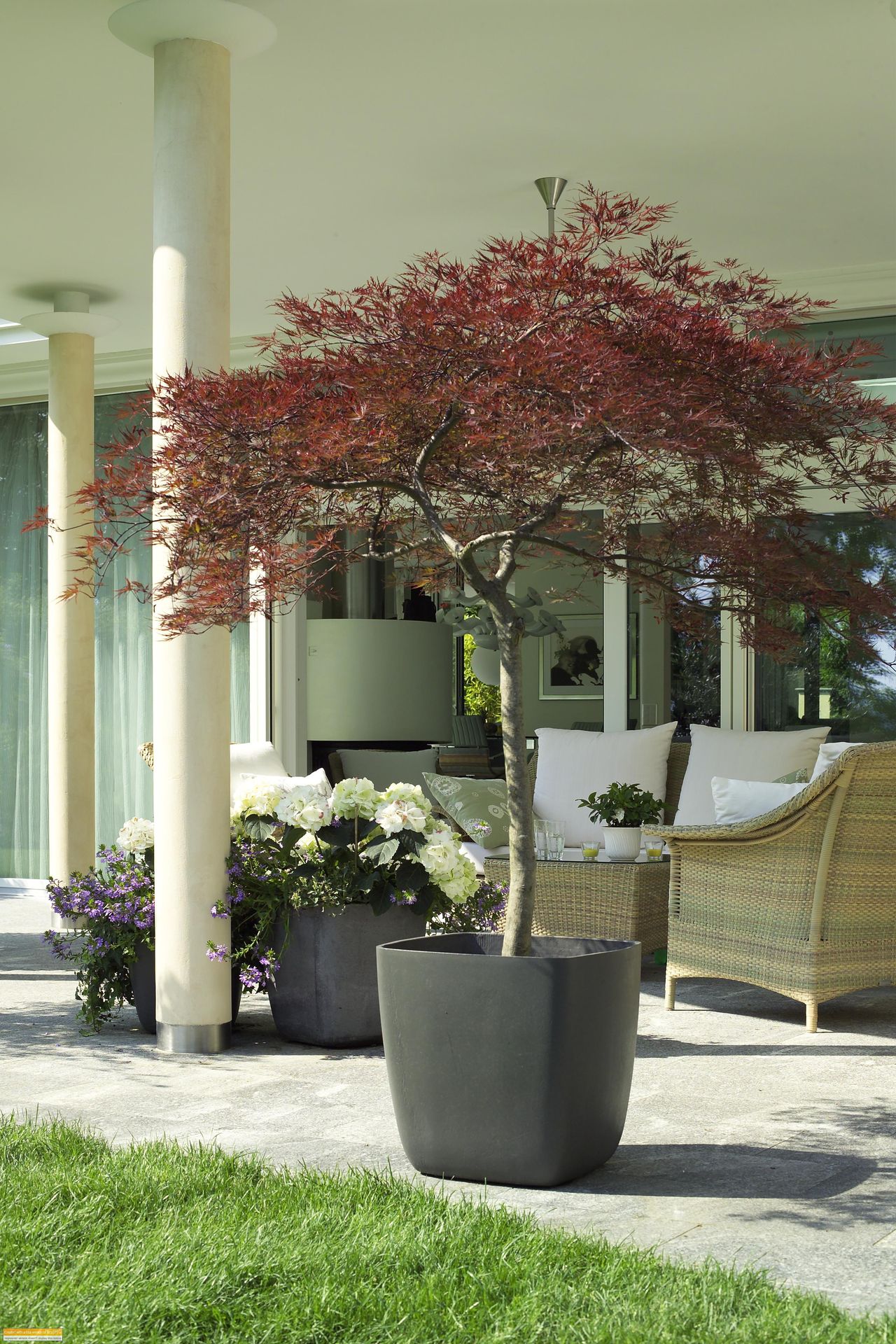 'On a large terrace or patio, sometimes one or two large planted containers suited to the scale can have much more impact than several smaller ones, which may look insignificant or a little fussy,' says the team at planter specialists IOTA Garden.  
'If you are looking to plant a tree or large shrub in a container, be sure to pick one that is large enough to accommodate the tree as it grows, so you do not need to re-pot it after a couple of years.  If there's plenty of space around the trunk, you can add interest by underplanting with low-growing grasses or add some seasonal color.'
9. Guide the eye with a pair of planter boxes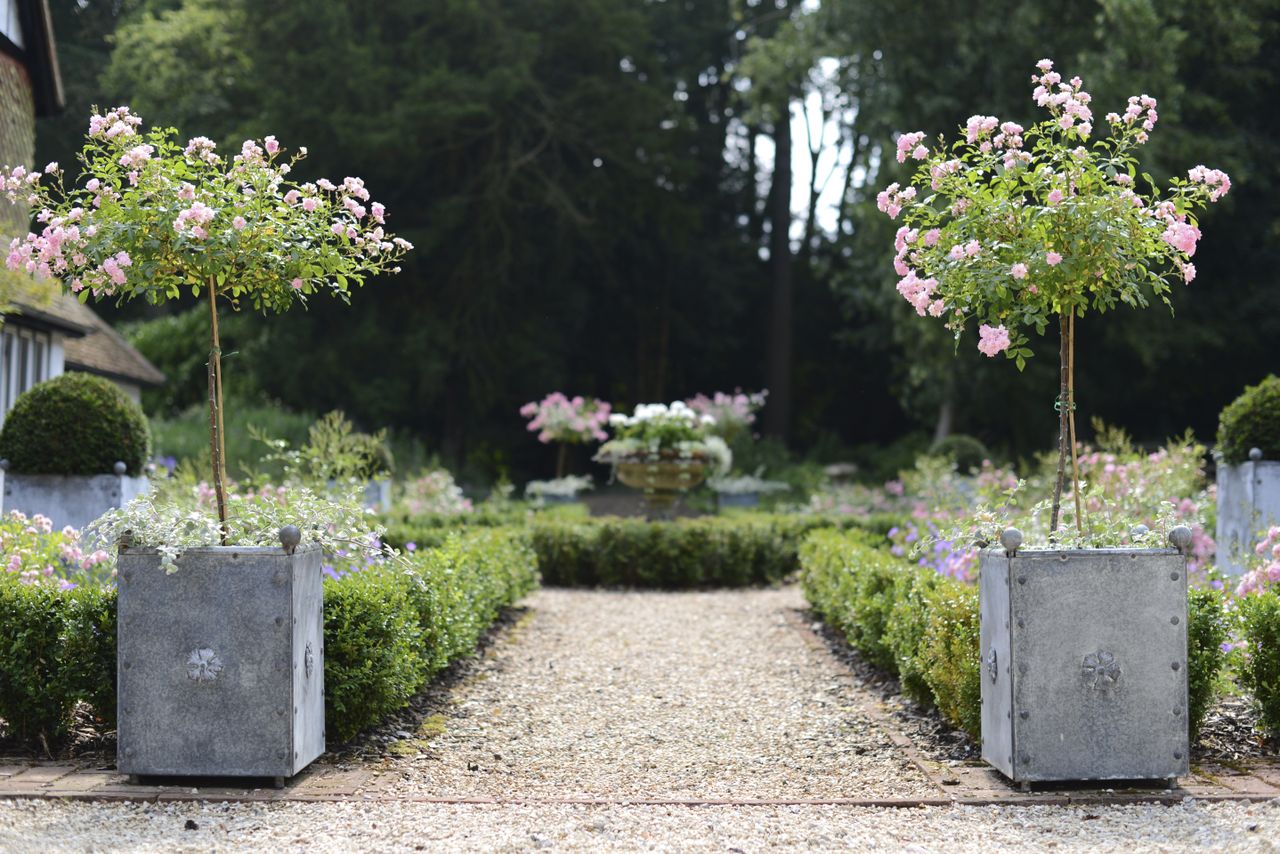 Nothing says grandeur better than walking down a garden path or terrace flanked with identical containers. Punctuating the walkway at regular intervals, they instantly lend a formal and rather European note to a yard without visually dividing off the space. 
Sticking to the same container and planting scheme is key to maximizing this space-stretching effect. Opt for a dreamy combination of tall standard pink roses in galvanized steel planters to strike a romantic note or try over-sized terracotta flowerpots with sky-soaring cannas or phormiums for pure Mediterranean charm.
10. Fill a planter box with homegrown produce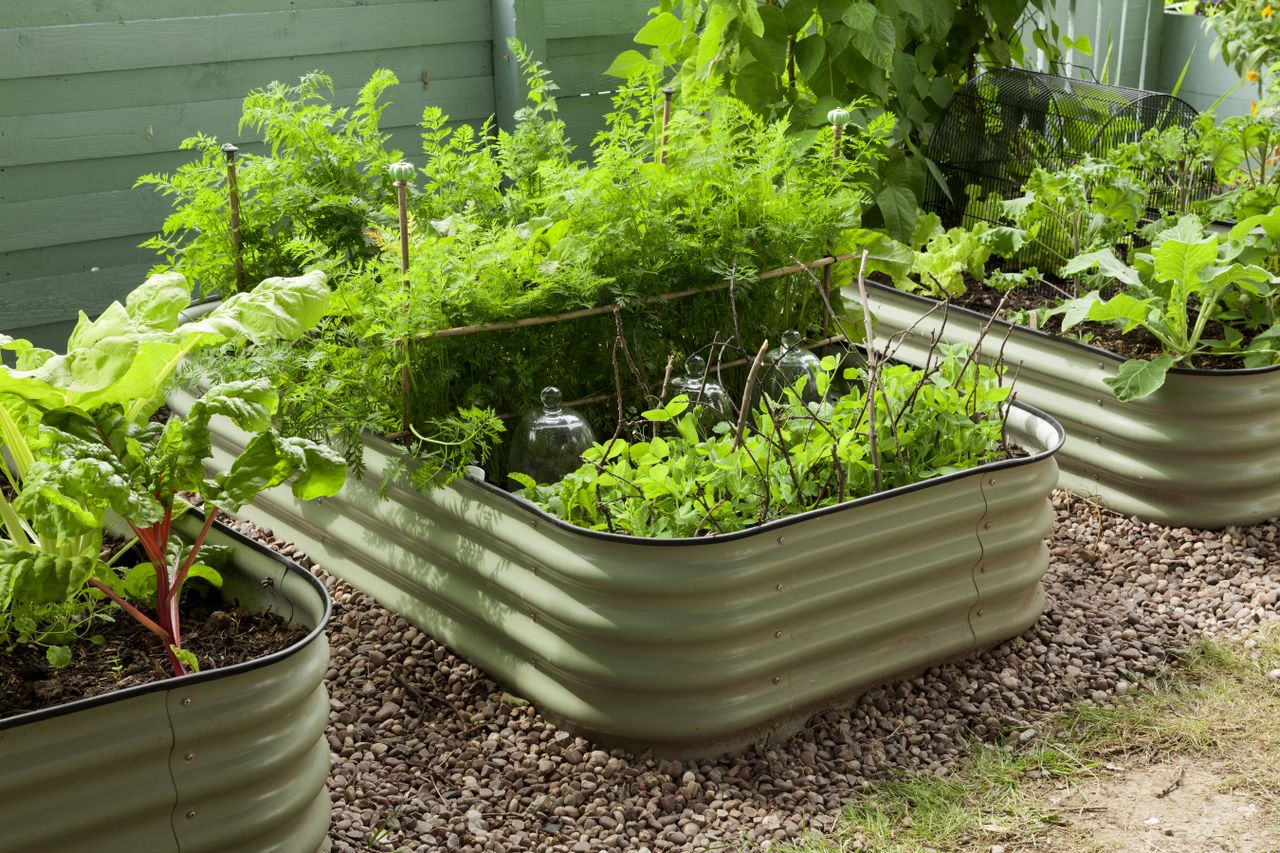 Not just for blooms, planters are ideal for raising a crop of delicious veggies. Homegrown pole and bush beans, carrots, cukes and peppers will all happily thrive in a container as long as there is adequate drainage and rich soil. 
Depending on your available space and choice of container you could stick to one crop per container. A minimum depth of 6 inches (15cm) is enough for most crops – although some root crops prefer more – but aim to go as big as you can. Not only will this mean less watering, but it can help reduce crop stress resulting in healthier and more flavorsome produce.
A large rectangular planter doubles as a mini veg garden. Look to arrange crops in strict rows for traditional homestead charm or try a more decorative approach mixing in beneficial flowers – such as marigolds, nasturtiums, and alliums – which also keep pests at bay.
What should I line my planter box with?
Liners are only really needed for wooden or metal planters. In both cases having wet soil against the sides of the container will cause rot or rust to develop over time, weakening it. Cover the inside with a layer of thick plastic sheeting – making sure to pierce several drainage holes at the base – before filling with soil and adding the plants.
How can I fill a super-sized planter box?
Filling a very large container completely with compost not only makes it impossibly heavy to move without bringing in serious lifting equipment, but it can prove very expensive, too. 
Instead, bulk out the bottom third of the planter with lightweight material that will also aid drainage. Plastic take-out plastic containers, milk jugs, empty detergent bottles, spare plastic plant pots and plant trays all work well. 
How do I pick a planter in front of my house?
Getting the scale and style of a planter right for your home's front yard is key to creating a stunning first impression. Think about key sight lines and positions and work out how high the container and plant need to be to make a real statement. 
Choosing a planter that mirrors an element of your property's exterior – it could be the color of the front door, timber shingles or stonework – is a great trick for creating a smart, cohesive look. Consider whether you want the planting or the container to be the real feature – neat topiary spheres and cones work well planted in an ornate design, while robust industrial-style planters suit finer and more delicate flowers and grasses.