Pool lighting ideas: 10 ways for designing pool lighting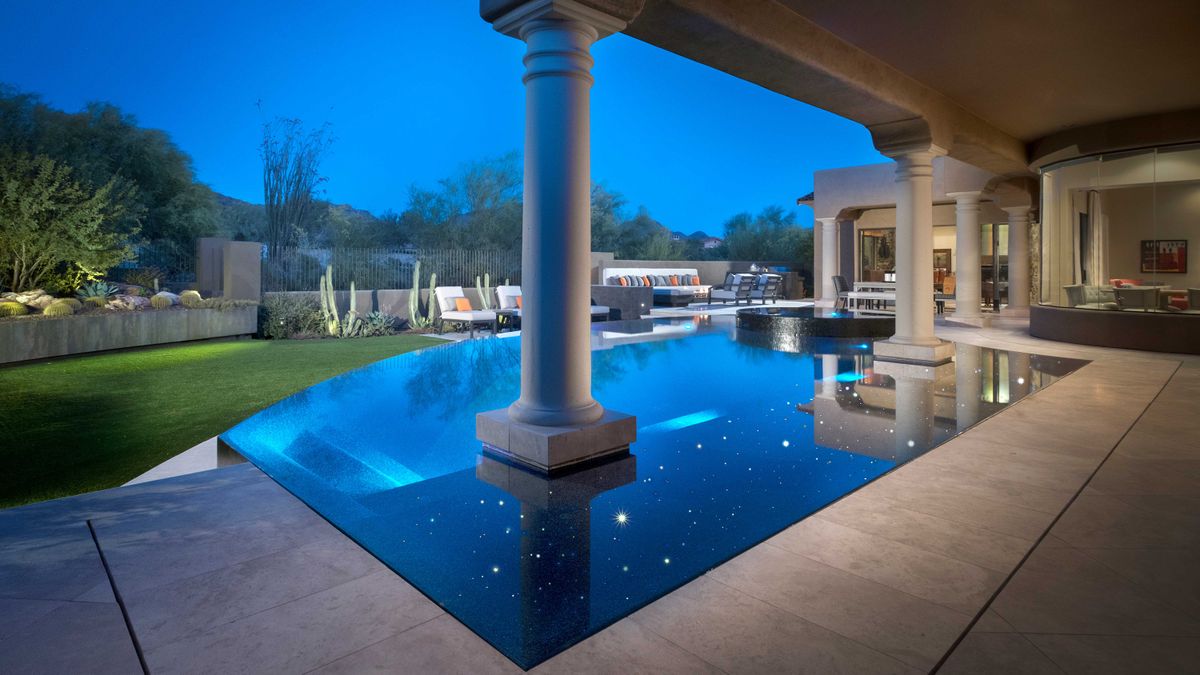 You'll need some pool lighting ideas if you're planning on building a new pool to complete your backyard, or if you want to refresh and update an existing pool area.
There are a lot more options nowadays for pool light ideas that go beyond the standard submerged pool lights. It's a matter of beautifully and thoughtfully illuminating the surrounding pool area as well, so is an integral decision when planning your pool ideas.
Pool lighting ideas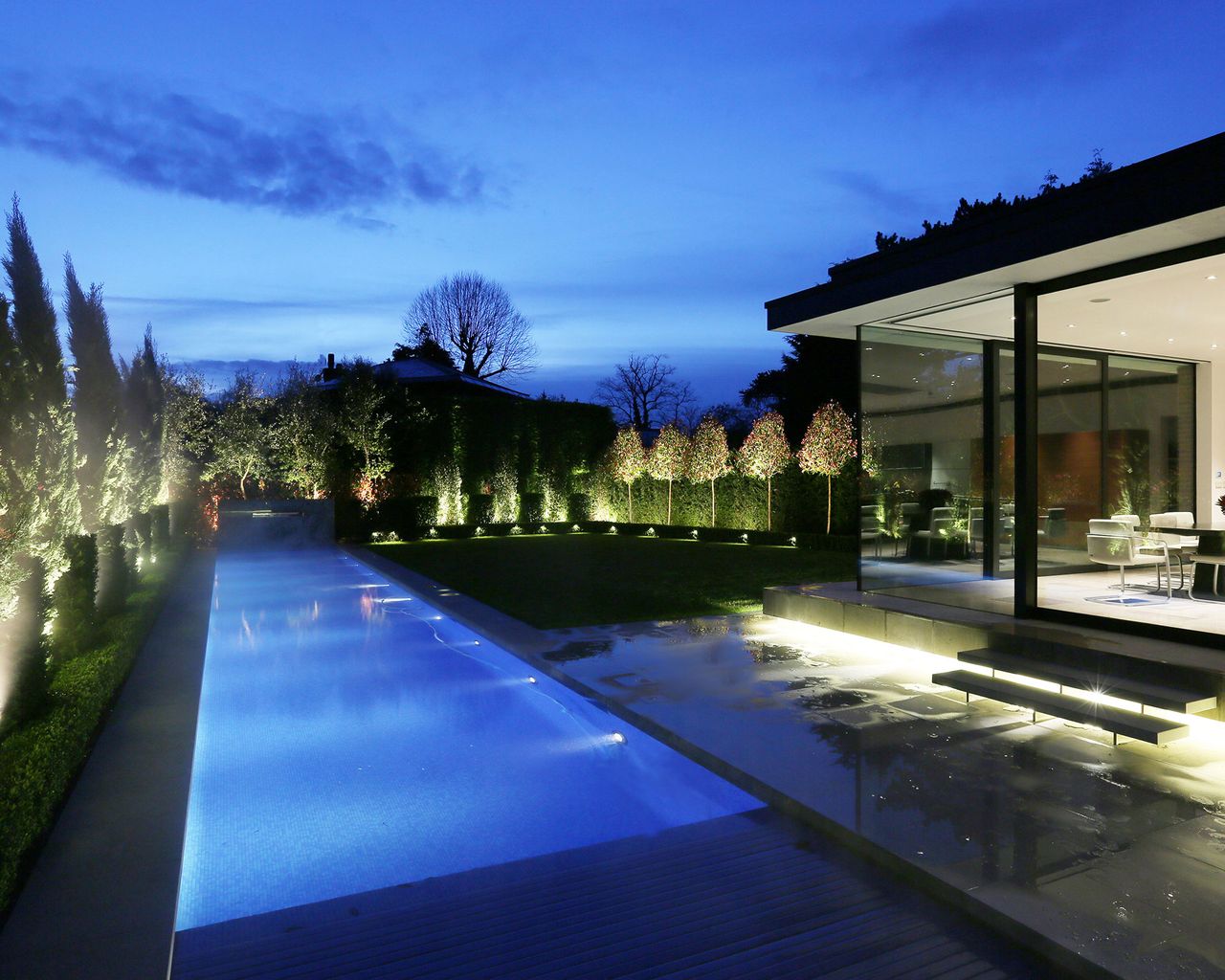 'Outdoor lighting ideas are an integral part of enjoying any outdoor living space and should not allowed to go without serious thought,' says Michael Deo, certified outdoor lighting designer (COLD) and owner of NatureScape Lighting in Millington, New Jersey.
'The overall enjoyment of the space is the reason we install swimming pools to begin with, and often, folks don't get to use them until well after the sun sets,' he adds.
From path illumination to spotlighting the most aesthetically-pleasing surrounding pool landscaping ideas, these pool lighting ideas will inspire and inform your vision.
1. Brighten up the pool deck or patio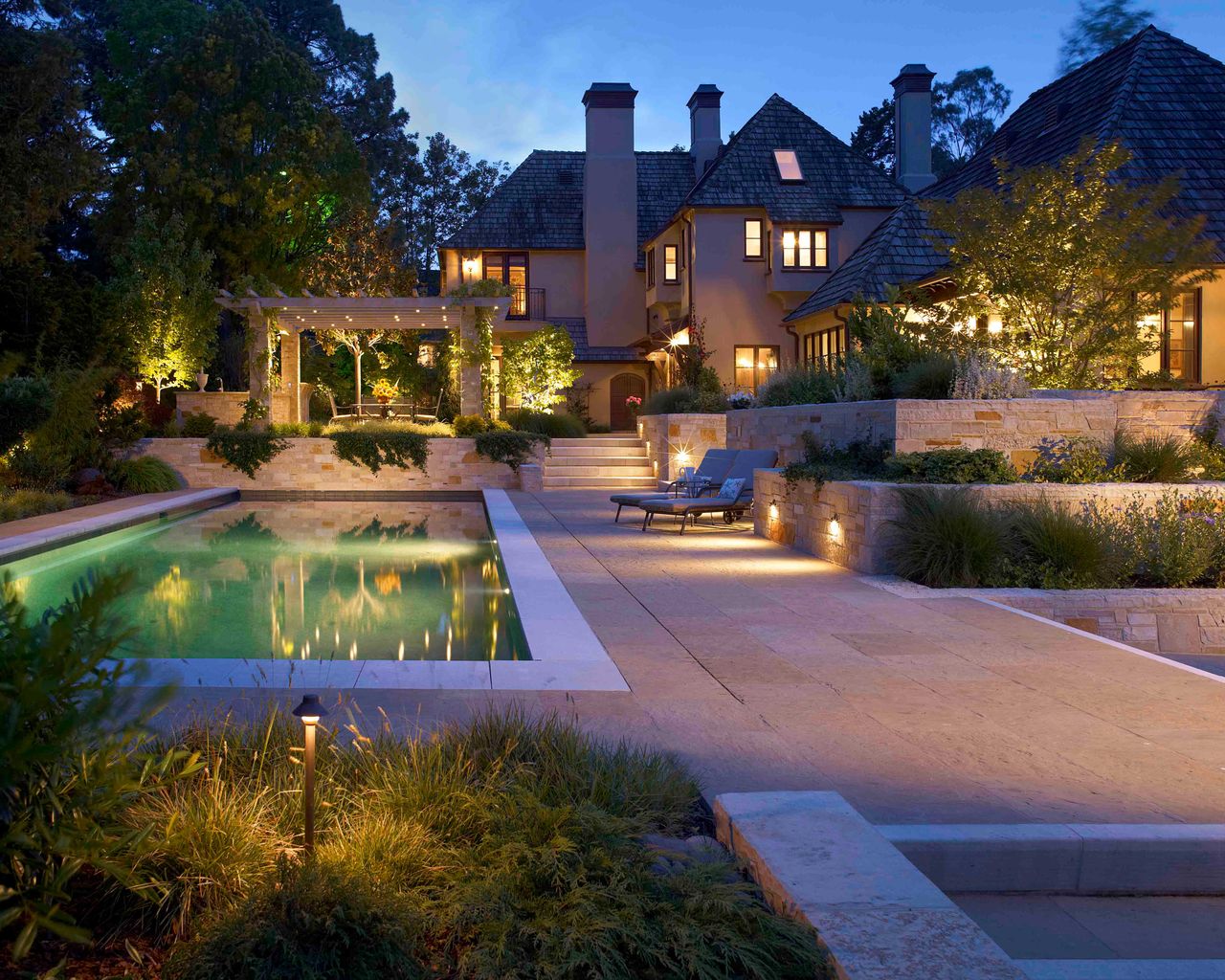 While it's certainly helpful to light the pool itself, it's equally wise to illuminate the surrounding pool area, deck or patio, something that will let you see your backyard at night in all its glory. 
This effect will create 'an illuminated border outside the swimming pool,' explains Michael Deo, which can make it the centerpiece of your outdoor space. It also will give you 'a safe pedestrian zone,' he adds, ideal for guests, who will benefit from your pool lighting ideas.
2. Try uplighting and downlighting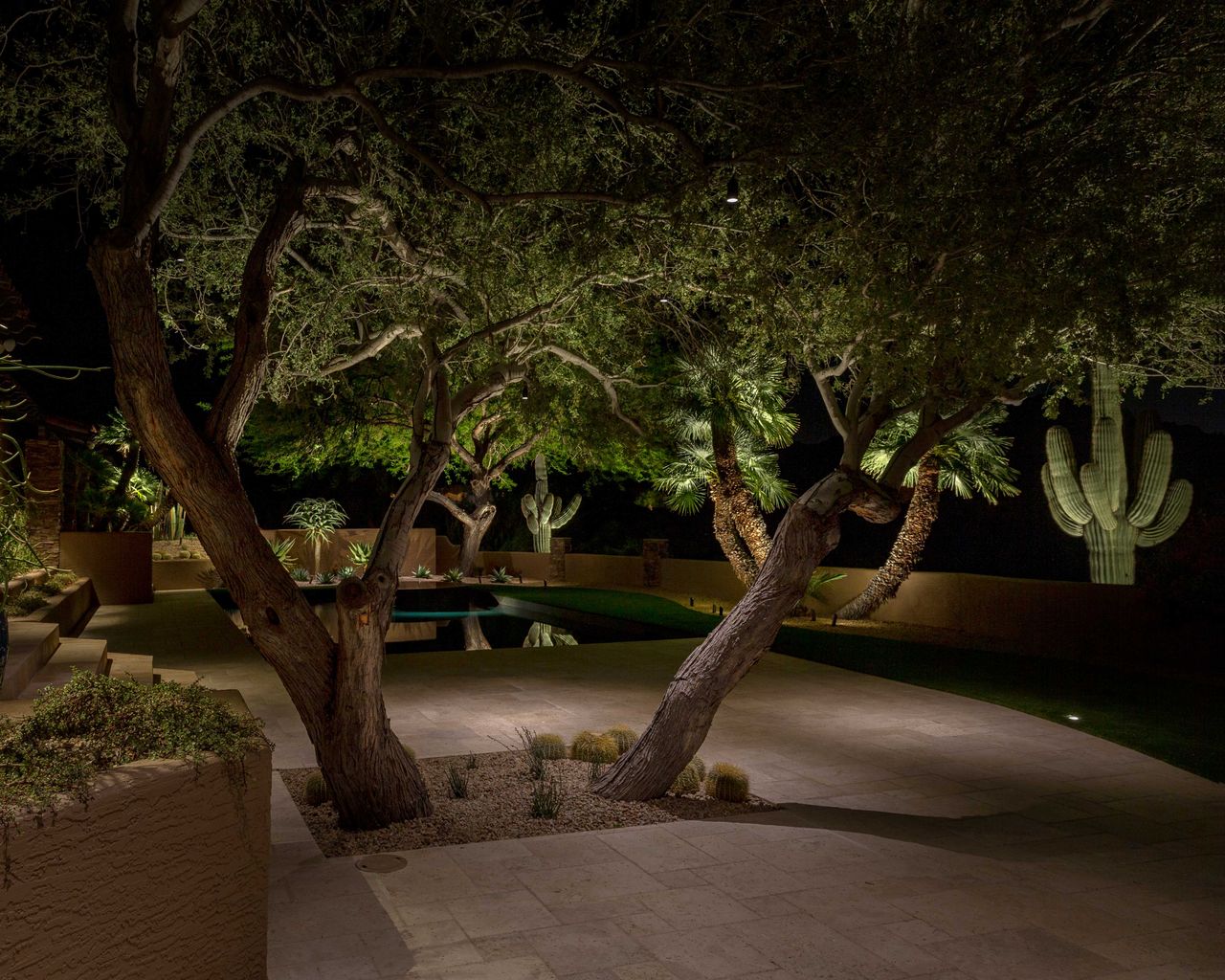 If you want to give the outdoor features that surround your pool the attention they deserve, consider a mix of uplighting and downlighting. While uplighting as a pool light idea can illuminate branches and plants from the ground up, installed downlighting additionally creates a natural look and covers more surface area. 
Kirk Bianchi, pool and landscape designer at Scottsdale, Arizona's Bianchi Design, and his consultant Janet Lennox Moyer, lighting designer and author of new book The Art of Landscape Lighting, believe that pool lighting ideas allow us to reconnect with our garden spaces, permitting us to enjoy outdoor living at the prime hours when we are at home relaxing.
Downlights can shine from a tree or an eave of your home, Kirk and Janet explain. 
3. Light adjacent structures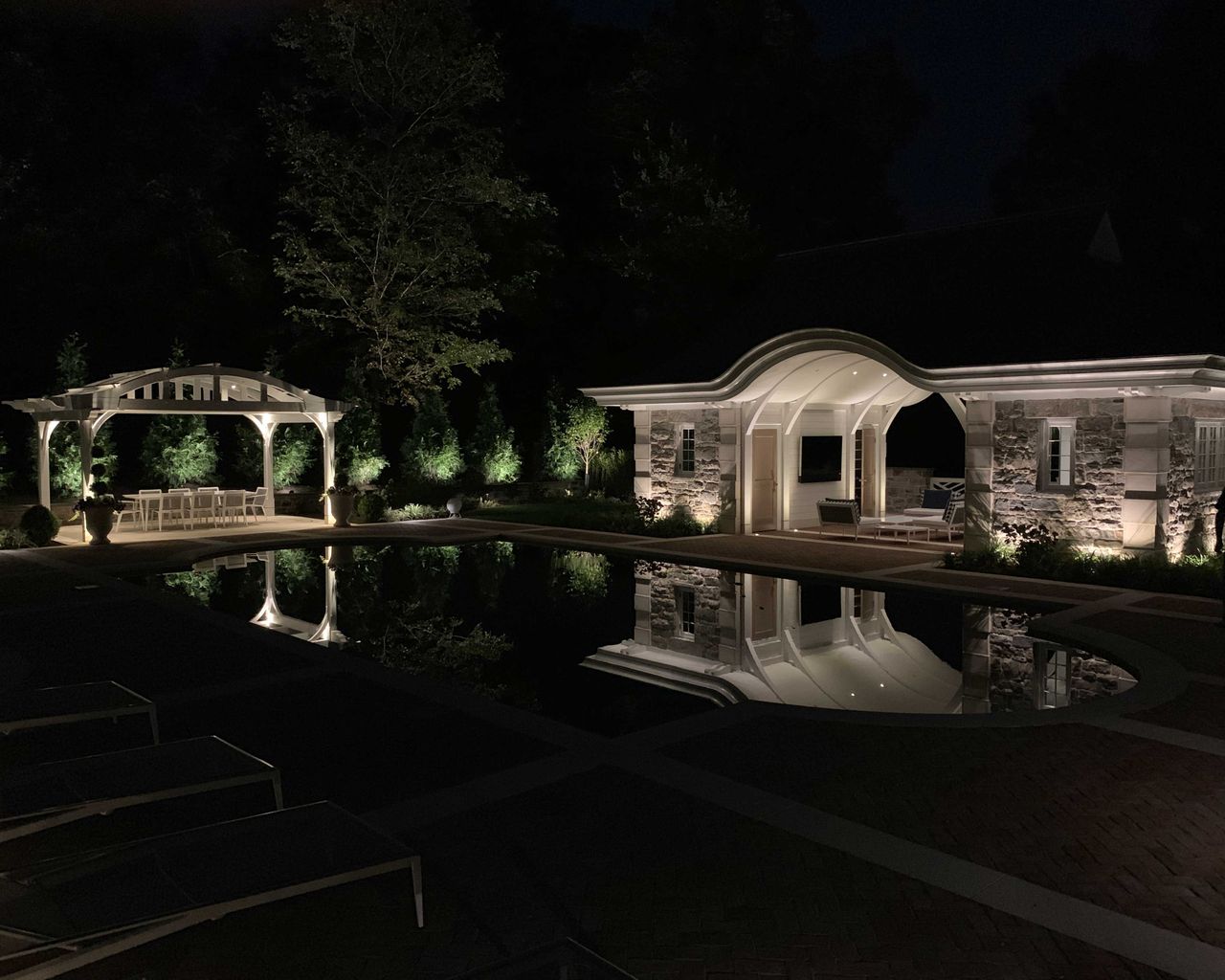 When devising pool lighting ideas, don't just stick to the pool – surrounding structures should not be overlooked. 
'Plan to light adjacent structures, such as pergolas, arbors, and other shade structures, including umbrellas,' says Michael Deo of NatureScape Lighting. 'These spaces provide shade during the daylight hours but may become too dark to enjoy after hours.' 
Consider also lighting a pool house, or other garden building located close to the pool area.
Whether these lights are structure-mounted or hanging, such as an outdoor chandelier, dimmable lighting can make all the difference, adds Michael.
4. Think vertically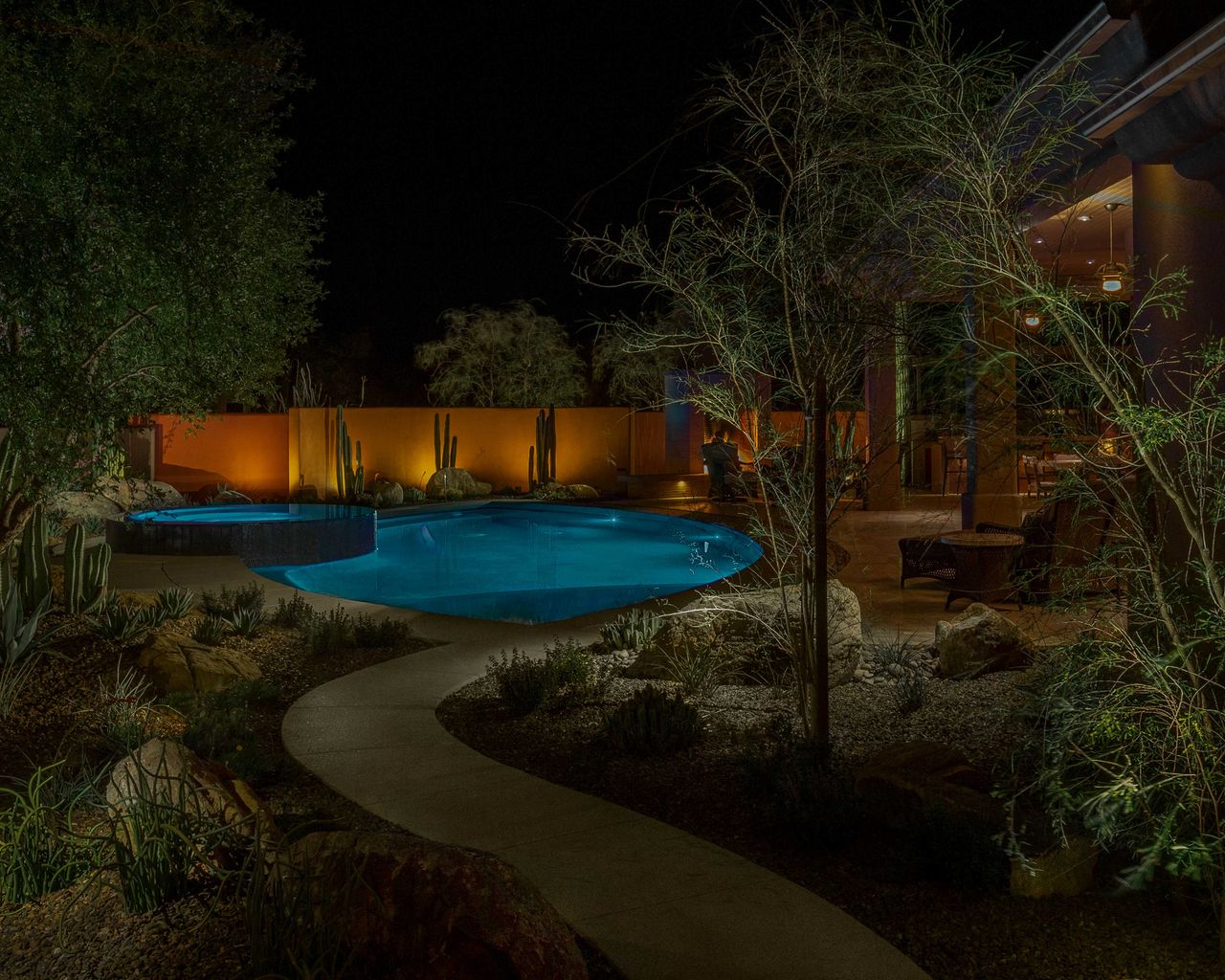 Pool light ideas involve a lot more than simply lighting walkways around the pool. There is also an opportunity to be visual and intentional with your choices, making your backyard look its very best. 
One way to accomplish this approach is by illuminating any vertical surfaces by your pool.  'People see vertical surfaces first within a space,' explain Kirk Bianchi and Janet Lenox Moyer. This means that walls, trees, sculptures, and other background elements need to be lit to fully create a sense of setting around your pool.
5. Highlight plants after dark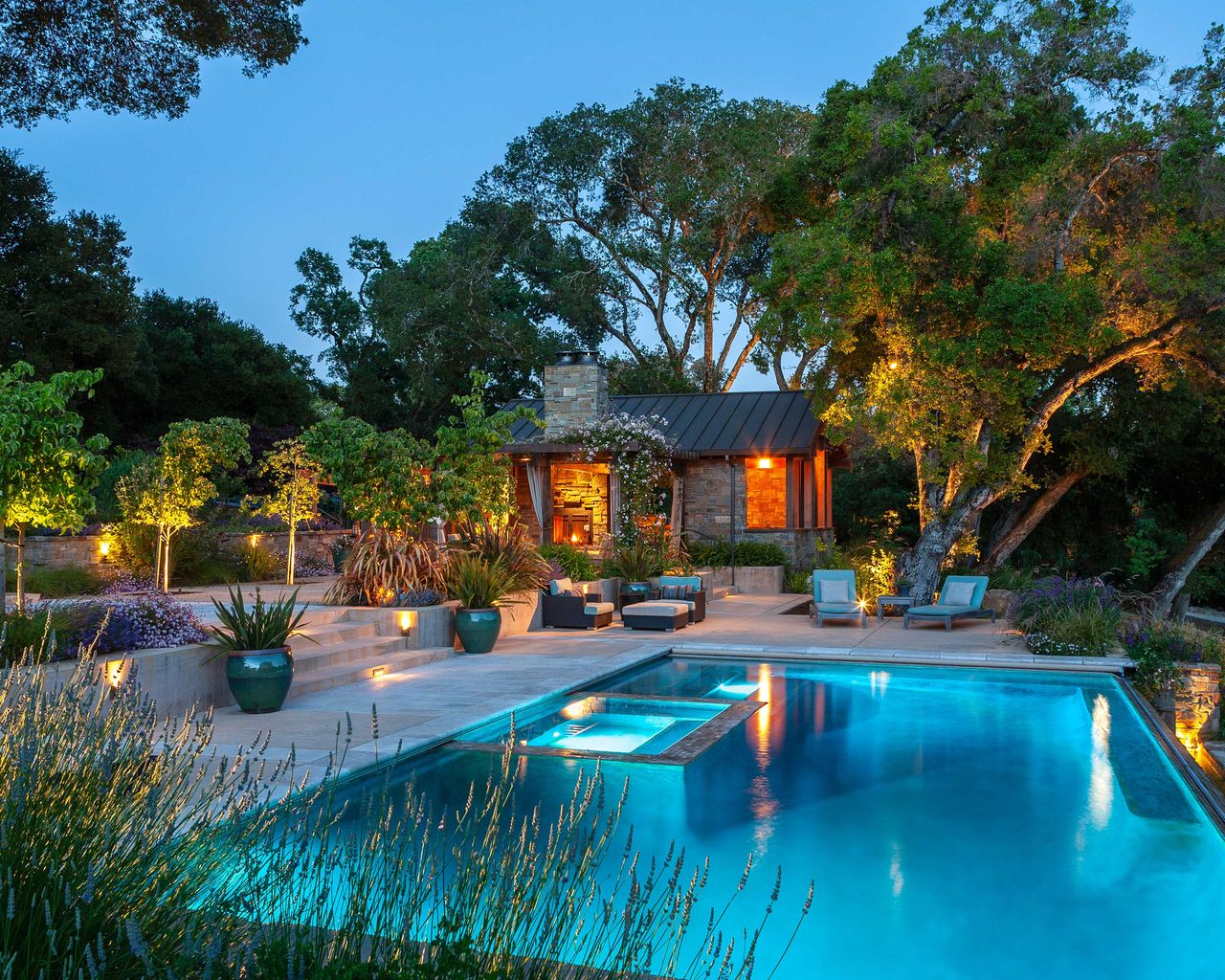 While your plants alongside your pool may look stunning in the daylight, they should take center stage at night time, too. 
Michael Deo advises planting colorful plants that look their best during the season when you'll be using the pool. 'Then, use accent lighting fixtures to minimize glare and highlight your favorite plants after dark,' he says.
6. Use the pool as a mirror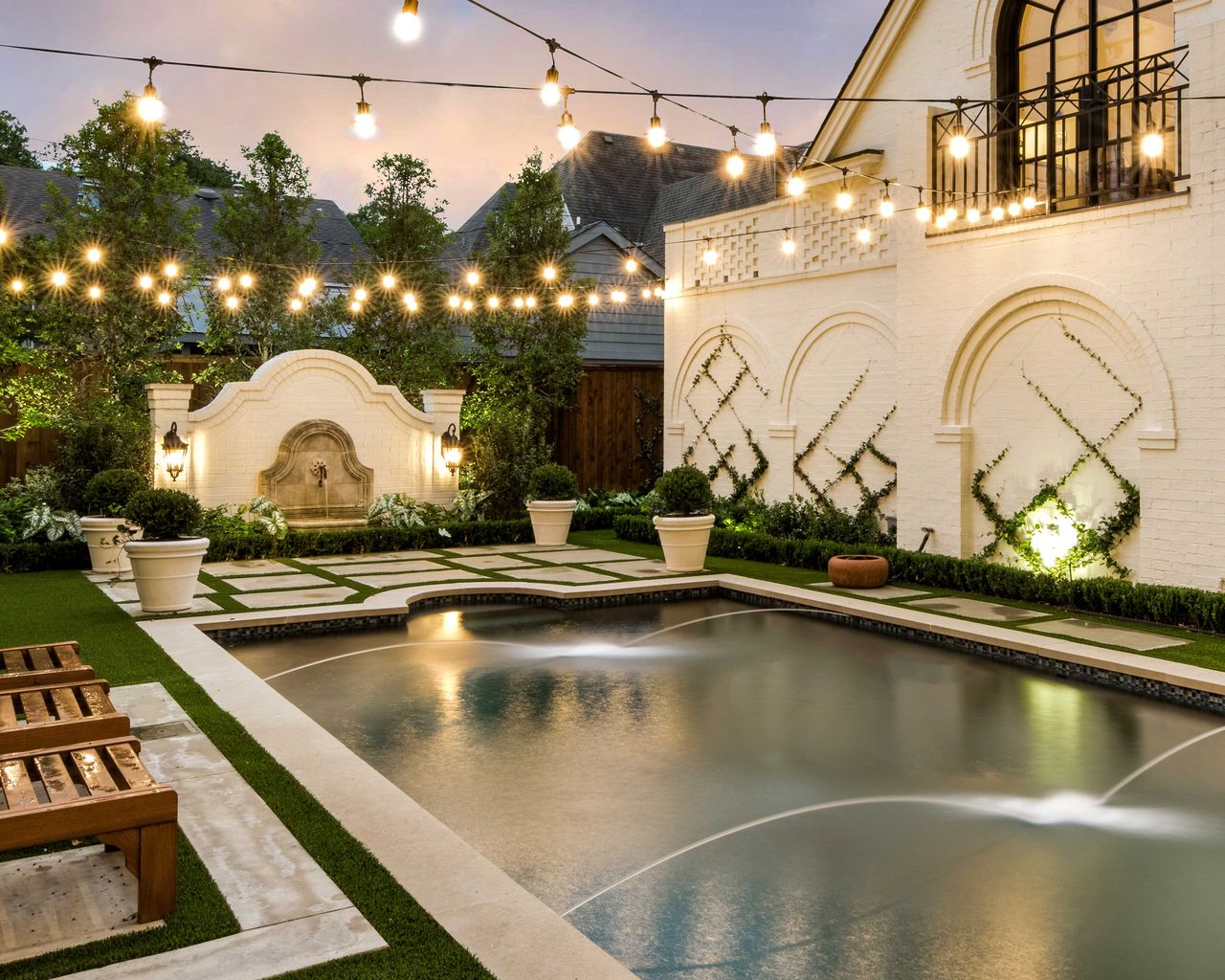 Your pool acts as a natural mirror, something that you can use to your advantage in pool lighting ideas. 
'When designing the pool and the yard, ultimately to be enjoyed at night, be sure that there are elements worthy of being lit and reflected in the pool,' explain Kirk Bianchi and Janet Lenox Moyer. This can include the illuminated outline of a nearby pergola, lanterns that line the pool's edge, or cascading, twinkling lights that hang overhead. 
7. Consider lanterns, torches, or fire features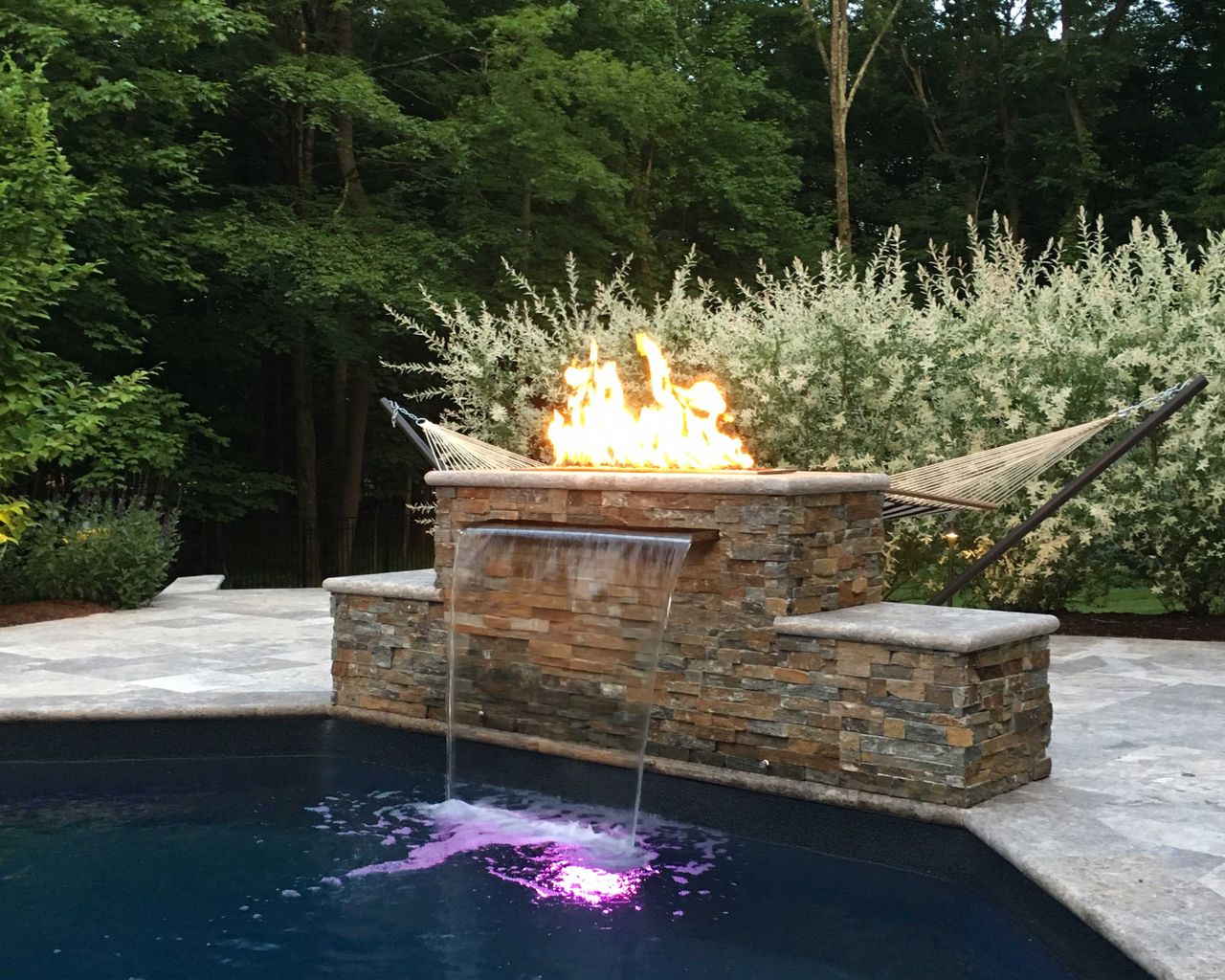 Outdoor lighting can tend to focus on LED lighting, but you can always choose to think outside the and incorporate lighting throughout your pool patio ideas. Lanterns showcasing candles, tiki torches, or your outdoor fireplace ideas can double as sources of light.
Michael Deo has a penchant for using professional copper or brass tiki torches in pool areas. These fixtures can be combined with LED lighting, illuminating the patio or garden area below with an oil-burning canister and helping to provide insect control along with warm ambiance.
8. Include path lighting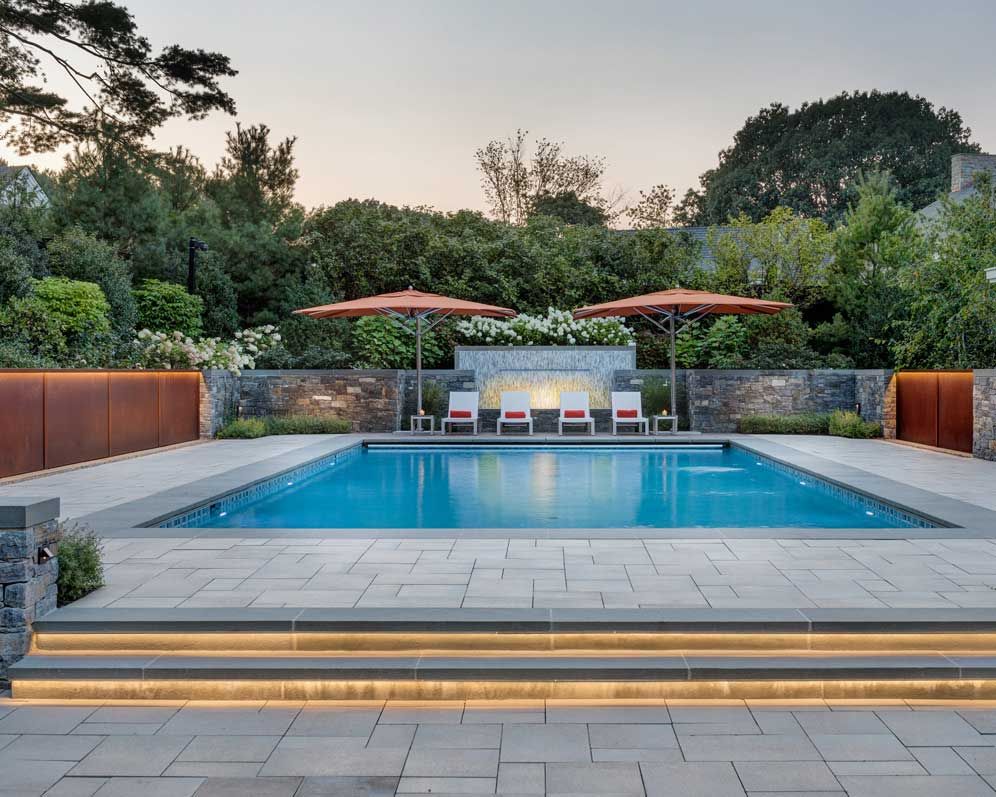 Path lighting isn't just pleasing to the eye – it is also necessary when it comes to pool lighting ideas. 
'Path lighting is important and should first be accomplished by overhead sources illuminating the adjacent planter beds and indirectly lighting the path by spillover,' advise Kirk Bianchi and Janet Lenox Moyer of their preferred method of lighting up pool pathways. 
'Only when there is no overhead opportunity should path light fixtures or wall fixtures be enlisted, and they must be shielded carefully to avoid glare,' they add. 
9. Make it safe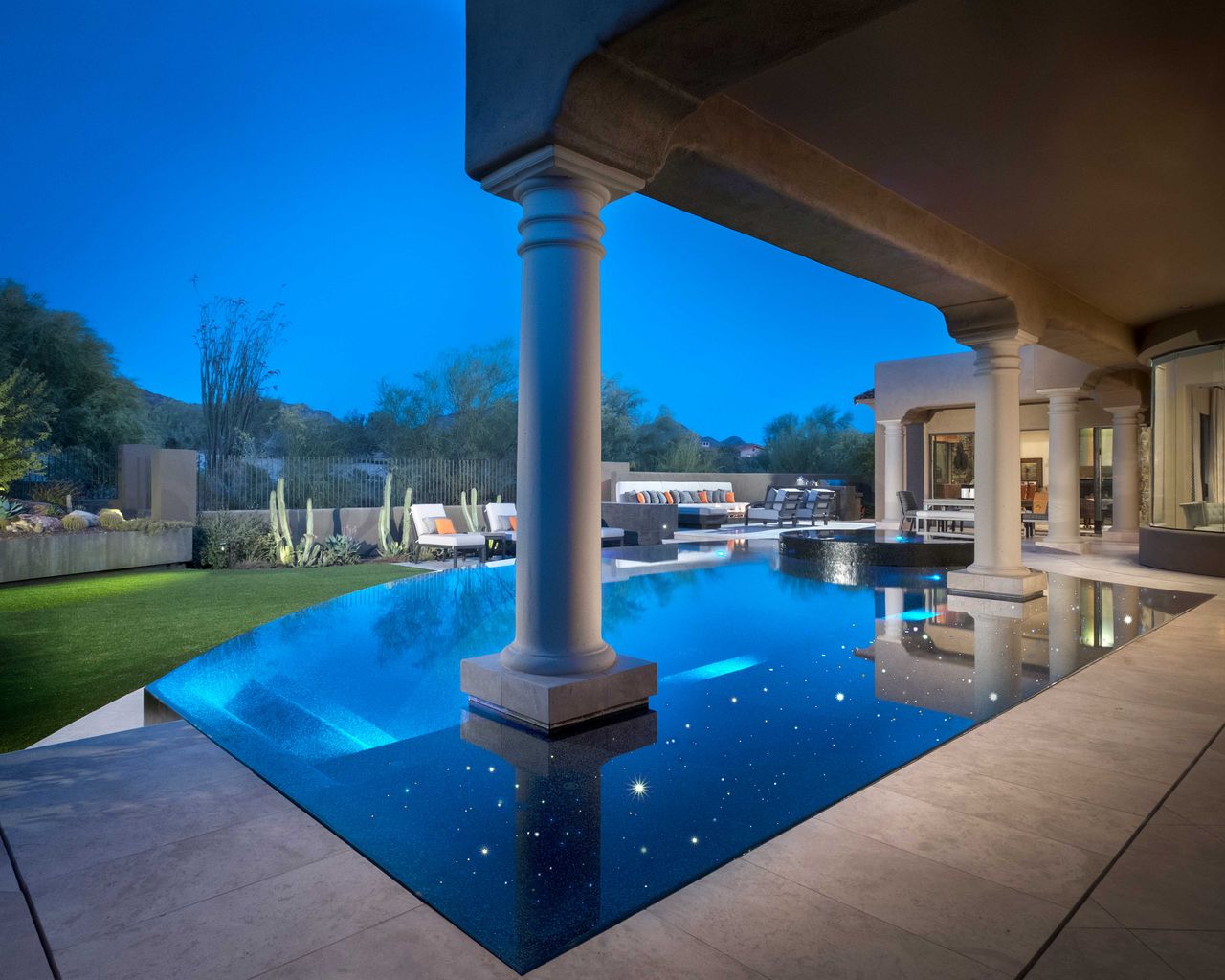 In addition to turning to pool lighting ideas for added safety in your outdoor space, by illuminating pathways and walking areas, you need to think about the safety of the lights themselves. 
'First, you should ensure that any low voltage landscape lighting is located outside of the zone deemed safe by your local inspector,' lighting designer Michael Deo emphasizes. 
Some inspectors use five feet away from the pool as a standard, while others enforce 'the 10-foot rule. Check with your local jurisdiction,' the lighting designer adds.
10. Highlight three-dimensional features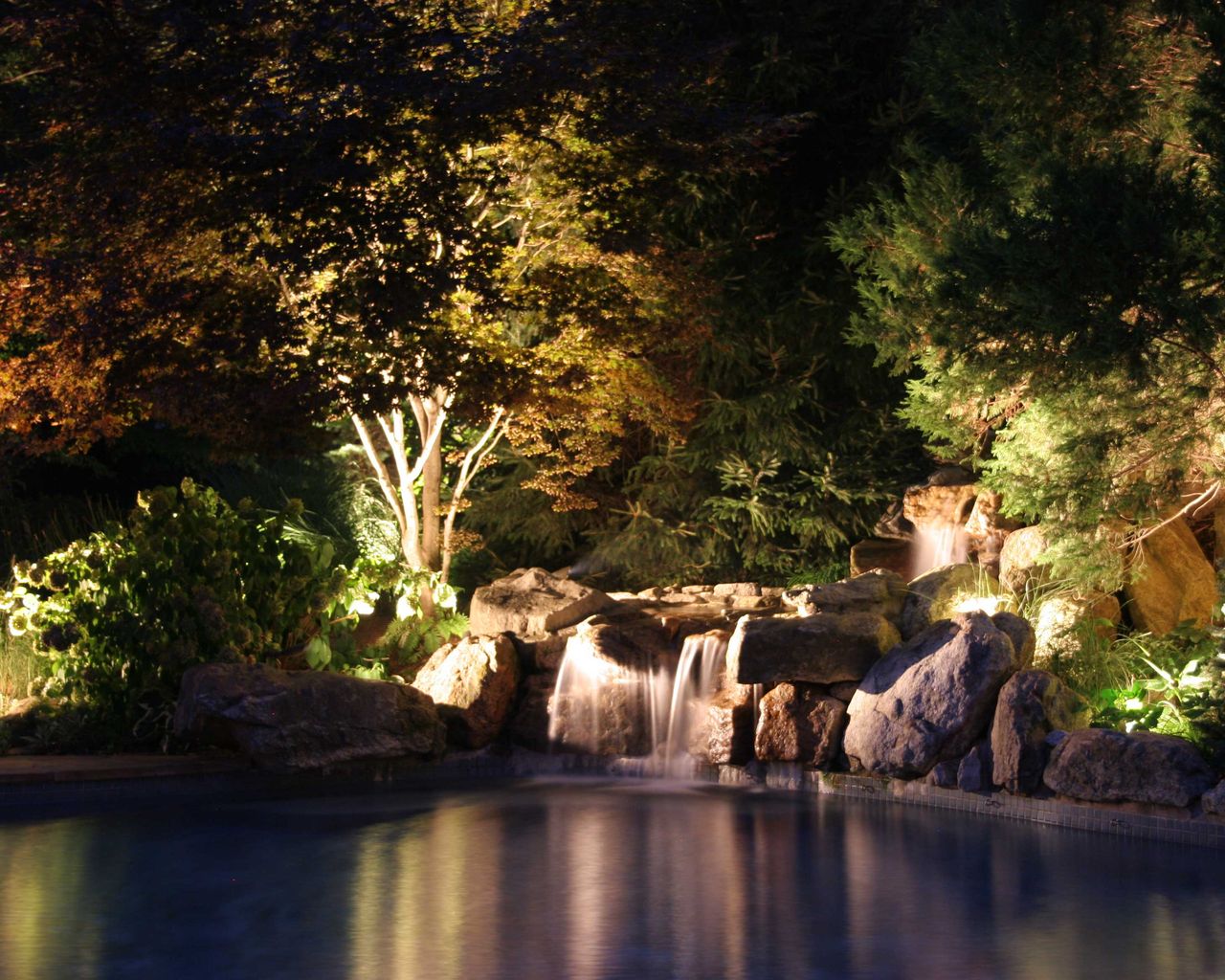 When you have a feature near your pool, such as a striking tree or sculpture, it's best to use more light fixtures and a lower wattage – a combination that effectively reveals 'the three-dimensional character' of an object, advise Kirk Bianchi and Janet Lenox Moyer.
This mix will prevent bright, glaring spots while still attracting attention to certain features you may wish to highlight with the pool light ideas.
How do I light my pool area? 
To light your pool area, always use the services of a pool professional. This is especially so when the pool lighting ideas involve any underwater lighting, since this is considered to be 'human bathing,' advises Michael Deo, and so the lighting will be properly rated for this use and inspected for compliance and safety after it has been professionally installed.
'Plan early with pool light ideas,' Michael adds. 'If working with a professional, discuss lighting at the start of the project. Even if the lighting is not going to be installed right away, it should be planned for so you're not "locked out" of critical areas,' he explains.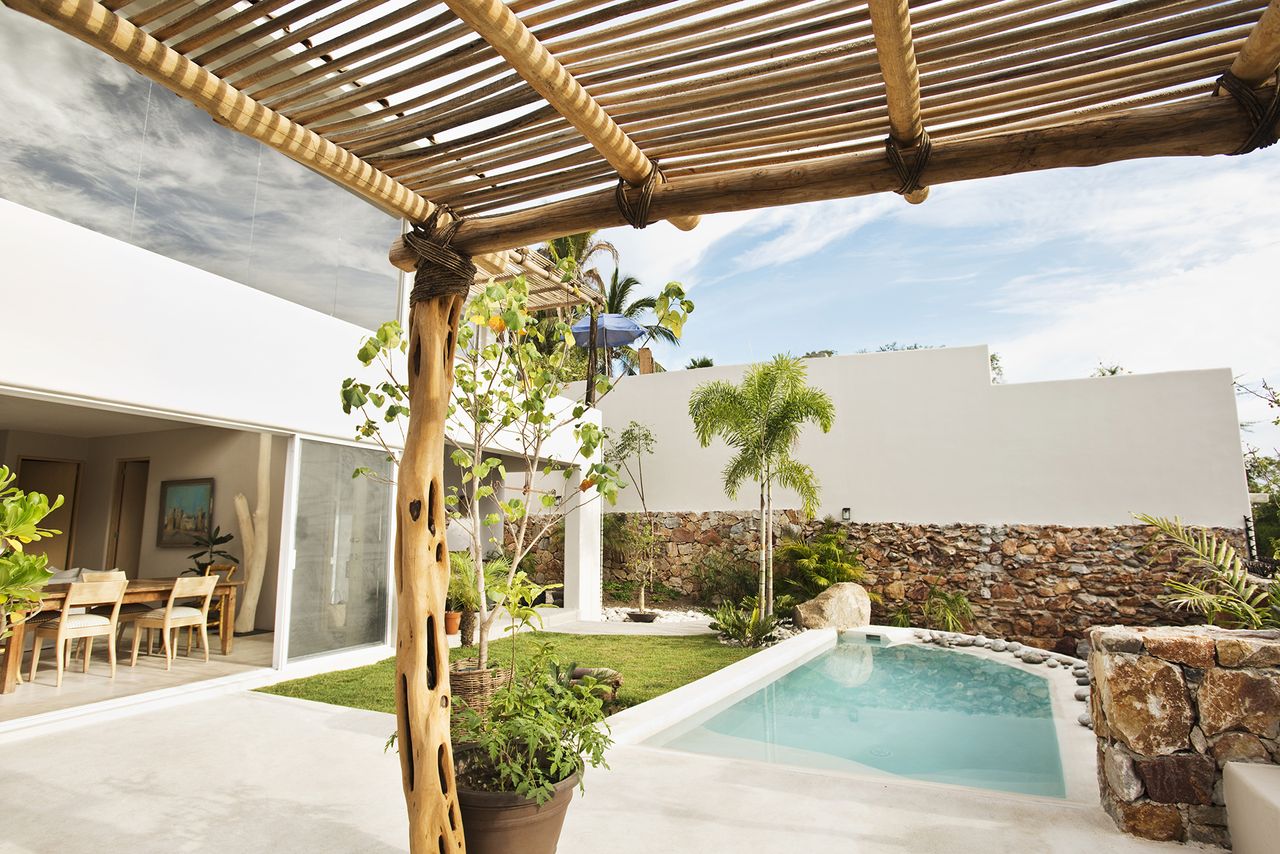 Can I add lights to an existing pool?
To add lights to an existing pool in a backyard, there needs to be a planned remodel underway, 'where the deck, or other surrounding landscaping is already being removed in the scope of work,' advise Kirk Bianchi and Janet Lenox Moyer.
If a pool remodel isn't an option, however, then consider getting creative with other outdoor garden lighting ideas, such as solar-powered pathway lights, outdoor pendant lights, hanging string lights, and tiki torches.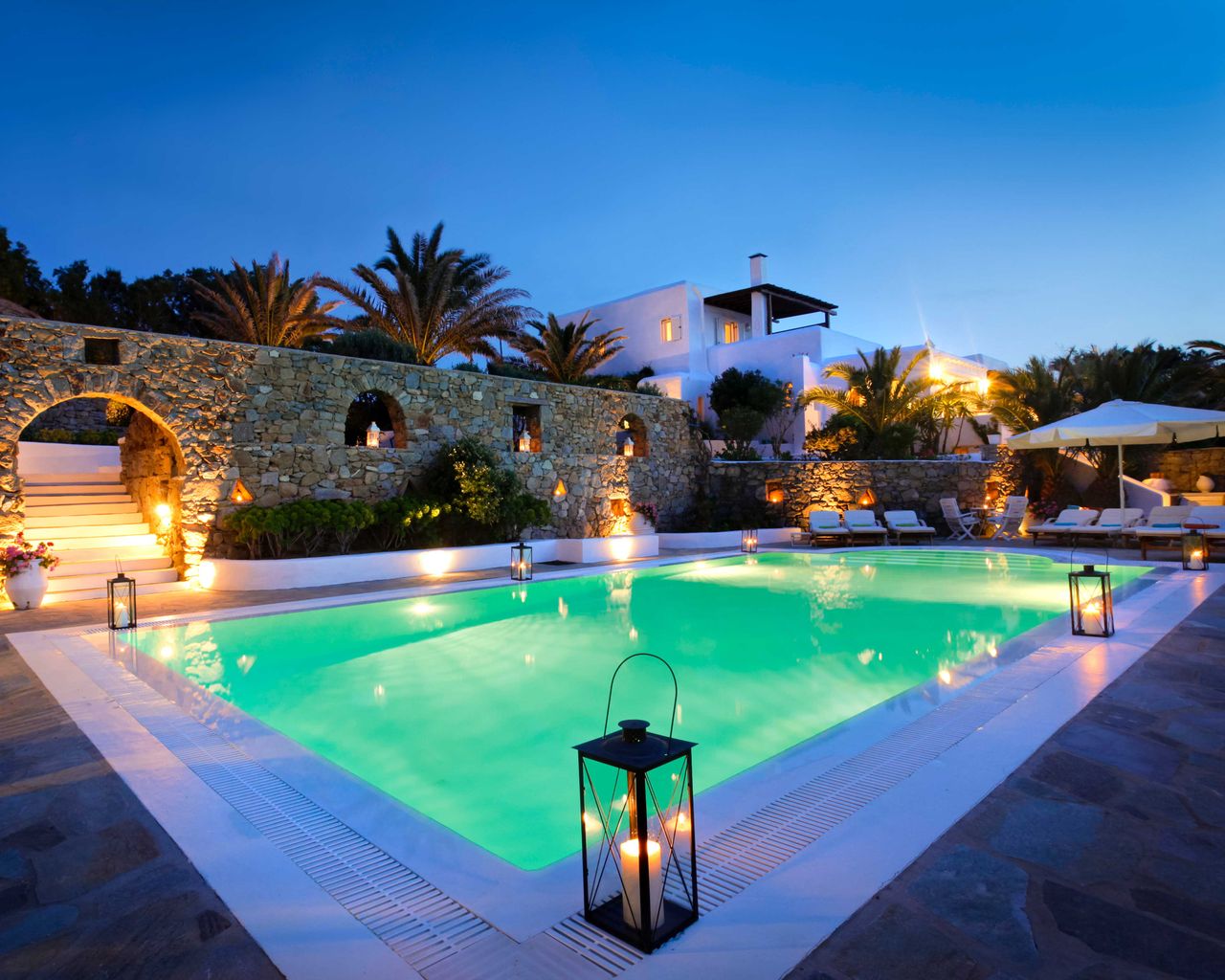 How many lights should a pool have? 
There are no set requirements as to how many lights a pool should have to adequately light the area and it is a matter of personal preference. While some people may prefer low lighting around their pool so they can see the stars, others may want enough ambient light to execute their best pool party ideas well into the evening. 
In their work, Kirk Bianchi and Janet Lenox Moyer will, depending on the length of the pool, place lights about eight feet – centered to the pool – along the house side of the pool, aiming them away from the viewer. 'In this way, you won't be staring directly at harsh lights at night,' they advise.