Porch railing ideas: 10 designs to add curb appeal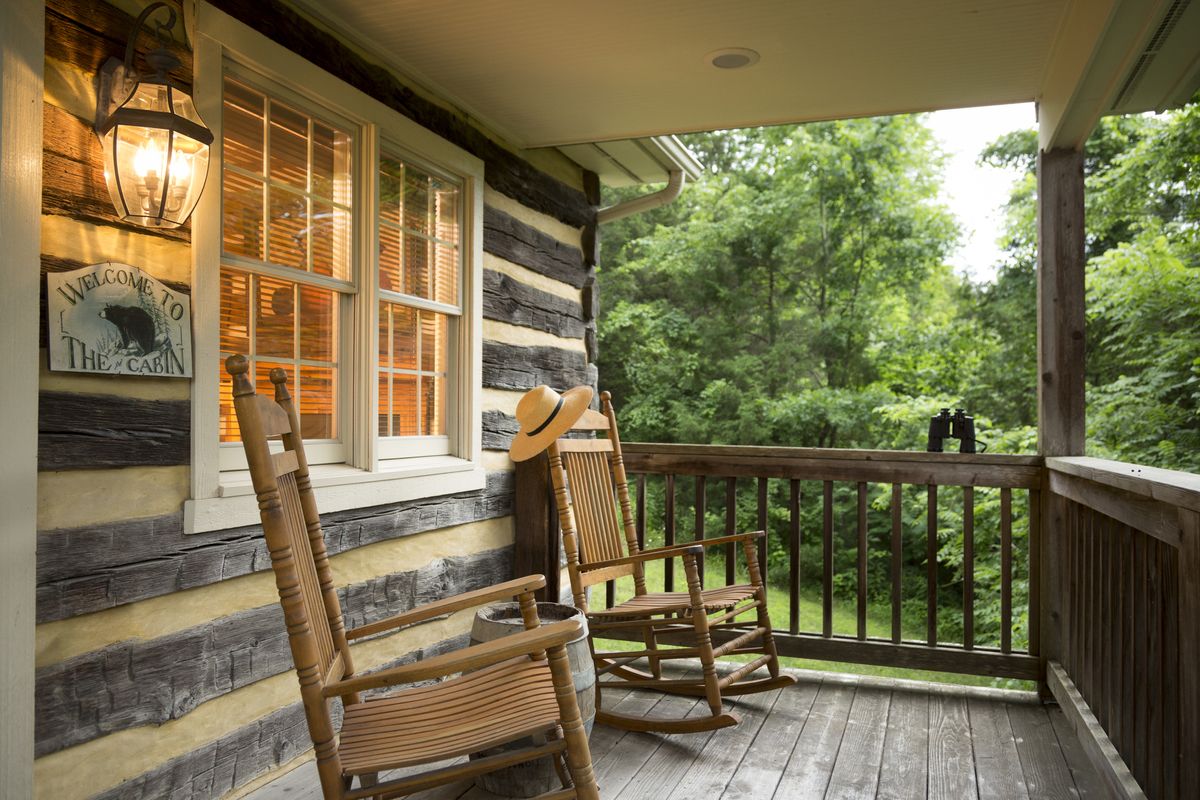 If you are looking for porch railing ideas, it's likely you're at the start of a porch design – or redesign – project. The railings can set the tone of your entire porch so need to be chosen carefully: intricate railings will give a period home a highly decorated appeal, while simple, streamlined railings will suit a more modern exterior, while wood and rope designs will work with log cabin or country-style homes. 
Similarly, the profile and density of the railings will create either an open or private feel for your porch, something you may want to vary between your back and front porch ideas. 
The finish on the railings is important, too, with light colors creating an airy feel, and darker tones creating a more dramatic appeal. Wood finishes will bring a rustic appeal to your home too. 
Below, we showcase a variety of porch railing ideas to help you make the right choice.
Porch railing ideas
Whether you are looking for porch railing designs for your front or back porch ideas, bear in mind that they need to be chosen to reflect the architecture of the rest of your home's architecture too. If they can reflect other elements, such as your front gate or backyard fencing, too, all the better.
1. Paint wood porch railings for a cohesive feel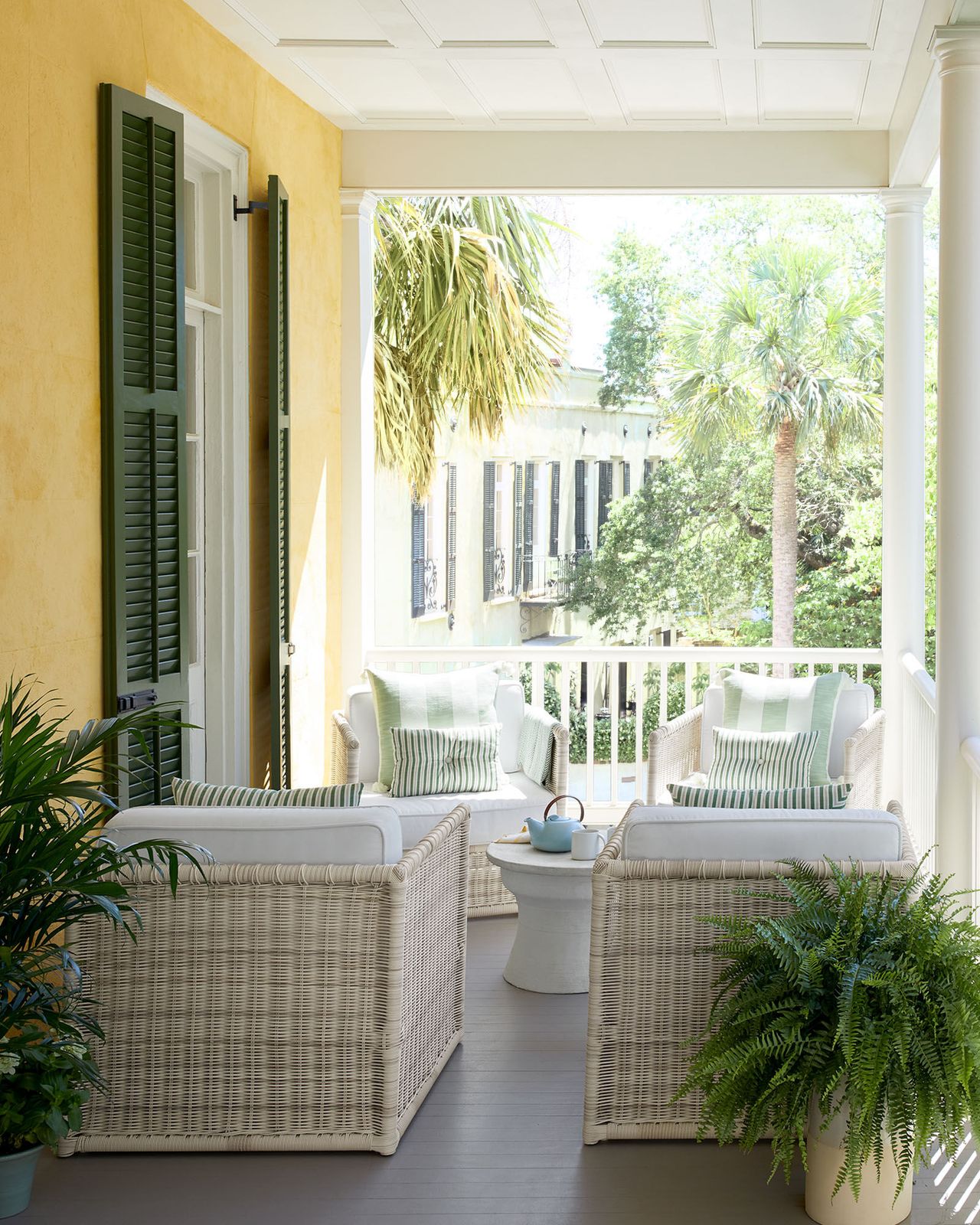 It's always important to reflect the other materials used on your porch in the railings, so if you have a wood front door, shutters and decked flooring, wood will be a natural choice for the porch railings, too. You can heighten the effect of the use of this natural option by choosing porch furniture in sympathetic materials, too.
Wood will obviously need protecting from the elements, which is where your porch paint ideas can play a part. White is a classic, brightening choice that is easy to add accent shades to in easier-to-paint areas of the porch, such as your home's exterior wall, or even just in soft furnishings. White is also the best choice if window frames are painted white, too, to create a cohesive feel. 
'When it comes to choosing the right color for your home, it's important that you ensure the shade is harmonious with your exterior,' says James Greenwood of Graham & Brown.
2. Choose cocktail railings for a social feel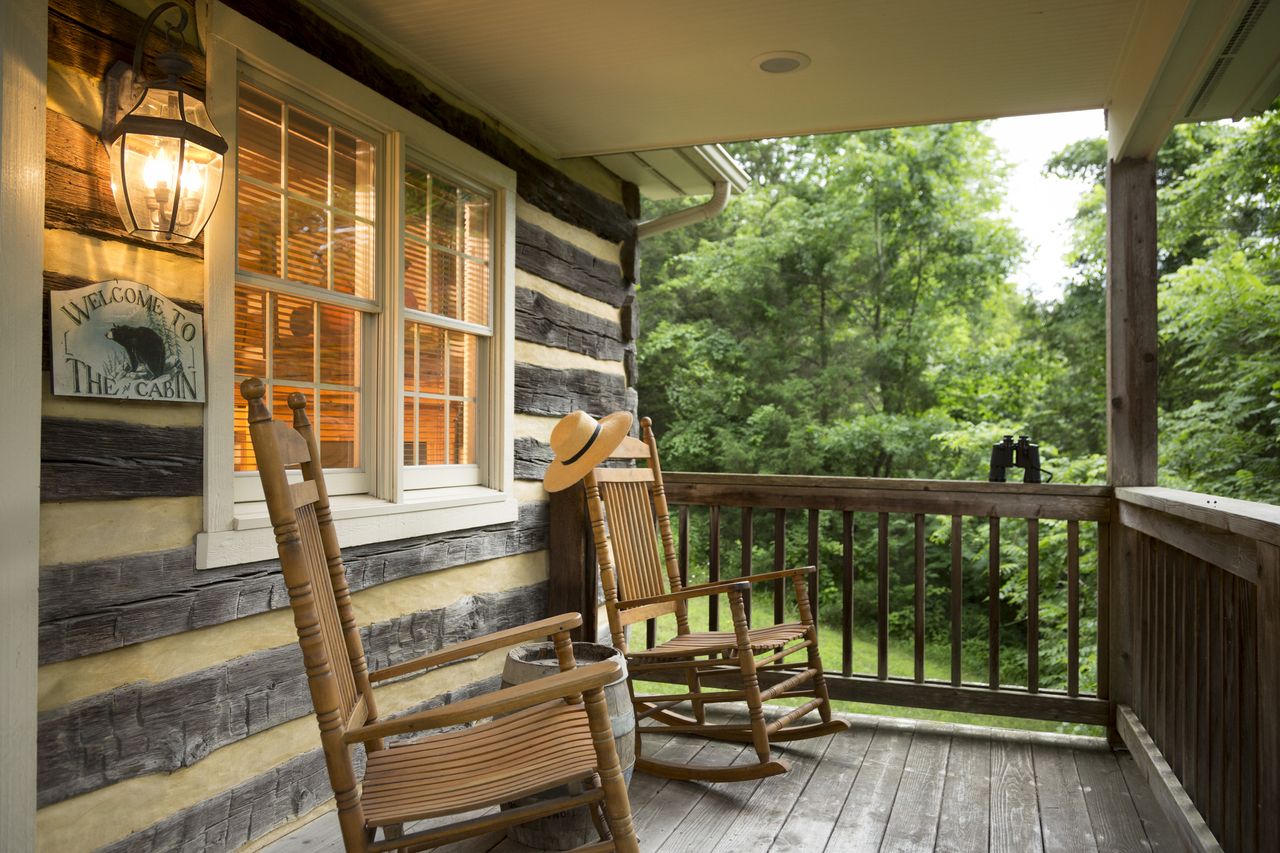 Who knew there was a porch railing design dedicated to cocktails? If you are curious as to how they got this moniker, the binoculars balanced on the flat top rail of the railings above gives you a distinct clue: this top rail is flat and wide enough to hold a cocktail glass, which makes them the perfect choice for small front porches where you might socialize regularly but perhaps don't have the space for drinks' tables. 
Here, the porch railing has been finished with a tough varnish to suit the cabin decor of the house. However, cocktail railings really suit a range of different treatments, with the railings painted a different color or finish to the top railing.
3. Design a patterned railing to echo your home's architecture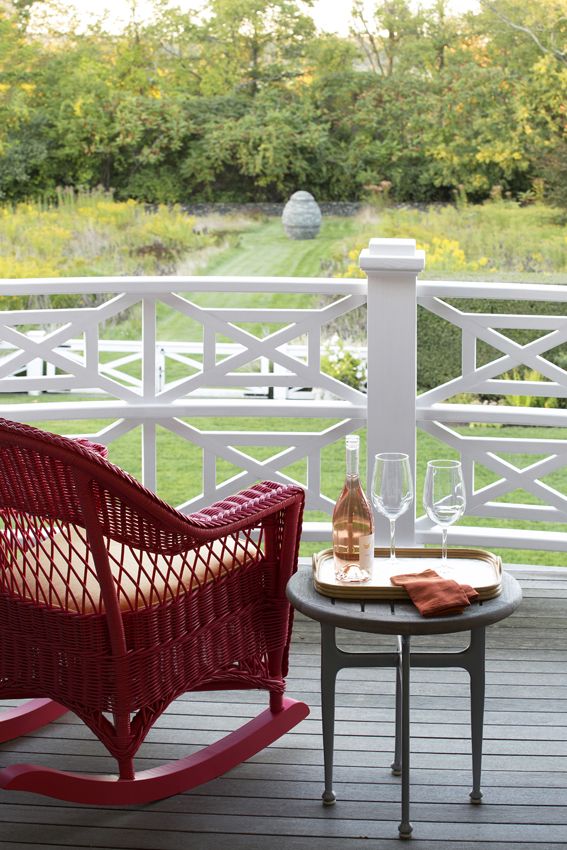 If your home or backyard feature intricate architecture, it pays to echo this within the design of your porch railing ideas. Here, the railings mimic the style of the gates beyond – or perhaps vice versa. The effect is to draw attention to the porch, which means keeping the finish on the railings, in this case white, quite simple. Color can be added in furniture, as on this porch. 
If, as on this porch by Andrew Suvalsky Designs, your seating is positioned to enjoy a beautiful view, it pays to ensure that the porch railings aren't set too high. The ideal height will be around 36in (though in California deck railing is required to be 42in): safe for small children, low enough to be easy to look past when seated.
4. Highlight porch top rails with paint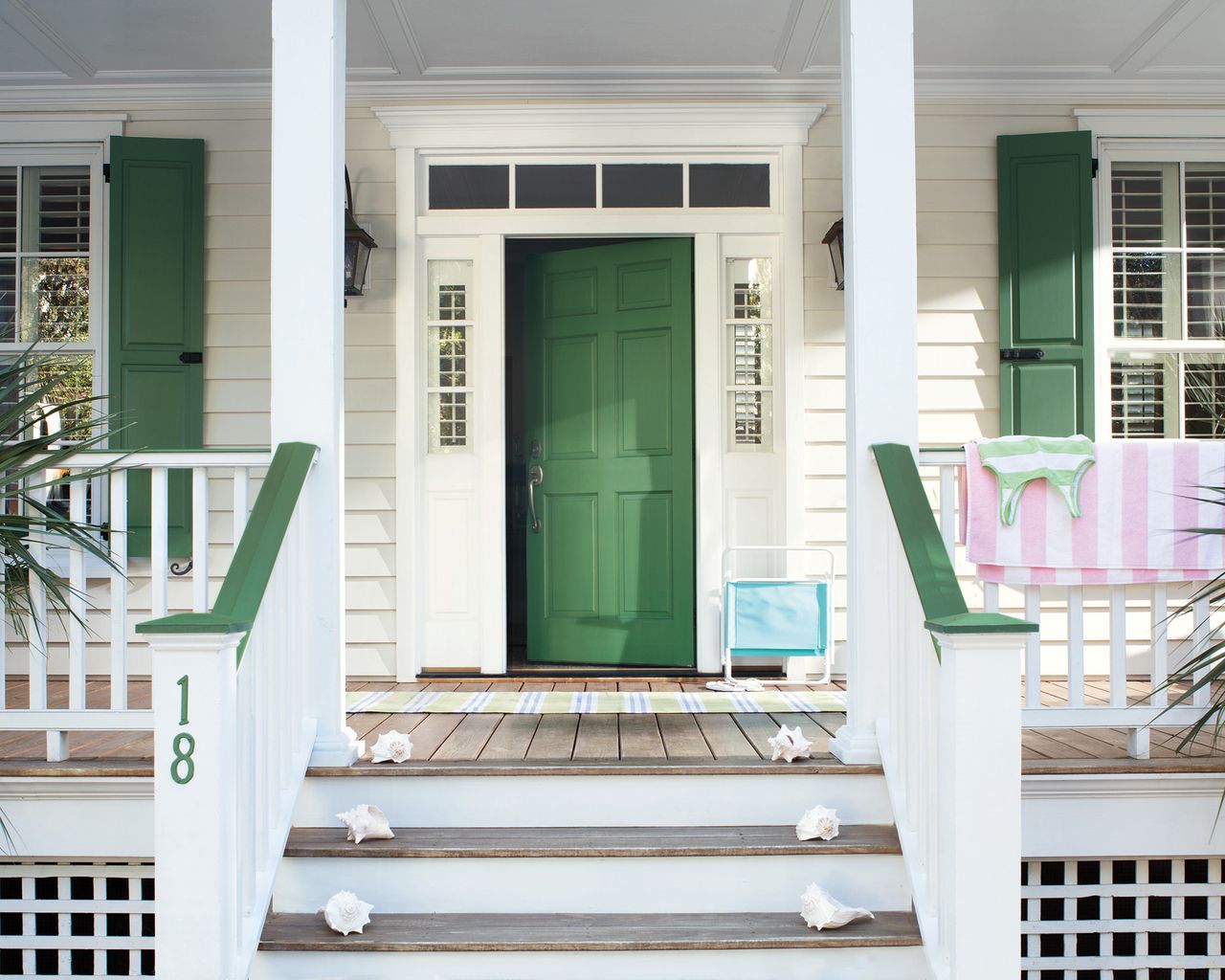 Highlighting the top rail of your porch railings is a great idea for adding more color and detailing to your porch, and is particularly successful if chosen to complement your front door color ideas.
'Although the go-to paint is often a white or off white, choosing a bolder color is a great way of creating a feature, especially if you have beautiful doors or windows in your property,' says Helen Shaw, director at Benjamin Moore.  
Here, it picks out the shutters and house number, too, and is turn picked up by the planting.
5. Take inspiration from deck railings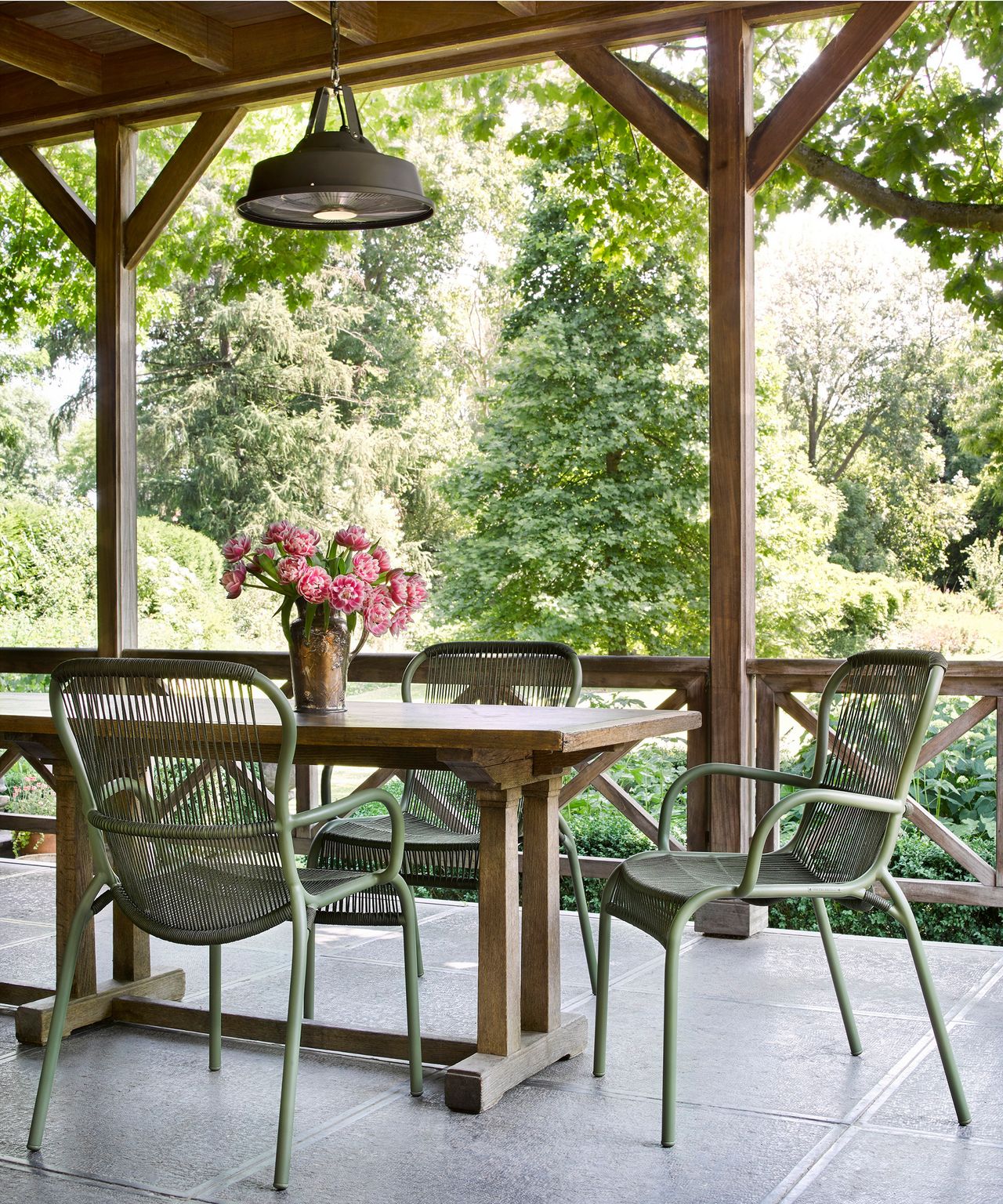 If your porch doubles as a deck, or perhaps you have a raised or enclosed deck overlooking your backyard, it is worth marrying your deck railing ideas and porch railing design. This will create a cohesive look from the front right round to the back of your home. 
Here, the design of the columns, with the diagonal supports, is mirrored in the design of the porch railings to create a look that's simply elegant.
6. Design porch railings for privacy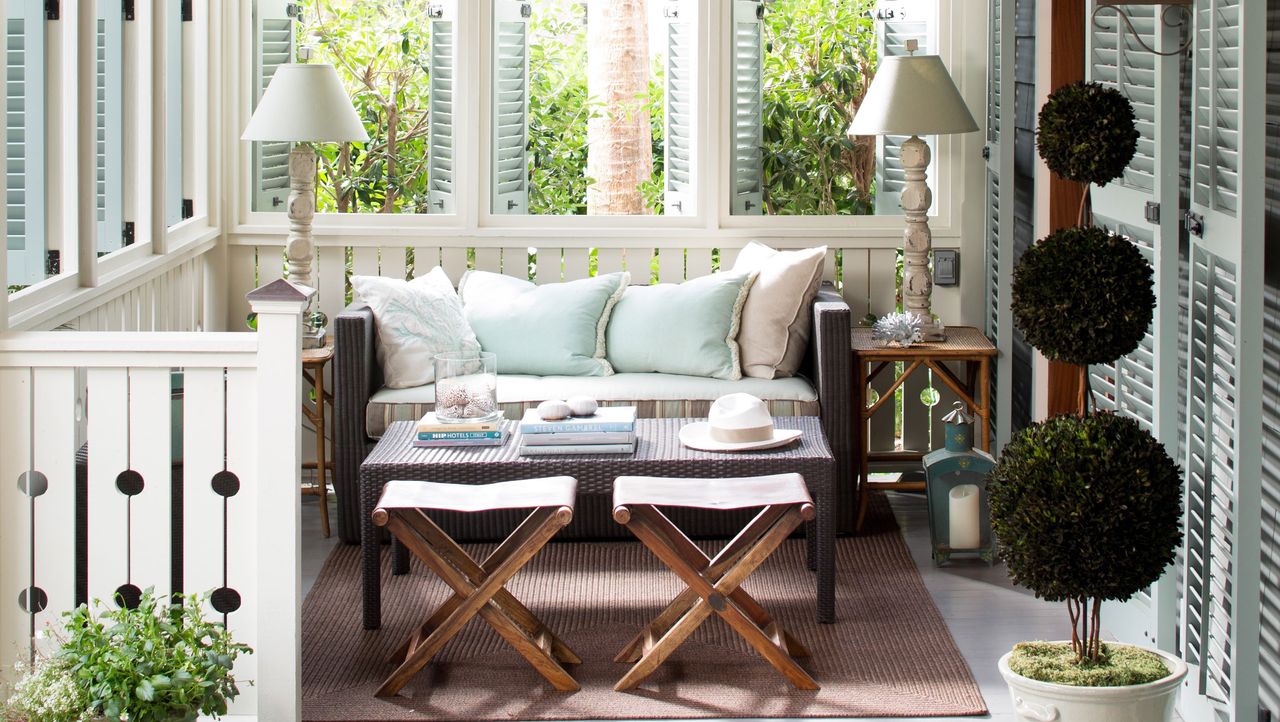 'Screening in a back porch will provide you with privacy if you are overlooked by neighbors; it will also help keep bugs away and can help protect furniture from the worst of the weather. It can help make your porch feel like an extension of your home, too,' says Lucy Searle, Editor in Chief, Homes & Gardens. 
'The porch railings you choose for privacy needn't be solid, though; these, above, would give you enough screening but still allow a cooling breeze to penetrate, a must in warm climates.'
7. Go for all-over color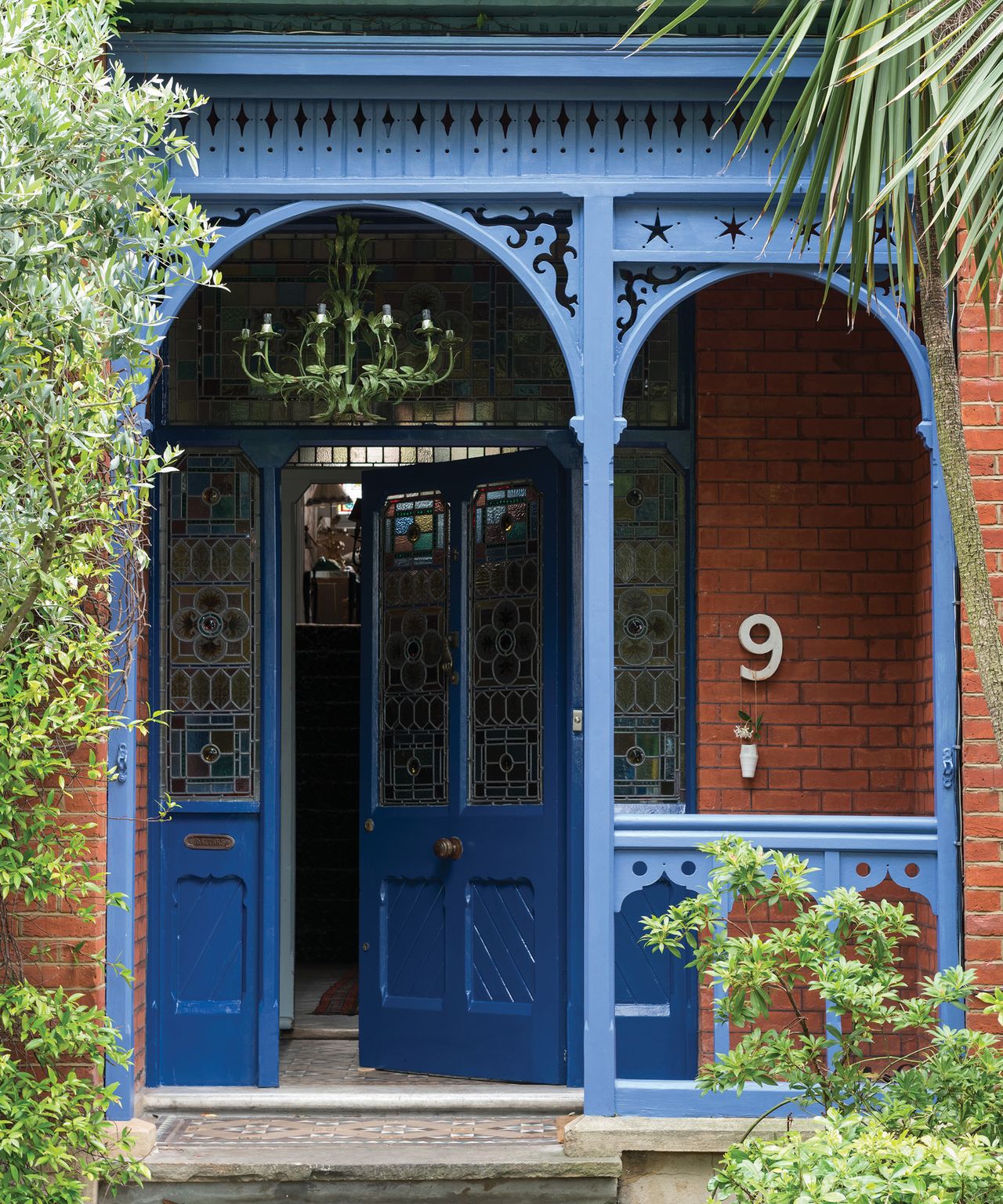 If, like us, you love color, you can decorate a front porch – doors, railings and trim – in one bold shade. This works perfectly for small porches, like this one, and really suits the intricate gables of a Victorian style homes.
'Your front door and surround is the perfect introduction to what lies beyond, consider elements such as the vernacular of the build and a palette that has empathy with the architecture,' says Patrick O'Donnell, Farrow & Ball Brand Ambassador.
Want to go a step further?  'Work with colors that share the same undertone or several shades lighter or darker than one another – this again will create a considered look that is timeless and attractive,' says Patrick. 
If you are going to take this approach with dark colors, ensure your front porch lighting ideas are efficient enough to light (and show off) what could otherwise be a dark space.
8. Choose cable porch railings for modern spaces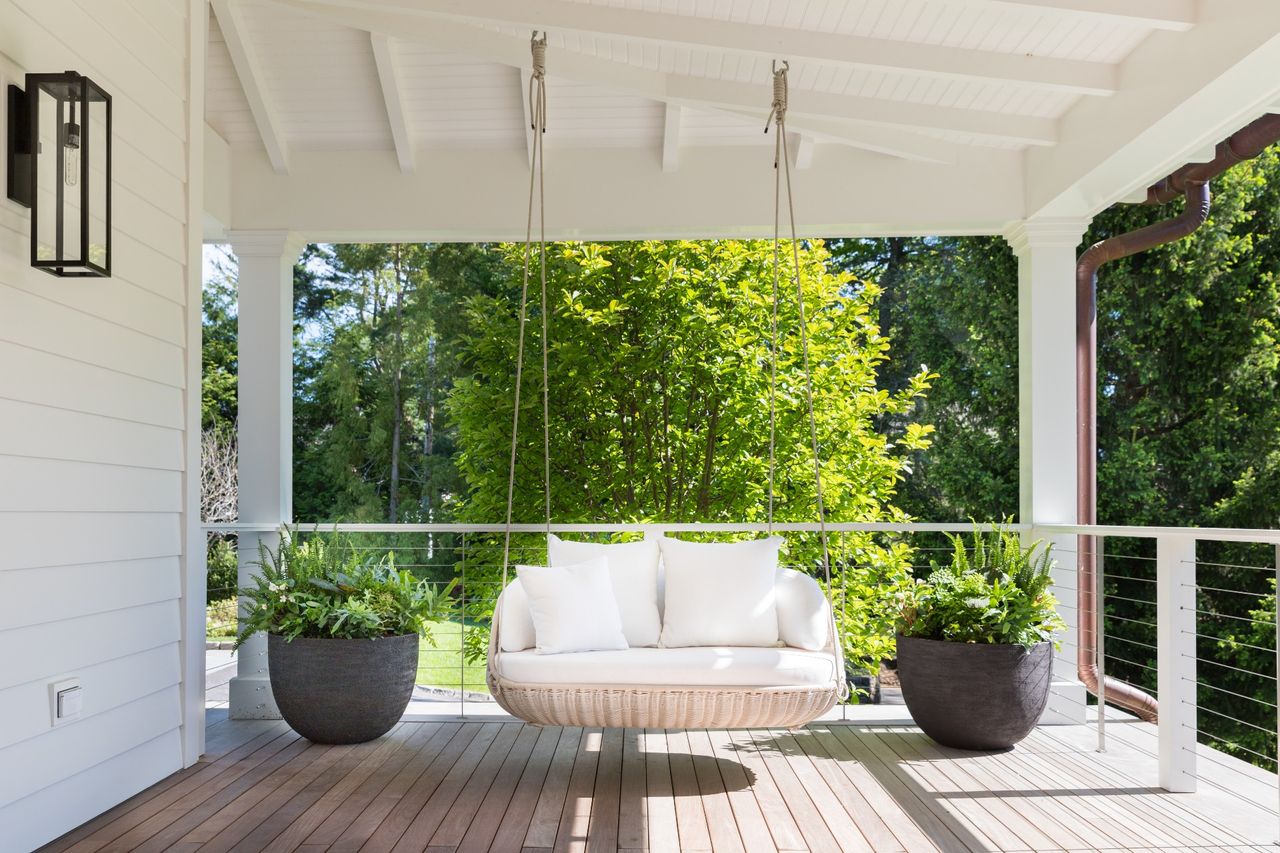 If the effect you want to create is minimalist and streamlined, cable railings are the perfect choice for your porch. They are also a great choice for making a small porch feel larger, for maximizing the view beyond and for allowing as much of a breeze as possible to penetrate a stuffy space. 
Cable railings, though modern in finish, needn't just be limited to modern homes; you can see here that designer (and homeowner) Christie Manning of CQM Interiors has used them to complement her period home's architecture. 
9. Pick a composite material for durability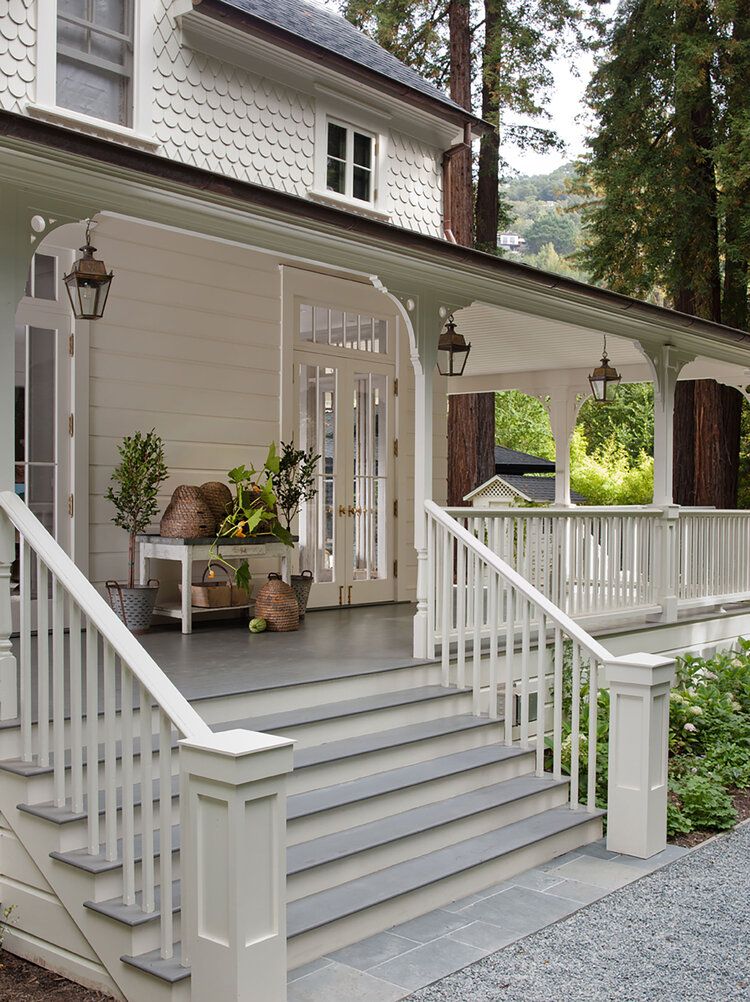 If you love the look of wood but not the upkeep – especially if yours is a large wraparound porch – composite will be a good choice for you. Composite porch railings are made from a combination of wood and PVC and good products look convincingly like wood. They also come ready-colored, so there is no need to paint (or repaint) them, plus they come in a range of styles, so you can find a railing design to suit your home.
10. Pare back porch railings for cottages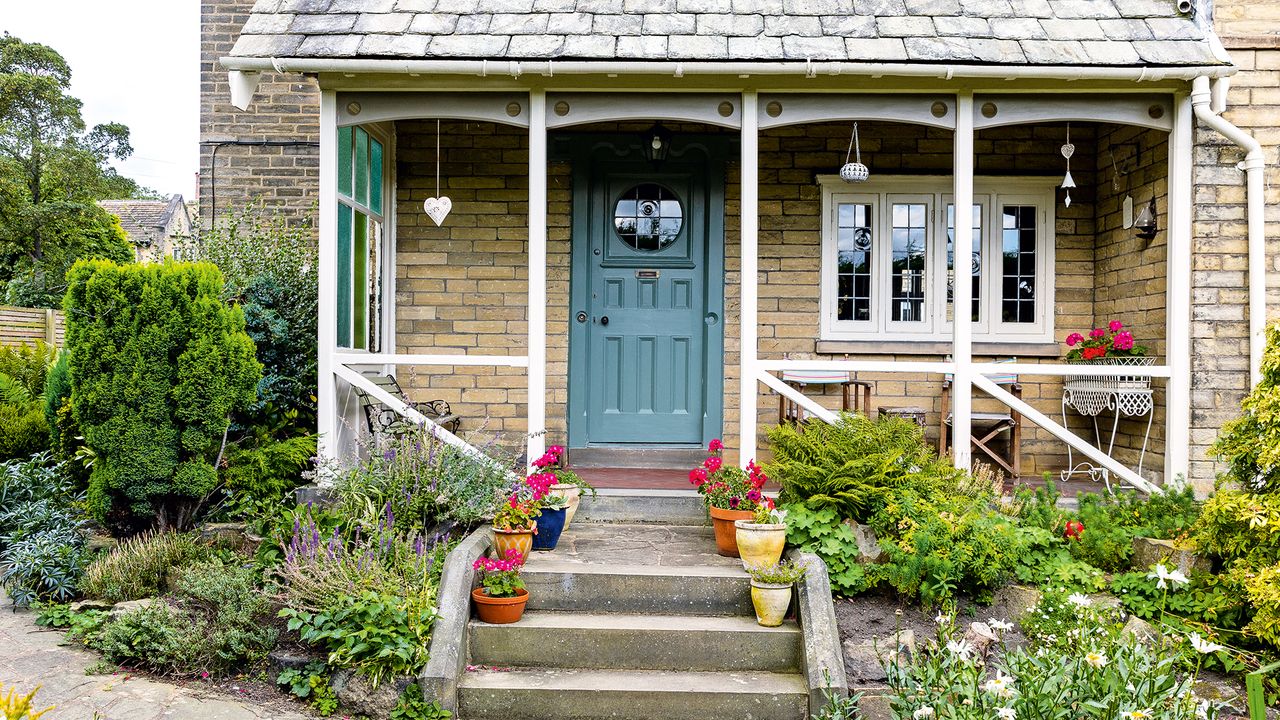 If you are looking for cottage porch ideas, you could go for an intricate design, but if yours is a small, quite enclosed space, a pared back porch railing will be more space-enhancing and will allow more light into the porch. 
'This type of design is particularly to suited to porches where there is little possibility of injury from falling, particularly for little ones. It also means that the lovely planting in the borders beyond the porch can be enjoyed fully,' says Lucy Searle, Editor in Chief, Homes & Gardens.
How tall should a porch railing be?
A porch railing should be at least 3ft in height to be safe, especially if the porch is raised; in California, deck railings are required to be 42in high. In all cases, ensure you stick to height regulations in your locale. 
What is the best material for a porch railing?
The best material for a porch railing is one that suits both the architecture of your home and the amount of upkeep you are prepared or able to dedicate to your porch. This means that period homes are more likely to suit painted wooden or wrought iron porch railings, while modern homes are more likely to suit metal porch railings. However, this is not a hard and fast rules. As for upkeep, composite porch railings require the least upkeep, while anything painted will need touch ups every three to five years, with total renovations every five to 10 years.
How do I decorate porch railings?
The best way to decorate porch railings is to do so in a way that complements the architecture of your home. So if your home's front door or window frames are painted white, it's likely that white-painted wooden porch railings will suit best. Equally, simple designs will suit more modern, streamlined homes, while more intricate designs will work better for period homes.