Small kitchen islands: 10 ideas for cooking, dining and more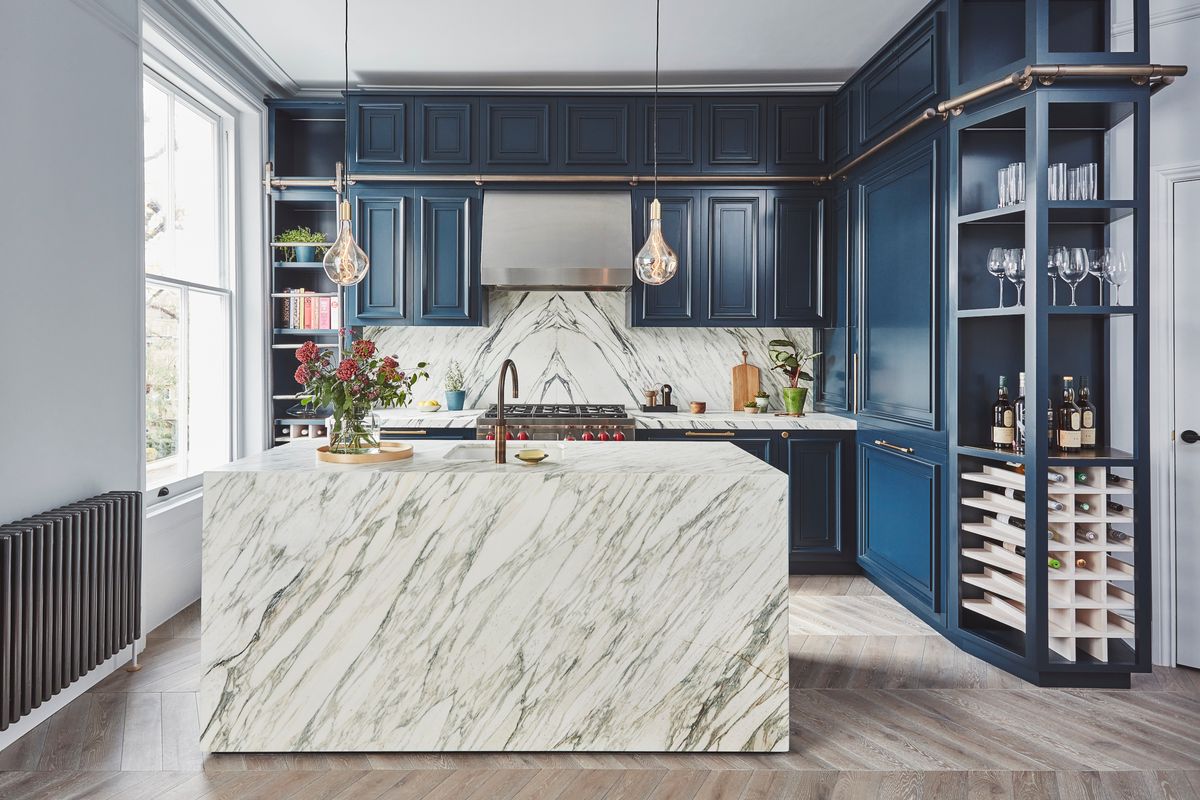 Yes, small kitchen islands are a possibility. You don't need a huge, sprawling space to have any chance of fitting one in. In fact, teeny kitchens will benefit so much from a carefully-designed small kitchen island unit – with or without seating – as these clever ideas show. 
A compact, hardworking island unit will boost the functionality of your kitchen by offering extra space for storage and cooking. Dining and socializing can be incorporated too, with a built-in perch, booth or breakfast bar for afternoon coffee or catching up on a spot of work at home. 
Then there are the style plus points too: a statement kitchen island in a different color will add wow factor, and remember, you won't bust the budget for a luxe countertop material you've had your eye on, if it's for a small kitchen. 
Small kitchens with small islands really do work and should still be top of your wish list, even if space is compact. 
The key is to consider what you want from your small kitchen island: the more compact it is, the more specific you will need to be. Do you want a place to sit and dine – perhaps a discreet perch for stools to fit under? Do you need to fit in extra storage or an appliance if you are struggling to fit in a hob or sink elsewhere in the kitchen? With a little creativity, small kitchen islands can be as flexible and space-saving as larger designs – and the result will make your kitchen feel as special as any grand design. 
Small kitchen islands: ideas and expert advice
Dynamic small kitchen storage ideas, from low-slung, built-in dining booths to butcher's blocks and open-fronted cabinets, are built into these small kitchens with islands to make your tiny space work much harder.
1. Max out a single wall kitchen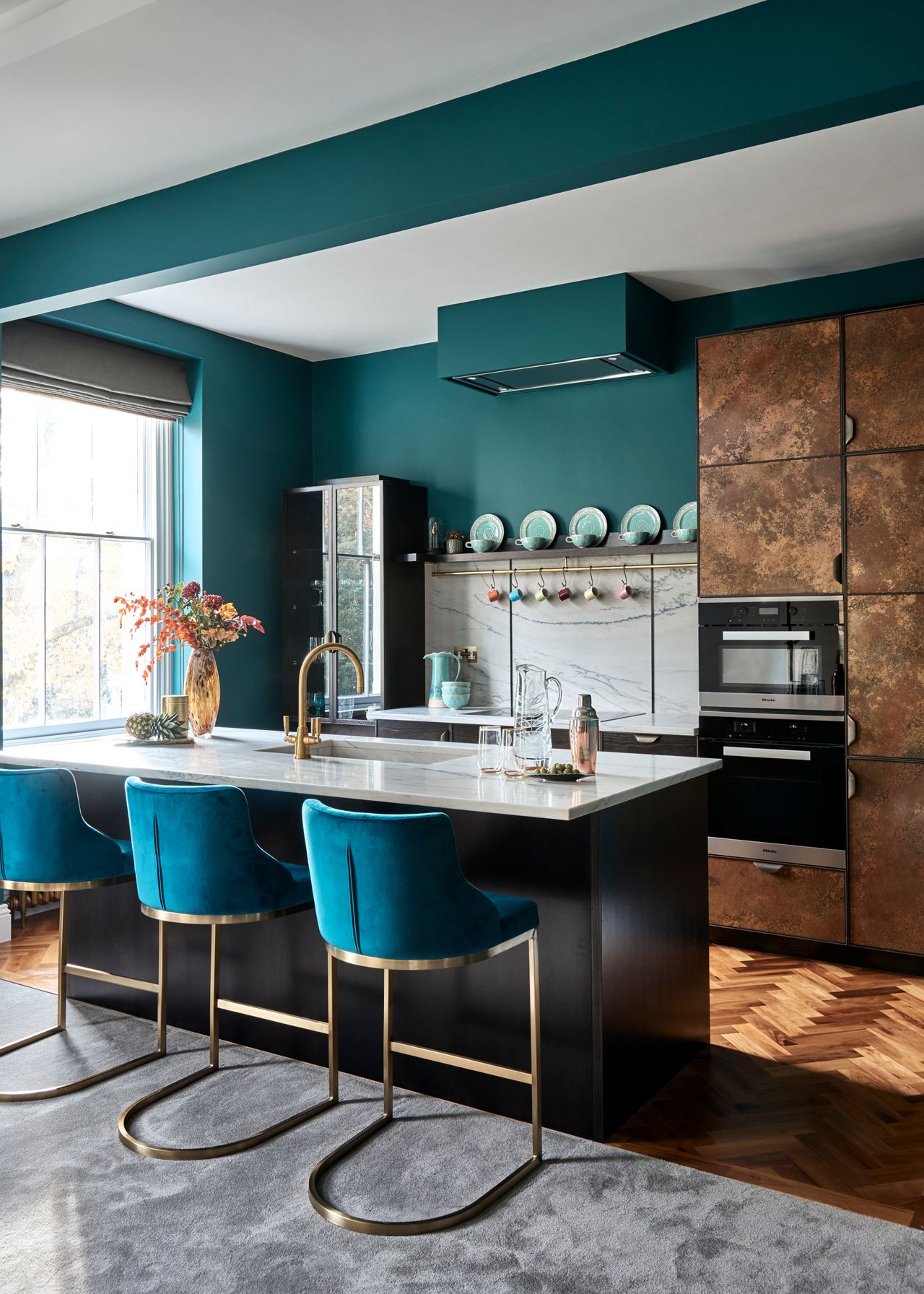 Open-plan apartments can be tricky small spaces to design but planning in a small kitchen island unit can be a game changer. Where there is room only for a single wall kitchen, multi-tasking islands offer valuable extra space for food preparation, appliances and seating and can act as a visual divider in an open-plan scheme. 
'If there's space, I always try to install a small island to a single-wall kitchen,' explains Charlie Smallbone, founder of Ledbury Studio. 'As hardworking as it is aesthetically pleasing, it'll provide extra space for food preparation and storage. If possible, I like to incorporate a breakfast bar for a small kitchen  into the island – this creates a sweet spot for relaxing and casual dining. And I always make sure the designated chef can be part of the conversation by locating functional elements such as the hob or sink on the island.'
This stylish central London apartment is based around an all-in-one kitchen, eating and living space with a multi-tasking small kitchen island fitted with a dishwasher, sink, trash and drawers – as well as a seating area. Using flashes of consistent color throughout allows the island unit to provide a seamless, visual link between the cooking and socializing zones. Little Greene's Marine Blue paint shade on the walls is echoed across the bar stools and sofa on the other side of the room. The result is luxurious and warm, when paired with antiqued copper cupboard fronts and quartz backsplashes and countertops. 
2. Incorporate glass fronts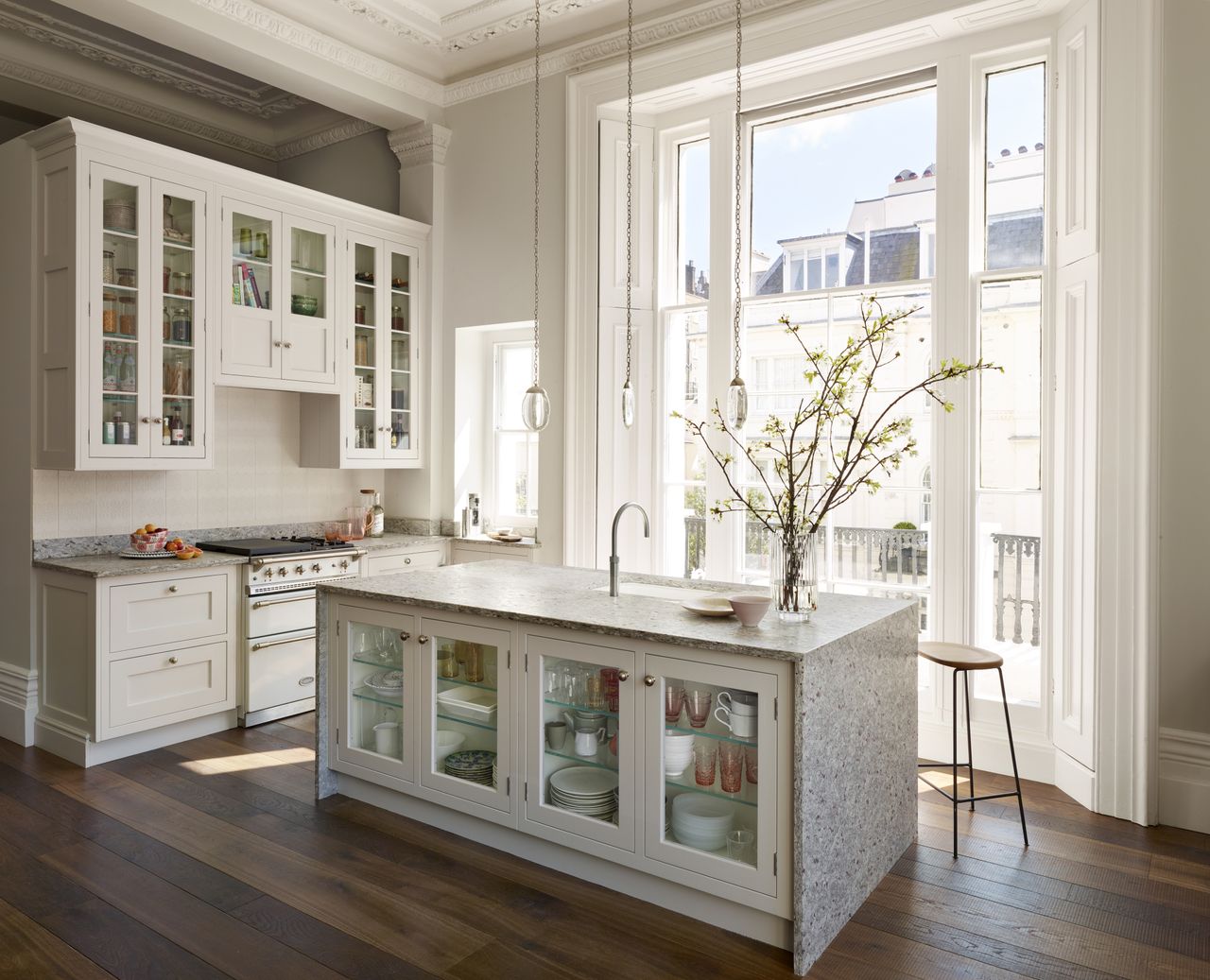 Glass fronted cabinets can help visually break up a run of units and help make a kitchen space feel less 'kitcheny'. Small kitchen island units are no different and glazed doors can be used to great advantage in a compact kitchen. Using glass fronts on the side of a small island which faces out to the rest of an open-plan room is a great way to show off pretty tableware and crockery. Glass doors can also help maximize light in smaller, one-space apartment kitchens especially if painted top-to-toe in a pale color scheme to enhance an open, airy mood.
'The dominance of the beautiful large, French windows in this apartment left just one wall for fitted cabinets," explains Richard Moore, design director of Martin Moore. 'The wall was made to work hard by going as high as possible with cabinets which are glazed to prevent them from overpowering the room. Asmall island unit was introduced to provide valuable prep space, under counter refrigeration and additional storage – and was carefully designed to fit within the small proportions of the room. Glass fronted cabinets prevent the island from looking too "blocky", helping to create the illusion of a larger, brighter space. It features a Moon White granite countertop with a leathered finish, adding visual interest to the kitchen.'
Small kitchen lighting ideas can be maximized too to make a small kitchen look bigger – fit ambient LEDs within glass cabinets to create a subtle glow at night and illuminate your island from above with a series of pendant lights. 
3. Build a small kitchen island with seating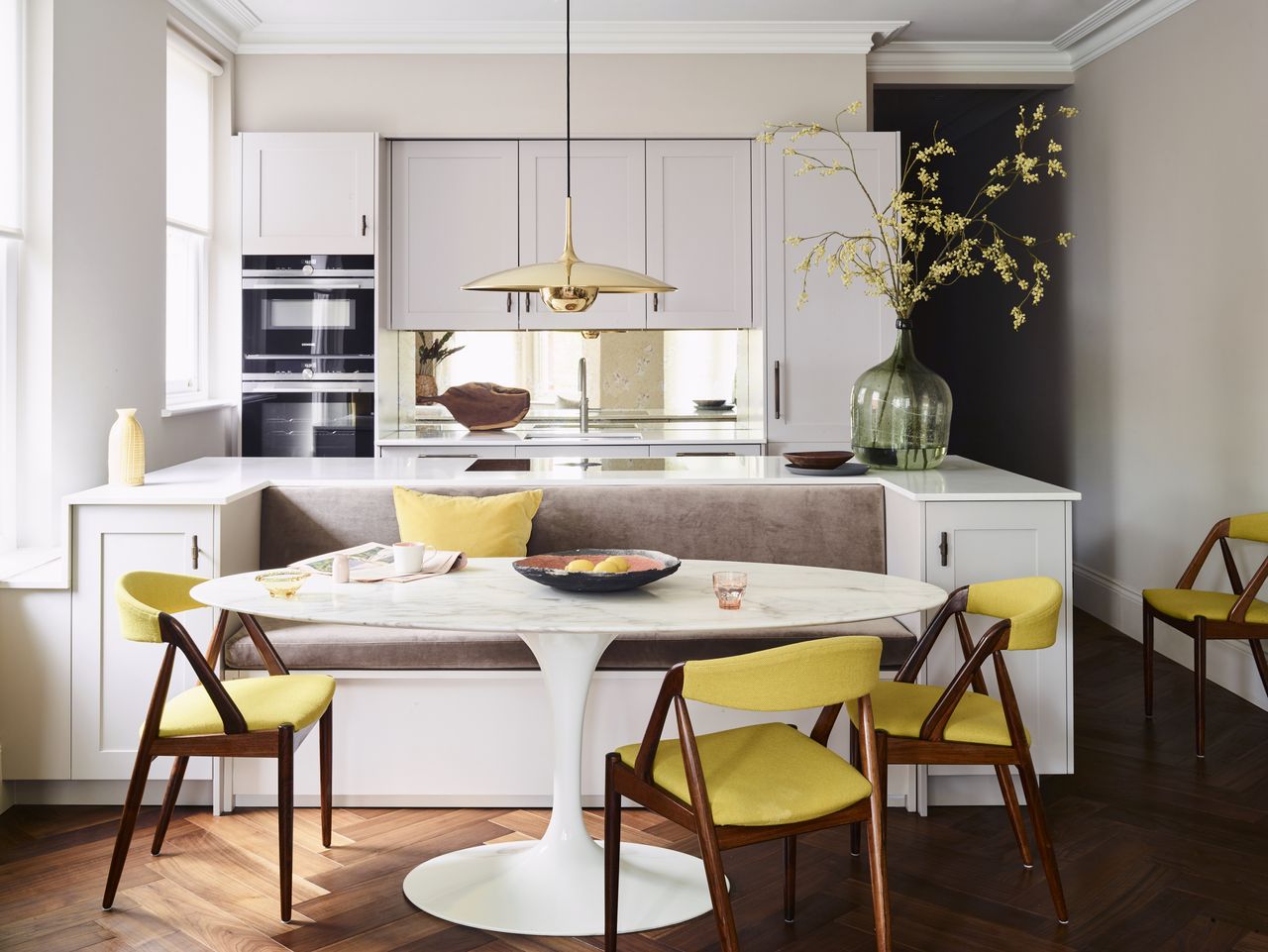 Small kitchen islands are a top spot for introducing seating and dining in a compact space. Breakfast bars and high-level perches are a great choice but have you considered an integrated bench, banquette seating or booth on one side of an island unit? These might conjure up images of 1950s retro diner booths but today's kitchen island seating ideas can be slick, stylish and comfortable. Booth seating is often low-level and upholstered so can offer a more luxurious alternative to a breakfast bar. And if you already have a dining table that you adore, this might just be the perfect solution to be able to work this treasured piece into your scheme.
'My client already had a stunning Saarinen oval marble table and was very keen to use it as its elegant aesthetic worked so well with the traditional architecture of the old mansion block apartment,' says Sam Hart, senior designer at Roundhouse. 'We quickly discovered that the table was too large for the space. However, by incorporating the banquette into the island, seating on one side of the table was allowed for. We designed a deeper island to create the banquette seating and to accommodate storage on both sides – this saved space and left a generous area for sofas and a coffee table in the rest of the room.'
4. Put a small kitchen island on wheels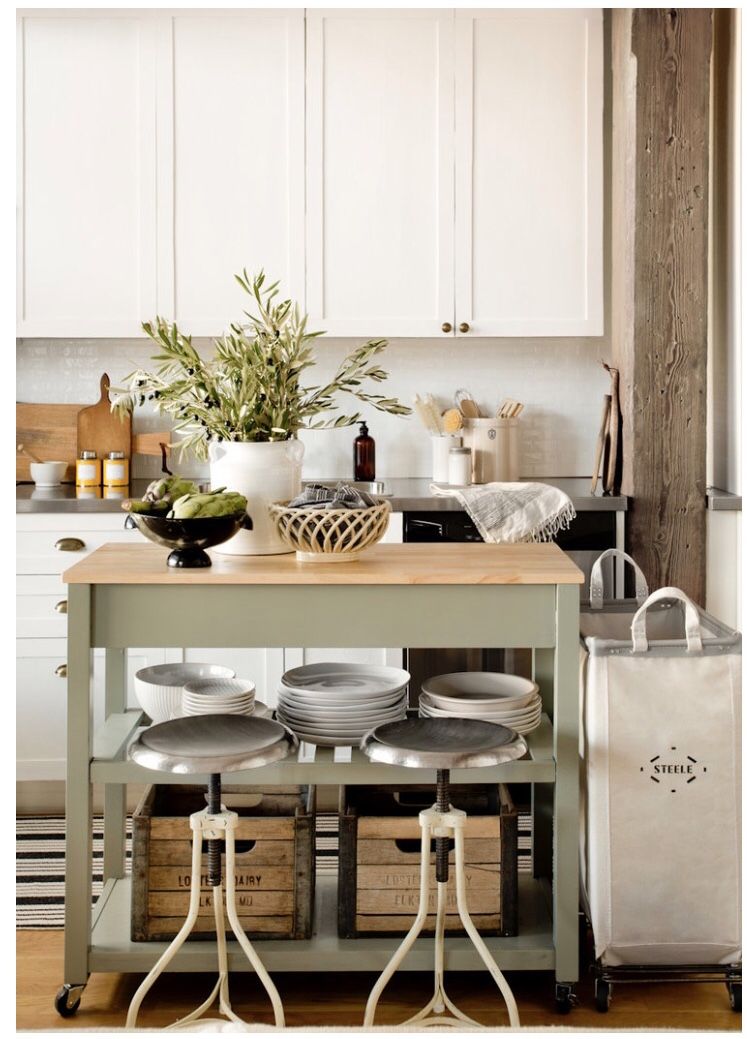 Portable kitchen island ideas offer a flexible solution for compact spaces. This freestanding and portable piece of furniture is a boon for smaller kitchens and can be wheeled in and out of different areas as necessary. With a typically vintage, classic look, it can be used as a food prep station one day or as a surface for laying out nibbles for an informal gathering, the next. Add in a few foldaway stools and these small kitchen islands can be transformed into a spot for afternoon coffee with a friend. 
'That was my very first apartment in Dumbo, Brooklyn,' says interior designer Becca Casey of Connecticut-based Becca Interiors. 'We opted for the cart as a space-saving solution as the apartment was only 600 sq ft in total. It provided additional counter space as well as a place to stack our dinnerware. I gave it an updated look by painting it in Farrow & Ball's Pigeon.'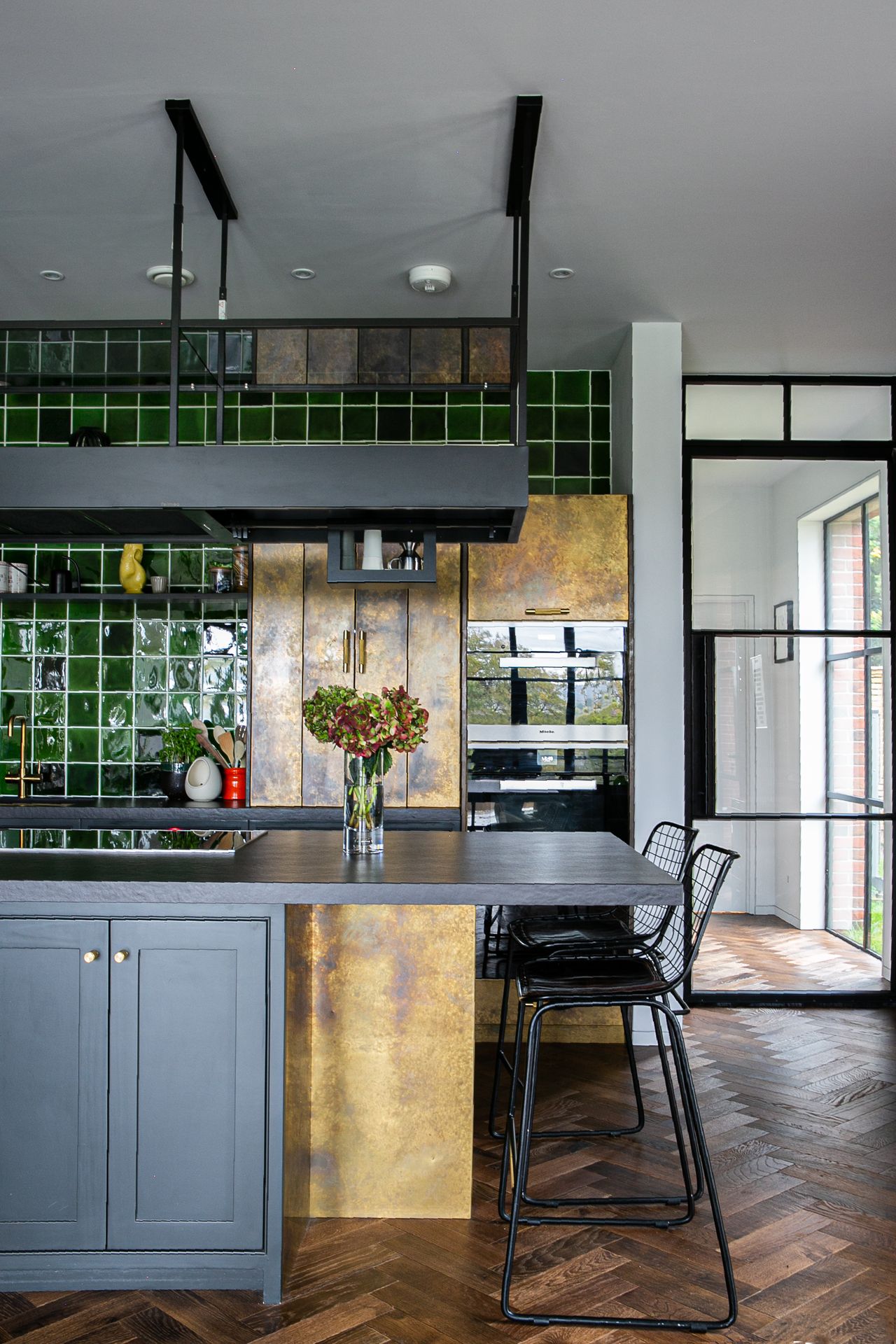 If your small kitchen island needs to pack in as much as possible in terms of functionality, it can be a good idea to design a seating area at the shorter end, rather than along one of the longer sides. Extending the countertop out at one end creates an informal perch for a few bar stools, leaving the rest of the island to be maximized with drawer and cupboard storage and a large hob or sink on top. It's a perfect design solution too if space is tight around the back of the island. 
Design-wise, this industrial-inspired kitchen makes the most of a small area by harnessing a mix of charcoal cabinetry, rich emerald gloss tiles and brass accents. The industrial-style ceiling feature, overhanging the island, echoes the look and houses an extractor fan and lighting.
'For those wanting counter seating, your island ideally needs to be 1m wide with an overhang of 400mm needed for comfortable leg room,' explains Magnus Nilson, lead designer, Blakes London. 'An island narrower than 900mm is going to feel undersized, but if this is all the space available, consider creating an overhang on one end to tuck counter stools beneath.'
6. Combine a small kitchen island with a peninsula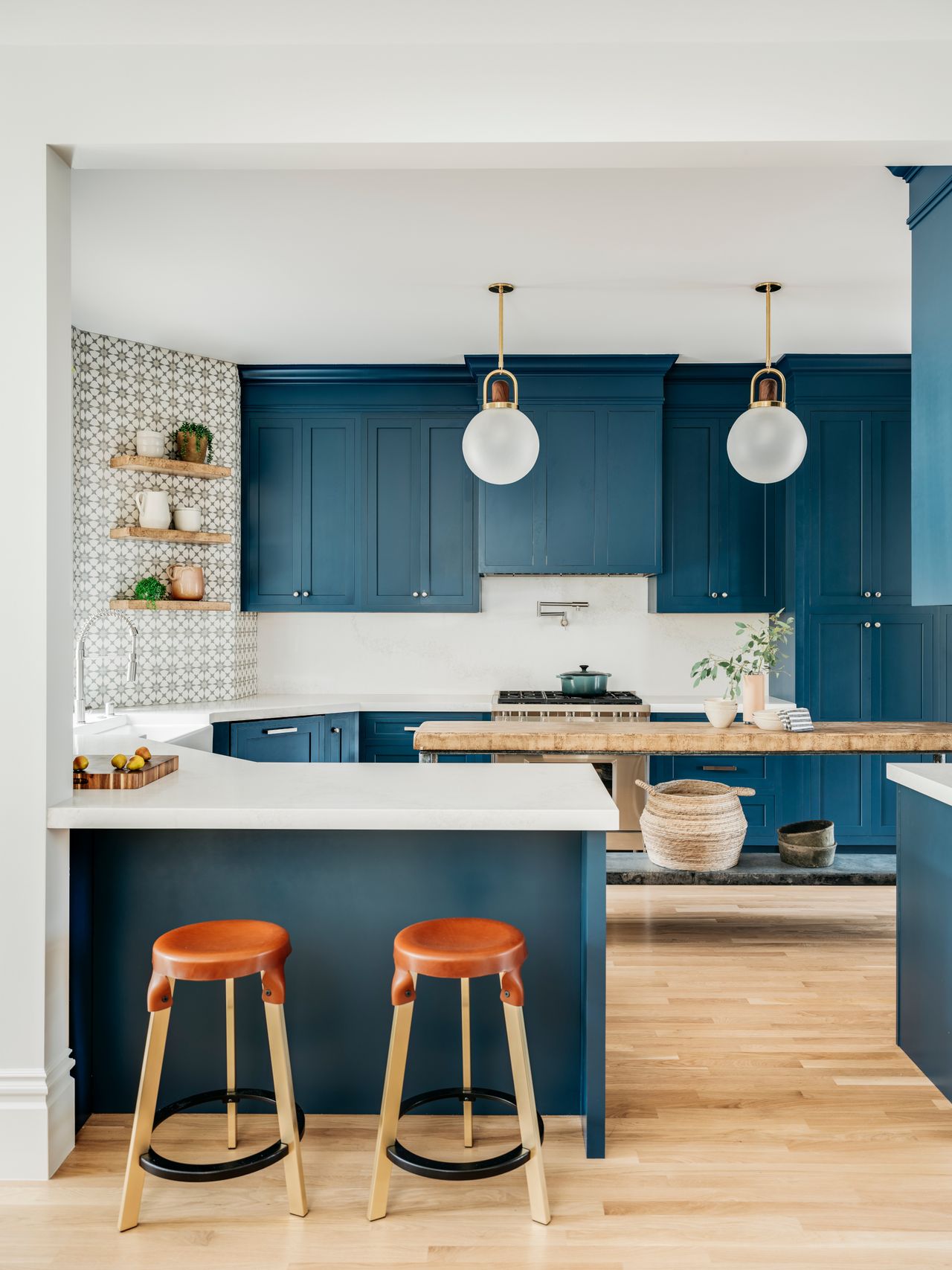 A peninsula or breakfast bar is an architectural alternative to a traditional island unit if your kitchen is compact and narrow. You still get the plus points of extra countertop space for preparing dinner and room for seating, but three-sided peninsulas generally take up less room. Peninsulas are considered an extension of the kitchen, with one end connected to a wall or cabinet, while an island is freestanding, open on all four sides. Choose a perpendicular peninsula that is built straight out from the wall – rather than a standard U-shaped design – as this will offer the look of an island but require less space to install. Peninsulas can also act as a room divider in an open-plan kitchen, creating a degree of separation between the main cooking zone and the living or dining space. 
7. Wrap a small kitchen island in stone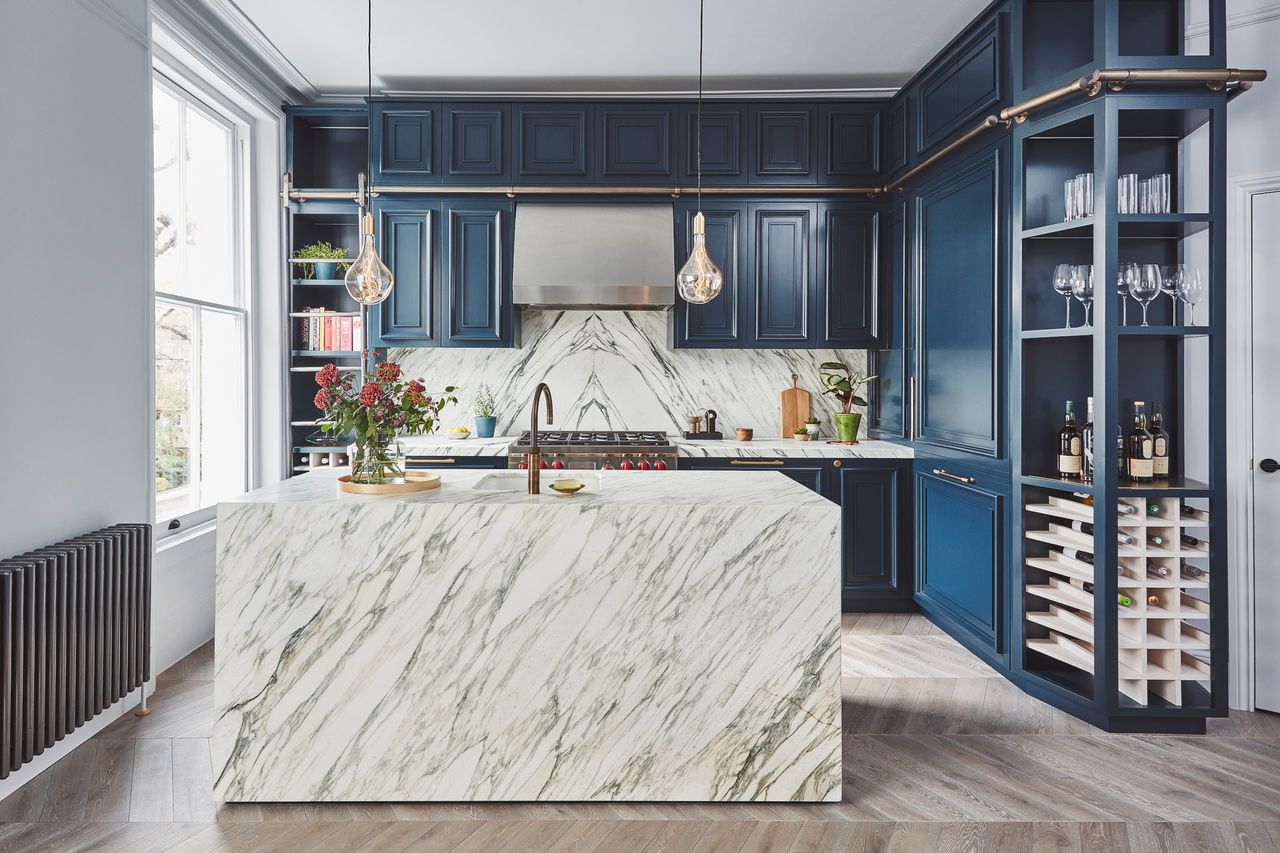 Minimalists will adore a monolithic island unit wrapped in smooth slabs of marble or stone. The pared-back look suits both modern and classic style kitchens and will elevate any kitchen into a luxurious style statement – however compact. Using a contrasting material on the island will also act as a physical and visual barrier between the kitchen workspace and the social element of an open-plan layout.
'If you'd like a stone countertop, such as marble, do bear in mind that 9ft/3m is generally the largest length for a single piece of stone,' says Magnus Nilson, lead designer, Blakes London. 'Alternative materials, such as concrete or terrazzo, would be a way to avoid having joints in the surface.'
8. Opt for a vintage piece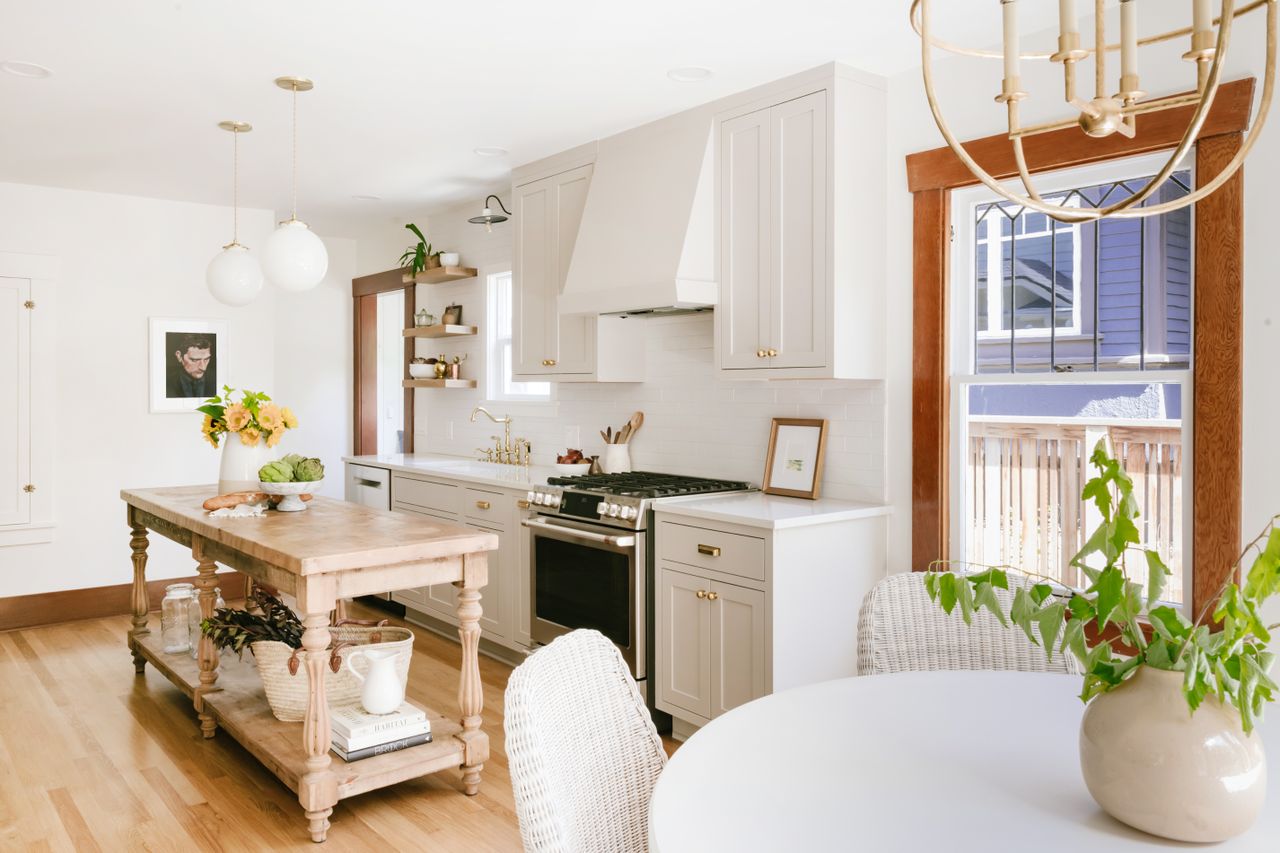 Think outside the box and create a personality-packed vintage kitchen by including a one-off piece as a small kitchen island unit – rather than something that matches your kitchen units. Scour antique fairs, flea markets and second-hand shops for interesting console tables, map chests and butcher's blocks. For smaller kitchens, measure your space accurately so you know exactly the dimensions a piece of furniture needs to be. 
'I chose to include a "furniture piece" island here because it's a small space,' says Seattle-based interior designer Jessica Nelson, 'and with the piece being so open and airy, it really doesn't make the kitchen feel constrained. We found the butcher block in a small boutique and loved the idea of using it because the house is over 100 years old, and something that ages well, feels like the perfect fit. It's now a super functional workspace for my clients and a fun styling surface for fresh flowers, fruit and vegetables.'
9. Introduce curves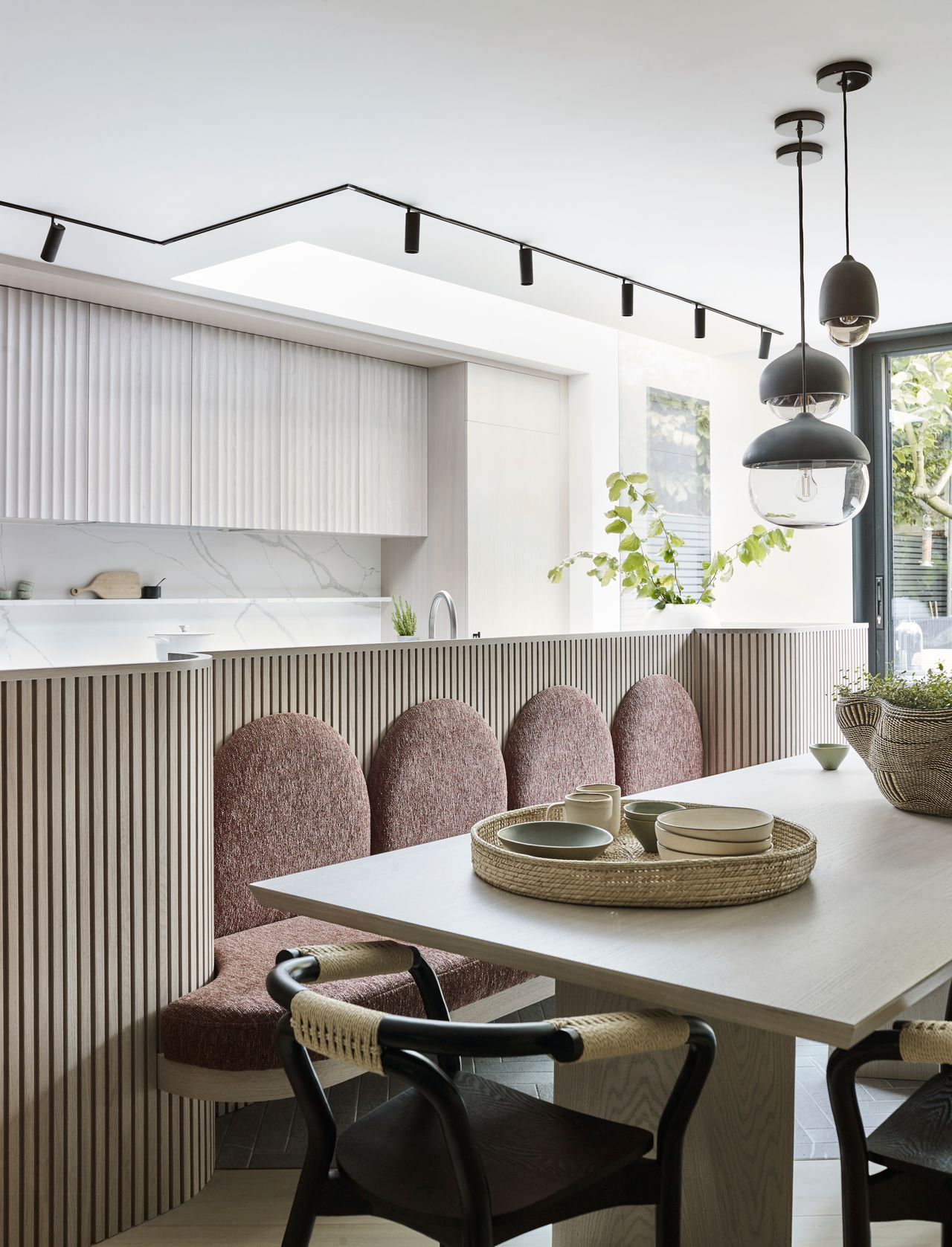 For a modern retro look, try softening hard lines and square edges of a small kitchen island with curved ends and rounded features. Tactile materials and interesting detail, such as warm timber cladding strips, will transform a narrow island into a welcoming, feel-good space that the whole family can enjoy.
'The kitchen-diner in this 1950s Chelsea townhouse isn't very wide but the client was keen to create a space where they could hang out,' explains Irene Gunter, founder of Gunter & Co. 'My solution was to install a space-saving banquette directly onto the back of the island. This is a remarkably efficient way to fit more seats into a small area. I was also keen to conceal food preparation detritus from the dining area. I achieved this with wood cladding that wraps around the island and rises above the work surface so that no mess can be seen from the dining table.'
10. Be flexible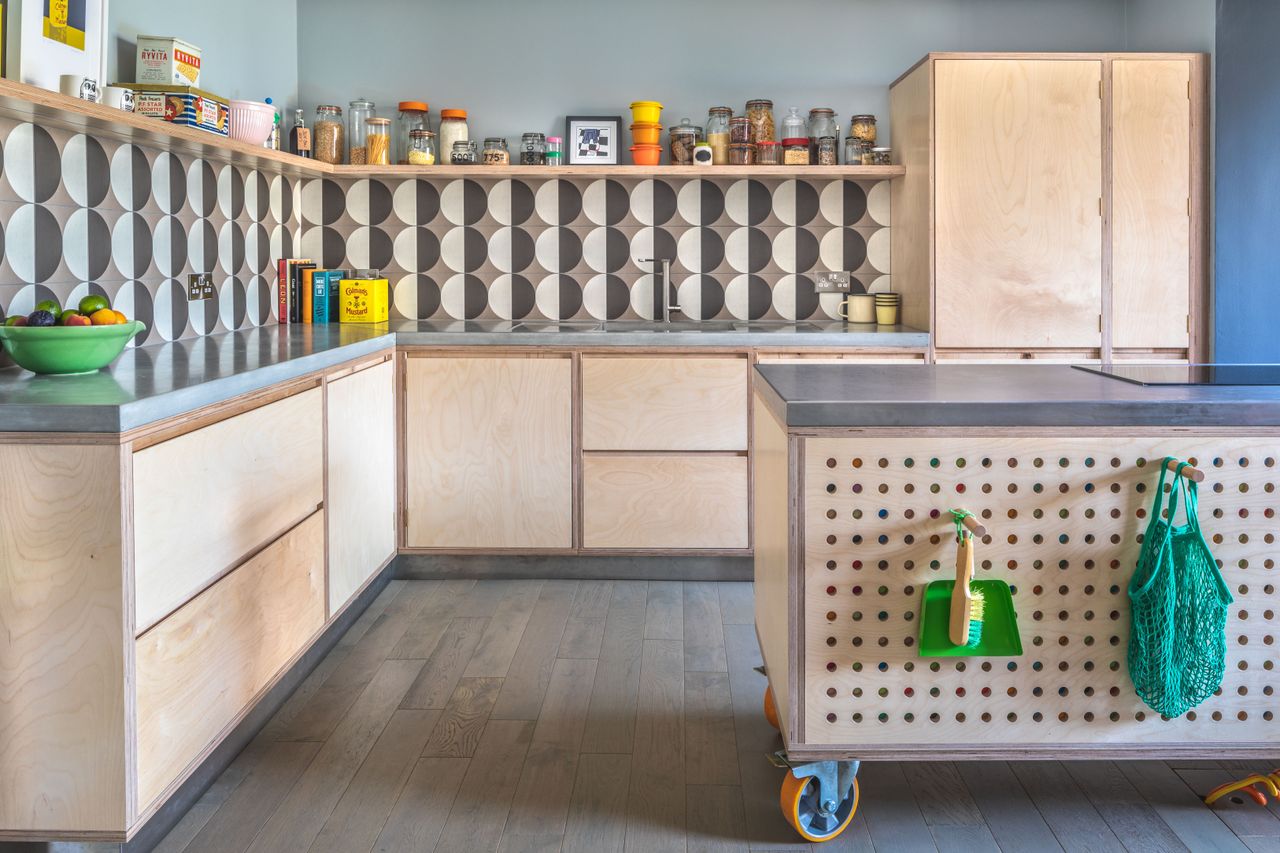 Plywood, concrete and stainless steel mix expertly in this bespoke kitchen by Sustainable Kitchens that works hard for the whole family. Star of the design is the moveable island on industrial castors which cleverly houses the oven with a detachable cable so the unit can be wheeled away when the family needs more room for entertaining. The hand painted pegboard on one side is a fun design concept for hanging up bags and kitchen kit and for little ones to keep their school bags off the floor. The result is modern, stylish and flexible. 
What's the smallest a kitchen island can be?
The smallest kitchen island should ideally be a minimum of 4 feet (48 inches) long by around 2 feet (24 inches) deep. But it must also have room for people to move and work around it so leave a least 3ft or 36 inches of clearance space all the way around – this increases to a minimum of 42 inches (3.5ft) of walkway space if it's near a work area. If there is likely to be more than one cook working in the kitchen at the same time, leave at least 48 inches (4ft) between the perimeter countertops and kitchen island. Practically speaking, squeezing an island into a kitchen that's too small can be a mistake and it's always better to be more generous with dimensions if floor space allows– so it's always worth finding out how to choose the right sized island.
Should your small kitchen island match your cabinets?
Small kitchen island units don't need to match the color or materials used in the rest of your kitchen. In fact, when designing a kitchen island, know that mixing and matching can create a really unique look. Try a complementary hue or a bold stand-out shade for a statement island or use a different countertop material (wood instead of say quartz or stone) to the rest of the design. Unleash your creative side and repurpose a vintage piece for a small island – a rustic butcher's block, an antique haberdashery cupboard or an old map chest for example. Matching color schemes on the other hand are neat, unobtrusive and seamless, if that's the look you crave.